This is what's new in your AT&T Nokia Lumia 1020 'Lumia Black' update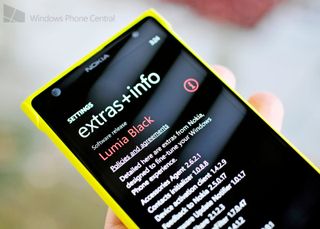 If you're like us, you're pretty excited about getting a new OS and firmware update this afternoon from Nokia on your AT&T Lumia 1020. While we've known that Lumia Black (new Nokia firmware) and Update 3 (new version of Windows Phone 8) were on the horizon, no one saw them being released this early. But you may be asking yourself, what's new?
Luckily for you, we have all the details. You don't have an AT&T Lumia 1020? Don't fret. Your update will be coming too, but for now, you can crib off of this list to get an idea of what's coming.
Lumia Black firmware changes
Bluetooth 4.0 LE support
Glance Screen: new colors (Green + Blue); Notifications
New camera algorithms for JPG processing, white balance, noise reduction
RAW camera support (DNG)
While Bluetooth 4.0 LE doesn't have any immediate uses due to the lack of a proper API stack, it should improve performance with some devices and ensure that the Lumia 1020 can connect up with the latest gadgets. Nokia is currently working on the Bluetooth 4.0 LE API kit for developers, and we expect some tasty "official" apps for your favorite connected technologies in early 2014. Stay tuned.
With RAW (DNG) support, you can now head into your camera settings and optionally choose to take photos in JPG (5 MP) and DNG 38MP (4:3) or 34MP (16:9). With that new feature, you can then connect the Lumia 1020 up to your PC and pull off the DNG files to edit them in your favorite photo-suite. The RAW/DNG format gives the user the ability to manipulate the camera data before JPEG processing and is an advanced option for 'pros'.
Probably one of the best new features is the ability to use your PIN on your lockscreen and still shoot with the Nokia Camera app. Previously, if you had Nokia Pro Cam (now Nokia Camera) as the default camera app, you would have to type in your PIN to take a picture. Now, you can bypass the PIN and go right to the camera app. No worries though as you will still need to enter in a PIN to see your photos or access the OS. Watch the video demo above to see it in action!
The last big change is with Glance (found under Settings). With the Amber update, you could have the clock always on in a low-power mode when the display was off. Now, with Lumia Black, you can also show notifications (email, text, missed calls, etc). In addition, besides the default Red color, you now have Blue or Green to choose from while in Night Mode.
Note: currently, Nokia Beamer and Nokia StoryTeller are not working with the Lumia 1020, though we suppose app updates will be forthcoming to unlock those for the Lumia 1020 with the Lumia Black firmware.
Windows Phone 8 Update 3 (build 10517)
Update 3 is Microsoft's latest version of Windows Phone 8 and is the last update before next spring's Windows Phone 8.1 update (also coming to current Lumias).
You can see our earlier video tour here or watch the video above. It's a mishmash of minor updates and fixes, including allowing new hardware like 1080P displays and the Quad-Core Snapdragon 800 found in the Lumia 1520. But besides those additions, there are few notable new features to make your Windows Phone even better:
Better Storage (device memory) management
Driving Mode – Found under Settings, you can automatically disable incoming phone calls and/or text messages when paired to your car's Bluetooth
Orientation lock – Found under Settings, you can now lock the screen orientation in portrait or landscape
Wi-Fi – Were you to hard reset your phone, when the OS is setting up for the first time you can connect directly up to Wi-Fi. Previously, you could only connect after the setup, delaying the downloading of contacts or apps
Ringtones - you can now choose custom notifications for SMS (messaging) and email
Close out apps – When holding the back key and jumping into the multitask window, you will find an 'X' to close out apps that you don't want running (there are also app icons now and names)
In addition to all of those, there are under the hood fixes and improvements for performance and battery life, breathing new life into the Lumia 1020. For instance, developers can now add their own custom app notifications, which phones with Update 3 can take advantage of.
Do you notice anything else? How do you feel about the update? Let us know in comments or head into our Lumia 1020 forums for more in-depth discussion!
Windows Central Newsletter
Get the best of Windows Central in in your inbox, every day!
Daniel Rubino is the Editor-in-chief of Windows Central, head reviewer, podcast co-host, and analyst. He has been covering Microsoft since 2007 when this site was called WMExperts (and later Windows Phone Central). His interests include Windows, laptops, next-gen computing, and for some reason, watches. Before all this tech stuff, he worked on a Ph.D. in linguistics, watched people sleep (for medical purposes!), and ran the projectors at movie theaters because it was fun.
Nice!!! I'm just waiting for Verizon to take the Lumia Black plunge now... My Lumia 928 is waiting...

Count me in ladies and gentlemen. I'm running the preview but I'd love to see the Lumia black update on my phone.

how come there is no updat to 920?

I got this: it's not ready.

Dan, does it still have that yellow tint after taking pictures on the 1020? (If your not using dng format?

The yellow tint in AUTO mode is gone.

My 1020 still has the yellow tint to photos when using flash - which I never use anymore.
Its like owning a 520 with 41MP sensor.
Why is it so difficult to FIX this issue with colors being off?

because it gets the white balance wrong. if you put the white balance on indoor, you will be fine :)

Tell them we can't wait, this is too exciting. :P

Lol good one. Hopefully it will be available soon.

Just sign up to be a developer. Takes like 2 minutes. 920 owners have had some of the things in this update for months. And it's not a hack, totally legit.

How to sign as a developer?

Having to use my pin to take photos on my 920 sucks, happy to learn this feature was added! Now I wonder when Black will arrive for my phone... Waiting.

Yes, this is very helpful. I had forgotten what was in store since black and update three are a month or two old already.

I don't see the ability to change the color on Glance. Anyone know how?

Correct, I adjusted the article to convey that now, thanks.

Try rebooting maybe. For me it is right under 'always on when charging'

It always does, my friend... -_-

I need BLACK on my 920. Tha only reason I won't it, BC Nokia Beamer

By official apps are we talking about maybe some fitbit ir Nike or sonos apps

He hinted at Fitbit and I think Jawbone in the comments of another post a week or so ago.

As I mentioned to Daniel on Twitter, Glance screen now also shows if you have an Alarm set.

I watch same thing on my Lumia 1020

I have an question. If I buy a 1020 not from a carrier, how will I be able to update it?

I took my 1020 to T-Mob and I just did the updates. It is under settings/update phone (maybe phone update). It's pretty easy. U need room and to restart after. Be charged and be ready to not use it for 10 min.

Whatever carrier it says on the phone is the one controlling your updates (at least firmware)

I can't find story teller on my 1020? Help!

Re-read the article. Come back and adjust your comment ;)

RAW support and notifications on Glance screen are my favorites. Also curious about the new jpeg algorithm. Can you guys do a before and after comparison review?

"Note that currently, Nokia Beamer and Nokia StoryTeller are not working with the Lumia 1020" Not quite true, just they're not available in the store. I already had Nokia Beamer installed via the proxy trick, and it works perfectly on my newly updated 1020.

No, it's 100% true. Proxy trick is not a solution for average users. We've posted the links to those app and if you go them on your phone it says "NOT AVAILABLE. End of story, really.

Not working and not available are two entirely separate things, but if you don't see the difference then whatever.

Not sure why Daniel gets so worked up. Anyway, you are right. They work, and you don't need proxy trick.

Am I missing something? When I follow the Store link for Nokia Beamer, this is what I see on my Lumia 1020: http://i.imgur.com/2sa9Ju4.jpg So does that "work"?

Had it installed without the proxy trick since before this update but couldn't use it now it works fine on my 1020. When look for it in the store says it's installed.

Yup I can confirm. I have the same issue...cant install.

I don't think you got"worked up".

Yep, no need to get so worked up.

Update3 also ditches the need to restrain tunes to 30 seconds, <1MB etc. You can how use full mp3 songs as the tune of your ringtone/sms etc, just like you could on any Nokia Symbian device for the last decade. Regarding the new algorithms: do let us know if you notice any noticable improvements on the L1020 camera. I'm very curious to know how that worked (I have noticed, indeed, some problems with the WB on the Nokia L1020 that I don't have when I use the Nokia L920).

Those limits were removed at WP8 launch, weren't they? I'm using a full song as a ringtone and I don't have GDR3.

The white balance seems to be improved. Pictures taken under incadescent light and without flash seem to still be toward the yellow side, but it's better than it was before. Incandescent light is tough though, and a lot of expensive DSLRs don't get incandescent lighting perfect. Pictures using the flash seem to be more accurate now even in mixed lighting situations.

Please checkout the Windows Phone 8.1/9.0 concept UI on YouTube. That video/guy needs recognition. Sorry for beinging off topic. Please spread the word!!!

http://m.youtube.com/watch?v=tRVC4BKWaP8 here you go.

You are welcome! I hope you enjoy the video.

My god MS needs to incorporate that interactive live tile badly for music control!

I was mind blown as well. Lol. I believe all of this is possible. We just need to show Microsoft what we want.

There's so much potential with live tiles and this is why I stick to WP eagerly waiting and wanting to see what's next that can be incorporated. The video has so much great ideas! Hoping that once we get past the need for notifications, we can add a new thread in MS's feedback/feature request for features as seen in the video. Lets start voting everyone!!!

Yes! What makes a good product is the community, we have unite so we can become an unstoppable force! Lol. We have to contribute and come up with ideas as while as speak up, so Microsoft can make those ideas/dreams a reality.

If this was true, i would be so happy, really ... Is this video yours? Please send it to Microsoft or to Stephen Elop ...

This video is not mine, I wish! Lol if this concept gets enough attention Microsoft will see the video. We need to speak out and spread the word! I came across the video today and I was amazed how good and it is very possible. It is not an out of the world concept. Christian Del Rosario has this video in his channel and I believe he is the guy behind the concept.

Speaking of Youtube. If Google and Microsoft can't get along in making a Youtube app I wish Microsoft would at least make an option the OS to point to whatever Youtube app you install as being the default. Then when there is a Youtube video somwhere on a page and I hit play my favorite Youtube app would come up, like myTube. Microsoft wouldn't have to fight with Google and we would get a full Youtube app.

Any more information about these "custom app notifications" developers can use on phones with Lumia Black?

I think that is part of GDR3, not Black.

I think that is now called Update 3, not GDR3

Point is he answered your question..

waiting for Black on the Lumia 520

yes, just a little respect for the most popular Windows 8 device in the world.

Windows Phone 8, there I got it for you.

Nope, LX23, meant to say what I said. L520 is the most popular windows device (phone/tablet/pc/notebook, etc).

"yes, just a little respect for the most popular Windows 8 device in the world." Nope, ben55124. Not the same. Windows 8 devices and windows phone 8 devices are entirely different from each other. And you had clearly written Windows 8 device but not windows device.

I don't know why people think this needs correction. Windows 8 and Windows Phone 8 share the same kernel. Therefore if L520 outsells all Windows Phone 8 & Windows 8 devices, it is the best selling Windows device in the world.

The default color for Glance was white, red was the night color.

Downloaded, Installed and now in "Almost Done" mode :) thanks for the details on the changes and video previews.

Finally custom ring tones, something that Nokia phones had in 1995. Why it took this long I have no idea.

I don't get it? I could make custom ringtones all along. Or do you mean for txt msgs? If so that's awesome

Yes, custom text tones. Currently use the old Messenger sound :)

Yep its for text messages andrhe calendar too I believe

Hi Daniel, seems like a typo in your story: DNG must be up to 38MP (4:3) or 34MP (16:9).

Rogers needs to get with the program in still waiting for black on my 1020

Well, Telus is getting it (sometime) in January, so Rogers will probably be around the same time. From my experience, the two carriers seem to push WP updates within a week or so of each other, sometimes Telus first, other times Rogers.

Man, what a great week, Xbox video, Ultraviolet streaming GDR3, and "Black"

The clock on the Glance screen seems smaller now.

Agreed. Probably trying to balance the power usage, now that they are showing the lock screen notifications which is awesome!

Preparing to install now. This is like an early Christmas present as I JUST got my 1020 yesterday.

As a 928 user, this is the best sentence in the story:

ability to use your PIN on your lockscreen and still shoot with the Nokia Camera app.

Yes, I will upgrade just for this.

I don't need to wait on the update for my 920 for att because I'm rocking the moto x baby, yeah!! Just recurved kit Kat.

WP is so advanced that we don't have to recurve updates. Recurving is done automatically!...

I finally gave up on Nokia and wp after two years and have a moto x also, great phone. I will be back in 2014 once they fix other storage, spinning gears, and build quality issues. Enjoy everybody!!

I hate that phone... My gf almost bought it for me I was excited thought she ment we were going to a Moto x event (dirt bikes) then she's like its a neat looking phone ... Now she's in the kitchen with 2 black eyes

Yellow glance screen would have been nice on yellow Lumia's

& Cyan live tiles ofcourse

Great synopsis. Wonder when us devs w/ Preview for Developers will get it on the other phones. Thanks!

I may be wrong on this, but I don't know if this will come with the Preview for Developers. That is from Microsoft and these are firmware updates from Nokia.

nah it's an OS update; hence the changes to the OS (like PIN bypass for Nokia Camera)

in the video of Windows Phone 8 Update 3 (build 10517), the storage settings have been already in the phone since the day i bought my phone (the day they released 1020 at finland)

Waiting for it to go Global

I want this on my unlocked Lumia 925!!

hooooyyyaaa got the black.

"Probably one of the best new features is the ability to use your PIN on your lockscreen and still shoot with the Nokia Camera app." Bloody finally... That has one of the most stupid things about Nokia Camera so far...

It was an OS limitation. Nokia did what they could with what they had at the time. This is part of the "problem" with Microsoft and Nokia working separately and not sharing info. That will change in the future, now that the purchase is going through.

Any word on if the "Nokia" name is being dropped?

I think it was licensed for 10 years so MS might use it for a while. This way in markets that are still pretty loyal to Nokia they can use it.

I think they can only use the Nokia name for feature phones though.

I want the Nokia beamer! Is it available yet for the 1020 with this update? found the link but it says not available for my device??? wtf? That sux!

Another poster said you can install Nokia Beamer before updating and then it will work fine post update. Indeed I successfully installed it, but haven't yet updated to Black.

Does this update fix the Wifi issues where it disconnect when you have it always on?

Anyone knows the status of these updates on the Lumia 625? I'm planning on getting it.

Don't forget the best thing about GDR3: automatic internet sharing activation when you go to the wifi access point list on your Windows 8.1 device. Before, you had to go to settings and turn it on every time. Now you don't even need to take the phone out of your pocket; it's even more convenient than and Android toggle widget.

Does that really work? I'm going to have to try this!

What is this and how to do it.. Need more details. Please share a link if possible.. I have windows 8.1 pc, surface RT 8.1 and a NL1020. Seems to be useful for me.

Im totally loving the updated glance screen! Love the notifications more than I thought I would. Now I don't need to do anything to see if I have a txt or email. Well done Nokia! Wish I had time to play with the RAW files at work but I was too busy at work to load one up in PhotoShop.

Yeah I think the glance notification is a big deal. I can *finally* say I won't miss Blackberry's LED notification lights.

First thing i did when I got home. My phones still yellow though.

All I want for Xmas is my two...
BS, I want the black, and I want it now...
Shit, just checked AGAIN and nothing...
Please Nokia, just send it with Santa :) I just know he'll be there this Xmas :P

When update for lumia global version,. I am still waiting,.

Come on Rogers. Asked their twitter support and got nothing for a date. Grrr.

I'm surprised that no one has posted an update horror story yet. This is a good sign. Maybe they're all in the forums.

The yellow tint to pictures with flash is gone. In addition, I lost almost 2 GB from my "Other Storage".

Sounds great! Glad they finally addressed the horrid yellow tint. :)

I hope it comes faster for international 1020s. Can't wait to receive this update. i want orientation lock and custom message tones! :)

Looks like a great update. I've been rocking Update 3 since the launch of the Developer Preview Program, now I've just been waiting for Lumia Black. A true Christmas miracle for AT&T to release it so soon, I'm thrilled! Also excited about bypassing the PIN when taking photos with Nokia Camera, that could be very annoying when quickly trying to snap a pic (especially since I've got a 16 digit password). The new algorithms should also make my photos that much better. I'm getting ready to download and install it in a matter of minutes, how exciting!

can't wait for my international L920

What is the difference between Jpeg and RAW?

Jpeg is a way compressed image. RAW/DNG is, well, not... Purest image file. No compression or proccessing.

RAW is, as the name suggests, the raw data from the camera sensor. It's exactly what the camera sensor picked up, and hasn't been altered in any way by compression, color alterations, filters, etc. It basically means all the processing is left up to you, you're given the photo in its purest form so that you make create what you wish.

Was gdr3 supposed to bring wide tiles like those on the 1520, or is that an option that will only be available for 1080p?

Pretty sure tile layout is presently based on screen size, but only time will tell. Microsoft was supposedly experimenting with a toggle while testing Update 3, and it was really popular on devices like the Lumia 920. But for whatever reason, it supposedly wasn't ready for launch, and so they're placing it on the shelf, perhaps considering it for release in Windows Phone 8.1. I guess we'll have to wait and see, but I sure do hope they make a toggle, because I'd love a three column layout on my Lumia 1020!!! (Optional, of course, like it is on Windows 8.1)

Update completed...and when it finishes, the link to its features goes to Amber instead of Black...oh well...love the features and hard work that go into Nokia's devices. Maybe Nokia should've bought Microsoft lol

How's the battery consumption for Glance in Update 3? Glance in update 2 is more battery friendly at all. I have it turned off. Any feedback regarding the new Glance?

Almost done! (96% Migrating data) Yes!!!

Nokia beam is working excellently for me. In fact, I think it's my new favorite app!!!! Sure, it may not be as fast as Apple's AirPlay, but when you consider how it can work though nearly any web browser on almost any device, this thing is the chiz!!! Who knows, maybe Nokia can develope native apps so as to only improve the speed & quality of the app. Again, works pretty fine now (no noticeable lag on my phone itself, even if the projection is a bit laggy), but I can only imagine native apps making it better. All I know is, Nokia Beamer is awesome!!! I'm so glad to finally be able to access it + everything else included with Lumia Black, best Christmas present ever!!! (I exaggerate, but only a little).

you did state about the new orientation lock, but you didnt go over the new tab it has under the settings which is really nice

Has anyone noticed any battery performance improvements? The forum has some users reporting battery drains on the 1020

There will ALWAYS be users reporting battery drains on ANY device. I wouldn't worry about it (and don't, I have a 1020).

hey guys! now attach videos other than what u recorded on whatsapp.. ;) jus connect ur wp to pc den move ur video to camera roll n see it wrks..

It works from the day WhatsApp provided update

Very smooth update. Went rather quickly with no problems.

Well, i can confirm the "stuck process" bug is gone, as my phone is fine and no battery draining problems after i updated to GDR3 via preview for developers program.

I really like the creativity of these companies, how many ways they can f*ck up their customers. Yet another brilliant example: Bluetooth 4 LE. Initially, the hardware support was all there, built into the phone. Its just MS who was unable to support it from software side, so actually BT4 wasnt working. Ok, give it 1 year, and changes seem to happened. Now it seems there is software support also. But wait, as it still doesnt work, because it needs:.... <silence>.... API support as well! Holy f*ck! What else do we need to have that damn BT4 work finally?? Hmm?? Yet another 1 year due to some another made up excuse? Bravo, keep the market spinning, jsut dont ever deliver anything to those idiots who were convinced to buy your junk due to promises.

Good grief... time for you to go see Nurse Ratchett? Things will be ok... you'll see!

can you put here some camera samples after black update on lumia 1020

Can anyone knows how much it cost for developers preview program in India?

lets do math for a moment. WP is gaining ground everywhere but america. pushing 10% all around europe. 95% of all windowsphone are nokia lumia's... so following pure loigic, the americans should get the updates first.... oh wait? THE FUCK

How about this: oftentimes large patches are released to a smaller base of users first to make sure it goes smoothly. In reality, there are lots of factors on who gets it first, most of which we do not even know about. So sit down and take a chill pill. Jeez.

their partnership with AT&T has been horrible all around since it started, for everyone.

Bluetooth and A2DP are much quicker to connect to my Chevy Volt now!

I'm not seeing how to add notifications to the Glance screen :(

It uses the same notifiations you set for your lock screen which you can configure in your lockscreen+wallpaper settings.

Franky says: Supaaaaaa Coool

Yay now for the other Lumias on AT&T specially 520:)

Will the 920 will get RAW support when it gets Black?

Wow, drive mode sucks. Even with ignore calls and texts they never come through to my Bluetooth device

My car supports voice and texts via bluetooth (believing I enabled this setting,) if you wanted these to feed to a bluetooth device would you simply not enable driving mode and just turn on bluetooth?

Nothing interesting? I can't wait to see the notifications on the Glance screen, that is just wayyyy too cool.

Does anybody know if this update includes IE11? I'm mostly wondering if it will include MPEG-DASH support. Or do we need to wait for the next major release?

My daughter had the same issue with white balance level (yellow ting) with the nokia 1020 however it was fixed when she updated the phone to GDR3 and firmware Black. Good thing that worked else we were going to exchange it for Samsung S4. We are still within the 14 day exchange period! Looks like Microsoft gets to keep us as a customer .... for now!

I'm on my third 1020... the third one suffered from random reboots (despite trying all the suggested changes to prevent them). I was hopeful an update would correct this. Since my update late yesterday afternoon my phone has probably rebooted 15 or more times... appears this issue has gotten worse. Tried soft reset no luck. Don't want to go through the hassle of hard reset unless I know it will corrrect the issue. Anyone else with the update experiencing frequent reboots?

It seems the refurb phones that AT&T provides are poorly redone. I don't have the random reboots but mine has problem with artifacts when the screen is all black and when I try to take video in low light they all have horizontal lines on the right fifth of the screen. Gotta call up and request a replacement for my replacement. It's a shame because this unit has at least been stable. That said, AT&T has a policy that after 3 phones you are entitled to a new phone or a different phone of your choice. At least that is what I was told.

Strange. Nokia Beamer has worked fine for me from the first time I installed it. I am glad that Nokia Camera can bypass the lockscreen but it still takes ages to load and once you take a picture, you have to unlock to review. The built in app lets you review and remove the pictures from your current session without compromising existing. That's much more intuitive. It's much smoother in that respect. If the built in app could utilitze oversampling I would switch to it.
Windows Central Newsletter
Thank you for signing up to Windows Central. You will receive a verification email shortly.
There was a problem. Please refresh the page and try again.