AT&T and Nokia release Lumia Black update for Lumia 1020; Lumia 1520 also gets new firmware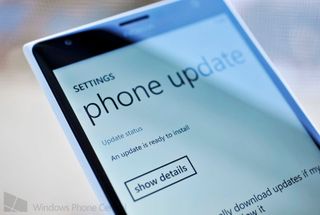 In a surprise announcement, Nokia and AT&T have pushed out the Lumia Black update and new OS patch (Windows Phone 8 Update 3) for the Lumia 1020. In addition, there is a new firmware release for the Lumia 1520.
The updates are now live and going out to both devices. Here are the changes:
Nokia Lumia 1020 Lumia Black (3051.40000.134x.00xx)
Daily delighters: lock the screen rotation, close apps easily in the app switcher, use custom ringtones for messaging and mail, among other things
Update to Nokia Camera that combines Nokia Smart Camera and Nokia Pro Camera. Available from the Store app.
Get the latest version of Nokia Glance Screen – see quick status notifications, for example, about calendar and messaging events on the lock screen.
Bluetooth 4.0 LE – preserve energy while staying connected via Bluetooth
Get enriched camera performance, enhanced battery monitoring, and other stability and usability improvements
NEW: OS build 10517
Likewise, the Lumia 1520 also received a new firmware package today.
Nokia Lumia 1520 (1028.3534.1347.2001)
General performance and usability improvements
To get the update, dive into Settings > Phone Update > Check for Updates. You will need to be on a Wi-Fi connection to download.
These updates are only for US AT&T devices. There is no indication that these updates are going global at the moment.
Update 4 PM ET: Read our follow up article detailing all the changes on the Lumia 1020!
Windows Central Newsletter
Get the best of Windows Central in in your inbox, every day!
Daniel Rubino is the Editor-in-chief of Windows Central, head reviewer, podcast co-host, and analyst. He has been covering Microsoft since 2007 when this site was called WMExperts (and later Windows Phone Central). His interests include Windows, laptops, next-gen computing, and for some reason, watches. Before all this tech stuff, he worked on a Ph.D. in linguistics, watched people sleep (for medical purposes!), and ran the projectors at movie theaters because it was fun.
Download faster! Also, you guys need to be on WiFi for the Lumia 1020 to download the update, at least mine said so.

All things in due time Sam. I know you really want that update though :p

For once, it pays that I have updgraded internet :)

WiFi on 1520 also can't wait to get home

I believe it is because there is no data sense app on AT&T phones. On Verizon, if I have my app set to unlimited data it will let me download updates using data. If not, they must be downloaded through Wi-Fi.

Holy cow,is this true? Downloading updates using cellular data? I thought there was a limit preset by microsoft

"Its way darker this time." -J Cole But honestly awesome for all Nokia Lumia 1020 owners!

Not all, im in Sweden and havent received any updates :'(

IT'S. NOT. POSSIBLE. NOOOOO, now there won't be months of people crying about att and providing endless comedy, Curse you At&teeeeeeeeeeeeeeeee!!!!!!! :):):):):):):):):):):):):)

No now people will just complain about windows 8.1 in about hmmm 5 hrs!!!

HAHA true that! But they must get rid of the carriers' dependency!

I can't wait for 8.1 to bring my 1020 into the 2013 era, but I'm also scared of how buggy it could potentially be.

If there's one benefit of Microsoft taking so long to release their phone updates, it's stability. Bugs are usually few and far between.

It didn't seem to go that way with the Lumia 920. The 1020 should be better though, I agree.

Do you mean initial launch of the 920? Because Windows 8.0 was a fairly significant update.

I think you're confusing WP8 (which was the work of MS) and Lumia 920 (which was totally Nokia's work). For sure it was not perfect but your characterization of "how buggy..." implies WP8 was full of bugs, which it was not.

The only thing I can recall is that originally the 920 had reset problems, Bluetooth problems, and lack of clarity in the camera. Don't know who's fault that was....and I'm not mentioning the hardware problem of dust in the front camera...and this is coming from someone who loveeeddd that phone! :)

All three of those are almost definitely Nokia, and even then they fixed them pretty quickly. Because Windows Phone has very little fragmentation, you can pretty much see who it is with the following question: Is it happening on all Windows Phone with that software version? Yes: then it's a Windows Phone bug. No: then it's a bug in a manufacturer's driver, application or software.

༼ つ ◕_◕ ༽つ Give Lumia Black for Lumia 920

You will just hear about where is black for the Lumia 920 owners.....like you are already noticing in the thread.

Yes where is the black for my 920

The 900 will not get black. I thought this was well known.

Yeah I know... I'm poor LOL...

Guess there is still hope for a fun filled few months! :)

Luckily, my 920 is already black.

Lmao @SouthDallas40, you rock!

Yes there will be, what about Lumia 820-920-925 and mini me Lumia 520. There shall be many screams and tears.

L-925 is getting their rollout already at T-Mobile http://news.softpedia.com/news/Nokia-Lumia-925-Receiving-Windows-Phone-8-GDR3-Update-at-T-Mobile-410985.shtml

we will still complain as we didnt get for 920

Not only where is black for my 920 but what's with the update install times. The updates that came out a few days ago for those of us running the preview of GDR3 took 5 hours to install. I know I'm a power user and app whore but seriously what could the phone be doing that caused it to take 5 hours to install a 2mb update. The GDR3 preview took several hours as well.

Certainly didn't take 5 hours for me, I would say 20 mins max

But, but I thought everyone said AT&T won't release Black until 2020?

That's only for 920 owners

Wow I'm shocked, happy and impressed!!! Great job Att!!!! Can't wait to get this on my 1020!!! Great week for WP!!!

what about the 920 users? :l

Yeah, the wait is kind of ridiculous.. My friend had update 3 on her att 8x for almost two months now.. What's taking so long❔... I could really use the close app feature..

No, the real update❕.. GDR3has already been released for att 8X's..
I know we're talking about BLACK here, but most of us are still waiting for update 3 for our 920's.

i hope they release it before february 30th

What's significant about that date❔

the date doesnt exist, meaning '''i hope they release it some day'' .... .....

Hmm, hopefully my Rogers 920 will get it soon as well.

My GF will be very happy when she gets home tonight... but do I even need to ask where the update for the 920 is :( ? Hopefully it won't be 3 months late(r) again.

༼ つ ◕_◕ ༽つ Give Lumia Black for 920

holy shit, /r/dota2 is leaking!

Hah! I knew there had to be somebody who recognised this :D

anyway to get black on unlocked 1020's on t-mobile?

you would have to wait until its pushed to unlocked models, the fact ATT pushed it early is a surprise, even before the int'l models, which is really weird

Unlocked ATT 1020 being used on T mobile I can confirm I received this update.

Datasense needs to be enabled by the carrier, I frankly think that they would prefer you use their own tools to monitor your usage (text alerts etc) . Not worth their time to set it up.

Not really, I had datasense on my ATIV-S (imported from Canada) connected to ATT.

The MyAT&T app (what they say is the equivalent of DataSense) has about 1% of the capability of DataSense, and cannot be considered comparable. It only tracks from their network side, and has no ability to track network -vs- WiFi data usage, nor usage by individual apps (really useful for identifying hoggish apps). DataSense also maps out nearby WiFi hotspots. We all need to push back to AT&T and get them to stop stripping out functionality. After 25 years with them, this is what will drive me and my family away. I flashed the ROM on my 920 to get DataSense on AT&T, but there has to be a better way (and I haven't heard of similar ROMs that can be flashed for other devices, in case I decide to upgrade my hardware).

Please, did you get 4G and or LTE with his unocked 1020 model on T-Mobile?

waiting for black update on my l520 and 920. however, black update seems to only add bluetooth 4.0 support and camera updates (most noticable).

Im hoping the firmware update improves camera performance on my 1520. Thats a little of a sore spot for me.

I'm waiting for the screen flicker fix, hope they solve it out :(

I havent had the screen flicker issue but I did notice that the swipe registering as a tap issue has rid itself which I am happy about.

Honestly, my 1520 camera is awesome, and I havent noticed any flickering or anything weird. The device is simply superb. Sorry to hear that you guys are having issues. Side note: Lockmix is an awesome app!

I want the Black update on my 920 because I'm hoping it fixes Qi charging after they broke it with Amber.

Me too, and here I thought it was just me.

What's wrong with your wireless charging? Mine works great...

I'm waiting for new camera firmware to the 1020 so I want black really bad.

I'm running the latest Preview for Developers update on my 1020...is this the same thing? Should I download it? Sorry for the bad English, not my first language.

Yeah download it has the nokia firmware but the developer preview doesn't

Much much different. Download :D

pretty much, just with Nokia's awesomeness tossed in, so go for it!

So does that mean FITBIT and Nike Fuelband can finally work with a Lumia? I hope so.

I remember when I bought the 920 and for all updates and app releases, people used to ask what about the 900? I feel like 920 is the new 900 :)

I was that guy one time lol I miss my 900 sometimes

Tell me about it, I have my 900 sitting on my desk. it's still a great phone but still so peeve everytime i see that phone settting on my desk.

I still have it. I used it for a short time when my gf broke her 920 and we were waiting on a replacement. So many features missing on 7.5

No, the 920 is far from 900. Its still one of Nokias big cards and will receive updates but the new phones always of course first

I hope that this means they're still tweaking the update for the 920 as I still can't use my phone as a phone. It is inaudible when putting the phone to my ear and talking - I have to be on speakerphone or bluetooth which is ridiculous. I will gladly wait for them to fix this. I should be able to use my phone for phone calls...

Sounds like a device specific problem.. Not sure if an update is going to fix that.. You need to go to the service center and swap that device out for another one..

I'm not sure. It happened right after I updated to GDR3 and there have been other people reporting the same issue after updating to GDR3 with their Lumia 920. Of course this isn't everyone but for those of us affected it is pretty frustrating.

That sux... I guess there are all kinds of "batch specific" problems then..

I hope they've solved the flickering problem, mostly with 920s

Just send it to warranty. At least that's what they told me at the nokia store...

I sent it to nokia care and they replaced the screen and the problem still persist. however the problem appeared after portico update. so it's a software (firmware) problem.

+1 Thought, I was alone facing that issue. Thanks for sharing/ notifying community. 2 observations on this issue from my end:
1. When we use any charger other than the one provided by Nokia, the flickering issue occurs more rigorously i.e. Used my Xperia standard USB charger initially.
Also, when you charge phone from power points that doesn't render stipulated Output i.e. I'm from India - 220v is the normal power output. When i used it in bus/train which render sub-power output like 110v - flickering issue popped up again.
2. Instance i find more annoying is when you do a long press on Home screen or webpage or even few apps, flickering is mild & prominently.
As you rightly said, even I receive this flickering issue only after Portico update.
Now I have constantly avoided the type 1 activities, which had fairly reduced the issue. However, flickering does pops up during long press at any screen space..

I didn't believe it till I saw the downloading screen on my 1020. http://instagram.com/p/iHQUV8pxsi/
Way to go Nokia and AT&T!! Early Christmas present for me!

Your phone looks... weird? Like part of the case is gone.

Wow the last time AT&T was 1st with any type of update was the Iphone

Actually AT&T was first with GDR1, then they pulled it due to a bug with the radio and re-released the fixed version a week or so later. Only with GDR2 did they take a long time.

I appeciate any extra QA work Nokia and AT&T did w/GDR2. That first GDR update was awful for tons of people.

Daniel - Any love for Verizon customers? News on the Lumia Icon?

I don't think we are getting this or GDR3 until the release of the 929...

I'm going to throw in the towel when it comes to waiting for the Icon. A phone that has been delayed this much must have serious problems. Also, by the time it does get announced, 8.1 will be almost out, leading to another wave of phones. I wouldn't expect it until mid-January, though.

Holy cow! Is it that same att?

If at&t released an update this soon, the end of the world.must be near

YAy Early christmas present from ATT. just in time. better pictures on christmas :)

When it will come to other phones

Well, I am from Brazil... The update hasnt reached this land.... or has it?

Well this IS a surprise!! Looking forward to it hitting the UK

Yay! Earlier than expected!

Is there no where's my update page for lumia black like they did with amber?

...enhanced battery monitoring...

What does this mean? I don't remember reading about this anywhere.

I don't think Rogers has released gdr3.

I want on my l925 bring bring!

I guess AT&T is just going to keep crapping on the 920. I guess it will be time to uprade when WP 8.1 comes out.

Wow, the come one UK three! Maybe an early Xmas present?

The reason they probably pushed this first is because of how bad the gdr2 update went for at&t but again the question is the 920, How long before the 920 users receive the update???

This is surprising!!!! Att released update even before the factory unlocked phones .. I am getting jealous :-\

Please come on 920 by Christmas....

Ugh dammit why can't Rogers do the same

so nothing on q
worldwide modelz wierd

I think it might be time to switch companies. I've had it with at&t and nokias inability to provide a update to all devices on a timely fashion.

Guess you'll be getting an iPhone

Nice! Downloading now; let's see if my 1020 breaks... :P

WTH? It keeps telling me I need to connect to wi-fi when I've turned everything but the Wi-fi off! I really hope Black includes a fix for the Wi-Fi connection on the 1020. It seems to have trouble with that. I can have a full signal of LTE and Wi-Fi and the phone pretty much loses all ability to connect to the internet. It is annoying as hell.

That reminds me of my old HD7 (R.I.P.), which absolutely sucked. I'm sorry to hear that about a Nokia. Have you tried contacting them?

So this will be good news for me in like 6 months, when branding-free 920's will get it in Germany...

is it for all countries or only US?..

I was actually just about to do the developer preview lol

You can still do it. You'll get all the GDR3 goodness. You'll only need to wait for the Black update.

Is it only is us? Not on ee in the uk?

So i should be able to download it?

It's not out yet sadly. Hopefully soon :)

Best surprise ever! I can't wait!!!! This and then the 8.1 update are going to make me feel like I don't need to replace my phone for another 3 years!!

Let's not jump ship here. We'll need to wait and see exactly what 8.1 brings to the table.

my at&t lumia 920 just got updated to 8.0.10521.155 ....that's the lumia Black Firmware right???

Did anyone that did the dev gdr3, get the black update with no problem?

mine is installing now and I had the dev preview. do a mnual check for updates.tok a little longer on checking updates but eventually found it.

No issues here it installed perfectly. I'm not seeing an update for the Glance app yet though.

Do we need an update to get message alerts on the glance screen?

They are there now after the update

Does it add RAW camera support for the 1020?

Thanks for confirmation. Daniel probably should add that to the list because I think a lot of photo buffs are waiting for that landmark feature alone.

I'm doing a whole separate article on new features.

each file is about 40mb so its not something you want to keep on. only for important pictures.

Something that you never mention but that's also a change on GDR3: you can now use FULL MP3 songs as ring/sms/alarm etc tones

Wait, how? I know about ringtons for different contacts but you're telling me now you can set the default ringtone to a normal, full length MP3?

AT&T first with an update? Wow. I wonder how quick they'll be to release it to the rest of their Lumia phones. Still nice to see them release it early. So they should though, there's no excuse for the main seller of Lumia phones in the US, not to be first for updates to these phones.

GDR1 for the 920 was instant

Installing now... its pretty slow going though. Hmm, stuck at 100% I think? (Nevermind its restarting)!

Uau I never though that I would benefit from having a AT&T branded 1020 over an international version (I don't live in the US and have an unlocked 1020)

is there DNG support for the camera now on the 1020?

Damm it....why not just push it to all Nokia att phones....what's with this selective B.S. ....?

the black update finished . It popped up a message saying welcome to lumia black. i dont remember that happening with gdr2. the funny part is the page it brings you to is still for amber

Noticed that as well. I was like whaaaaaa?!

AT&T stole this from under the carpet... Nokia, where is our Lumia Black Update Status Website by region???

I keep looking for that on their website. Sadly it's not there yet :(

Cool. I'll be getting my 1020 on Jan 5. fo free

I got mine fo free 2 months ago. ;p

Uuuuuuh! Come on T-Mobile!

oh why does my wifi at work have to be so spotty!!!! very happy about this though. Can't wait to kick the tires on the RAW capabilities when its slow here at work next week.

Your IT guy sucks, your CFO is cheap, or your device is faulty.

I think its the first two haha

I don't have enough of a charge to complete the install.... damn.

Any Info on Lumia 920 Users getting the GDR3 update and Lumia Black Firmwire? Never understand why 920 users have to wait, so we're not a flagship phone as much as the 1020 and 1520 anymore, but we still our loyal Windows Phone users, So kinda wish our 920 model was treated the same as 1020, 1520, 820, and all the line. (my contract ends April 2015) so depending on how the updates go for GDR3 and 8.1 update will determine if i stay with At&T or Windows Phone entirely at that point

Seeing as this brings RAW support to the 1020, i can see why they pushed it first to the 1020. Gauging by all the early next year posts, I would assume Black should be rolling out in the next two weeks.

I agree at first a fan of both companies and lured into the 920 hype and guaranteed support I bought it.

What's the big deal if you have to wait? You'll get the update eventually, is there any specific reason why you can't wait for it to be released? Being first, last, second or even 21st means nothing, what matters is whether you get the update and we are more than likely to get updates for a while yet. So what's the hurry?

Could that mean that Black for the Lumia 920 isn't too far behind? I have both the 920 and the 1020 (the 1020 is updating as I type this).

My 1520 touch isn't crazy sensitive anymore. Perfection! Anyone who is on the fence about the 1520- it's now perfect!

This is good to hear. The screen sensitivity has been driving me bonkers. The other issue I have is the display brightness when set to automatic. If I'm in a dark area, the screen is too dark. The rest of the time it is just fine. I find I have to turn off automatic and go to low when it is dark. Have you noticed any changes?

Does this get rid of the annoying yellow tint after pictures?

It does update the camera algorithms, so hopefully. Anyways, with RAW support now enabled, you can handle all the color and white balance processing yourself. So if Nokia doesn't address the issue, you're free to take matters into your own hands.

Yea but the photo wont be 41 mega pixels i like zooming in

It will still be using the full sensor. That's the beauty about RAW, it takes the raw (see what they did there?) info from the camera sensor, the software doesn't touch it at all. You get exactly what the pixels see. That means it's not ready for sharing out the gate, you've got to do all the touching up and such. But if you have the right software and the know-how, that results yielded are tremendous. So yes, you can still zoom in. Not on the phone, of course, but you're free to use whatever software you like to over sample the images.

I guess i can try it. I dont really know much about photo tech or good software to use....nor do i wanna pay to do that but... Ill see what happens. Its worth to try it out

Completely optional. It's worth experimenting with especially since the program Fotor lets you open and edit edit .DNG (the file format for RAW images) for free, you can try your hand at it and, if successful, consider more high end software. If not, then no worries, you can still use the same capture modes as before (and hopefully with improved algorithms to improve the white balance, and finally fix that obnoxious yellow tint issue).

Yes it is the full 41 megapixels. You would open up the dng file and crop it yourself using a program like gimp or photoshop. heck if you have windows 8.1 the built in programs open them up also ( though slowly).

Technically, depending on the aspect ratio you choose, you only use 34 or 38MP, not the full 41. That's the deals when you have a round sensor taking rectangular photos. ;) (But don't feel cheated, technically no camera is giving you he full amount of pixels it promises, unless you're taking round photos, or have a rectangular sensor).

I hope they update their Availability-page soon, I can't wait to get this on my Lumia 520.

Please tell me this fixes yellow indoor pictures?

+1...my biggest gripe with the camera...hopefully it will be fixed!!

What about my 925 with the battery issues

Someone that already had it downloaded, is the yellow tint gone?

what do you mean by yellow tint?

He means when taking photos, primarily indoors, the terrible yellow tint pictures have.

I don't see the yellow tint with flash (the problem was with flash, right?) but i still see a slight greenish hue after taking the photo and the camera "processes" the image.

I don't see the yellow tint with flash (the problem was with flash, right?) but i still see a slight greenish hue after taking the photo and the camera "processes" the image.

I've never had a yellow tint issue with my 1020 indoors or out, I showed it to a professional photographer the day I got it and he took a series of photos with it and said he was amazed at the colour balance even on automatic settings.

So this one has the RTM version of GDR3?

Something new is that Nokia says "welcome to Lumia black" when you first start up after the update. Kind of cool!

5-10 minutes my ass. Slow but steady, looking forward to this finishing up! Migrating is taking forever...

I already have some of those new features on my 920. I received that update 3 for developers a couple months ago. Still need the new features for glance tho

YES!!!!!!! I WAS NOT EXPECTING THIS, BUT SO HAPPY!!!!! I've been anxious, hoping I could get Lumia Black so as to shoot RAW pictures before I go on my trip, and my wish has come true! Truly, a Christmas miracle!!!!!

Keep in mind raw pictures take 40megabytes each.

Yup, but I've got plenty of storage space left, and I'm going to San Diego and plan on seeing some awesome sights, so I'm saving it for the photo moments that must be absolutely perfect. Everything else, I'll continue with my tried-and-true method of just taking regular 5MP + 38MP .jpeg.

Argh. Nothing for my Rogers 1020

How is Black different than developers preview g3? I just upgraded to black on 1020, asking for specific changes I can check out. Thanks

OS system wise its the same BUT black includes a firmware update from nokia that the gdr 3 dev preview does not. the firmware is what changes camera quality and adds raw support.

Where's 7.8 for my focus?

Dont cry lumia 520 can help you

I got a 920, so I'm good. I just feel bad for my old focus rotting away in that drawer. Man, I had some good times with that phone. It was my first (smartphone). You never forget your first.

Hd7 was my first i got the 1020 now....im happy i moved on but i will never forget it

updating as i type, mighty 1520 updated

How do we set custom ringtones? I don't see an option to select files outside of the predefined list... *edit* nvm, you have to put the files in a specific folder (ringtone).

The quick and easy way to do ringtones is to use a ringtone app like easyring(my favorite). Once they are saved in your custom ringtones you can set it for anything or anyone.

Has anybody tried Storyteller and Beamer yet?

Got the Black update and Storyteller and Beamer are a not yet available!! Getting the "This app is not available......." msg!! Anybody else get this Storyteller http://www.windowsphone.com/s?appid=b0940143-e67e-4f74-8f68-16b7ad872dd2 Beamer http://www.windowsphone.com/s?appid=b5511af6-cbd0-4945-9bf6-30cf0582043f

Beamer works if you have it installed.

They're only for the 1520, aren't they? "This app is not available for your device. Tap here fore more info." from 1020

This is so ironic. I'm not att user but remember how many ppl were complaining about att pushing update so late (or never). And right now you are the first ones) waiting for Verizon now -Lumia 928

They are still late not everyone has it

Can't wait to get home with my 1020 to download the update and hope the install goes clean with no cogs turning round for ever.

Got it on my 1020. To answer a few questions: The Yellow Tint appears to be gone. I did some inside and outside shots and they look great. Raw support is there as an option in camera settings. You don't have to update the Glance app. The new notifications just show up. Also, the clock on the glance screen seems a little smaller and maybe a slightly different font. Also, I already had the Dev GDR 3. It didn't seem like it was a problem.

The pictures on my 1020 after the black update are even better then they were before hand. I also like the raw functionality. If I take a Pic I know I need I can set it to raw so that I can edit it later.

Did you get Storyteller in the update?

Battery percentage also shows on glance, which is nice

Nothing different, really from the preview. I hope my 1020 freezes less. Though - in fairness - that may be due to the brilliant code written by the Words With Friends folks at Zynga.

The preview had all the gdr3 OS updates. black just also gives you firmware updates like raw support.

Ah! FYI, it actually says DNG - which is the same format as RAW. Well, I guess it is time to update my copy of LightRoom.

Took about 14 minutes on 1520. I'm up to 8.0.10521.155

Woohoo first update for my 1520. Although, I don't notice a difference. Lol

Lumia 928 also updating.Is it the black update?

My 920 is waiting !!!! It wants Lumia Black and the final Update 3 .... He's driving me crazy damnn ......

L1520... L1020... L920........ What about L925 for us in Sweden?? :P

Is the app switching smoother on the official update release? On my Lumia 925 with the GDR3 preview, sometimes I notice the little cards sort of twitch. Idk how to describe it. It's not lag, it's just not as smooth as the home screeen for example.

Will this enable 1080p support for the live tiles (like the 1520). If not will this be an option in future updates for the 1020? Terry

I believe that feature was pulled out of the GDR3 update for lower than 1080p resolution phones. There is still a chance for it to be included with 8.1.

Joe Belfiore has already said that it's not the resolution that matters, but the size of the phone. Basically anything with a 5" screen and above will have the extra column of tiles.

Another Trick & Treat ;)
But seriously, At&t first out??
Arrrrgh... Now I'm gonna check for updates all the time...

Agree, I'm just not "feeling the love" anymore from AT&T for my 920...

So 12/19/13 = 920 Update Complaint Day.

No update!! Really ? Even for USA locked devices of AT&T in India?

This was funny... After the update finished and my 1020 restarted, I got the toast notification welcoming me to Nokia Black. After clicking on it, the IE launched with the Nokia Amber Update site highlighting the Amber features. I was expecting it to go to the Nokia Black features. Maybe a bug, but not worried at all now that I have Black on my 1020. Yeah.

Does this include Dev Gdr3 or do I need to download Gdr3 separately?

As mentioned previously, it includes the GDR3 update as well as Nokia's Black firmware updates.

Nooo I thought the developer preview program would make life smooth sailing... I forgot Nokia updates are unrelated. MS owns Nokia now- the Nokia updates should be under the developer preview!

Downloaded Black on my Lumia 1020. It said it was 681MB but required somewhere between 1-2GB of free space to actually install. Had to delete Order and Chaos to get it to install. I really need to transfer a lot of my 38MP photos to a PC! Liking the new features so far. Wont get to full explore until I get home later from work,.

After being screwed time and time again with ATT and updates going back to my first winphone always having to find a workaround to stay up I am simply amazed that my 1020 is updating as I type this. Kudos to them for this one time and may this become a trend...

Anyone notice when you're taking a video, and you pan quickly (or slowly) it looks like the OIS is trying to catch up by quickly reframing the picture? It's annoying.

My other storage went down to 2.2Gb from 3.9Gb.

My other storage went down from 3.9 to 3.8. Not great but I have never seen other actually go down. It always goes up.

My email is syncing super slow now. 1029 with black

So now Telstra is officially slower/worse than AT&T, no GDR3 until sometime in January, no Black, and no committment on 1520's... WOW

Thank god! The screen sensitivity issue seems improved on the 1520.

I just updated to the release preview last week. Ha!

Updated my 1520 about 2 hours ago to newest firmware now none of the installed apps work. Thinks tied to the OS work like People Hub, Photos etc... and a couple of Nokia apps work. But any third party app I have installed just crashes out. Nokia Maps, Drive, Flixster, IMDB and list goes on. If I am starting an app from a live tile the screen does its rotation like the app is starting but it goes right back to the start screen. Likewise if I start an app from the app list the screen rotates again like the app is starting but goes right back to the app list. There is no way I am re-installing all my apps. It has taken me from launch day to get the thing like I wanted it and now this happens. Rebooted the phone like 3 times still nothing. If I check for update it comes back saying I have the latest version. Has anyone else had issues with the 1520 after the firmware update?

Just do the keyboard trick, add a keyboard from a different language. After you may need to reset, but all apps will function.

Holy crap that actually worked. Thanks for the suggestion.

Everything works perfectly and they fixed the screen sensitivity issue...

Sweet! Just got my brand new Surface 2 with 200GB of free Skydrive... and now the Black update on my 1020 with the RAW/DNG support I have no worries about storage.... life is good! Installing the update as we speak... it's on the spinning gears... nevermind... it just finished! :D

༼ つ ◕_◕ ༽つ Give Lumia Black for 920

It better come to India soon. It would be great if RAW is enabled for the 920. It still is a great camera phone. I am also waiting to see if this update enhances the battery life. I barely get a few hours during continuous 3G usage. Not to mention the phone getting warm. GPS usage drains the battery like water. Am not able to utilize it for longer drives. Will see if this update resolves that.

Hi, I loved and bought my AT&T Nokia Lumia 1020 after 920 in USA, but now I moved to India. Will I still get the update (by connecting to Wifi) ? Mine is still locked to AT&T although no AT&T coverage here in India currently. :( Any one please update.

Wow, I got the update too. Update and Restart completed. Close option in multiple windows, Screen orientation, Lockscreen camera and Glance screen additions are very much useful for a normal user like me. Still enjoying other features and exploring them too. BLACK ROCKS in L1020. Now waiting for my L920 as well.

Guys, please give me an answer. My inrternational lumia 1020 is still on 3049 and still says up to date. Whyyyyy? Its rm875 hungary sim free. I have asked in other forums with no response. Should I hard reset it?

Waiting (black) badly from Malaysia for international model RM 875 Lumia 1020. Will Nokia release the update before Christmas? Hope can get it for my holiday to grap more fantastic pictures. Love my ten twenty...

UK Vodafone network and (Ovivo) Sooooo slow :(

If the update doesn't come to the 820, I'm abandoning the platform. Sorry to have to say that, but I can't honestly say that I've felt like I'm supported. It seems MS cares too much about the carriers and their insignificant opinions and less about making sure that we get updates. I'm sad to feel this way, as I've always been very platform agnostic. I'm not the most affluent guy around, so I've kinda taken what I can get. I've always liked Microsoft and strangely, I've like AT&T. Maybe because I was an iPhone customer. The one time I really spent money on something was when I got an iPhone 3G. I spent a ton of money to get into that thing, and Apple let me treat the carrier like I want to treat them. I got the Lumia 820 because my iPhone 4 was due for upgrade and I prefer the polycarbonate one piece shell to the iPhone design lately. Now that the 5C is out, well.. That changes things. And of course, no carrier can block Apple's updates. I treat my carrier like a utility. A dumb pipe. I'm sick of them having any influence at all upon my hardware aside from selling me services. If they block the 820 from getting the Black update, I'll have no choice but to consider an iPhone 5C on TMobile.

Why are these updates network (AT&T) dependent? Won't you be able to get them through WiFi?

People like iOS because they release the update to all their devices in the same day. Probably Apple just makes sure EVERY device is perfectly optimised running the firmware and every carrier brought their apps up to date before releasing the update worldwide. I just think other software companies (Nokia, Samsung, HTC) and carrier (AT&T, Verizon, Vodafone, Orange) release the software as far as they can, not in the same time as everybody else. While this method is more practical, people see this as delaying where as it's Apple actually delaying more timely updates to their devices..

I wish Windows Phone updates are similar to iOS updates, once released all iPhones (supported) can install it right away.

Any idea what happened to story teller? I was really looking forward to that app but in the store it says it requires the Amber update. I thought it was a black update
I have the 1020

I can't seem to see the RAW format in my Photo settings even after the Black update on 1020, why so? Anyone else see the same problem?

Please help me
my new Lumia 1520 face serious problem.its cam move out control and shake always so I can't take any picture. I took a look at the kens and saw it move in all directions like eyes of chamelion and not settle at all
Windows Central Newsletter
Thank you for signing up to Windows Central. You will receive a verification email shortly.
There was a problem. Please refresh the page and try again.