Developers: Add custom sounds to your toast notifications with Update 3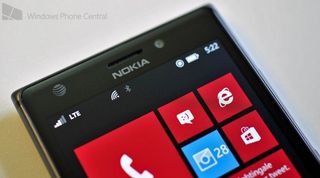 Yesterday, Microsoft surprised us by not only announcing the features coming in GDR3 (also known as Update 3), but by releasing the update for download through their new Developer Preview Program. We have a fairly good idea of what's new and improved with the update, but small trinkets are still being discovered by developers and enthusiasts around the globe. The latest discovery is one that can help make Windows Phone even more personal.
You're missing out if you've downloaded GDR3 for your Windows Phone 8 device and haven't yet checked out our Windows Phone 8 GDR3 Forums. Other members in the Windows Phone Central community are playing with the update and finding all sorts of new features, like this one.
With Update 3 for Windows Phone 8, developers can introduce custom sounds in toasts notifications. Pretty awesome right? While Microsoft may or may not call their future personal assistant Cortana, there's no reason developers can't get creative with this new feature.
Here are the limitations for developers implementing this feature. Sound files can be in WAV, WMA, or MP3 format and must be less than 10 seconds long. That's it.
While Windows Phone 8.1 will introduce a proper notification center, it's not coming out until early 2014. Until then, it still is fairly common to hear a toast notification on your phone, but miss pulling it out to see what it was before it disappears. Now developers can get creative with this feature by introducing custom sounds that go with toasts. For example, we could get Jay Bennett's voice to announce when a new article is published on Windows Phone Central. That would be pretty rad.
Developers, head to the source link below to read up on the documentation around this feature and sound off with your thoughts. Everyone else, give developers some creative ideas of how to implement this and whether or not you'd use it.
Source: MSDN (opens in new tab), Via: Windows Phone Central Forums; Thanks, Anthony A., for the tip
I'm hoping for more hidden API changes, specially in BT...

This is one of the most exciting, and useful, features to come to WP In a long time.. I'm hoping for some really futuristic, robotic, and technology themed sounds for certain notifications... 10 seconds is enough for a quick spoken out description of the notification.. This is awesome, and I'm not sure any other platform is doing this..

I hope we get the options for a little ding or somebody talking. When I set my phone at my desk and get an alert, I don't really want my phone talking to me...

Yes❕ Exactly.. This needs to be all about options in the apps settings, or custom sounds that we can choose for a specific apps notifications.. The possibilities are endless.. I'm really excited about this feature..
Nevertheless, this should not be considered a substitute for a completely intergraded notification center❗

Whatsapp and 6tag get on THIS!

Dies WhatsApp have an own, characteristic ringtone on any other platform by the way?

You said, it. To many apps carry the same tone. Can't tell if is whatsapp or a weather app notification.

Hey I have a a quick question, you know how you said that for the dev preview of gdr3 anyone can download it to the phone does that mean just 1 phone under a Microsoft account or you can for example download gdr3 now and later you won't be able to download WP 8.1 early?

Afaik one device per app studio account and three devices per dev account may participate at the preview. But not too sure.

Sueha is correct nd who said u wont be able to update to 8.1. . Dont worry everything will be as expected

It would be cool if we as enthusiasts can choose the sound right now instead of letting developers choose the sound for us.

I would imagine the devs could possibly give us a choice of their custom sound or the default sound, that would be great :)

You will listen as you are told and you will like it

I was slightly disappointed to see Microsoft neglected to allow us to change the default toast notification sound for apps but THIS is even better! I just hope developers will take to it as soon as possible, creating something unique and sexy to help us determine the importance of the toast from across the room. :) Btw, that Cortana thing for WPCentar is happening, I hope?

I hope ever dev implements this! Super handy without a notification center. But since know that's coming now let's hope for an all around better notification system with 8.1

Bongos from the wpcentral video intro! Get on that, Jay!

Lol jay bannett announcements

I noticed that a "Check box" is missing from the settings in Phone Update once I updated to GDR3. It no longer tells your phone for updates.

I'll post in the forums. Its nothing big but it is removed. Don't know if its just for the preview or not.

Yes its like that on my gdr3 as well att 920!

http://forums.wpcentral.com/windows-phone-gdr3-preview/245701-phone-upda...

this is epic...one of the things that drives me nuts is that every app notification makes the same noise. ready for ESPN to make theirs the 'dunana dunana' sound

Yes! This is huge for that reason alone.

First thing I thought of was the ESPN update jingle.

Lets just hope devs make ringtones that fit the other ringtones on wp8.

Hopefully we'll see some 'App sound polls' here on wpcentral.

I think you'll find that the same care and quality that goes into the app will also go into the tone. So good apps will have good tones, and thoughtful developers who build apps that embody the WP experience will also put WP-esque tones in their apps.

Where can you download notification sounds? Anybody have any good ones they can share. Sounds from movies etc

Look for free ringtone apps, there are plenty. They have short tones in their repository. My current text/instant message alert tone is a 1.5 second laugh from the Minions in Despicable Me.

Using easyring&music I cant find any short tone option.

I find a few of the tones provided via Windows Phone Insider app quite useful, but I believe most of them might be too long.

I use my old BlackBerry 7 sounds!

As for me, I usually have collections of Games' BGM Soundtracks (specially Japanese RPG styled games). Those games usually have BGM like win battle fanfare, sleep fanfare, etc which usually pretty short (or can be shortened without wierd abrubtion halt). Games like Final Fantasy, Wild Arms, etc. I personally use sleep fanfare from Wild Arms 3rd Advance (a whistling version of the games' themes).

I wanna hear birds from twitter, the official Skype sounds when I get a message, and an official groupme sound when I get a message. Like, that would make me feel very hype

Let the notification center not be a tile please. My calendar already takes up 1/3 space on top of my home screen, add to that the other medium tiles I use like photos, people, weather, Xbox, messaging, Facebook, etc.. I can't anymore space. Besides, I don't need to be looking at notifications all the time. I need it to hide. Please lets make sense Joe Bilfiori and implement a left corner slide to right to open notifications.

For this feature it would be cool if devs could access the native sounds as well as use the ringtones folder for our individual choice. Naturally devs own tones are very welcome ;)

Yes, this would be an obvious way to go, to reuse the ringtones, but without a chooser API, I cannot see this happening until 8.1.

Does this mean developers could utilize this same API to allow users to set their own custom tones for the app?

Quite likely, yes. If you can get their tone into your app's sandbox, and it suited the requirements, then it would work.

YES!!! Finally. So confusing hearing the same notification sound when among a bunch of friends, no matter whose phone or whether it's Skype, WhatsApp, etc. This is a great move.

YES! Finally I get to hear my Skype toasts ... when they get through. I love this, best news out of this update.

I did notice that you can now add a custom text tone to contacts. I went onto AT&Ts text-to-speech generator site and created custom notifications for some of my contacts, including Facebook, Twitter, email and calendar. Now a quaint British voice tells me exactly what's coming in and I don't have to even look at the screen.

What is this text to speech, you speak of?

Awesome, now just to record some custom sounds, using the apps name! "Notification from WhatsApp"

To much complain about notification center. If you set a different tone for every app in your phone, how you remember what app is when you phone make the sound???

Meanwhile still no Video attaching.

Yessss yessss yesssss awesome awesome, whatsapp viber Skype plzzzzz be fast with this, and plz now Microsoft video sending from gallery to third party apps API plzzzz then it will be perfect

How about creating albums?

Windows phone is growing very fast , I love it

Similar reflection approach to the wide tiles in 7.8. I guess 8.1 will add the Sound property to the structs and toss away the reflection. Still, it would be nice to have a chooser for the ringtones page (like the photo chooser) to just let the user reuse the built in tones, but that could not just be done by reflection of course so maybe such a chooser will come in 8.1.

YESSSS!! FINALLY!! ESPN UPDATE YOUR DAMN APP NOTIFICATIONS HAHA!!

This is awesome.
I did wonder how long it would be until custom toast notification sounds would appear. The BBC app for iOS added their breaking news tone to their notification, I thought it was a ncie touch
I think the first tone I'll add to an app is the screaming goat. That'll freak some (if any download it) users out.

The WPcentral app can use this!! Please use some cool tones for ur toast notifications for next update!!

I wonder who is the first dev to utilize this. I bet Rudy huyn

This is a request.....please bring back tha old FB but u can still keep this one for a choice. But I like tha old FB

Goal Centre in the store now supports the custom toast sounds :)
Windows Central Newsletter
Thank you for signing up to Windows Central. You will receive a verification email shortly.
There was a problem. Please refresh the page and try again.