Missed the Day 1 Build keynote? Watch the entire show right here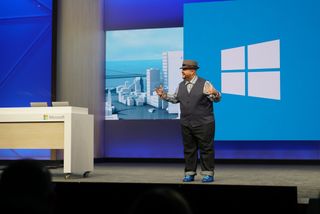 Whether you were unable to keep up with all the bots on show yesterday or were simply outside enjoying the sunshine, Microsoft has the day 1 Build 2016 keynote now available for viewing. Everything from the anniversary update to Bash coming to the platform, there was a lot present on-stage and you can relive all those moments.
So pull up a chair, fetch a beverage and enjoy the show.
Rich Edmonds is Senior Editor of PC hardware at Windows Central, covering everything related to PC components and NAS. He's been involved in technology for more than a decade and knows a thing or two about the magic inside a PC chassis. You can follow him over on Twitter at @RichEdmonds.
So there will be Day 2? Good neews for Mobile Posted on Lumia 930 with
Windows 10 Mobile

There will be day 3 as well

Typically day 2 is Azure and enterprise. We'll see.

Couldn't get the entire show anywere else. Good thing its here Posted via the Windows Central App for Android

Will I see fix of num lock issue on login screen this lifetime.

Same problem here. BIOS is set to ON, but I power it on and the number lock is OFF. I don't have time to search for a fix. Unfortunatly you won't get this answer at Build.

So, I guess YouTube viewers get the recorded version first before Channel9?

Somebody should edit a version which shows only windows phones.

They did, but it amounted to 0.00mb so youtube didn't allow the upload :)

I went ahead and did that. Here it is:

You missed the Bot Skype demo on WM.

Great build! I saw a lots of new windows phone!!! It's raining new models!!!!

Lol you clearly don't know what is this event.

Yeah, exciting opportunities with "build" for us to beta-test for them for free, and then be abandoned. But hey - lets all download a buggy OS and send feedback! (glad I was never involved in preview testing - not on 8.1 or 10)

Yeah. It's Just like Windows phone 7. They abandoned us and will abandon us in future.

Wp7 was a kernel switch from Windows CE to the current Kernel which runs a lot more things than just phones (I'm really glossing over the kernel jumps between releases as in the grand scheme of things they are irrelevant as the average joe doesn't care about kernel jumps).

Please can someone tell me when windows 10 will be available for Lumia 730

still no news if OneDrive placeholder will be back?

RIP Windows phones. Long live iOS and Android.

Hopefully, Day 2 will show us what's new for us to build our own services instead of this stupid 2:18 long commercial for MSFT services. And it would be fine, if MSFT would find a definite answer on Epics criticism. Is it possible to use UWP in non-sandboxed processes? Can another store add an app to the sandbox? And what about Windows server? Has Xamarin been bought for more than getting control over .NETs OSS implementation? Really, I get fed up with this new MSFT.

Universal Apps will always be sandboxed with added context aware functionality. If you want unsandboxed you have the win32 installers. Why on earth would you want certain store apps to run unsandboxed?
It really defeats the purpose of a unified store. In regards to other stores, you can have a "store app" within the store for instance BBC have a store app once installed it acts like a store with associated e-commerce for programmes. Xamarin was Imo bought to ensure Windows remained THE defacto platform for devs and ability to run Bash natively reaffirms that.

Did the stream get garbled at points for anyone? I ask because my routers (1 is a access point) are playing up again.

Now that BUILD 2016 is behind us, will you guys update the app to remove the \Build category in News ?

Behind us? There's 2 more days of Windows 10 Mobile's funeral left to go!

Are there videos of any of the other presentations? I was hoping to see Gabe's. Sent from my Toaster Oven (Lumia Icon)

i was watching it yesterday. its not bad.
Windows Central Newsletter
Get the best of Windows Central in in your inbox, every day!
Thank you for signing up to Windows Central. You will receive a verification email shortly.
There was a problem. Please refresh the page and try again.