Mixer is a great streaming platform, but the iOS app needs some work
Mixer brings to Twitch some good competition, but Microsoft really needs to step up its app game.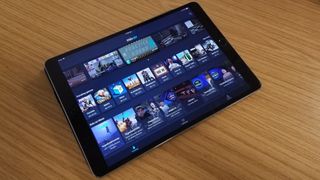 Microsoft purchased Beam over a year ago to push video game broadcasting into the forefront of Microsoft's efforts. Since then, Microsoft changed Beam's name to Mixer, integrated it into Windows 10, and increased its functionality on the Xbox One. It's a solid streaming service that focuses on quick interaction with viewers and streamers engaging with audiences. Mixer is available on a number of platforms, though there notably isn't a first-party UWP version, and I recently took the iOS version for a test run on my iPad Pro.
Using the app showed its potential to be a great way to view streams but also highlighted flaws in the iOS version of Mixer.
To try the app out yourself, you can download it from the App Store for free.
Covering the basics
The main purpose of the Mixer app is to allow viewers to find streams, tune in, and interact with broadcasters. The iPad version of Mixer covers these bases with an easy to use interface; a great discover page to help you find more content and a comment section within each stream that you can quickly toggle between being hidden and being visible. The app recently gained support for Hypezone broadcasts so you can easily see lots of different broadcasters playing your favorite games without you having to jump from stream to stream.
Mixer's interface is simple. You can jump between the home page, creators you follow, and view your profile. Streaming to Mixer is separated into a different app, Mixer Create (opens in new tab), so you can just focus on viewing content on your tablet.
Viewing streams showed little to no lag, and the picture quality was crystal clear. I viewed all the streams I watched using my home WiFi and quality can vary based on the streamer and your home connection, but as long as those are fast enough, the app itself can show streams in excellent clarity.
Missing features and issues
While Mixer on iOS provides a good viewing experience, it doesn't take advantage of options that are available for developers on iOS. The first omission is that Mixer doesn't support persistent video overlays. This means you can't switch your viewing mode over to picture-in-picture and continue watching in a smaller window even after you leave the app. In an odd dichotomy, Mixer has picture-in-picture support if you stay within the application, but not if you leave the app. Secondly, in what I hope isn't becoming a trend for Microsoft apps on iOS, Mixer doesn't support split-screen viewing on the iPad. You can have it float over your other applications, but that covers whatever is below Mixer. When I saw that Microsoft Edge didn't support split-screen viewing, I assumed it was because it is in beta but with Mixer not supporting it either, I think it's worth keeping an eye on if Microsoft uses this feature in future apps.
Picture-in-picture and split-screen viewing aren't as important for Microsoft's other applications, but for a video-centric app like Mixer, you need to be able to have it on in the background while doing other things. Game streams can last a long time and while they can be extremely entertaining, having to commit your entire screen to viewing a Mixer stream is cumbersome.
Lastly, I ran into some crashes and bugs in the app. They didn't show up that often when I was generally browsing but found at least one issue that could cause the entire app to crash every time. I think for an app that's going up against a well-established juggernaut in Twitch, you need to have a rock solid experience or people are going to stick with what they know.
Overall thoughts
Mixer is a service that has shown promise in the year or so that Microsoft has owned it. It provides solid competition to Twitch while providing features that Twitch doesn't. The Mixer app on iOS is mostly solid, but it has room to grow. The occasional bugs and missing features such as split-screen support could turn off new users before they are firmly entrenched in the Mixer ecosystem. The app covers the basics such as viewing streams, commenting, and watching Hypezones for various games, but it hasn't been optimized to be a great iPad app yet.
Pros
Makes it easy to find streamers.
Allows interaction with streamers.
Free.
Cons
A bug that caused crashing.
Lacks some iPad-specific features.
News Writer and apps editor
Sean Endicott brings nearly a decade of experience covering Microsoft and Windows news to Windows Central. He joined our team in 2017 as an app reviewer and now heads up our day-to-day news coverage. If you have a news tip or an app to review, hit him up at sean.endicott@futurenet.com (opens in new tab).
What about it? It's a cool platform, with some impressive features and tech behind it. FTL, co-streaming, built-in interactivity, etc. It's better than Twitch.

just the name is stupid.. i liked beam better. I am not really into watching other people play video games.

Is there flaws in the programming or something? Devs can open their xbox game API to mixer or Streamer can get a cut when promoting a MsStore product are actually bad news?

It's an(other) undermarketed service that falls way short of it's primary competitor. It's a competent offering, for sure, but the entire thing is starting to look like the way MS managed Skype all over again in so many ways.

Needs an official Windows 10 app before fixing issues with the apps on other platforms, I can't believe that Microsoft have apps for Mixer on iOS and Android and CBA to release one on Windows!!!

Agreed, MS own Mixer but haven't even released an app for Windows 10

notifications, live tile, Cortana integration for starters. It doesn't have to be UWP (though it really should be if it's in the MS ecosystem), at least PWA would support those features.

100% agree, i have never used Mixer, but i presume it is like a You Tube type thing, so it can use a browser. i don't know why everything seems to need an app these days?

I don't think we'll ever see an official uwp mixer app.
Maybe a PWA for the watchers, but other tools would probably be integrated in the game bar or the xbox app.
Windows Central Newsletter
Get the best of Windows Central in in your inbox, every day!
Thank you for signing up to Windows Central. You will receive a verification email shortly.
There was a problem. Please refresh the page and try again.