Mobile point-of-sale services PagSeguro and Cube arrive for Windows Phone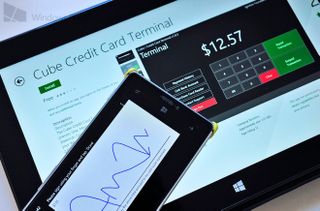 While Square (squareup.com (opens in new tab)) remains the king of mobile transactions for small businesses, taxis and other services globally, the company has so far stayed away from Windows Phone, sticking with the iPhone and Android instead. File it under the old "not enough market share" problem that has plagued Microsoft.
Some of that is changing though as PagSeguro (Brazil) and Cube (getcube.com) have finally embraced Windows Phone, allowing small companies to use their preferred device when doing mobile credit card transactions.
PagSeguro
The Brazilian-based national e-commerce outfit PagSeguro (pagseguro.uol.com.br) this week released an official app for Windows Phone 8. The app was recently tested by the site FaixaMobi and it was evidently a joint venture between PagSeguro, Nokia and Microsoft.
The app of course is free to use and the card reader can be purchased direct from PagSeguro for R$ 118.80 (or 12 x £ 9.90). The app is actually compatible with both Windows Phone 7.x and 8 but the card-reader only works with 8.x devices (those on 7.x can manually enter in CC numbers for transactions).
You can see the combo of the card reader and app in action in the video below. The app itself can be found here in the Store (or scan the QR code).
Cube Credit Card Terminal
Likewise, Cube has launched their Windows Phone 8 and Windows 8 apps this month and it too is currently available to download. Cube is a similar service to Square but they of decided to go wider in their support by embracing Windows Phone and Windows 8 (yes, you can even use it on your Surface).
Cube for Windows Phone 8
From the app description:
We don't run a small business ourselves, but having Cube available to us for POS on our Windows Phone seems like a move in the right direction. While Square remains the prize to have, at least those in Brazil and in the US now have some recourse, should they need such a service.
Pick up Cube here in the Windows Phone Store or if on Windows 8, you can get that app here (opens in new tab). You can learn more about Cube and their pricing from their website: getcube.com
Anyone here wanting to use point-of-sale services for Windows Phone? Have you used Cube or PagSeguro? Let us know in comments.
Windows Central Newsletter
Get the best of Windows Central in in your inbox, every day!
Daniel Rubino is the Editor-in-chief of Windows Central, head reviewer, podcast co-host, and analyst. He has been covering Microsoft since 2007 when this site was called WMExperts (and later Windows Phone Central). His interests include Windows, laptops, next-gen computing, and for some reason, watches. Before all this tech stuff, he worked on a Ph.D. in linguistics, watched people sleep (for medical purposes!), and ran the projectors at movie theaters because it was fun.
So been waiting for this!
Intuit & Square can kiss my arse!

Definitely a step in the right direction

I emailed Square (squareup.com) and asked them when we could expect their app to appear on Windows Phone and Windows 8/RT. They replied within an hour:
"We currently only support Apple iOS and Android platforms. We don't have any plans to support Windows mobile devices at this time. Should this change in the future, we'll be sure to announce it."
I replied back thanking them for their prompt reply and saying, "I'm sorry to hear that. I'm moving my entire team over to Windows Phones and Surface RT tablets, so I guess I'll have to switch over to Cube. I'll still monitor your website for news of that changing, though." Cube it is!

I've been using goPayment (Intuit) for a couple of years and the only reason my wife still has android is due to this. Now that Cube is out it seems like its cheaper per swipe than Intuit .25% to be exact but its a difference. I haven't checked if they have monthly instead of per-swipe but this seems to be where I'm headed too. And since our new PC's and tablets are Windows8 it is good to know they will also be compatible with the system (something goPayment doesn't have)... Bye bye goPayment. You won't be missed. jejeje

Totally agree! The hell with Square!

I twitted this tip early today. By the way, the app Easy Taxi is available in wp8 store here in Brazil.

Meu deus esse applicativo é mto top! Acabei de instalar!! FODA

This app is amazing, how come I never heard of it, or any reviews on it by WPC??
Regards Márcio

I've been using Cube now for a month, I love it. Its about time an article went up announcing this app. :) Much needed app!

Any downside or cautionary thoughts, from your perspective?

So far none what so ever for me. The one thing I emailed support about is that on square when a customer uses the same card it auto populates the cell number or email to send receipt. Cube does not do this, but they seemed receptive to the idea.

Very interesting. Just went to their site and it appears that they DO NOT SUPPORT Android.
Anyone else find this odd?

Nope, not since all wp users ever see on commerials is ,"download on your Apple or Android" device today and sometimes even blackberry excluding windows. So this is actually music to my ears : )

We also need the PayPal credit card reader. I sent them a tweet months ago and they have no plans at the moment.

i was told they were working on it a long time ago. i think they might have fed me a line of crap.

Okay, so how does Cube stack up against Square as far as cost? Ultimately, I don't care if Square ever gets to Windows Phone if Cube still gets me paid and does it at roughly the same cost/overhead as Square.

That's what I'm wondering.

It's pretty much the same deal. Square 2.75%
Cube 2.5% No contracts either way. Quick settlement.

Cube seems to have a $5,000 daily limit and a $30,000 weekly limit for those who might be doing large transactions.

If you're doing large transactions then you'll want to use their contractual option where you can get better rates.

BTW, I notice our Walmart sells the Square device....I haven't looked to see if the Cube device is there.

Well, I just came from our Walmart. They carry the Square and also the PayAnywhere. No Cube, darn it.

Not sure how fast cube pays out. But its 2.5% per swipe vs square @ 2.75% cube looks like a winner. I wish them well on the windows platform.

Is that considered cheap in USA. My store pays $.10 (I think) for Interac, and about 1.8% for Visa and M/C. Most small businesses don't accept AMEX because they want 5%.

Accepting payments with your own merchant account will get you much cheaper rates, but usually it is much harder to obtain (and more costly) a merchant account. Most brick and mortar stores still operate with their own merchant account which is how they get the rates you mentioned and is also why they often don't support AMEX.
Swipe and online payment processors seem to run in the 2.5-4.0% range unless you negotiate a lower rate through proof of volume and other metrics. That rate covers AMEX as well and any overhead the company has for employees, fraud prevention, etc.

They say 1-5 days to be paid, and 3-5 days for AMEX.

I know nothing about these apps, but does anyone else think it's kind of embarrassing that they picked a ripoff name like Cube for their also-ran alternative to the well-known Square? Just makes it seem kind of sad.

i think its clever, and if they do it better than square who cares what their name is...

The Square name makes sense when it comes to payments/money transactions. The Cube name does not, except as a ripoff of Square. Yeah, not a big deal, but it degrades the company (IMO).

Lame reason to degrade a company.......

You're not buying the company, you're buying a card reader. Not like its named Rodney or anything.

I asked my phone why it doesn't have a Square app and it said it just wasn't really intuit.

so so so glad to see this. I just about puke every time I have to sign an ip###e.

Thanks for keeping up on this guys I was not wanting to buy an iPad mini just for this Downloading now on my surface and L920

Is there a cost for the card reader device on cube? I saw the other service listed but didn't see one for cube.

That's the only down side. $35 and there are different versions for a PC vs a Windows Phone. So if you need to equip a Surface and a WP your looking at $70!

I agree, especially since Square's is $10 in the store and free if you sign up online. That being said, I can pinch in the first couple of transactions and use the profits to buy the reader later. Finally we have something substantial. I looked into some of the other apps on WP and they just seemed inferior.

This is huge, right? I thought one of the biggest complaints about Windows Phone was that it was impossible for small businesses to adopt Windows Phone because it didn't have card readers. But now there are two of them (and one for Windows RT too, hurrah!). Isn't this bigger news?

Cube has been on WP for months.

This is the first time I've seen it reported anywhere, and I check several Windows Phone news sites daily (probably way too much, actually definitely way too much). Cube now available for both Windows Phone and Windows 8/RT seems like huge news that just blew open the door for more businesses to pick up Windows Phones and Windows tablets. I'm surprised it wasn't reported much sooner if it was indeed months ago that it launched. (When did it launch on Windows 8/RT?).

...you could have just searched the store. Clearly WPC, and sites like it, can't report on every single app.
Cube has been out since at least June, check the dates on reviews.

I can't search the store for things I don't know exist. I had never heard of Cube until I read this article today. Indeed Windows Phone news sites can't report on every single app released, but this one seemed newsworthy because a lot of talk about Windows Phone not being a viable platform centered on its lack of these types of apps.
Interestingly, now that I found Cube, in the "related" apps section, I see that there are actually quite a few similar apps: Aircharge, Credit Card Terminal, Credit Card Machine, My Merchant, etc. So, maybe this isn't really news after all. What were people complaining about? Maybe it was just ignorance among the Android crowd because many of them jided me that Windows Phone couldn't do card readers.

The other services are inferior and very pricey. Cube and the other are the first to be on par with the big boys when it comes to plans (I.e. Pay-per-swipe as well as monthly fee contractual plans. The others only had contractual plans with monthly fees). That's why so many complains, and now so many are elated.

That's strange, I had someone on Twitter ask about an app like this months ago. I searched the store for credit card and it came with Cube and a few of others. Obviously, you don't have to search for apps only by name.

At least four, but I'm pretty sure the Windows 8 app is new.

The Windows 8 app has been out all summer - at least. I remember installing it to all my Win8 devices, months ago.

12x R$9.90, not £9.90. More along the lines of 12x £3.00.

I signed up and found that Cube wants $34.99 for an encrypted card terminal that fits on the audio jack like all the other mobile cc solutions. Still debating...

That's a one time charge? Seems reasonable. Encrypted card terminals are pretty necessary.

Hmm... is it comparable to Intuit's card reader? Those are free.

It should be free like Intuit but ca t complain as we can now take card on WP. So happy

My guess is it might become free if there were any competition on WP. Charging an entirely reasonable amount for the hardware undoubtedly makes the economics of supporting a smaller platform work much better,.encouraging them to make the jump to WP.

Do what I'm gonna do. Just type in the first few transactions, then get one later.

will card readers from other companies, i.e. square, paypal here, work with cube?

I hope cube or a similar service comes to the UK / Europe. Would make pushing windows phone at work much easier. Since Jupix, the new crm we are migrating to is only fully functional with internet explorer and office 2013.

Oh, so Cube isn't available in Europe? That's disappointing. I thought it was global. Does that mean that PagSeguro is only availalable in Brazil?

Just downloaded and installed the app on my 1020. Was waiting for a cc swiping app to finally be able to accept credit card payments so this one is it. Ordered the reader, hopefully it works well.

Just what I needed for in field payments. My surface and Lumia are really solid devices mobile and in my office. Very happy and cube gas all of my business since PayPal, square, and intuit refuse to provide service to willing and paying customers.

Does it really matter if you use Box or Square? It seems as long as you can perform transactions with it you're good to go.

Thanks for doing this article Daniel. I have been using this for awhile and the only differences between Square are:
Square slightly faster at payment but have been told it is mostly due to my bank.
Reader works well but because the Windows Phone doesnt let apps control headphone jack(API issue) you have to turn volume up and wait for 15 seconds before swipe. I think this will be resolved in gdr3 amybe someone else can confirm this?
Other than that great service and works on any windows 8 machine!!!

"Reader works well but because the Windows Phone doesnt let apps control headphone jack(API issue) you have to turn volume up and wait for 15 seconds before swipe."

What if the volume is already at max, can you swipe right away then? EDIT: nevermind, I looked it up. You need to be in the control of the audio on the device to capture headphone jack events, so it's not about the volume, just about being in the volume control section.


Yes i believe your right....but cube support told me it does have to do with WP not letting apps have that control....they also mentioned it would comein the future.

Thats nice for Brazil and the USA, but what about us here in the UK, when are we going to have an Credit Card Reader Terminal?.

This is why my wife left WP, for a credit card reader for her small, itty bitty business of one. Will be nice to tell her the option is now there. She loves the PaPal reader, so she may still be waiting, but this is good stuff.

Purchasing a cube reader as I read this!! So happy this was released!

I can't speak for the Cube standalone payment app, but I installed the Cube iPad POS in my food service business late spring 2013 and to say it was a disappointing piece of technology would be an understatement. It never accurately performed a single task it was meant to. For example, the time-card function once told me an employee worked 27 hrs in one day. Did she travel through a worm-hole to make that possible? The two worst things were; a. the on-screen menu buttons scrambled multiple times a day so my cashiers could never actually learn where anything was within our menu; and b. the app would produce a card swipe error prompting my employee to re-enter the credit card info, but the system would actually charge the customer for every time their number was entered into the system (resulting in extremely unhappy customers). Cube does not have any actual support staff, and although the sales person told me I could get a refund if I was unhappy with the equipment, when I tried to return it I was simply told no. Cube is so useless, 5 weeks after I got it I had to pull it out and install another pos system – and go through the whole implementation, training of the crew, etc again . And now I'm stuck trying to unload the crappy hardware they use that's not compatible with any of the other iPad pos systems. It's hard to tell if these guys are just incompetent or are actually criminals. My guess it's a little of both – so if you're an independently operated retail business, my suggestion is to go with a different system – to avoid the huge financial strain working with these guys put on my business.

On-boarding process is difficult when things do not work correctly. Waited days for the process to finish. When it did not, email support (the only way to get support) was not helpful. Only options were to email all of my financial data: article of incorporation, copy of tax returns, SSN card, Drivers license, utility bill or start over. In addition, they require to link to your facebook page to have access to all of your contacts and personal information; too risky an outfit for me. I do not understand why they need so much information just to verify who you are since you already have to provide them with your bank's routing number and account number. They do a poor job of explaining the whys and hows.

Windows Central Newsletter
Thank you for signing up to Windows Central. You will receive a verification email shortly.
There was a problem. Please refresh the page and try again.