Modern Combat 5 will feature squads and chat in multiplayer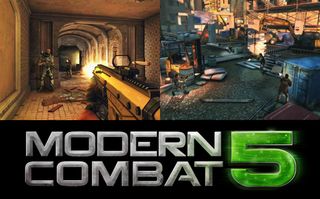 Gameloft's Modern Combat 4: Zero Hour is probably the best first-person shooter on Windows Phone. Not that there's any real competition; the only other FPS I can think of is the same company's disappointing N.O.V.A. 3. Modern Combat 4's strength was in its single-player campaign; the multiplayer mode was pretty much a bust (see our review). That might just change in the upcoming sequel…
We've just come across some new multiplayer details for Modern Combat 5: Blackout, plus the two screenshots above. Some of the new features for part 5 include new game types, squad support, chat, limited time events, and improved leaderboards. These improvements should make for a compelling online multiplayer experience on Windows Phone – if Gameloft gets the matchmaking right this time. Head past the break for more details.
Squads and chat
Modern Combat 4 Windows Phone screenshots
Persistent squads are probably the biggest new addition to Modern Combat's formula.
"You can join squads with your friends or any other player you meet online, then take your squad online against other squads from around the world," Gameloft promises.
These seem to be what most online games refer to as clans, although Gameloft's choice of "squad" over "clan" could indicate that squads will be smaller than traditional online clans. Or they could just be parties – a team of players that stay together between multiplayer matches, but don't remain associated with each other after leaving multiplayer mode.
Assuming squads work like parties, the feature would go a long way towards making up for part 4's awful matchmaking. See, in the last game you had to choose between eight different multiplayer game types and then hope that other players would choose the same type and then enter your lobby. That game type division basically kept players from finding each other, the exact opposite of what you want in a multiplayer mode.
By allowing everyone in a squad to stick together regardless of game type, at least you have a core group of players who will populate whatever game you pick. But Gameloft could take things a step further and simply allow players to search for open games regardless of type, which would populate games much more efficiently than any other system. It's not like most online phone games have huge numbers of players online at the same time.
Either way, the new global chat feature should help since players can organize games outside of matchmaking. Squads will also have a dedicated chat channel, so the team can communicate and plan without the opposing team eavesdropping. Modern Combat 4 already had a voice chat feature on other platforms, but that feature was omitted from the Windows Phone version. Presumably, we'll receive the new chat. Gameloft hasn't confirmed whether it will be voice or text chat, but global chat usually means text chat.
Game types, events, and leaderboards
Modern Combat 4 Windows Phone screenshots
Another change that should help with keeping games populated is the decreased number of multiplayer modes. Whereas Modern Combat 4 has eight different game types, part 5 will only offer four:
Capture The Flag
VIP
Free for All
Team Battle
This is one case where less is more, because all the game types in the world won't matter if most of them are empty. Four core types is much more reasonable for a game of this scale. All game types will support up to 12 players.
As for limited time events, both players and squads will be able to complete these special events. The events will offer multiple reward tiers. No rewards have been confirmed, but XP, currency, and customization items all seem likely.
Finally, Gameloft promises three types of online leaderboards: global, squad-based, and limited time events. Sounds good to me.
A few more things
Modern Combat 4 Windows Phone screenshot
One last blessing coming to Modern Combat 5 that we've known about for a while: progression will be unified between single-player and multiplayer. That means that experience and items unlocked in one mode transfer to the other mode, which will be great for players who prefer one to the other. It should also add replay value to the single-player campaign, since the things you do there will carry over to multiplayer.
Modern Combat 5 doesn't have an official release date on any platform just yet. Lately, Gameloft has been releasing Windows Phone versions of its games about a month or so after the iOS and Android versions. We've definitely got a few months to wait, but it should arrive by the end of the year. Like all post-Kingdoms & Lords releases from the publisher, it will not be Xbox-enabled.
Gameloft has promised controller support but NOT specifically for Windows Phone, so it's a complete toss-up whether this one will work with MOGA controllers. Let's hope!
Windows Central Newsletter
Get the best of Windows Central in in your inbox, every day!
Paul Acevedo is the Games Editor at Windows Central. A lifelong gamer, he has written about videogames for over 15 years and reviewed over 350 games for our site. Follow him on Twitter @PaulRAcevedo. Don't hate. Appreciate!
I have the game on my Lumia 620 and it works greatly and i play on multiplayer mood every day but why don't them make it for 512mb of ram.
I have an unlocked device)

Better for 1gb ram the reason is performance.

no the game runs smoothly even on 512 ram and the graphics are also awesome!

I have installed the game on my Lumia 822 but i dont get the multi player option any where. Any ideas how do I enable multiplayer option?

Nice article,sounds damn awesome . . . . If I only had a 1GB ram phone :'(

Yeah when this gets launched, probably I will wait for 512mb patch games to work on my L625 as I played modern combat 4.. Lol

Nah,I have given up Windows Phone piracy,hate it now >_<

Battery Drain: The Video Game.

Can't wait for this, I'll finally be able to fry an egg on the back of my phone with this game running!

Haha, I see what you mean, my L925 is soo hot whenever I'm playing something like Asphalt 8 :F

"Like all post-Kingdoms & Lords releases from the publisher, it will not be Xbox-enabled." Like all post-Kingdoms & Lords releases, it will not be bought or downloaded (if it's free) by me.

Like all gamers who play games for fun, we don't care

And I don't care you don't care ;) WP gamers should care. For gaming without anything special, I rather use Android since I can get faster processors there.

Achievements don't make games special. This whole movement against great games without Xbox in support of lame ones with it is absurd. You have fun on Android, I'll have fun on my huge library on steam where most of my games are, not here.

And I don't care that you don't care that he doesent care!

And you don't care, I don't care

Why do people boycott non-Xbox games? What gives?

While I don't care about Xbox integration, I can see why many people do. Without Xbox titles, WP is just a big disappointment with regards to games. But boycotting non-Xbox titles is stupid. All you're doing is encouraging the developer to not support WP at all.

Exactly. The guys who only buy Xbox games play practically nothing and don't help the platform at all.

They must have a pretty small catalogue of games to choose from as well!!!

I think I have done my fair share with buying every available Xbox game for WP. So I should be okay when it comes to help the platform!
When there are no new Xbox games on WP, I play on my W8 tablet or on my Xbox.
When I want to play non Xbox games on a mobile os, I buy the fabulous galaxy note 3 or any other powerful android device.

I actually secretly hate non Xbox games. Reason being is that I rarely have time to play my Xbox and love achievements.. Letting friends know I'm still collecting achievements even tho I'm not on Xbox live. I downloaded disneys Ariel game for fuck sake. I want that achievement.

If you're not a gamer, why would you need to seek validation in achievements? That seems like backwards thinking to me.

I mean Xbox integration is nice. Does it refrain me from playing games that don't have the integration? No. A game is a game. If I wanted achievements I'd play on console. So many great games on WP don't have Xbox.

My thoughts exactly. Most of the games I have are Xbox enabled, from the WP7 days, but I have a few gems that aren't as well.

No no no we need more players to play modern combat 5 so the servers won't be trash like modern combat 4's was. Please don't boycott.

Hopefully they include moga support in this game from the beginning, it was a big bummer not to have moga support in modern combat 4. Touch screen controls are not user friendly for fps. And i really hope this game does not take half a year after ios and android release, to reach on windows phone , i am tired of the way wp users are treated. Microsoft needs to give developers more incentive to deliver apps on time for wp.

Geez, I thought Microsoft would make Xbox WP games easier to get approved when 8.1 was announced? Dammit Microsoft...

Phil Spencer might still make that a reality, but I don't think it will happen until the end of this year or early next year.

I never understood why Microsoft didn't make Xbox Certification an optional part of the WP app verification process. Instead we have a broken, slow system of WP app verification and then Xbox Certification.

This will be my battlefield game when I can't play battlefield

If I played this game seriously, id kick everyone's ass most likely yup

I think it's going to free modern combat 4

Yeah you are the shit. I mean you are shit.

MOGA controller support on Windows Phone 8 is all I ask! Make it happen Gameloft ;).

Modern combat 4 can't wait. My kid loves playing it on my phone. With a surface device then mirror cast it to a WiDi enable TV / or monitors then boom a bigger display where we can view it and see it more widely.

Meanwhile. Look for the game "Chester's revenge" nice fighting game with chilly burps and fegi farts and hitting people with a pan. Game reminds me of Scott pilgrim.

It better have Xbox Live support or all for NOT..... #SaveXboxWP

This. No Xbox, No Interest #SaveXboxWP Also, the 'in-game chat' in N.O.V.A 3 was awful, so I doubt MC5 will be much better.

Does this game support 512 mb ram phones

There will never be 512mb support

Paul, why has Microsoft given up on making games on Windows Phone distinctive? Its not just the lack of Xbox support debacle. Its the decision to only allow asynchronous multiplayer on Xbox titles and disallow third party mobile games to use Microsoft cloud servers for multiplayer gaming. Additionally, where is the official support for MOGA in marketing or other gaming accessory partnerships? Why wasn't there a collaboration to make Xbox One controllers compatible with WP8 or another official solution? Clearly I'm frustrated WP8 doesn't cater to gamers in the way other platforms do... :-/

The only possible explanation for the lack of MOGA support from Microsoft and Power A/MOGA themselves is that the two companies had a falling out after their initial announcement and creation of the Windows Phone SDK. MOGA must have expected a payment or some other compensation that they did not receive, and thus made the very odd decision to never publicize their Windows Phone support and totally dance around it when asked. It sucks because not only does MOGA lose some of the profits they could get by opening up into an additional market, but we gamers lose the option to use a controller in more games. As for the rest, we can only assume that nobody high up in the Windows Phone leadership chain cares very much about games.

Next year... When all the others OS will be get 6 edition.

The multiplayer sounds a little like the MoH Warfighter fireteam based multiplayer.

Awesome game but no use for me there will not be 512mb support

The top ten leader board players and quite a few more guys talk regularly on WeChat. We set up custom matches all the time. Its a shame that mc4 does have a flawed matchmaking system by we have gotten around it. If anyone wants to meet the guys or just play some matches, respond here and we will make I happen. -Mr Lachey

Also, I'm really sorry I tbagged the WPCENTRAL player when he was rating the game. We are actually all really nice and I was only fooling around because I love your blog ;)

Hey MrLachey. I'm BragEmu680. We've already had good matches together. Can you tell me more? I'd like to join a pro match.

No! No!...noooooooooo!!!! I bought that game the damned day it came out and couldn't find a match of more than 2 people and had to find a boosting party just to get some of the achievements while missing other.

Wow, no one supporting modern combat for Windows huh? Sigh, I guess there will still be no multiplayer fun for me. Single player here I come.
Windows Central Newsletter
Thank you for signing up to Windows Central. You will receive a verification email shortly.
There was a problem. Please refresh the page and try again.