Mojang to launch Scrolls for Windows December 11 for $4.99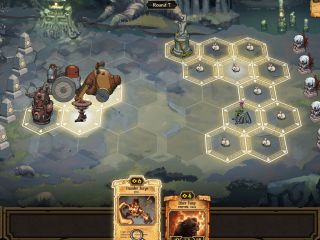 Over three years after it was first announced and after a ton of alpha and beta tests, Mojang, the development team behind the hit game Minecraft, will finally launch their second internally developed game Scrolls. The team, which is now owned by Microsoft, will launch the fantasy-themed collectible card-strategy game on December 11 for Windows, among other platforms, for $4.99.
The game has been available in beta form for Windows PCs since June 2013. Mojang has promised that the final version of the game will feature cross-platform multiplayer across the Windows, Mac and Android versions. The game will also be released for the iPad at a later date.
Source: Mojang
Get the Windows Central Newsletter
All the latest news, reviews, and guides for Windows and Xbox diehards.
Great news! Really nice game, even though it lost a lot of users to the more popular Hearthstone.

Thanks for your expert opinion!!

Indeed, I never understood why it has taken three years of alpha and beta testing to release this game. It'll be tough to unseat Hearthstone now, even though Scrolls is a better game.

Minecraft was in alpha for 2.5 years, some game developers still operate on a slow and steady software engineering cycle.

Unrelated question: I have a Lumia 720 with WP 8.1 developers preview. Few weeks ago I factory reset my phone. I somehow got the Lumia Denim update (never updated it myself) but now I cant get the two latest updates, the one from yesterday and the one before. Does that have anything to do with the factory reset? I signed in with the same Microsoft account i used the first time before the reset.

Is your extras+info up to date?
There was a bug in the app recently that showed users Denim instead of Cyan...

I will update it now and see what happens.

Denim hasn't been out yet. It's just a reported bug from the latest extras + info update.

Since you did a hard reset, make sure you open the PfD app and re-enable it on your device.

Restart the phone ... Press lock button.. Pour sone kerosene on it... And use lighter... Tada! You just updated your phone!!

Why do you keep posting off topic questions on every article? There is a forum for a reason.

Unrelated answer. Avocados.

If the game is cross-platforms (between W(P)8.1) and if it has the Xbox label, I hope MS will think to put cross-achievements too, it is really annoying to see that I finished Halo SA on my Surface with 400/400G but when I launch it on my WP I have the save but no achievement. Don't understand why they don't sync achievements. To deal with Scrolls it's pretty cool to see the game coming to Windows, I don't know if there still are a lot of people tho, because of HS.

I kind of like the separate achievements. I am an achievement whore and any chance to get more I will take. I get what you are saying though...

Hmm... I found this annoying too, but the Windows version has 400G of achievements, while the Windows Phone version has only 200G, so maybe that's why? It would be better if they made the acquired achievements auto-pop-up when launching the game from another platform, though.

Hoping for a WP release as well.

They said its coming for windows phone in the article

I only see 'Windows' written, not 'Windows Phone'.

We are windows I guess -_- if they really released the game for other platforms and left windows phone , that would be a shame on microsoft

Microsoft JUST acquired Mojang, if they never released Minecraft for WP or WinStore. do you think they planned Scrolls for Windows Phone?.... of course they didn't and Microsoft will take sometime to port it. but then I am sure it would probably be ported under "Windows 10" label, as a one platform and app/game for every device. So I don't know why you think "would be a shame" when it's obvious Mojang never wanted Microsoft, only xbox. and Games aren't ported only with a push of a button.

If Windows 10 is a target platform (and I am sure it is), then no problem at all.

This must be free for WP users

Downvote.Don't devs have to earn as well. Do you or would you do your job(if you have one) for free? Doubt it

Mojand is for Microsoft now
Microsoft must make windows phone different .
Android and IOS have alot of free games that are paid in WP store

That's like saying Microsoft acquired Nokia so previous Nokia phones should be free. They have to make some profit out of the acquisition, no?
P.S:Contact the other devs for that but no game 'must be free' if it doesn't have IAPs, ads and if its paid on other platforms as well.

They should at least release for Windows first and others have to wait.

The acquisition if Nokia can't be compared to a game Even though , at least the game should be available for 0.99$ or so AC pirates is free on other platforms but in WP its 4.99$ That's what I'm talking about

This would be perfect on my Windows Phone. Wouldn't get a lot of play on my desktop, though...

Waiting for Minecraft game from Microsoft. Posted via the Windows Central App

Windows=Windows PC, phone and Xbox

Windows in Windows Store App or actual Desktop PC game?

i hope it's 512 supported

Hopefully, Mojang has another hit or two up their sleeves that they can release as Xbox live exclusives somewhere down the line. I'd hate for Microsoft to have another Rare situation on their hands.

Rare should just re-master the original B-K game to redeem themselves. I would buy it it was fcking fun!

more card games, what a great thing /s at least now they are finally releasing it. 3 years for this kind of game is too much.

Will this game work on my Lumia 2520 Tablet?