Moliplayer Pro - play any video file on Windows Phone 8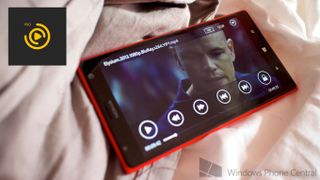 If you enjoy watching videos on your Windows Phone, but don't want to waste time transcoding, then you should check out MoliPlayer Pro. It plays anything you throw at it such as MP4, WMV, RMVB, AVI, MKV, FLV, FLAC, APE, and more. Have the new Nokia Lumia 1520 with 1080p display? Yes... this app plays 1080p movies and TV shows.
Head past the break to watch our video walkthrough.
MoliPlayer Pro can play videos from your camera roll folder of the internal storage or SD card of your phone. You'll need to transfer your videos from your PC or Mac to those folders in order for the app to find them. One simple way to do this is via WiFi. When you click on WiFi transfer on the app, it provides a URL to the upload page you can access on your desktop. From there, you can drag and drop your video. We find it faster via USB cable.
If you're a Mac user, you can import movie files using Nokia Photo Transfer. If you're a PC user, you can use the Windows Phone app for desktop.
To play your video, you can go to the folders section and click your movie file. The typical playback controls are at the bottom. They disappear after a few seconds. Tap anywhere on the screen to make them show up again.
There are gestures that good to know. Swiping vertically on the left side of the screen controls brightness, while swiping vertically on the right side controls volume. Swiping horizontally forwards or rewinds your video.
The top right corner changes the aspect ratio. There are three options for you to choose from. The first one uses the video's original aspect ratio while the other two zoom in to remove black bars above and below the video.
One thing we don't understand is the SW/HW button. We know the abbreviations usually mean hardware or software, but we can't find a manual or user guide that explains what that button actually does in the app.
The lock button takes away all the gestures and playback controls off the screen. This is useful when you're watching a movie. When the app is locked, tapping on the screen only displays the file name, playing time, and current time.
MoliPlayer Pro is among a suite of popular iOS & Android apps that have made their appearances on the Windows Phone platform recently. Since its debut a few weeks ago, MoliPlayer Pro has reached Number 1 on the top-paid list of all apps + games in China, Hong Kong and Taiwan stores, and high on the list of all top-paid apps in stores like the US, India, Malaysia, Indonesia and Poland.
The latest version 1.1 adds performance optimization and seven more languages. There's now a total of eleven supported languages including Dutch, Spanish, French, Italian, and English. For a limited time, MoliPlayer Pro is available at a promotional price of $2.99, a 25% discount off the original price of $3.99 (requires Windows Phone 8 to run).
Do you use this app? How do you like it? Let us know in the comments!
I saw someone mention this in the comments on another article here. I installed the trial and I like it. I'll probably end up buying it. It plays everything even with subtitles. Not sure the limitations of the trial.

What's the limitation of the trial? The app description doesn't say and I want to try it out before I buy it.

Just try it. That's the point of the trial. If you like it then buy it and be surprised at the features. If not, you already know you like it.

Obviously he has no intention of actually paying for it

Judging from the store reviews, it seems to be a trial à la Metrotube. Should have been addressed in the article (doesn't even mention its existence).

Atlast we saw moliplayer at wpc I have tipped them almost 3 times to get this app on news

trial for just 15 days before it expired

one of the best windows phone browser.thas is competitor uc http://sayannet.ir/%D9%85%D8%B1%D9%88%D8%B1%DA%AF%D8%B1-%D8%A8%D8%B1%D8%...

Hey bro... Can you help me adding subtitle to this player... I m nt able to find any option to add external subtitle to any video

​Excuse me but I've bought this video player for my Lumia 930 but I can't figure out how to get it to play my videos and movies. Only the videos I've recorded with my camera are available and I can't play or export any video or movie. Its just a complete waste so far

Nice alternative until VLC is released.

Until VLC arrives, this is my new video app. This will be second reason to use my £20 voucher.

Subtitles... Very good app indeed.

So they do actually work? Both .sub and .srt?

Well, I don't know about .sub, but .srt woks like a charm.

Great start.. it is work! Few bugs are still on board, but I hope authors fix them all soon (no subtitles displayed when I switch from and back to app, no czech lang. subtitles displayed, double files in a list etc., but I received update week ago and hope it was not last one :) Maybe I want few new features, like skydrive support (for download videos or / and subtitles) like the alternative for wifi connect.. thx, good job, you are first- authors of VLC needs so much time to reach fully functional player.. Too much.. And they still has no player :)

Except theirs will be free...


its free because backers like us paid for you...

Ahh shame must i get a tissue for you?

I think is rude to ask for a tissue if you donate a begger.

They had issue with audio, now its resolved. https://twitter.com/videolan/status/402479234695712768 Please let the public (non-backers/contributors) see the updates of the project too! Can you guys update us with the latest info we are not privy to? I for one would have participated on kickstarted, would I had joined the party little earlier! Microsoft should support VLC teams with both the barrels.

Being limited to only viewing files in my camera roll is a limitation that should be fixed asap.

SW Decoder can play any format of videos but HW Decoder can only play videos that actually supported by our phone such as mp4, 3gp, avi, wmv..

Does HW still support containers that are foreign to WP if the streams can be supported natively? Eg, MKV is usually muxed MP4 video and AAC audio; WP could play these if the player demuxes them, but I'm not sure if this app does that?

In other words, to make correct use of this button, you have to select HW whenever you play a hardware supported format, and SW when playing one that is not supported. If you select SW for an mp4 or avi for example, the video could probably be laggy or have pic quality impaired.

Tried mobile.HD but its not very good. We need a better solution for our Surface.

do you mean the interface? i find the codecs to be good and quick, though the file organization and interface could use some improvement.

Just curious, but the images in the article show clearly 'ripped' files of TV shows and films. Just wondered if they were supplied by the dev or part of the WPC teams testing? ;-)

Obviously, either the rips are there only for testing or some popular video names like 'Elysium.2013.1080p.BluRay.x264.YIFY.mp4' (most seeded HD movie on the bay) have been added to demonstrate it can display rather lengthy file names :p

Great to see MKV and sub support!

Can someone point me to a good tutorial on how to turn my DVDs into files I can carry on my phone?? Also, why I should choose one file format over the other? Is the format battle the same as "Which is better, Chevy or Ford?"

Try using applications like CloneDVD Mobile. It allows you to convert your DVD's into any format you need. While using an easy to follow wizard UI.

If you can get past the DRM Nero program will convert it to any file type you want.

Try format factory. It's free and converts almost any file and is one of the few that handles subtitles well too.

I downloaded this app last night to watch a Japanese movie cause I want subtitles. I searched for hours to find a way to watch videos with Subs on my phone and found it last night, then next day wpcentral post an article. :/

Great app.... So why is it take the experienced team at VLC so long?

Because VLC is cross platform/open source and the shared code has to build on everything using open source libraries, compilers etc. Which didn't exist for the WinRT platform as it is quite different. So tool changes are required along with the methods/interfaces to hook the shared libraries into a new frontend GUI. Some of the changes they've made should help porting of any other GCC based projects to WinRT.

I wish the developer's children talk to him the way it is localized - totally awful automatic translation. I sometimes don't know $%it about what an option means here and there. Why not just leave it English, French or German or any other language to which a human can translate?

I love Bing rewards because I can turn in my points for money towards apps I like :)

Why is there no proper media player on WP that can simply access videos from my NAS? There are millions of them on iOS and Android. Another retarded OS limitation i guess?

There is MediaBrowser 3. They have a windows phone client and for android, ios, Windows 8 app(coming soon) and desktop environment currently in alpha. All able to access your media located on your NAS drives. If you want something more basic there is DS Video but requires a Synology NAS.

Mediabrowser3 is crap. You have to install their server software. Does not support DLNA.

So MediaBrowser 3 is crap because it does not have DLNA? Interesting observation. With mediabrowser 3 combined with a noip.com DNS address you can access your media anywhere even outside your own local wifi. DLNA requires you to be inside the local network with the NAS to access it. Frankly if I am going to watch movies/tv shows at home using DLNA I rather do it on a larger panel screen IMO. I understand why you would want DLNA though, no server required hence why I recommended DS Video which as far as I am aware is one of the few apps on Windows Phone that does support DLNA. Sorry I couldn't have been more helpful.

If your server uses DLNA, I recommend to you cPlayer. This app can show subtitles and downloading movies to internal memory. Trial is unlimited. http://www.windowsphone.com/en-us/store/app/cplayer/c6b8df40-8f47-4e28-b...

Beta version of Moliplayer has DLNA support. Just wait for new version to release. YxPlayer is another one supports DLNA and plays 1080p MKV smoothly.

HipClient works well with my Seagate GoFlex Home NAS.

Not an OS limitation, someone just needs to build it.

What about all those folk that want to view their WINDOWS media centre files on their WINDOWS phone?
Does this play those files also? That would get my money. Can someone try (wtv or dvr-ms files)

Just bought will try later

Here's a secret. You can sync your WMC content with your phone. Just plug it in and click Sync in WMC. Takes awhile though.

if anyone have problems srt subttitles not shown in video, change subtitle encoding to English in app settings but then maybe special characters in some native languages not shown correct... to avoid this simple change subtitle encoding from "ANSI" to "UTF-8 with signature" with Notepad2... work perfectly for Croatian....

Wonder if a guy could throw Apache on a box & serve/share content that way thru a LAN. Hate that I can't browse media through 'explorer' or other natively...

the SW/HW buttom is a switch between hardware and software decoding i guess, the difference is for example you could play an h264 video with HW decoding because the GPU natively supports it, but other media formats can use software decoding in case there is no native hardware support for it i advise you to edit the file names the next time you take screenshots and upload them on a public webpage, especially if they are clearly from yifi and tpb lol

I thought the same about the software/hardware decoding. If true, your explanation seems to be more accurate than the one previously posted about video format, since, for example, an MKV can contain the exact H264 video/AAC audio found in most M4V (mp4) that the OS can natively play.
Also on the same thought about the file names, haven't seen something like this in a while LOL

This is right. The difference between SW and HW is HW is optimized for minimal CPU usage and reduced battery consumption, vs decoding entirely within the CPU which takes a lot more power. Natively supported formats such as wma, mp3, mp4, etc can be decoded by the internal hardware, but moliplayer provides its own decoder.

as link68759 was saying HW/SW has to do with the decoder. HW is hardware accelerated decoding for when the format is suported natively SW is software decoding when the format is not suported on the hardware.

This can read .SRT file. Great!

The guys at VLC did a Kickstarter and raised over 65k to port VLC to Windows Phone 8 and Windows RT, it's been almost a year since the project got funded and yet they haven't been able to release the app.. and here comes a single developer who has been able able to do it without KickStarter support.

Because unlike this PAID app, theirs will be free. And they're actually working on a Metro app, and from the kindness of their heart, they said they'd port it it to Windows Phone, too. So stop bitching.


This is a PAID app , but the trial version has no limitations( like MetroTube) ... I'm only complaining about VLC because asked for money in order to develop the app and they still haven't been able to deliver it after almost a year .. . You know whats't funny? they made an iOS app without even rasing money from KickStarter.. They're clearly taking windows RT/ WP8 users for fools.

Or maybe developing software takes time?

Yes but it's taking too long . They promised to deliver it by April .

True, its taking quite long time for vlc to dvlpt. Player for windows phone 8. And no updates or News about their progress???

Damn!!.. that movie in the video ( Elysium 2013 .1080p YIFY) is definitely pirated lol ...

The beta version added music playback in background and DLNA/UPnP support. Worth the price.

When is this version coming? Can i be a beta tester?

I find it odd than the screenshots are essentially advocating piracy. Hmm.

I don't remember where I found it when I did like a week ago. My first reaction was this is probbably some sort of scamy app that's rampant on the Wndows 8 store, and most reviews being in chinese or japanese or some other language did not help either. But it had a trial so I just decided to see what's in there. Probably my best spent $2.99 in the store. MKV playback and subtitle support, nothing more to ask! But it also features some basic file management as well.

So an app popular with Japanese speaking windows phone users is a scam in your mind?

Yes. I haven't trusted those guys since WWII :) (too soon?)

Meaning I could not read to verify. I actually do read the reviews.

Tried it and no support for m3u files so it won't suit my needs. Does anyone know of a way to stream m3u files which contain video (not radio playlists?). It's to stream from my satelite box Thanks in advance.

I love this app. Just need Swedish language.

The only issue I have is the fuckin capaticive lights that shine bright in my face while wataching a video at night, i know there's a trunaround (battery saver) but still....

They really need to get over this capacitive button fad and go back to making things that actually work well (hw buttons). That said, I have car window tint covering mine. The light is significantly reduced and I can feel where the screen ends and the buttons begin.

Me: This is the moment I've been waiting for!!!!! Me: This is why I didn't buy the 1520!!! Me: Now I can combind the power of a 6 inch display with all the videos of the internet!!!! AT&T: we only have the 16gb Me: Son of a...!!!

Thank god that there are no contract phones in my country. :/

Is a good app,already purchased。

SW is software decoder which allows it to play the formats not supported by Windows OS like .mkv, .mob, .flv etc.
HW is hardware decoder which allows us to play videos which are already supported. SW generally is dependent entirely upon the CPU whereas HW uses GPU as well, as far as I know. It's like MX player for android which I was a fan of. Thank god this app brought this. :D So far I tried playing a 720p video with SW decoder on my 520. It worked flawlessly. A good thing is generally many android phones notice lags on SW but even my entry level windows phone was able to play it flawlessly. Have a good time. Im looking forward to buying this app. Devs deserve it.

Only been out a month like

Trial version 30 days free no any difference but after 30 days it will,ask for,purchase

Already I paid really awesome and dual audio language support coming in next update I got confirmation email from moli player

Swipe top to down u can change brightness

If this app can access stored videos, then whatsapp should be able to add video sharing support too.

The developer of app actually went as far as negotiating with Microsot/Nokia to get private APIs for reading the camera roll folder, which are locked down from other developers.

So it IS possible then. WhatsApp should do the same. Although there is no point of locking video access, it's just plain stupid, but hey, it's Microsoft!

YIFI caught my attention haha. Well played WPcentral, well played!

Why isn't anyone going: WOOOHOOO! Bout time. To think that the VLC team is fighting with their shit, despsite them getting boatloads of financial support. Moli is an amazing app, BOUGHT IT!

Moliplayer is Nokia's OEM partner in China. That's why,the got better access to SD Card. It scans default music and video folders, can save videos to SD Card, can delete files from SD Card.
I have been included in the preview programme. Latest update allow us to play music in the background, dual audio mngmnt, resizable subtitle, everything works smoothly... Don't worry for paying for this app...

What about AC3 and DTS? Does it work?

There is also Best Player, also a good player.

I went ahead and bought it. Works really well so far. Like the fact it can pick all video files on the SD in my 1520 - no special folder needed. On the phone itself, video files must be copied to Camera Rolls.

Will consider it when they add DLNA support, but hopefully VLC will be out by then as a free option too. Given I have a Synology NAS I can also use DS Video which works pretty well

The app is very cool and smooth I did not hesitate to pay for it after the trail was over

Finally no more conversions! Downloaded, very good alternative untill VLC is released... I can't change the audio in a dual audio mkv file i guess

> Local media player.
I'll pass.
I'll wait for the moment we can play Matroska via HTTP, and able to scrub it. (See Android's MX Player.)

You can also open the files via FTP, with for example, File Manager WP app. Configure a network FTP, access via this app and open your video file. It will offer the option of MoliPlayer as app to open the file. It will download first (it's not streaming) and add later to MoliPlayer folder. You can reopen later without going through FTP.

I use this way to open other types of files, like CBRs with Comicana. I've just tested a MKV and worked perfectly.

Does this work with protected iTunes movies?

it does not support background playing!!! :(

I second that. Doesn't support background playing for my FLAC music connection. I would like to know if this is a TRIAL limitation. Thank you.

No more trial version in the store. Only the PRO version that costs $2.99.

Good app. But how do i enable subtitle? Theres no subtitle appearing.

subtitles must have same name as video file.

i already did it but nothing's happen.

how do i enable subtitle?

I just purchased and installed Moliplayer. I wish I had tried it out first but did not because of all the rave reviews. My immediate problem? No folders! I created separate folders yet all of the videos are simply listed in one long alphabetic order. Even worse, much worse, the same is true of the music. That means no playing a particular CD of MP3s, or sorting by artist, etc. Now if I'm missing something obvious I would greatly appreciate some assistance. Otherwise, this app is a non-starter for me.

Windows Phone 8 itself is not supporting playing from folders beside its basic ones like Camera, picture, videos, etc. Hence there is no way for 3rd party apps to access user created folder like Android. That's something which I hope MS will improve on.

Hello Guys , iam new here. I have a doubt, Iam using a lumia 920 , Iam not able to view any of the videos in moli player which i have copied to 'Videos' Folder in phone storage, Moli player is picking up videos that i took with camera, no any other videos displayed ? Any idea? Player won't pick videos from default 'Videos' folder ? Note : iam using trial version of moli player app.

I think the difference of the HW / SW button is for video performance purposes. If your phone support FHD playing with hardware without stuttering, then HW is for you. If not, SW will use software decoding for phones which has weaker hardware decoding for its chipsets.

Hi Bro, My friend has Nokia Lumia 920, stored videos in the Videos folder - this app cannot found these videos. I try to test with my videos on the Videos folder of Lumia 720, the same problem. How do we play? Thanks.

Videos must be copied to the "Camera Roll" in the Pictures folder. That's the only place it will see the videos for now.

Moliplayer and vlc are good media apps,because they support video types not supported by WP natively. But, in my opinion the myVideos 3D+ app is the best video player app on all mobile platforms, far better compared to all others, as it added real time effects. Give it a try and you'll see what I mean.

How To Add movie mkv file To Moli Player Pro In Windows Phone 8.1? I not undrsten how,plizzz help my :/ I copy movie in video folder and nothing :(
Windows Central Newsletter
Get the best of Windows Central in in your inbox, every day!
Thank you for signing up to Windows Central. You will receive a verification email shortly.
There was a problem. Please refresh the page and try again.