Momento+ photo app for Windows Phone is now free for a limited time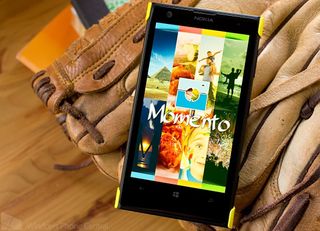 The developer behind the well-reviewed Momento and Momento+ camera apps for Windows Phone devices has announced that the 99 cent Momento+ app will now be free to download for a limited time to celebrate the app's first anniversary. The app will remain free until the end of Sunday, January 4.
Momento+ has a number of features that are not included in the regular Momento app. Here's a brief breakdown:
Windows Central Newsletter
Get the best of Windows Central in your inbox, every day!
Lol that is not possible mate! Need 8xx chipset! And app is not free! Still costs 0.99

Just downloaded for free. Lumia 620

Just got it for my 1520 that kicks the shit out of every other phone. I feel better now.

I want fast Lumia camera for my 1020 , please...... :(

me too but I find using Microsoft default camera app, it starts very quickly, so that's what I use when I need the camera to start up quickly.. besides that I use Lumia camera and hope to get enhancements too

Try Camera360 Sight...very fast!!!

It's not free. Not yet, at least.

It's free for me in the UK

It became free. I checked later. :)

Mine keeps saying the item is no longer available when I try to download it

I was thinking to buy this app. Great

No it is free . At least for some phones like 525,520,730,735 and many more

Free for me L925 (India) thanks windows central (y)

Just down loaded free no problem.

For my L520 it's available and free

It's free for me. Gracias.

No 2Gb RAM support ... Not Free ..

I think you have to change the region to US

Haha thnx buddy.. But I knew it takes time to get free for everyone.

What do you mean by no 2GB RAM support? It works fine for my 1020.

I can download with my L930 here in India

Eh a bit off topic, but speaking of Momento, anyone got any polished alternatives to Momento/Day One on iOS?

That's the million dollar question & unfortunately I can't find a journal app on WP (or Windows for that matter) that's even half as good as Day One. Most are pretty bad, others get abandoned by their developers. As far as Momento goes, its pretty awful. I don't know why WC even features apps like this. The saved resolution of your edits is only 480 pixels, which is unbelievably bad quality.

Great, gotta keep lugging around two devices still. Perhaps I'll make one when I get enough motivation... & It does? That's a bit low res, extremely even...

Go for it man! I can't believe no developers on Win/Win Phone have jumped on life journaling bandwagon. Android has several quality ones that'll even import all your Day One entries (Journey app for instance). Its a huge black hole for us & a market that def needs filled.

Lumia 1520. Panama - Central America US Marketplace Downloaded!

Lumia 520 - indonesia marketplace free. Downloaded

Yep, and this app is from indonesia too!
Ohh yeah try selffina too!
It's a perfect financial app! IMO

Hell yeah. That's rights dude

Nice, download it first. Will try it in the morning, I'm going to sleep. Already 1am at Malaysia.

Downloaded fine in UK on my 620.

Downloading and terima kasih to the developer! Selamat Tahun Baru! :)

Ada burgerkill. Gwa demen ama lagu loe yg judulnya burgerkill - berkarat.

He must be kidding, right ?

@Amir Yep, that's what I thought. ;)

@Yzdhsn I think he was only joking. xD

@Sofyan I'm in no way affiliated with the band - alesan gw pake nama ini gara-gara nama mereka kedengeran kayak nama salah satu fast food company (Burger King). :P

Thanks for the info! Gonna download it now...

I don't need it.. Just click on install cancel download free forever :D

Nice to be able to get it for free. I've always wanted to try this app. Thanks dev.

Downloaded on my 830 for free, a very feature rich app, thx dev.

No not yet free on my lumia 730(India).

I got free on Lumia 620 in India without changing region to US

Change to US if you want to download

Change to indonesia if you want to download.

This: http://youtu.be/7wfYef5NwhE

Keep's crashing on my 1320...

Its not free here in the philippines

oh yes it is! just keep trying and refreshing

An app with lots of features . But keep crashing if you try to use the features. This is a badly designed app. Not worth buying.

the same goes with the regular momento app too, but what i did is uninstall and reinstalled the app and everything is working fine now =)

Fantastic app! Just downloaded it for free on L1520.

I have a 1520 and it is shite.

Good app worth trying out

This app is just awesome :)

Still free for me and its now Monday 5th :)