More evidence emerges of Nokia Lumia 2520 on T-Mobile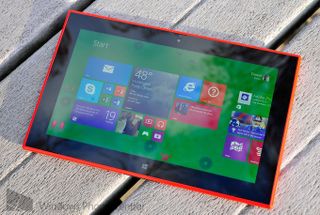 The Lumia 2520 tablet has recently been rumored to be heading to T-Mobile, and now there's a little more evidence to that fact. A new fact sheet has appeared that outlines key features of the device, the specs, and the productivity support.
Points include the tablet's support for mobile device management solutions, included Windows Defender malware protection, and multitasking. The device is also listed as coming in Silk Black.
The Lumia 2520 is a 10.1-inch tablet with 2.2 GHz Snapdragon 800 processor, 2GB of RAM, and 32GB of storage. It runs Windows RT 8.1 out of the box. The 2520 is already available from US carriers Verizon and AT&T.
Would you pick up a 2520 on T-Mobile? Tell us below in the comments.
Get the Windows Central Newsletter
All the latest news, reviews, and guides for Windows and Xbox diehards.
The store where I work at we don't sell any 2520s. We've had 6 in stock for weeks and they just sit there. I know that doesn't mean they're not selling ever where but damn.

MS makes things which are innovative in 2012 and make them available to people in 2014 when hundred of competitors are already there...MS sucks

U think that ms sucks. My belief is that whatever technology Microsoft has made till now has been much productive than any other software company in the world. Using technology in a right way is imp. Apple has really gone the wrong way. Microsoft has proven themselves as being the company ever.

I haven't said that they are not productive...i said they don't make things go to public until the thing is outdated

I just think the illuminati is out to get Microsoft

I didn't know that Windows 8.1 and the Snapdragon 800 SoCs have been out for 2 years. Wow, what news! Microsoft really is slow! D:

Yeah that's what i said above

Hmm.. His sarcasm was obviously to subtle for you;)

That's exactly what you said because the topic is about the 2520.

The Snapdragon 800 came out in Q4 2013.

I'm not surprised. It seems like they just dumped this thing on the market with little fanfare and forgot about it. I personally can't remember seeing any ads for it.

Nope surface only. Really why do we need win RT when the pro has such a good battery life and its thinner now. I have the first Gen rt but the next one will be pro

My 2520 gets 16 hr battery life with batter cover. My surface pro 1 is lucky to get 4.

Well untill intel pushes their lte chipsets snapdragon/tega(as if) are the best solutions for true mobile computing for windows tablets unless via decides to jump back in with a decent tablet spec cpu chipset that could do lte aswell we dont have many options

If all you do is surf the web I guess the price would be it but I'd take functionality over price as long as it's thin and the battery last

Pro doesn't have cellular service, NFC, GPS, &, hella expensive, plus surface pro 2's are being pulled out of stock and SP3s are to big

Now show us the evidence and date of the 1520 :) Posted via Windows Phone Central App

But, will it be named 2525?

Sexy name for sexy tablet!! Double twenty five.

Weird. The other render showed it in red. Maybe T-Mobile will get both?

If it came before.. Before I got the surface 2 on LTE... Then I probably would have. Too little late Microsoft. Actually I'm sure Microsoft prefers me having a surface. Lol makes us both happy

does the Surface 2 LTE work on T-Mobile?

My guess is its got full support for all the US networks

It works. It has problems though.. Disconnects a lot even when im in LTE areas. But I don't make a fuss because I'm not paying for the data.

Sure, if the 1525 comes too!!

32gb for a windows tablet isn't a good experience. Need 64gb. Sure you have onedrive but still you can't save your files offline when your internal storage is low

True, 64gb would have been better, but I believe it does have a micro sd expansion slot which should help. Still not sure if I would get one over a Surface 2 or other though.

Is this still a thing for people? I sold my 2520 a few months back now I have a Asus Transformer Book. It's also 32 GB, but everything I might want to save goes directly to my EHD. I don't even bother with cloud storage. Posted via the WPC App for Android from my Z10

Want to pick up. When will it arrive in India?

Will be picking this up when it does arrive. Exciting times for T-Mobile and Windows devices: ) Posted via Windows Phone Central App

What's in the 32gigs of ROM.
Tomorrow's Bios.

Wow Tmobile takes forever to get anything

This is no surprise that its coming when it is chances are @ a heavily subsided price & of course can blame att for this lol

I've been able to use my unlocked AT&T 2520 on T-Mobile for a while now getting HSPA and LTE.

As for ads...Saw one Nokia Lumia 2520 bring used in one of Jennifer Lopez's music video: Love you Papi... almost four months back. After that there had been no public showcase of the tablet as such. Not on the web, I guess and certainly not for the sake of selling the product.

I'm using an at&t 2520 on Wi-Fi only. best tablet I've ever owned and I've had them all...

Ill second this; caveat - haven't "had em' all" but I have tried a few. The 2520 despite various shortcomings is an excellent tablet. Give it a try

I'm not sure why they bother at this point. The specs are outdated compared to the new batch of android tablets and the ipad and the product has been a failure, in part because they didn't release the colors, gimped the bands and went with carrier exclusives. Looking at this objectively, it won't sell and it will just reinforce the notion that T mobile is justified in not carrying the Lumia line. I would have purchased a cyan or white version back in the fall if it wasn't an exclusive, but they botched this launch badly and it is time to move on and get the next model right. Match the Galaxy tab S screen resolution, offer a choice of colors, a 10" and an 8" and most of all, MS needs to squash the carrier exclusivity nonsense.

Not all the people can/want to buy a tablet with the latest specs. That is why older models of Android and Apple are also available. What comes to the launch of 2520 I agree. It looks like they didn't want to sell this product, coming to some markets months later or not coming at all.

They should fire the new CEO.

Why do we need RT!!? My Gramma couldnt break this OS if she wanted to. I could lend it to her for a month and I wouldnt have one toolbar, spyware, fake Antivirus 2014, itunes or realplayer crap installed when I got it back. My Nokia 2520 is immune to viruses (so far). I like modern interface. I don't want a 3rd party browser and I don't want the desktop! I have that at home, on the i7 PC with Windows 8.1. Netflix, Games and Skype are sweet on this tablet! Office 2013 is quite usable. Insteon app controls my whole house, ELM327 interfaces with my cars. I bring my tablet to work and the IT dept loves it because they can integrate it with Exchange and other Microsoft Servers. They are even building a custom modern interface CRM app for our sales team. With "mouse without borders" I can share my mouse and ergonomic keyboard across the desktop and the tablet. I have 10 hour battery life, and it gets to 80% charge in less than an hour. With NFC, USB, LTE, Bluetooth, WIFI, HDMI and SD I'm all set! Also the SanDisk Ultra 128 GB microSDXC UHS-I Card works great in the 2520. These tablets came out at $499 in December 2013. They dont need better hardware, they just need lower prices. Nokia and MS should have been working agressively to reduce/evolve less expensive components so that these should be selling for $350 by Christmas. ($125 with a two year contract) But I bet they arent :( RT rules! Long live RT with universal apps!

Much to be said for the simplicity of RT. If they can just get rid of the RT "desktop". To your point, I think T-Mobile will price this way too high.

I totally agree and that is why I bought it to my sister (with her money). She's like your grandmother and I much more prefer playing with her tablet when she comes to visit than fixing all those issues which you mentioned. The more I use her 2520, the more I love it.

I agree all your comments. In addition to all these features, RT has multiuser accounts. We use own accounts for every persons in our family and settings goes automatically between tablet, laptop and Lumia phones.

2520 is a great tablet for anyone who doesn't need full Windows experience. What comes to the price, You don't get the latest hardware with 2520's price (see discussions and complaints about SP3's price). RT is great operating system for people like my sister to whom even installing virus software is a challenge or anyone else who don't need so many programs, still having the possibility to have Windows Office.