More HTC HD7 info leaks out, includes Dolby Mobile Sound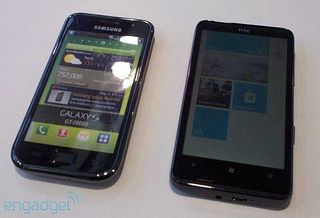 And finishing up those leaks on the HD7 which came fast and furious a few weeks ago is that final one, filling in all the remaining questions. Well most questions.
The latest is that this premier phone will be launching on Germany's O2 network in just 2 weeks (hence all the details). It still features that 1GHz CPU, 8GB of storage, etc. all reported a few weeks ago, so nothing new there. Shoot, even the price is still what was reported in the past ($730-770 off contract; $104-109 with one).
Really the only news is the mention of Dolby Mobile Sound, which while untested sure sounds like a good thing as we're all for improved audio on these HD monsters.
Finally there'a a pretty vanilla video of it "in action" (after the break) though we're sure it's nothing you couldn't have imagined yourselves. We suppose the only real question is will we see this Stateside on T-Moible? We caught a rumor (unverified) that AT&T's "exclusivity" is for only 2 weeks, so take that as you will.
Head over to Engadget for a few more shots. [Thanks, Eric, for the tip]
Windows Central Newsletter
Get the best of Windows Central in in your inbox, every day!
Daniel Rubino is the Editor-in-chief of Windows Central, head reviewer, podcast co-host, and analyst. He has been covering Microsoft since 2007 when this site was called WMExperts (and later Windows Phone Central). His interests include Windows, laptops, next-gen computing, and for some reason, watches. Before all this tech stuff, he worked on a Ph.D. in linguistics, watched people sleep (for medical purposes!), and ran the projectors at movie theaters because it was fun.
Sorry HTC, as nice as this phone looks 8GB isn't enough for me. I'll have to go with LG or Samsung if they have more.

Looks like it's going to be a VERY good year for Windows Phone, and the HD 7.

Very much opposed to windows phone 7. I support ending Windows phone 7 and going back to Windows Mobile with an all out effort to perfect the UI and debug the flow of things so things like setting up email are perfected ( you can actually start off with encrytion on an email service is one of the bugs where you must set up first then you are finally given the option to add encryption(SSL etc)) There are many little bugs which techs like me have gotten around with registry changes and such and come out with our own personal Windows Mobile experience that is truly excellent. I also enjoy the concept of having phones that can dual boot windows mobile and Android. But again with a major effort to polish up the diamond that is Windows Mobile you will end up with the best phone experience out there. It is a big mistake to go the route of the locked down Windows Phone 7. Windows Mobile is fully extensible by adding libraries and perfecting the core -- doing things like assuring all codecs function out of the box and perfecting the internet browsers-- not just one browsers but keeping the open and free spirit of Windows Mobile in the new Windows Mobile 7. This is the best way to go. Windows Phone 7 is a very bad choice by Microsoft. Microsoft should use it's powers to improve the world/ profits will follow. That is how the new world works with freedom and without fascist corporate controls. People will reject this.

Nothing stopping you sticking with WM, nothing at all.

I am not rejecting the hardware of the phone HTC HD7. I am sure it is wonderful and I hope HTC releases the libraries and gives us the tools in the tech community to choose windows Mobile and Android. We, in the tech community, have always leaned toward HTC because of their policy to release the drivers and systems that allow us to perfect the phones to our liking; Many in the non-tech general public rely on the opinions of techs and developers like me to decide which phone to buy. There should be a very friendly and continually open effort to support the developers and techs by HTC.

I agree that 8GB is not nearly enough. I've held off upgradinng my old 30GB Zune b/c I thought a new Windows Phone 7 would handle those duties. Well 8GB isnt going to the job at replacing my Zune & then add pics/vids/email attachments/docs & apps to mix and the 8GB seems even smaller. I'm sure that I'm not the only consumer out there who would pay the extra cost for a 16GB or 32GB version. I hope some manufacturer sees the benefit of storage space which will help me choose my WP7 phone.

I believe some Samsung and LG WP7 devices have 16GB of storage. Not sure if it is a cost, shortage or an access issue on HTC's end, but it is curious. I remember awhile back a rumor about Apple gobbling up the 16 + 32GB chips on the market. Not sure if that's a factor...

The pink tiles on white background for the home screen match T-Mo's look. :-P

I hope the two week exclusive is true, but if it takes waiting to get a WP7 that accepts micro SD card then so be it.

I love the DOBLY. :) Don't you guys have spell check for headlines?

Fixed, thanks. No stims in system at time of writing ;-)

Why is HTC not using their great virtual keyboard on the WM7 phone? I have a TouchPro2 and the virtual keyboard with long press alternate keys showing is terrific - same as on the Evo and other HTC phones. Is this single letter key design mandated by MS? If so, it's such a downgrade compared to other HTC virtual kb's if you have to use an alt key to get to commonly used symbols and alt keys. What's up with that??

The WP7 Keyboard supports long-presses for alt symbols

At least in v1.0, there is NO third-party keyboard support in Windows Phone 7, hence the absence of HTC's KB. Kind of stinks as I was hoping for some Swype action, but alas it's not to be this round. Maybe when they open the platform up a bit...?

That totally sucks IMO. The HTC kb is soooo much better than any other virtual kb. Having to hit a button to get to the full set of alternative keys is such a waste of efficiency. Seeing ? above k just needing a long press is so much faster on my TP2. Sad omission. Some things about WP7 and the likely long wait on Sprint has me thinking think I'll wait for a new HP Palm.

Not that I have any first-hand experience, but I've read a few times from people who have gotten a chance to play with the phones that the WP7 keyboard is one of the best, if not the best. Still... I would probably prefer Swype.

Really nice sound here so love you this mobile brand so I hope that in future time will come more attractive mobile phone and loud sound...

My thoughts, exactly...or something.
Windows Central Newsletter
Thank you for signing up to Windows Central. You will receive a verification email shortly.
There was a problem. Please refresh the page and try again.