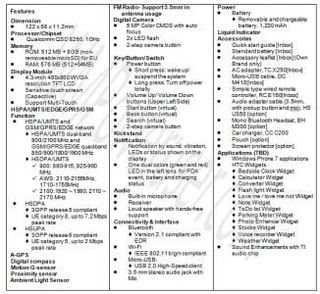 The HD7 has gotten a lot of attention lately with photos, sketches, and GCF certification on what we suspect is the European version. Now we are seeing a spec sheet surface for the Windows Phone 7 device that gives more detail on the HD7 than we've seen before.
The spec list, surfacing over at wmpoweruser, if it holds true, shows the HD7 supporting T-Mobile's US 3G frequencies, giving credence to the speculation that this will be their Windows Phone 7 flagship. The 4.3" 480x800 WVGA device will have 512mb ROM, 576mb RAM and a 8gb non-removable microSD card.
The power source is a 1230 mAh battery which sounds a little on the small size for such a power house of a phone. The rest of the specs (kickstand and all) match up with the photos that surfaced the other day.
The accessories include a wired remote and a mono bluetooth headset. We also note that the widgets (part of the HTC Sense Hub?) noted include a bedside clock, voice recorder, and parking meter widget along with the other apps we've heard rumors of.
Still no word on when the HD7 will be available in the U.S. Hopefully, we'll have a better picture on things as October 11th gets closer.
George is the Reviews Editor at Windows Central, concentrating on Windows 10 PC and Mobile apps. He's been a supporter of the platform since the days of Windows CE and uses his current Windows 10 Mobile phone daily to keep up with life and enjoy a game during down time.
omg, im actually the first person to comment... anyways this is startign to sound like a really nice phone, might have to trade in the 9700 for winmo, never thought id say that

Am I the only person getting tired of these so called Super Phones coming with wimpy batteries and way to little onboard storage. At least Android and Windows Mobile allow expansion. If Microsoft wants to go the iphone route with WP 7 then they need to start pushing manufactures to include more storage, or at least offer it as an option. As far as batteries go 1500 mAh should be the minimum alloud on a modern smartphone. Microsoft should have given this as a minimum spec.

Minimum Ah rating is pointless, even just for rating batteries. You need to convert to Wh to get energy storage worth talking about. However it would be much better to do it by talk time, web browsing time, or similar.

I have hard everything about wp7. But haven't hard anything about the front facing camera.so my question is there even a Front facing camera? And how those it gonna work?

So where's the 16GB and 32GB storage options? Some of us have lots a media we'd like to take with us you know.

When the top-of-line device only has 8 GB of non-upgradeable storage, you know these are not going to compete well in the market. I don't understand why MS decided to restrict removable storage on these devices, or why, when we have had a 32 GB iPhone available for over a year, the most we see on the "new" Windows Phone is 8 GB. Give me a break!!

i guess this'll be a good chance to see how good WP7 is with power management, although most of the battery drain will come from that screen.

HD2.1 with WP7... i r kinda disappoint >_>

This sums up my view perfectly.

It's an HD2 with less storage (mine has a 16GB card). It can't be used to suppy data for my laptop/netbook, at least initally. So why would I upgrade to this? More than kinda...

At least it should have hdmi out,8 mega pixels,1 ghz scorpion processor ,16 gb memory and maybe front facing camera. I don't have the HD2 simply because I held out to buy this phone but a HD2.1? Very disappointed, if you can have the Evo and Desire HD with better specs and it came before this "superphone"? That is a raw deal if this is infact true. The sad part is I might have to buy it anyway because I need a new phone and don't know when a better one will come out being its almost a year that I wanted to buy the HD2!

I've been using WinMo since 2002 and was pretty excited about upgrading my Imagio w/ custom 6.5 to WP 7. The CDMA and "crippled" memory really make me want to explore my Android options. I'm tired of news stuff coming out that is so two years ago.

* CDMA delay and "crippled" memory...

I'm with you, Crabby. No CDMA and now so little memory. I'm hoping that this is not an area where Microsoft dictated a standard. If so, I'm even more cynical that this is just a ploy for users to fork money over to "cloud" providers. I'm continuing to get a bad taste in my mouth about WP7...

I'm actually very surprised no one has questioned the FM Radio bit. Will it be HD Radio compatible like the Zune HD? That would be sweet.

Do other WP7 phones have FM Radio/possible HD Radio?

You are a Very Skilled Blogger, You either have first hand knowledge of what your talking about or you did some great research. Thanks for this wonderful post.

Remember, HTC is not the only OEM making WP7 phones, there will be LG's with 16GB of storage. Just tell HTC to stuff it with their pathetic 8GB by not buying this HD2.1 crap, they will either come to their senses or go back to messing with android, either way based on this rubbish we wont be losing much. Here's a video of the LG E900, @18.59 into the video it shows it has 16GB onboard. HTC can suck it!!!!!! http://www.mobiletechworld.com/2010/09/24/20-minutes-long-hands-on-video...

This WP7 device has only 8GB storage. This is just crap.
Ridiculous. They really expect to see me spend my money to get a pathetic 8GB storage with no expandable memory? No way. Everything under 16GB is crap.
Windows Central Newsletter
Thank you for signing up to Windows Central. You will receive a verification email shortly.
There was a problem. Please refresh the page and try again.