More pics of a T-Mobile Touch Pro 2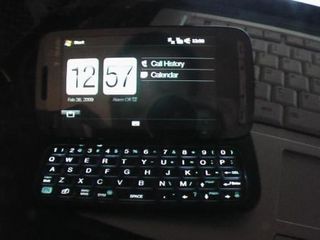 In case there were any doubt that the HTC Touch Pro 2 was coming to T-Mobile, the causes for concern appear to be shrinking.
Here we have but one of a number of pics of a T-Mobile-branded Touch Pro 2 from d474rpr.com. [via] The pictures aren't of the greatest quality (sigh). But at this point, if T-Mo doesn't release the TP2 sometime this summer, we'll put down our Windows phones and use a Crackberry for a week. We're that confident.
(update: fixed to say Touch Pro 2. D'oh!)
Is it T-mo Europe though?

See any European keys there?

Well, if you look at the European Page for the Touch Pro, it looks like the same keyboard: https://www.windowscentral.com/e?link=https2F2Fcli...

Hmmmmm. Looks like the originating site has crushed under the weight. But you make a good point. Here's where we'll need to look.


I see! Thanks for the details

Sorry, Is it Touch Pro 2?

Ah, you mean Touch Pro2 ya'll....

But as other people are pointing out....this has the same specs at the Diamond2, however, the Diamond2 has a better camera.... Is the slide out keyboard that beneficial for the extra coin you'll have to cough up?

Don't forget the TP2 has a 3.6" screen versus the Diamond2's 3.2"

The screen caps show 188MB Program Memory? What happened to the other 100MB?

fixed the title there, thanks guys!
Windows Central Newsletter
Thank you for signing up to Windows Central. You will receive a verification email shortly.
There was a problem. Please refresh the page and try again.