More Sprint Treo 800w info: July 13th for $249.99?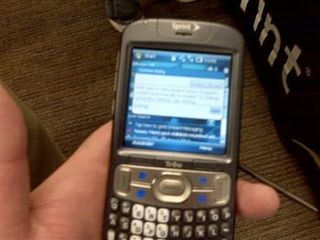 Ah...and here I thought I was going to get by this week without posting any Treo 800w info.
Guess not what with a certain something on the down-low wrapping up this week. So good morning to everyone as we have a slathering of rumortastic info for you, including two more traditional blurry shots (see above and below) of the very long awaited Treo 700wx successor, the 800w.
(Fret not Verizon fans...read our earlier post on the Verizon 800w, if you're jonesing)
Keep reading for price, specs and a ton of other info info after the jump...
First up: we're hearing that the 800w will finally drop on Sprint on Sunday, July 13th. That puts it ahead by 9 days our date of July 22nd--curse you Sprint! Well, it still remains to be seen what the final release day will be, but we're getting close. (What, YOU know the date? Well throw her up in our contest thread already! And yes, July 13th is now also off limits for future guessing. So complicated)
The price is $249.99 (of course with "instant savings" and a mail-in-rebate)--if true, that's actually a very sweet price and should enable the 800w to go up RIM quite nicely.
What else can we dig up?
How about the battery is now confirmed at being a not-too-shabby (but hardly hulked out) 1150mah. If that sounds familiar it is because the Palm Centro uses that same size battery and in fact is the exact same battery. Yikes. So similar we are hearing that new Centros have a battery that even says "STD battery for 690/800w". That sure seems convenient for someone.
Oh and those new leaked pictures above? That is still a tester unit (see the blurred out serial). We're still expecting a few more shiny additions to the finalized version, so while the Black Charcoal which we 1st reported is accurate, expect a wee bit more pizazz in a few more weeks ;-)
And last but not least, if you need a re-count of what we know for device specs, here ya go:
MSM-6800 chipset
~100mb of Program / ~170mb of Storage Memory (both after OS)
WM 6.1 (5.2.1944)
ARM1136 processor
WiFi
Soft touch paint
Dedicated Wifi button + Ringer switch on top
Micro-USB connector
2.1mp camera
No headphone jack (uses microUSB to 3.5mm adapter)
1150mah battery
Plus the usual:
320x320
RevA (on release?)
GPS (network independent)
Palm Threaded SMS
So whaddya think? Palm has a winner or a snoozer here? Sound off!
Thanks to BigChris for the heads up!
SNOOOOZEE Button...Hit it hard...hit it till it breaks....Im done with palm.....
I have been waiting and waiting on this replacement for the treo 700w/x. And an updated CENTRO is what I get? It's ova. Bad enough I stick with Sprint, but then one of thier flagships doesn't set sail.
I cant believe this...the leaked pics from the Bill Gates press conference actually looked better than this crap, oh I mean new CENTRO.
HTC will now recieve my money. They are on their own level, which is out side the earths orbit right now. VGA screens, WM software, LARGE touchscreens, immaculate designs, all the dressings like wifi and bluetooth, and the UI is beyond what any other phone has.
I seriously cant believe I waited and stuck by palm sooooo long waiting on this 800w codename CRAPPLIN, oh I meant zepplin. TERRIBLE TERRIBLE TERRIBLE.

This is what Palm is calling their elite business device? I, like J22JJ22J have waited for the update to my poor, very old (under-powered, and under-supplied with memory) 700w, and this is what I get?
This would have been a nice step up about 18 months ago. But now, it's just too little, way too late. Has Palm seen the specs of the Touch Pro? HTC has released all kind of devices that SMOKE this one spec-wise, in a shorter time span - that's what really kills me. That it took Palm this long to put out this device. Now it's specs are not all that great, and certainly not what I would call "elite".
Goodbye Palm?

its ok looking, not as horrible as the baby blue and spy shots. Better looknig than i though itd be.
And itll sell fine, remember the general public has no clue Sprint's getting the Touch Diamond/Pro series, and we still dont know when or even confirmed.
For me itll be a good transition phone from the Touch to the Touch Pro later in the year. If the Mogul was adequately up to spec with RAM then itd be a keeper till then, but its not and Im craving a keyboard.

Awesome!!
Looking Better... Very Good Price and still great specs.
The Touch Pro subsidized will probably go for $150-200+ more.. WHEN and IF you can get it.... And it isn't the right form factor... we'll see you back here when you realize this form factor just works and that this has a higher res screen(but better on the battery), WM software, wifi, bluetooth, gps, more than adequate memory, sd slot, fast internet, etc... and costs less!
Or enjoy the Diamond /Touch Pro if you like or can adjust to that form factor and it comes to your carrier(or you can switch) and can justify the extra $$ for the minimal upgrades in a few areas and their cool software... (oh and it looks shinier)
But, I really dont understand what specs people really thought they were entitled to here...

Its probably just the pictures, but it looks awkwardly tall.
Anyway, I probably won't be upgrading anytime soon. It's definitely an interesting device, but I'm pretty satisfied with my Q9c for now. I'm hoping it'll be able to hold me over until Nova/ WM7/ Android/ Whatever RIM comes up with, because I recently discovered I'm not as tied to the Palm OS as I thought I was (though in many ways I prefer it to WM still.)
Also, no headphone jack, and tiny battery kill it for me. Also, haven't we moved past 400mhz yet? For now, I'm definitely fine to wait and see what future devices bring.

holy sh*t! I'm hoping for this July 13th date now! That what I guessed in the contest!! =D If I win I think my GF can finally have a new phone with WiMo!

July 13th Release Date CONFIRMED
From me to Sprint:
"When will I be able to get the Treo 800w on Sprint; that's when I'll switch [to Sprint]"
Sprint's Response:
"Thank you for the reply.
This handset is scheduled to be launched on July 13, 2008. I would seek your patience in this regard.
If you have any further concern, please write back to us. I will surely assist you in the best possible manner.
Thank you again for contacting Sprint. We appreciate your business."

I really think the 13th is solid. I've spoken with numerous Sprint people over the past week about the Instinct, and I decided to hold out for the 800w and they all said July 13th. You never get Sprint employees united on any date. :)
Windows Central Newsletter
Get the best of Windows Central in in your inbox, every day!
Thank you for signing up to Windows Central. You will receive a verification email shortly.
There was a problem. Please refresh the page and try again.