Motorola Solutions (the other Motorola) signs licensing agreement with Microsoft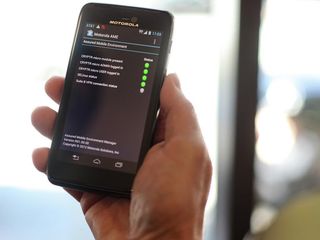 Microsoft can add another feather to its IP licensing hat, having now signed Motorola Solutions up for a licensing agreement. That's not Motorola Mobility, the portion of Motorola bought by Google and now being sold to Lenovo that makes handsets such as Moto X and Moto G, as well as Verizon's Droid line. No, Motorola Solutions is the other Motorola, the part left behind after Google snapped up the smartphone half of the company. And they apparently have eyes on the mobile devices market, with this agreement covering devices running both Android and Chrome OS.
The terms of the deal weren't announced, but it's clear from signing the deal that Motorola Solutions is serious about getting more involved in the Android and Chrome OS space. And probably confusing the heck out of everybody with there being two different Motorolas.
Microsoft, for their part, has signed deals like this with numerous companies, including major Android players like Samsung and HTC, and even manufacturer Foxconn. The deals have been estimated to bring in more than $2 billion a year in revenue for Microsoft, and while Motorola Solutions isn't likely to be a major contributor to Microsoft's bottom line, it never hurts to have another company paying for the rights to your patents.
The exact terms of the IP licensing deal signed by Microsoft and Motorola Solutions were not made public.
Microsoft also recently cut the licensing cost for Windows Phone devices and smaller Windows tablets down to the low low price of zero dollars. Windows Phone is steadily gaining marketshare, but for now those almost-pure-profit multi-billion-dollar Android licensing agreements are overshadowing the costs of building up the Windows Phone ecosystem and user base. But they'll get there.
Press release:
Microsoft and Motorola Solutions sign licensing agreement
Agreement with Motorola Solutions covers devices running Android and Chrome.
REDMOND, Wash. — April 21, 2014 — Microsoft Corp. announced on Monday a patent licensing agreement with Motorola Solutions, Inc., a leading provider of communication solutions and services for enterprise and government customers. The license provides worldwide coverage under Microsoft's patent portfolio for Motorola Solutions' devices running the Android™ platform and Chrome OS™ operating system.
"Microsoft and Motorola Solutions share a respect for intellectual property and a commitment to fair and reasonable patent licensing programs," said Nick Psyhogeos, general manager, associate general counsel, IP licensing of the Innovation and Intellectual Property Group at Microsoft. "Microsoft prefers licensing to litigation, since licensing is a more effective way to share technology and accelerate the pace of innovation."
"Our Motorola Solutions communications technology works best for everyone when it is backed with robust intellectual property and patents," said Joe White, vice president of Enterprise Mobile Computing, Motorola Solutions. "We are pleased to have agreed upon a solution that allows our customers to purchase Android products from Motorola Solutions with confidence."
Microsoft's commitment to licensing IP
The patent agreement is another example of the important role intellectual property (IP) plays in ensuring a healthy and vibrant technology ecosystem. Since Microsoft launched its IP licensing program in December 2003, the company has entered into more than 1,100 licensing agreements and continues to develop programs that open Microsoft's IP portfolio for customers, partners and competitors. The program was developed to provide access to Microsoft's significant R&D investments and its growing, broad patent and IP portfolio. Microsoft's specific patent licensing program for Android device-makers has resulted in signed license agreements with numerous companies, including Samsung, ZTE, LG, HTC, Acer and Barnes & Noble.
Windows Central Newsletter
Get the best of Windows Central in your inbox, every day!
Derek Kessler is Special Projects Manager for Mobile Nations. He's been writing about tech since 2009, has far more phones than is considered humane, still carries a torch for Palm, and got a Tesla because it was the biggest gadget he could find. You can follow him on Twitter at @derekakessler.
It should be a term of this licensing agreement that the company licensing the IP must produce a WP...

Dont understand the point of +<Lumia model>. However, just an insight into Motorola's history, Motorola solutions is the real Motorola. Motorola mobility was just one division. Motorola solutions is like GE. Selling off a microwave division doesnt make rest of GE as the other GE. GE is still GE. I just love the infantile catalouge writing that gets noted as journalism in this age.

Maybe that would matter had they still actually owned the mobility sector...

Sure but then you get what we have with Samsung. They take last year's Android model, slap windows phone on it, quietly release it without any marketing, and say "there MS, we made our windows phone for the year".

I think they tried with Samsung, and see where we are now!

Motorola Solutions should make a Windows Phone to increase the confusion.

This would be a boss move

This is very funny ... 'Cause "rola" it means "dick" here. Haha I'm dying here with those names ...

Motorola Solutions is producing Windows Phones already for industrial use... See http://www.wpcentral.com/microsoft-push-embedded-realm-retail-and-beyond

MS says, "Pay me my money"!

Raising of Microsoft corporation

Technically, the 2 Motos split before the google acquisition as an attempt to spin off the waning mobility division.

This ... They split way before the Acquisition. I think it was Sanji Jah's idea (The Former Former Motorola Mobility CEO)

Third paragraph, first sentence: "there part" ... Uhhhh... Thier?

English is a pretty awful language.

"Pretty/awful". Hahaha I see what you did there :3

Last I heard there were atleast 10 OEMs joinin hands with MS to make new WPs..Where are they??

On their way to the moon..
They need time man.. Karbonn's should be out by end of monsoons..

How do you know by the end of monsoon?..Tu Karbonn mein kam karta hai :p

didn't u see build 2014...they showed new devices from two new oems which are almost complete...rest are working on theirs...All of them will release their phones this year probably..kanna keep calm

Nokia (MS), LG, HTC, Samsung, prestigio, maxathon, huawei, Lenovo, xolo, and karbonn.

i think its micromax not maxathon

Transparency tiles has been updated. Check the store.

Way to go to encourage people to use the offical "Tip Us on News!" functionaly of the homepage and make them not spam the comments section

Without patents would corporations be prepared to invest $ billions in R&D? As long as the patents are fair I see this as the best option to gain investment and innovation in technology. Just saying.

For those that own patents and have to pay for them. For those who have the patents, it's the best thing ever. If you came up with a great new idea, I'm sure your opinion of patents would be very different. That said, the patent offices really need to stop giving patents and start revoking patants for ideas that aren't original and have been in use for many years before some wiseguy decided to apply for a patent and proceeded to sue everyone who has been using the process for years.

Curved corners on tablets, wonder if that's patented yet? I could make a fortune.

Yah, first it sucks dry inventor's brain and then they go and suck other company's money who are not willing to let suck dry their own R&D people's brain. Got it?

You missed that Motorola Solutions is selling its Business part to Zebra for 2 Billions. Now ask yourself what they are trying to do. This is just part of a plan of Zebra.

pretty smart of microsoft to channel some of Android competitor's profits into building their own Windows Phone. ebil tactic i'd say :)

I wish they start making Windows devices again .... I'd buy one. Motorola Solutions can pitch it as an Enterprise ready\Secure phone.

I have installed 70 apps on my HTC 8s and it doesn't lag, it's not slowed at all :) my brother has a HTC One with almost 60 apps and it is slowed down. I know this is out of topic but I wanted to share it with you guys. Windows phone is awesome!

Umm..No. It just doesn't slow down :)

Yeah I know its awesome bit do u really use all the 70 apps. This isn't a windows pc right?

No, of course I don't use them. I just installed them to compare functionality of these two phones :)

If Motorola Solutions does make a Windows Phone, it won't be under the Motorola brand, since they can't use it anymore.

They need to build a Windows Phone.

Hello Moto!)
My father loved Motorola phones. Back in days he got Motorola A925 as present..a MASSIVE brick) somebody was going to pay$1000 (aloooot of money back then) for it but he refused to sell. Nobody is going to pay $50 for it now))

Depends, give it forty years.