Movie fans should check out Film Closet for Windows Phone and Windows 8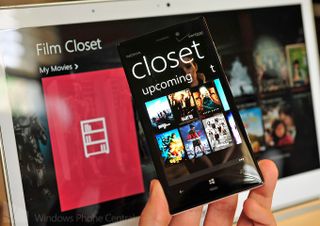 If you're a movie buff (and really, who isn't?), then you'll want to peep a relatively new app called Film Closet from Vaggelis Diatsigkos, a student at the University of Patras (Greece). The app is available for free on Windows Phone (7.x and 8) and Windows RT.
The app is what it sounds like: a repository for all things in movies these days. Think of IMdB but with more meat to it and a solid Modern UI design. The app accesses TheMovieDB for its info and it should allow users to access more than 60,000 movies, including all current and upcoming releases.
Windows Phone 7.x and 8
When you choose a movie you get info, trailer links (built-in video player), cast, crew, similar, share the info, add to favorites/watchlist/, links, backdrops and posters (you can click to save to your phone) and pin to start. You get similar features when selecting an actor as well.
The app also features a swanky double wide Live Tile that updates with the last image of the last film you explored using the app, adding some nice variety to your Start screen.
The Windows 8 app, also free (no ads either), has the same layout and is a great companion app to the Windows Phone version.
Windows 8/RT
If we had to be picky about such a fantastic movie app, we would ask for SkyDrive access to backup/share our history/favorites/watch list or even more, have them sync between our phone and Windows 8 device (ala Package Tracker). Another feature that would make this app fantastic would be local access to look up showtimes in your area, so that you can take the next logical step after looking up a movie.
Having said that, Film Closet is a great first effort from the developer. It has a gorgeous UI, is easy to use and we love duo-apps for Windows Phone/Windows 8. Plus it's free with no ads, meaning there is no risk here for you. If you use IMdB but want a better app (in our opinion), then give this a go.
Pick up Film Closet for Windows Phone here in the Store or the Windows RT version here (opens in new tab). Let us know in comments what you think!
Windows Central Newsletter
Get the best of Windows Central in your inbox, every day!
Daniel Rubino is the Editor-in-chief of Windows Central, head reviewer, podcast co-host, and analyst. He has been covering Microsoft since 2007 when this site was called WMExperts (and later Windows Phone Central). His interests include Windows, laptops, next-gen computing, and for some reason, watches. Before all this tech stuff, he worked on a Ph.D. in linguistics, watched people sleep (for medical purposes!), and ran the projectors at movie theaters because it was fun.
It looks decent on Windows 8 but it does not play the trailers in app which I would prefer. It kept opening the internet explorer app.

That NL 928 is THE BEST NL Windows Phone

I just got the awesome-looking L928 from a local store close to my work. Can't wait to play with it this weekend :) Coming from an att Titan2. I got it off-contract this time - just being realistic already with all the upcoming windows phones on the horizon. Love it so far...

Flixter is a great app to rival this. Will give this new app a try though :-) L820, UK

Actually, this is better than better than Flixter in one area. In Flixter, when you look at the list of cast and crew, you cannot click on their names and get more info. In this app, you can.

Flixster? The app that has a 32,000 five star ratings that has not been updated for Windows Phone 8 since 12/17/2012> That app?

I'll gladly give this a try over flixster.

Or IMDB. That app needs an update as well as Windows 8 version.

I'm waiting for the "if you still have room on your Lumia" intro to the introduction of new apps at wpcentral.

Truth! I have over 100 apps on my phone lol still growing

I am digging this. It even has movie wallpapers to use in junction with weather flow. Mine is now set for star trek..cant wait to see it tonight in Imax 3D.

Good first version but not liking how trailers are launched externally through the browser. Also will only pick up AVIs for video library scan. This is on my RT, not sure if the same holds true for WP version. Looking forward to updates on the app, can only get better.

Not bad at all! Any idea if the imdb app will ever get updated?

Thanks for the tip, I've been looking for such an app. I already have TVSHOW by Rudy Huyn and was looking for a modern movie app to go with it. Unfortunately I find it a bit lacking.

You can't seem to be able to log in and sync info to other versions of the app on other platforms. What if I get a new phone? How can I get my favorite list to it? And do I really need to favorite everything on my Windows 8 PC and Surface RT as well?

Also instead of a watchlist there should be a watched list. This would be my primary use for the app to check whether or not I've seen a film. I know I can use the watchlist for it (although I think its for movies to watch) but it doesnt clearly say whether the film is on the watchlist when you search it. You can only find this under the option menu. I'd love to have a clear indicator like on TVSHOW that says 'seen all episodes' or 'two unseen episodes'. So basically on the info page of a film have it say 'not seen' or 'seen it'.

Having these two things would make this one of my favorite apps. Right now I dont feel like building up a library because it doesnt sync.



-

Great app! Runs just fine on my WP7.8. I use along side IMDb :-)

This was great, thanks for the tip:-)

This UI + IMDB info = win. The database is really poor. Ratings are nota ccurate at all. IDK, theirs something that I don't like about it :/ The UI on the other hand is gorgeous. Shame that I'm going to have to stick to IMDB via Webapps...

IMDB has a Windows Phone app as well. It actually has a pretty good modern UI too. It just lacks features but so does this app.

I wouldn't call that monstrosity an app :P No HD graphics and no login option make it useless.

I wouldn't know about the HD graphics as I have a non-HD phone. And like I said it lacks features that Film Closet lacks as well. I know the webapp is better but if this ''This UI + IMDB info = win. The database is really poor. Ratings are nota ccurate at all'' is your issue then I think the IMDB app meets your needs nicely.

Looks cool but doesn't match Filmwave which is available for Windows Phone and Windows 8, the main diference is local cinemas information which is very important for any movie lover.



Speaking of movies, I saw The Great Gatsby last night and it was good, but let me warn you,, it's more of a love story, and it's Fu$%&ng long!! It was good, but not what I expected. Wait for this one on Netflix!

Hopefully it's like GoodMovie but updated to 2013!

Quite useful and a demonstration of design & function

thanks i didn't know about it

I don't understand the star ratings in this app... 2.25 stars for Iron Man 3? One star for the new Star Trek? WTH? App looks and functions great though.

Any Rotten Tomatoes integration?

That's one of the main reasons I like Flixster.

It keeps telling me to connect to WiFi even though I already have a connection

I had the same issue so what I did was uninstall this app. Head to the market and reinstall it. Done. Its awesome guys. Looks really, really good.

Thanks, did that and it works now

Yawn! Give me DRM xbox video. I have IMDB and YouTube I don't need this app.

Is WIndows Phone coming into its own or what?? Wow. So far, 2013 for Windows Phone has been mind blowing. This app is stellar.

you should try out 'The Movie App' as well.. equally good.. and I found it to be smoother..

Happened to be THE First one to stumble upon this excellent app and review it as well :) thanks to the developer - must say, a fabulous effort put in to make this aesthetically pleasing to the eyes - cinematic touch indeed :)

Just tried this app out....I think its better than IMdB for sure. The layout is great!