MovieJax is a beautiful and free video editing application for Windows Phone 8.1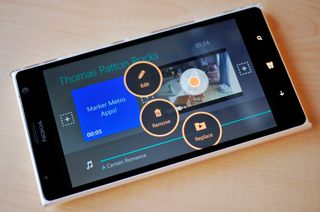 Windows Phone 8.1 came out through the Preview for Developer program last month. Since then we've slowly seen apps trickle into the Windows Phone Store that take advantage of some unique features introduced in Windows Phone 8.1. Video editing wasn't possible on Windows Phone until last month and now we've already covered two new apps to address the market. Movie Maker 8.1 was the first third-party app to edit videos and Movie Moments came to us from Microsoft. Today we're getting a brand new video editing app that you need to download.
Welcome MovieJax to Windows Phone 8.1.
MovieJax comes to us from some Marker Metro (markermetro.com), a Windows Phone and Windows 8 development studio from New Zealand that has made some of our favorite apps. You know them from making apps like AlphaJax, NZ Herald, Air New Zealand mPass, RWC 2011, Wheel of Fortune, 7digital, Yellow NZ and more for both Windows Phone and Windows 8.
MovieJax is their beautiful new video editing app for Windows Phone 8.1. We say beautiful because the design is as metro as they come. Metro is of course more than just how an app looks, but how it works. With MovieJax you're getting a very functional version 1.0 app with the following features:
Beautiful built in video capture experience
Take multiple videos at once and have them all added to your movie with a tap!
Easily edit videos including trimming and audio control
Add photos into your movie with ease and select a custom duration for each
Add your own text with custom background color for a truly personalized movie
Choose your own background music for your movie
Easily save and share your creations with friends and family
We've been playing around with MovieJax and really like it. It's simple and straight forward to use and we've made a few fun videos with it. It's free for video clips up to thirty seconds, clips longer than thirty seconds will require an in-app purchase of $2.49. MovieJax also does work on devices like the Lumia 520 with 512MB RAM.
This is just version 1.0 of MovieJax and the devs are already hard at work on the next update. Look out for version 1.1 coming soon that will bring the following:
Video/audio effects
Drag drop and clips
Multi-selection of media
Preview playback starts from scroll position in storyboard
Ability to pin projects
We'll have a hands-on video with MovieJax coming shortly. In the meantime, take it for a spin and let us know what you think of it!
Windows Central Newsletter
Get the best of Windows Central in your inbox, every day!
I like the UI. What I really want is to be able to record vine and then use one of these apps to edit said vine and upload it. Much like you can on android or ios.

UI is the most reason for me to download an app ;)

I could be wrong, but I think I read Rudy was working on adding video's through 6Sec, that are in your gallery. Unfortunately, I think it will be a while before we get some really good editing software. My 1020 is waiting...

Only support 30 seconds video in free version otherwise we need to spend $2.49
Does not support mkv files

This app is off the chain!

I like movie maker except those sudden crashes. Am I the only one?

I m testing with Cyan (Lumia 630 with official 8.1), many issues are fixed here ;)

I just said beware as moviejax is free. I know what to expect from free apps, movie maker is more polished.
And what i read that it is also paid for +30 second clips, movie maker should hold its ground ;)

What I find funny is that Android doesn't have one usable/stable on device video editor...
Windows Phone now has three!!
Good progress :)
(& for it to work on the 520 is most impressive. That really is a cracking little phone)

Android doesn't need a video editor. It has an extensive malware collection capable of doing almost anything.


Does this app have a time length limit or a file size limit?

It's not free guys...€2.49 other wise you only get 30 second clips...

That's fine....it's a beauty of an app - I'm glad it is a paid option rather than ad supported.

Probably the nicest UI I have seen on any app to date. It makes video editing really quite enjoyable (even on a relatively small screen such as that of the 1020).
I'm definitely looking forward to future updates. Apps like this really make me glad I have a Windows Phone - developers seem to try much harder on this platform to get their apps to look beautiful.

Looks nice. Please get us the hands on soon. Props for making it free

Out of Topic as always
ANY NEWS ABOUT VLC

Great app! Great UI. I can't share exported media with whatsapp, not sure if it is file format, but whatsapp doesn't seem to see it at all. Edit: Whatsapp can share it, it just doesn't go sub folders it seems. I set export folder to MovieJax, not MovieJax/Published and now it sees it.

Thank you thank you thank you!
Please take a que from Microsoft's Movie Moments with their use of templates. For anyone not wanting to spend a ton of time editing, the template idea is perfect. Keep up the good work!!

What kind of file type support is there?

Like it more than movie maker.

Man the development for 8.1 is already looking really promising. Love the new apps.

WPCentral pls put hands on video

can we edit pre downloaded videos???

Really so good. I like it

There is a "tick" noice in the music after every image I add...
Movie Maker 8.1 suffers from this too but the dev said next coming update will fix this.

Worth of buying this piece of **** app

Pretty awesome... UI is great... Works pretty well on Lumia 520... $2.49 worth it..

I'm pretty sure Movie Moments caused problems in my car audio with Nokia MixRadio when I was listening it with bluetooth. So I had to uninstall it. Hopefully this MovieJax don't have any side effects.

Its a good app. But, there is issue of glance screen getting fliped. Remember the issue with movie moments app. Let's see how they trigger the issues.. Are you experiencing the same???

Yep, my glance screen is up side down now.

Anyone else get the inverted glance screen after using it? Confirmed use it..inverted glance screen...reboot..fine. Use it...inverted glance screen...great app though. Nokia firmware or app bug?

Brother. Same issue. I guess you know how to resolve the issue...

Yeah reboot which is fine for a temporary fix but lets hope a permanent fix is in the works through a firmware update etc

Great editor. But I hope that Microsoft is going to release Windows movie maker for windows phone Lol

Stutters when changing pictures, just like movie maker and movie moments, when are thru going to fix this problem, music choppy when changing frames:(

Is this a Lumia 1020 problem only?

Hi, Keith here from Marker Metro (publishers of MovieJax) This is an OS level problem unfortunately and we are workign with Microsoft to try and get this resolved. it appears to affect all devices. We're still on a dev preview, so hopefully will be resolved with the final release of WP8.1

Thanks great app, will definitely donate.

Hi Keith. I'm have a lot of problems when it comes to publishing the video. It just went work for me, it stops and a error message comes up.

Hi, Can you make sure you are on the very latest version? (1.2.0.0). We fixed a bunch of issues with low memory devices recently to help improve capture and publishing experience.

Hey, we have created a user voice for MovieJax here for all feature suggestions and support: https://moviejax.uservoice.com/ We'll be updating the app in around a week and updating this link on the about page, but in the meantime, feel free to add and vote up your favourite feature requests.