MovieMatic is a Windows 10 PC app for the couch potato in all of us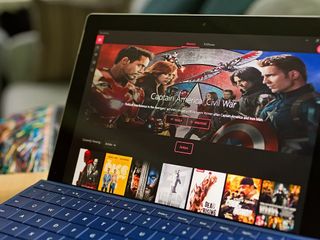 If you are in the mood to watch a good movie or catch up on your favorite television series, MovieMatic is a Windows 10 app worth checking out. The Windows 10 PC app delivers a broad range of movie titles and television series to the big screen of your computer or tablet.
These titles include a respectable collection of current run movies, classic titles and network television series. Genres include comedy, action, adventure, horror, family and more.
The free app is available for Windows PCs, while Windows 10 Mobile users will have to opt for the $4.99 MovieMatic Mobile (opens in new tab). It's a great option to consider when you need the entertainment value a good movie or television show offers.
The primary menu for MovieMatic is simple and straightforward. A menu bar lines the left side of the screen with options to switch between movies and television shows positioned at the top, center of the display. A featured title is displayed across the top portion of the screen with additional titles displayed beneath it in thumbnail fashion.
The menu bar includes options to return to the app's home screen, view your watchlist, send feedback to the developer and view the legal notice.
Movie titles can be searched by genre, while television shows are grouped in one broad "All TV Shows" category. Movie genres include action, adventure, comedy, horror, animation, crime, drama/romance, documentary, biography and family.
Tapping on an individual movie or television title pulls up a description of the show and an option to add the title to your watchlist. Television series listings include episode descriptions and season breakdowns. Playback begins to load automatically and to close out the description to enjoy the show, just tap the X button.
Playback was smooth with options to set the aspect ratio and expand the view to full screen. The movie selection was respectable and includes the likes of X-Men: Apocalypse, Star Wars: The Force Awakens, Goosebumps, The Huntsman: Winter Storm. Television series includes such titles as Arrow, Star Trek: Deep Space Nine, Band of Brothers, Doctor Who and more.
I have to say that while MovieMatic offers an impressive selection of movies and television shows — from gritty serials to kid-friendly animated flicks — the app itself is a little on the dark side. It may be a minor nit, but I would have liked to have seen the option for a light theme color. Then again, being able to sit back and enjoy Star Wars from the comfort of my recliner lessens the knock against the dark theme.
MovieMatic is a free app for Windows 10 PC, while MovieMatic Mobile (opens in new tab) for Windows 10 Mobile will cost you $4.99. While the Mobile version offers you an on-the-go alternative, the PC version is better suited for playback with the larger displays.
Download MovieMatic from the Windows Store (opens in new tab)
Windows Central Newsletter
Get the best of Windows Central in in your inbox, every day!
George is the Reviews Editor at Windows Central, concentrating on Windows 10 PC and Mobile apps. He's been a supporter of the platform since the days of Windows CE and uses his current Windows 10 Mobile phone daily to keep up with life and enjoy a game during down time.
"While the Mobile version offers you an on-the-go alternative, the PC version is better suited for playback with the larger displays".. So no Continuum support?

I guess this is not legal in many countries. I'm suprised it is in store :) And it constantly asks if I'm a boy or a girl - WTF?

Is the content licensed or just surfing the grey area of using torrents as a source?


They have movies that are not even out on DVD/Digital/Blu-Ray yet... no way it's legal lol.

That's what I thought. I somehow don't think it's the kind of app this site should be promoting, but well.

There's no way this is legal... but at the same time I'm not gonna act like I'm some moral superior. Seems this'll be the perfect compliment to the IdeaStick 300 I have in my wife and I's bedroom

It will be taken down eventually and that will suck for those who paid for the app.

This is where sideloading apps come in handy.

Be warned. This app has spywares attached to it. Upon launching it, I got a talking message asking me to call an 800 number to remove a virus. I can't believe this thing is in the store!

I thought it was just me. I closed it and reopened the app and that annoyance stopped. I was hoping this would read from my existing collection and work something like Plex does. Love the layout though.

Totally illegal content what's being offered here. This is basically a Popcorn Time-like application as far as I can see. Somebody at Microsoft's Store approval team is going to be fired over this.

Exactly. But that also makes this article something that could be frowned upon.

I'm surprised to see an article on Windows Central about an app that provides access to pirated/stolen/illegal/whatever you call it content. :|

Me too, is nice to see this kind of apps for the "tech" part involved in its development (I considered popcorntime for example an excellent engineering idea, maybe this app work similarly), but definetively should be banned from the Store and WC should not promote it.

Wow can't believe Windows Central has an article about this app. A lot of people are going to think it's legal and pay for the app, only to be very dissapointed when the app gets taken down.

Anyway... on the LEGAL side, which apps would you all recommend for Win 10 mobile for watching / renting movies, television shows, etc? I haven't tried any yet but am definately interested.

Movies&TV app is great. I don't think HBO/Showtime/Starz are on Windows 10. I know they're on the Xbox One though. You could see if your cable package has a way to watch Movies and TV online, like Comcast has Xfinity OnDemand and through that I can watch Tv shows and movies on the go. There's also HBO GO, Netflix, Hulu Plus, and Amazon Video as streaming services. Amazon Video has the option to rent and buy movies and TV too.

I pay for Amazon Prime (which includes Video), but it appears they don't have a Win 10 mobile app....

Great app. Like the watchlist feature and it has a lot of content.

I thought those movie streaming websites got around copyright laws because they're not actually hosting the files. They just act as a gateway, connecting you to a server that is hosted on some completely different site. It should be illegal to act as a gateway too.

This app almost gave me malware. Do not download.

Windows Central please remove this story. This is a service that peddles pirated content and has malware associated with it. It should not be in the Store and it should not be promoted by any legit site.

Totally not legal content. This shouldn't get promoted here.

Lol! Place bets. How long will this be in the store before removing it? I say less than one week...
Windows Central Newsletter
Thank you for signing up to Windows Central. You will receive a verification email shortly.
There was a problem. Please refresh the page and try again.