MoWeather HD, a beautiful weather app for Windows Phone 8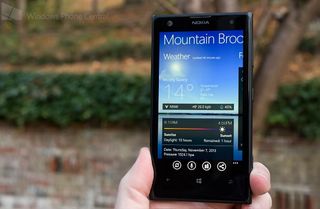 Yes, we know it's a crowded field with regards to Windows Phone weather apps with plenty of quality apps to choose from. However, we ran across a marvelous looking Windows Phone 8 weather app the other day and felt compelled to share.
MoWeather HD is a relatively new weather app and presents things in a very eye appealing fashion. From the weather backgrounds to the animated weather information, MoWeather HD is an attractive app making it stand out in a sea of weather apps.
MoWeather HD is a fairly basic weather app with main pages highlighting the current conditions and an eleven day forecast. The current weather conditions covers the temperature, a feels like temperature, wind direction/speed, humidity levels, sunrise/sunset times with animated bar graph, and barometric pressure.
The eleven day forecast displays the high/low forecast temperature along with a weather icon illustrating the expected conditions for each date. In tapping an individual date you can pull up additional information that includes the forecasted wind, barometric pressure, sunrise/sunset times, and feels like temperature.
MoWeather HD will generate a weather page for your current location or you can add cities manually. You can tap the City Button or City title at the top of the main page to pull up your City listings page. At the bottom of that page is a "+" button where you can add a city by name. MoWeather HD supports over 100,000 worldwide cities and includes predictive text for ease of entry. Up under the three-dot menu you will find the option to pin the individual cities to your Start Screen.
Along the bottom of the main pages you'll find control buttons to refresh the weather information, activate an audible reading of the current conditions, pull up your City listings, and share the forecast. Sharing is done via SMS or Sina Weibo or Tencent Weibo (Chinese micro blogging services).
Settings can be found under the three-dot menu which covers:
General Settings: Here's where you can turn on/off automatic updates, location services, confirmation upon exit and decide upload image quality (High, Medium, Low). Not exactly sure when upload image quality comes into play but may deal with sharing the forecast with the micro blogging sites).
Accounts: Heres where you set up your Sina Weibo and Tencent Weibo account information.
Live Tile Settings: MoWeather HD has a Live Tile that will display the current conditions on the front side of the tile with the option to turn on/off the back side of the tile. You also have the option to choose between a three day forecast or umbrella tips on the backside of the medium tile.​
Lockscreen: MoWeather HD's lockscreen support has two styles to choose from. One that displays the current conditions, the other that displays the current conditions and a three day forecast.
You also have a "More" page in the settings where you can offer feedback, rate/review the app, check for updates, and view the disclaimer and about screens.
For the most part, MoWeather HD is a standard weather app for Windows Phone. It lacks any maps and radar imagery and only supports metric standards (no Fahrenheit). We've also experienced some quirks with MoWeather HD in that everything is displayed in Chinese. We aren't exactly sure as to the "why" but the app is limited to English, Traditional Chinese and Simplified Chinese language support.
In a heavily populated app category, MoWeather HD does stand out with it's eye catching weather backgrounds and animated weather information. It is a clean, attractive looking app for our Windows Phone. Hopefully the developer will support Imperial standards and maybe add a radar map with future updates.
If you feel as though your Windows Phone is in need of just one more weather app or are just looking for a attractive looking, baseline weather app to compliment the feature rich options, take a gander at MoWeather HD. It's a free app, available for Windows Phone 8 and you can download it here in the (opens in new tab) Windows Phone Store.
George is the Reviews Editor at Windows Central, concentrating on Windows 10 PC and Mobile apps. He's been a supporter of the platform since the days of Windows CE and uses his current Windows 10 Mobile phone daily to keep up with life and enjoy a game during down time.
Radar map will be added to MoWeather in the future. Thanks for your suggestion.

If I were a dev making a weather app I'd name it Yet Another Weather App. Seriously though, this looks beautiful and I will give it a shot. Nothing has made me switch from Vieather thus far.

That's why it's called MoWeather, as in MORE weather.

How about "Yet Another Weather App Without radar".

And one more weather app... Of course it's nice to see more apps, but one more weather app - I spend less time outside than installing all those weather apps.

Beautiful app. I think it only displays in Celsius so far though.

The app installs in chinease! How can I fix this?

Me too. 5 times install uninstall still chinese. Change region also same.

Yep here too. Had to uninstal.

Go to their fb page and tell them about it
https://www.facebook.com/pages/MoWeather/253125008098793

Aw hell yea, take that American! >:D

-_________________________-

Fahrenheit will be supported in the next version, which will launch in this weekend.

Beautiful but sloppy app. The scrolling up and down on the main page is odd. Also, if you select lock screen support, the forecast overlaps the date.

How to change the language from Chinese to English? So bugging!

你需要,使其能夠自動檢測您的位置,它應該出現在英文中。

No near location for me, and the one that's close shows 11% when we are at 50% uninstalled.

Could you tell me where you are? We will add your city.

Can anyone tell me how to change the language to english

你需要,使其能夠自動檢測您的位置,它應該出現在英文中。

Thnks ur instructions worked -_-

Judging from the screenshots the App looks neat and could potentially replace Weather Flow & Bing Weather I currently use in combination on my L920. I installed it, but the problem is that the App is unable to locate my device (Nehterlands) and if I try choosing a city manually the App crashes. :-/ At least it installed in english for me. ;)

Wow I solve the installation problem by change all setting to English US. Yeah.

How do you do that?? my phone language is englsih but the application is in chinese isn't there any way to change language inside the app??

Change phone language to US. Region US. Format also US.

No Fahrenheit, that sucks. And its such a beautiful app too. Isn't this the first weather app on windows phone that has weather animations?

I had to change my region settings etc to USA, everything to install it in english and then I changed it back to Swedish etc and everything was resetted and changed to chinese... Wtf

I have installed it .. and its not showing in my apps list !! I went to install it again and it says Share .. so its been installed ! So I cant test it .. in any language other than that of the invisible man :(

Haha, its installed in Chinese ,see the last option

I found it under at the end of the list of apps.... but which is the last option and which is the first ? Nothing better than testing an app before release !

Idk, i rated it 1star and uninstalled since it was in chinese

How the hell can I read this, I can't even read a single Chinese language -_- can someone help me change the language to English please. . .

Never too crowded for good weather apps George Ponder. This looks good.

MoWeather, NoFahrenheit, MoUninstall

Fahrenheit is so important, we will fix it in the next version. Maybe you can check it out next week.

It in Chinesse. Uninstall.

We here in the US never assimilated to the Metric System.

We here in the rest of the world use the metric system.

I know and We here in the US have been told forever someday it would happen but it never did.

'Yes, we know it's a crowded field with regards to Windows Phone weather apps with plenty of quality apps to choose from' Yes an non of them have a 100% working lockscreen, the lockscreen weather is always out of sync with the live tiles for some reason. All weather apps do the same, after a while you have a temperature reading in the lockscreen that is different from the live tile.

Well, I can explain. You can thank Microsoft. They put such a memory restriction on background tasks, it is not possible to draw significant content on the lock screen AND live tile in one go, so the job needs to be split, one then the other. You'd get a much improved WP experience if they even just changed it from the 5mb limit to say 15 (yes its rather like going back to 640kb DOS days) but they have not done so. Its not because every single app developer is not very clever...

Hi .... I can't c the app post download ... Plz help

Neither can I uninstall ...

It's on the end of your app list. Scrool all the way down. But, it's in chineese, so, don't bother. I tryed to find language settings, but it seem that there is no english language.

Got it .. Uninstalled
Thanks buddy :)

MoWeather will release a new version with Fahrenheit/Celsius and multi-language switch.See more:https://www.facebook.com/pages/MoWeather/253125008098793

? Words fail, rather like the user experience.

How to change stupid lang, its Chinise .

Yes all I get is Chinese...

"The sun gone down." Well, it is MOweather, foo!

Reminds me of yahoo weather for the iPhone. Probably the most elegant weather app on the market place. I bought weather flow for $1 and feel that was a waste of money when I saw this. I also don't understand why a radar is so important. Do you zoom into your city and try to figure out which spec on the map is you? Can't tell if its going to be warm just by going outside?

All I see is Chinese no english at all. Useless.

MoWeather will release a new version with Fahrenheit/Celsius and multi-language switch.See more:https://www.facebook.com/pages/MoWeather/253125008098793

Fine weather app, just works fine on my L520. No crashes. And its in English too :)

Everyone go to their facebook page and tell them about the bugs :D
https://www.facebook.com/pages/MoWeather/253125008098793
Windows Central Newsletter
Get the best of Windows Central in in your inbox, every day!
Thank you for signing up to Windows Central. You will receive a verification email shortly.
There was a problem. Please refresh the page and try again.