At long last, Firefox has finally gone 64-bit on Windows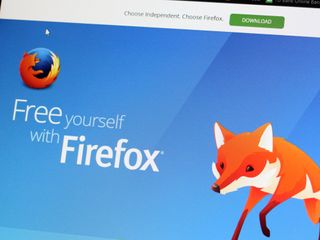 After months of beta testing, Mozilla has released a 64-bit version of its popular Firefox web browser for Windows. The new version was included in the recently released Firefox 43 build and is designed to work with Windows 7, 8, 8.1 and Windows 10 in their 64-bit SKUs.
The new version is available from Mozilla's download page for Firefox, and can be accessed when users click on a Windows logo with the "64" number on that page. As PCWorld notes, people who have the 64-bit version of Windows installed should be able to keep more tabs open with the 64-bit version of Firefox, and run some web apps that require 64-bit support. Also, the new browser version should be able to address more than 4GB of memory, if available. The downside is that some web plugins are not compatible with the 64-bit version of Firefox.
That being said, it's great that Mozilla finally has a 64-bit version of Firefox for Windows users, especially since the vast majority of Windows systems are now using the 64-bit option.
Download Firefox 43 with 64-bit support from Mozilla
Source: PCWorld
No ESR version yet... :-(

Aside from Edge... Which is more secure, Mozilla or Chrome?

Firefox is likely to be more secure due to Mozilla's focus on privacy

Sure till some addon runs a foul

That's a problem on any browser though. Posted via the Windows Central App for Android

With the name Google attached it shouldn't be a question /s

Chrome is owned by Privacy Invader.....Oogle.
Enough Said.

Chrome Posted via the Windows Central App for Android

Literally 100s of security flaws this year makes it more secure? Oh, that's right, you are just here to troll.

Whenever there is a vulnerability in IE then the Chrome people are out talking about how secure Chrome is. However, if you look through the history of Chrome releases, there are many, many security fixes with each release. The question is is it good to have a lot of security fixes because they are fixing problems, or no security fixes necessary because it is secure. For example, back in April Chrome had 45 security fixes. In January there were 40 security fixes. August of last year there were 50 fixes. November of last year there were 42 security fixes. It also makes a difference if these are security fixes made on old code, or are they producing new bugs with every release. If they are making 40 fixes in the code from the last release then that is really, really bad because it shows that they are just trying to churn out code and worrying about fixes later. If they are making 40 fixes in really old code, then they are reviewing code and making improvements. It also brings into question the past security practices, but also the "open source is secure" mantra since WebKit (or Google's branch of it) is open source.

Chrome is now so popular that it is always being hacked with malware and/or replaced by malware (seriously). I'd go Mozilla or Opera. The most secure browser was Metro IE though. Edge is a joke in its current state.

I'm sure you can tell us more about how Modern IE was totally more secure than Edge. I'd like to hear your opinion as a qualified security expert on this.

My biggest gripe with Edge is that it auto downloads everything without prompting first, unlike IE and most other browsers. I already know a couple people who ended up with drive-by malware on their computers thanks to that...

You still need to run a downloaded file automatically, though, so I'm not sure how that happened unless those people simply click everything that lands on their computer without further thought. :P

Programs can be made to autorun, so it is a problem. Posted via the Windows Central App for Android

Touch optimisation now please. In tablet mode it's infuriating that text boxes don't open up keyboard automatically when tapped on.

Its a big problem .... It slows down the momentum of work u are doing

Text boxes open the keyboard now. Other articles have noted this.


I'm running 44 on my tablet (dev edition) and you can tap anywhere on an input field and the keyboard opens

Works fine when in tablet mode.

While true, it wasn't the exact same as the x86 version. It was much slower so it was never used (Microsoft and their half implementation of everything)

Uhhh, no, it wasn't the same as the x86 version. The 64bit version of IE has security features that are only available to 64bit. NX protextion, additional ASLR protections, better buffer overrun protection, safe exceptions that are stored in protected memory, and so on. These are features that are not available in x86, not because Microsoft "half implementation of everything" but because it is simply not available from the CPU when running in 32 bit mode. Instead of actually knowing what you are talking about, you would rather make yourself look like a fool and then blame Microsoft for your ignorance with claims of "Microsoft and their half implementation of everything".

lol!!! i must thank you as ive been looking for the opportunity to say this; ​Get rekt!!!!!

I provide technical information showing that the person commenting doesn't know what they are talking about, and that means that I need to "get rekt". Typical, the people who actually know how things work are personally attacked by another useless nothing showing the level of their education because the only response they have is "Get rekt!!!!!"

the irony...ignorantly assuming someone's education level as a result your own misinterpretation of the comment. ​...in other words. I was actually applauding you efforts, supporting your comment, thanking you for the opportunity to use the phrase because you were correct on the matter. Think of my comment as an adlib to yours. i apologize for the confusion, fellow enthusiast.

Apologies for the confusion

The parent is probably referring to the fact that IE9's JavaScript engine's (Chakra) JIT was 32-bit only. This was rectified in IE10.

Best part is that the virtual keyboard now responds to the cursor being in a text box. If microsoft wants me to go back to using one of their browsers, they will bring back metro ie. Edge sucks on a pc and is 10 times worse on a tablet.

Agree on your point here but this article is about Firefox, not Edge.

Edge has been amazing for me since the November update on my Surface 3 and 950 XL. Some sites are still a bit slow, but it has improved a lot from how it was at launch. Windows Central's website is actually usable now in Edge. I still use Firefox for purchases or anything with forms. I don't fully trust Edge's reliability with that yet.

Why they are not making browser for Windows phones ??

They are. You're just blind

I searched on web but no sign of it (I'm talking about WM10)

Yeah... And I'd be nice if they release the browser for Windows Store. Easier to update.

Anyone want a universal app?

I really do. Been fans of Firefox a long time.

Wasn't this available a few months ago? Beta I guess. Anyway wish we had this for W10M!!!

64bit stable has been available since version 42, but it was not advertised nor there was an easy means to download it if you didn't know how (it was only on their ftp, not on a web page). In version 43 it is now broadly available.

Hey John, there are chances for Firefox to be on W10 Mobile as a universal app.....???

Universal Firefox, that's what I want to see.

I downloaded the 64 bit installer and it installed 32 bit version :|
Did I miss something?

Eagerly waiting in Windows store as universal app

Mozilla actually had a Windows 8 app in the final stages of development but they gave it the finger because barely anyone cared about it. It's not like things have improved that much that it is worth a second change.

Is there a way to tell if my current Firefox install updated itself to the 64 bit version? I'm not seeing anything in the About Firefox screen.

Wondering the same thing. Everything looks the same.

Look at the install directory: If it's in the regular Program Files directory instead of the one prefixed w/ (x86), congrats! You're in the 64 bit world now.

@Bobcat665 I read somewhere that upgrades on existing Firefox installs preserve the previous install dir.

fyi...if upgrading, firefox will indeed reuse the existing directory...i.e. program files (x86)...the only way that i know of to verify 64 vs 32 is to enter 'about:' in the url bar. it will return x64 for 64bit and wow64 for 32bit

Thanks! Looks like I'm running the 32-bit version. I guess I have to manually install the 64-bit version if I want it.

Check your Processes list in Task Manager. 32-bit processes will be tagged as such, while 64-bit ones just show the name. My update to version 43 didn't automatically switch me to 64-bit, so I just downloaded and installed it manually. It's still in the Program Files (x86) directory, but Task Manager declares it 64-bit.

Thanks! Looks like I'm on 32-bit still. when you installed the 64-bit version, did your plugins, add-ons, and bookmarks carry over? I don't want to redo all of that if I can avoid it.

Addons won't carry over, but if you have sync set up everything else will. Posted via the Windows Central App for Android

Don't give Firefox the chance to use more memory lol! :D

As far as I know, chrome is the ram devourer, not Firefox..

This is 2015 why memory so matter ?

Just because an application can be a pig doesn't mean it should be.

Anything is better than Edge

Quiet down, you shouldn't say around these parts. It isn't safe Posted via the Windows Central App for Android

So the Nexus and iPad user doesn't like a product that they are not using, and then needs to attack others for having their own opinion. Good for you.

Lol he meant that people get attacked here for having an opinion, like what you just did. Posted via the Windows Central App for Android

Like seriously re u just biased or u cannot step up with edge

They ask us to donatel firefox but not build app for wp

Why haven't they created one for windows phone?

Edge for me is doing the magic, no more firefox no more chrome

Firefox has offered 64-bit builds for over a decade but they never release them. Chrome comes out 64-bit and they feel like they should push it out, as well.

I have Edge, Firefox (both 64 and 32-bit versions), Pale Moon (64-bit fork of Firefox), Opera and Chrome (64-bit version). Firefox performs well until you have many tabs open. Edge sometimes feels the fastest but can sometimes inexplicably slow to a crawl (though I like its minimalistic interface). Pale Moon feels the slowest for me and Opera is just OK. Chrome 64-bit does perform the best for me on this system, though I have 8GB of RAM. On a system with 4GB or less, I find that Firefox performs the best as long as one limits their tab amount. IE on Windows 10 is still a decent fallback option.

Nobody here ever used Waterfox?

I hope you realize that mister burns was referring to cryio and thanking you for correcting him. He was giving you "props" (so to say) for your response. He wasn't attacking you in any way. @nohone

I've used Waterfox but found that Pale Moon performed better, though that was over a year ago on Windows 7. I'd be willing to give it another shot. I'm not too happy with the performance of Pale Moon in Windows 10 right now.

As mentioned above, 64-bit versions of the browswers have better security and can perform better in some situations. If you are not tied to certain plug-ins and have adequate resources (I suggest at least 8GB of RAM these days) then 64-bit browsers are a no-brainer in my opinion.

In case anyone wants to have a bit of fun, there's an Edge theme available for Firefox. Now that the latest version of Firefox supports Windows 10 tablet mode, you can install the theme and feel like you're still using Edge, but with all your favorite add-ons behind the scenes!

It's not new with this new release (v43.0). Firefox provided the first final 64-bits Windows version in previous release (v42.0).

Mozilla was lagging a lot recently now I switched to chrome and its smooth as ever it was.

Glad for the optional but seeing the visual bloat of the last version has been a permanent turnoff for me. I'm going to tough it out with Edge until we finally get extensions and other useful features. The UI of Edge is a breath of fresh air compared to all other main browsers.

The amount of tabs that immediately popped up on first startup, the aero theme, all the buttons and controls reminicent of past operating systems.It just doesn't look modern and good. Especially after using Edge for awhile. I don't want to find new skins, and disable a bunch of features to clean up the browser, I want it to just *work*, which Edge does pretty well. (Though there is room for improvement.)

Great news thanks. Nice to finally have a another browser to use besides Chrome.

I use firefox because it doesn't divulge all your information to a corporation like Google.

The browser is so much faster in my case compared to the older release. Running a dual AMD Opteron 2378 + 32G's RAM and SSD Boot disk.

I gave on the sluggish fox...maybe when it becomes more touch friendly I'll give it yet another second chance.
Windows Central Newsletter
Thank you for signing up to Windows Central. You will receive a verification email shortly.
There was a problem. Please refresh the page and try again.