MSN Direct Now Available for Windows Mobile - MWC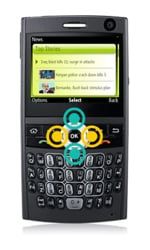 MSN Direct, once the favorite of nerd watch wearers everywhere, is finally available on a platform that people actually use -- Windows Mobile. The service, if you haven't heard of it, gives you quick access to news, weather, stock updates, and a bit more. It's basically a lightweight widget platform.
It's a free service, but of course you'll want to make sure you've got an unlimited data plan. It looks like, at least initially, it may only support Windows Mobile Standard.
Let's see: MSN Direct + Danger + Zumobi (Microsoft made a deal to distribute it) + Yahoo (assuming Microsoft can bully stockholders into overruling the Board that rejected their offer) == Windows Mobile is quickly getting positioned to be the premier platform for online services.
You data belongs in the cloud, not trapped on your desktop and your smartphone, painfully getting synced manually. It's looking like whether you're in enterprise or a consumer, it won't be long before Windows Mobile will be the best choice to keep you truly wireless.
MSN Direct, Press Release (opens in new tab)
Windows Central Newsletter
Get the best of Windows Central in your inbox, every day!
Are we going to see a touch screen VER.

Are we going to see a touch screen VER.
Probably?
I dunno, mine hasn't "refreshed" the info once yet and all you get are Weather, Stocks and Sponsors...
It looks kind of pretty and at least provides default weather now, but it's hardly a magnificent plugin :o

No bid deal, IMHO. And I hate plugins that make me scroll my homepage to see all of info - Profile, Messages and 1/2 of the Upcoming appointments was below the screen...

Installed it on a Q...three times
Would not do anything on my Q...three times
Restarted said Q to get the program to "Take"...three times
The program did nothing...three times.
So, there is my three cents. At least by default, it's always sunny, partly cloudy, can't complain about that while living in Utah right now.

My experience was similar to the above...installed on my Q9c and while it worked, it worked veeerrrrrryyyyyy sloooooowwwwwlllllyyyy. Uninstalled after about 10 minutes.