MSN Video app for WP7 comes to Marketplace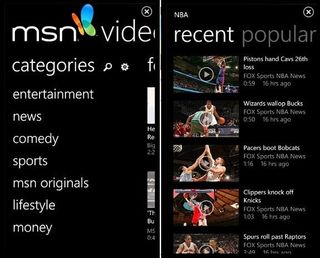 Microsoft has released an official MSN Video app to the Marketplace, which allows you to browse and search clips from the Bing Videos website. (Think of it as the MS equivalent of the YouTube app). Fitting nicely into the Metro UI, MSN video offers the option to watch in both regular or high quality. The HQ vids are obviously much nicer to look at, but as you may imagine, take significantly more time to load up and stream. One snazzy feature is that videos played from MSN Video will later appear in your history in the Music + Videos Hub.
With YouTube dominating the online video market, we're not sure how much MSN Video will catch on. That being said, it is great to see MS supporting WP7 by creating their own apps to make it fresh and increasingly useful.
You can download it here (opens in new tab) for free.
Source: Zune Marketplace; Via: SimpleMobileReview (Thanks, Chris for the tip!)
Not available in the UK. Sigh. :o(

Not available here neither. Too bad.

I dont understand why Microsoft doesnt consolidate their efforts. MSN Videos, Msn, Bing, Hotmail, Messenger, etc...Why not cut down costs and focus and energy and have BingBing MailBing VideosBing MSNchange outlook to Bing Syncand just simplify everything. You would think MS could come up with a better and more catchy app then MSN Videos. MS should take a bunch of college kids and lock them up in a hotel room and make them brainstorm forever for productive stuff(sorry Bill no pun intended).

MS has always sucked at marketing. Remember "Windows Phone 7 Series"? lol Gimme a break. IMO, they should have called it "Win". The windows-marketing connection is implied with a smaller connotation and it has a snappy positive ring. Apple has iOS, Google has Android, MS could have had "Win". They're just horrible at advertising and branding. Always have been.The "really?" ads are probably the best they've ever done, and while entertaining, they fall woefully short of showing off the phone. Look at Apples ads - "There's an app for that" where they show what you can actually DO with the phone. "The phone. Reinvented." - where they show how simple and slick it is to navigate through the iPhone. Or even look at "Droid does".Microsoft has "Really?" and a bunch of ads that a cynical person can basically respond to by saying "Of course its 'glance and go', I wouldn't want to use it for very long either".Even the name BING is a mistake: "But Its Not Google"My God, I could do better with Microsoft's image, and I'm a programmer.

im a marketing professional. Your ideas/statements are stupid.

not in UK, MS shafting UK owners againcut down bing search (no voice search).no find speech command on windows key.plus the fact that iOS and android users getting updated Bing maps etc

There is a reason why they can not link everything it's due in part with the antitrust issue they had which now is coming to an end in 12 mo. shall we focus on apple because they are in the same boat as MS and they should also start to come under fire so should android

I downloaded it right away, and the experience is pretty damn good. I hope that more videos are added everyday. Compete with YouTube! :D This is better than the stupid YouTube app.
Windows Central Newsletter
Get the best of Windows Central in in your inbox, every day!
Thank you for signing up to Windows Central. You will receive a verification email shortly.
There was a problem. Please refresh the page and try again.