Mugen Power selling 3600mAh extended HTC Titan battery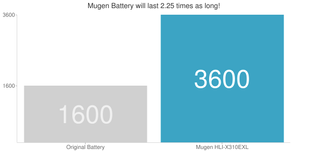 We know what you're thinking; "What?!". We were thinking the exact same thing. Mugen Power is selling an extended HTC Titan battery that has a whopping capacity of 3600mAh. To put this into perspective (as the above chart does so gracefully), the stock battery which comes with the handset is 1600mAh which has decent performance as is. Should you require that extra juice, or spend extended periods of time finding a charger, this 3600mAh upgrade should interest you.
The only issue is that this will add some considerable weight and a slight increase in width with the included extended battery door/back cover. If you require a battery that lasts up to 2.25 times (according to Mugen) longer than stock, this disadvantage can be overlooked with over 50% increase in performance. Should you not be interested in adding size and weight to your Titan, the 1950mAh battery upgrade (also from Mugen) could be the right choice and will use your Titan's existing battery cover.
Note that this product is currently out of stock and if orders are put through now, delivery will be on February 3rd. The purchase will set you back $98.95.
Source: Mugen Power; thanks, maghedo, for the tip!
Rich Edmonds is Senior Editor of PC hardware at Windows Central, covering everything related to PC components and NAS. He's been involved in technology for more than a decade and knows a thing or two about the magic inside a PC chassis. You can follow him over on Twitter at @RichEdmonds.
I was gonna buy a battery for my focus awhile back that was like 3500 but decided not to because of the extended cover. This would be great to have though.

In the previous article by Daniel Rubino http://www.wpcentral.com/mugen-power-selling-1950mah-extended-battery-htc-titan , he mentioned that that he is going to review the battery soon. any update on that? i would love to see your review before buying one..thanks

Battery shipped but haven't received it yet. I also haven't checked the mail in a few days (was gone at CES) so perhaps it is there today. Soon as I have it, I'll post my thoughts on it. Edit: Ah, crap. The USPS sent it back.

Bummer!, thanks for the reply..

I was going to get the larger, 1950mh battery for my Titan, but have read a number of reviews on Mugen batteries showing that there is no benefit, and frequently people report worse results than with just the stock battery.
I'd really like to see a review from wpcentral.


@Fleon, I own the 1950mAh extended battery and posted about it in the forum. I can get 2 days of heavy use whereas i could barely make it past 1 day with the stock. If I barely use the phone and it's mostly on standby i can squeeze 3 days but that's an extreme case
You just have to condition the battery according to Mugen's SPECIFIC instructions. I bet those who complained didn't follow instructions


EDIT: By days i mean work days. I charge my phone the night of the second day

I did, and it didn't. So 350MAh more and twice the performance. Must be a magic battery, and everyone at HTC must be a bumbling idiot.

$98.95?!? I'd like one but that's $98.94 more than I spent on the phone...ouch...
Techiedude

Hmm, curious to see if the door on this gets better signal than the stock door on my Titan. Since the antennas are built into the door I wonder what this extended battery door will include.

I really find that having one of those protable mini USB batteries works well for all phones. Love the Titan but since I like to use it a lot, I tend to drain the battery somewhat quickly by just email use and browsing. It's nice to not have to worry about looking for a plug in an airport or cafe. It's another option to consider or reconsider. The one I have was $25.
http://www.cellularoutfitter.com/p-67626-universal-multifunctional-rechargeable-2600mah-battery.html

Mugen batteries consistently tested below their marketed capacity for a long time: http://batteryboss.org/

I just want to see a damn picture of the device with new back panel so i know how big it will be... Even if i get only 3200mAH out of it i'll be happy.... WHY ARE THERE NO PICTURES!?!?!

will my case fit over the extended battery?

HTC windows smartphone has claimed its remarkable presence in the market with its all new, super slim phone called HTC Titan. We have picked up some of the significant points to offer you a quick look through the HTC Titan review
Windows Central Newsletter
Thank you for signing up to Windows Central. You will receive a verification email shortly.
There was a problem. Please refresh the page and try again.