Mugen working on Windows Phone 8 battery-extending products. Lumia 920 will get bigger.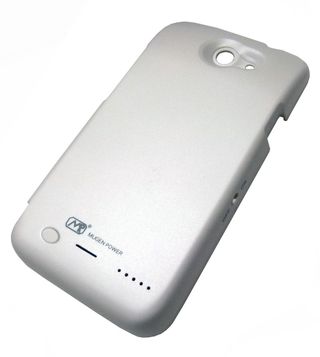 Mugen Power is reported to be working on external casing for Windows Phones. Said cases would wrap around the handset to provide extra battery juice in emergencies when a power outlet is nowhere to be found. A jacket is to be produced for the Nokia Lumia 920 and HTC 8X, while a different solution is planned for the Lumia 820 (since it sports interchangeable covers).
The company published a post on its Italy Facebook page asking those who are subscribed, "Do you have or plan to buy a Nokia Lumia 920, HTC 8X, 4 Nexus, Sony Xperia Z? Stay tuned, we will soon have news for you" (rough translation). Windows Phone Italy got in touch with Mugen to query exactly what the company was hinting at regarding Windows Phones. They were provided information on external enclosures (jackets) for the smartphones mentioned in the quote.
The above image shows just what Mugen could be bringing to the platform. Such cases are available for the HTC One X family of devices, which sport non-removable batteries. The company admits that while the cases (or jackets) will add extra weight and considerable size to the smartphone, the benefits of that extra spark of charge to the on-board battery is more than worth it. The case can be removed when not needed - it's pretty much an emergency charger, if you will.
As well as the jackets for the Lumia 920 and 8X, Mugen will also bring to the table an extended battery for the Lumia 820 (as mentioned above). This will replace the removable battery (1650mAh) supplied by Nokia. It's not known if the new battery will add weight and size to the device, requiring a new shell that can contain such an upgrade. Hopefully it'll be the case where the new battery will leave no footprint.
Should you be running through the battery quicker than desired, be sure to keep an eye out for upcoming battery extension jackets. This isn't the first time Mugen has supported Windows Phone, we previously looked at a HTC TITAN replacement battery.
via: Windows Phone Italy
Rich Edmonds is Senior Editor of PC hardware at Windows Central, covering everything related to PC components and NAS. He's been involved in technology for more than a decade and knows a thing or two about the magic inside a PC chassis. You can follow him over on Twitter at @RichEdmonds.
Fantastic news! I like the sounds of that

Yay! Finally some peripherals I'll actually use.

so cool! looking forward to this.

Awesome! I had one for the Focus before i got my 900 and it was well worth it. Extended battery life to 2-3 days.

Oh, man. Didn't know they had one for the Focus. Oh, well.

Hopefully its an actual "case". I hate the battery extenders that leave the rest of the phone exposed for damage.

Would be nice if 920 case supports wireless charging.

I'm excited that I'll finally be seeing some third-party shells for the 820 :D

Why not a battery powered qi wireless charging/tv stand

I had a Mophie Juice Pack on my iPhone and loved it. I'm hoping this to be as good.

What about a Qi case for non Verizon 8x?

The one phone that drastically needs this is the 620. With its 1300 mah battery, it should be the first one to get it.

Wont that mean all those babies who cry about the weight of the Nokia 920 will get trapped underneath?

Why the hell has no one made this foe the origional lumias. ! Products are so limited foe the loyal and still limited for new lumias!

I was looking at buying a replacement battery for my Omnia 7 and from what I had read at the time, Mugen make excellent (but expensive) batteries. Still tempted to get one! And if what people say is true then this is bound to be good

Not sure about you guys but I think my Lumia 920 has more than enough juice to comfortably go through 1 or 2 days without charging.

Oh no, my muscular Lumia 920 get fatter!!!
Windows Central Newsletter
Thank you for signing up to Windows Central. You will receive a verification email shortly.
There was a problem. Please refresh the page and try again.