Music Drop, transferring tunes to your Windows Phone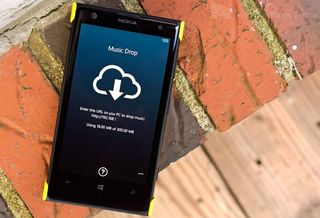 Music Drop is an easy way to send music files to your Windows Phone 8 device from your PC without the need for cables. Music Drop creates a network connection between your PC and Windows Phone 8 device with a simple interface that allows you to pick and choose which music files to plant on your phone.
There's really not much more to Music Drop and while there is some room for improvement, it does a nice job of things as is.
When you launch Music Drop a URL will be display that you will need to enter into your PC's browser. The only requirement for the browser is the need for HTML5 support.
Music Drop Windows Phone Screens
Once you have entered the URL into the PC browser, your computer and Windows Phone will be connected. Songs already on your Windows Phone will be displayed on the browser page. To drop a song on to your Windows Phone you will need to open your Windows Explorer (file explorer that is), find the song file and drag it into the upload cloud circle. Music Drop will then ship the files off to your Windows Phone Music Library.
Music Drop PC Browser Screen
It would be nice to have the option to display your music files from the Music Drop's browser page. However, it is not too cumbersome to open your Windows Explorer and drag the files from window to window. I did experience a few issues with the web page refreshing automatically after a file transferred but other than that, the process is rather smooth.
Music Drop is a free app, available for Windows Phone 8 devices. You can find Music Drop here (opens in new tab) in the Windows Phone Store.
George is the Reviews Editor at Windows Central, concentrating on Windows 10 PC and Mobile apps. He's been a supporter of the platform since the days of Windows CE and uses his current Windows 10 Mobile phone daily to keep up with life and enjoy a game during down time.
Me too i'm not to lazy to plug a cable :)

It takes more time to set up and transfer than plugging a cord

some of us prefer this method (im mac user) is more easy than windows phone transfer (for mac) with usb.

OMG mac users exist ;) no offence :P

HAHA good one!, its my favorite conmbination the best cellphones(nokia) and the best computers (mac)...but its only my opinon..everyone have their favorites.

I like macs its the pc version of wp

Yup hav it on my pc.its one awesome os.i like it more cuz for some reason 8.1 takes huge bootup times where as 8 is super quick boot and w8 has a lot of cracks ;)

I still use Mac mini at my office. It's great for web browsing,iTunes,iPhoto and iMovie but I hardly use any iLife apps. But I have somehow managed to install boot camp and run windows 8.1 on it. So I have best of both worlds.

Ya gr8 design they hav.but tim cook ain't fitting Steve jobs shoes.moreover i still luv assembling pcs.complete freedom.
And xerox parc introduced gui and Steve stole ;)

Exactly. Different opinion does not mean right or wrong...

I'm a Mac user as well, but I have a Windows Phone and Windows 8 tablet. I like having a combination of stuff.

I am a Mac user (laptop) too and am actually very happy with the sync tool that Microsoft published to work with WP. Never had a problem syncing with Mac. On the other hand, I have had a problem or two on ocassion when using the Windows 7 (desktop) sync tool for WP.

100% agree. This is far easier than dealing with the Mac Transfer app.

Not really couple secs plug in then highlighting music or documents etc right click send to windows phone easy

This is exactly what ive been looking for

Me too!
This is just awesome!

Sounds good to me. Downloading

Cool! I miss the wireless sync feature from the Zune days.

The zune software was fantastic! I don't know why thy dropped support in windows phone 8 :(

The Zune software was fantastic for syncing your windows phone with the PC. The fact that it wirelessly synced was just awesome. As a music player itself it was horrible, though (not as bad as iTunes). I wonder why MS didn't simply take the sync utilities of Zune and made that a standalone client...

O hate iTunes with a passion... One reasons I left IOS. Shoot, even iTunes on the mac is trash... I never, ever used it... I keep my media on my servers and iTunes wanted to import, not link it... Really bad for my back rotation... windows media player is just much smarter... I wished my windows phone worked with it, but at least I can drag and drop :)

The ZUNE PC Software is still great, just not as great as it used to be. The software still connects with ZUNE, now Xbox Music Pass and downloads music and amazing playlists. I think it is syncing to some degree with my WP? Maybe just playlists?

I agree; its the very reason i am downloading this app. i love wireless syncing

Awesome, that's exactly what I was looking for. Now I can finaly transfer music from my tablet without having to get the adapter cord!

Uc browser does the same work in wifi sharing

MoliPlayer Pro does that too... and not only music but videos as well and pretty much any kinda file can be transfered wireless.

I am not sure how it works. The files are uploaded to the net (a server, a cloud or whatever) and then are downloaded to the phone, or all the process is done locally? In other words, if my router loses connection to the internet will I be able to use the app? Wouldn't be easier if the app created a QR code so that my laptop camera reads instead of manually adding the address?

It transfers from device to device over your local network. No outside servers involved as far as I can tell. As long as you're connected to a router access to the internet should be irrelevant.

From the screenshots it looks like it actually runs a web server on the phone with specialised purpose of serving and uploading music files from gallery. A pretty ingenious solution if you ask me.

Yes, that's what it looks like to me, too. Why this cat is using a picture of a cloud I don't get. Maybe it's just the in thing right now, but I don't see a cloud component to this (which is good in my opinion).

Ooh, so it sets up a local network connection then? Very cool! For a second I was worried it was uploading somewhere and then having to re-download but this looks pretty good. I might give it a shot... Still, I've more-or-less given up on using my WP8 for music for now. My Xbox Music is completely messed up (all playlists except three have vanished from the cloud (but are still on the app) and two of them are now empty so I can't even use the new app at the moment). Hopefully 8.1 and the Windows update that comes with it will make it as simple as it was with Zune Desktop and WP7. Until then my 3+ years old (wow, has it really been that long?!) Omnia 7 is my music player. :)

xbox music app only really syncs playlist based on your cloud music (i.e for xbox live music pass subscribers). Old school playlists (i.e zune) for WP8 are best setup/managed with windows media player with music in your library (shows you the lack of communication between divisions in ms during development of these software assets). then sync the playlist to phone with the desktop or metro app.

I don't see why MS haven't enabled Homegroup support, at least read only to download data.

Indeed! Fix that and enable syncing of all phone settings, app lists, pictures etc locally to a NAS (wirelessly ofc), then I'm set.

Ive tried this a few times and it does not bring over my album covers, weird

I wonder if that's an issue with this app or just XBox music in general? Shouldn't WP8 pull album artwork on its own?

Any music app, Nokia Mixradio, Extreme Music it does not show album art

Under settings > applications > music+videos, do you have "connect to Xbox music" enabled? That's what allows wp8 to download album art. You don't need Xbox music for that to work.

This app is awesome. These are the kind of things I miss from my android days. It's good to know WP can do these things too.

This is a great solution and its free. I often download music to my Surface using MP3 Skull ( is it ok to get free music still?). Now I can move it to my phone without having to carry a cord around with me. Very nice!

Clever. Kudos to the dev for a simple and useful utility. This is good for use with a media PC in a cabinet where the ports aren't so easy to get cables to.

It requires internet connection on both devices right?

Good thing you covered up those ip-addresses.
... as no one else have RFC1918 addresses. At the moment I have 192.168.1.19 feel free to try it...
;) ;) ;)

Nice try, but I've connected to your actual IP address of 127.0.0.1 and uploaded a virus!

onoez, please do not format my C: drive


This might be a good workaround for those of us who have their SD card corrupted when they plug into a PC

I bought moli player pro, so my needs are filled in the music department, but it's nice to have several options.

No need to cover IP addresses. It apparently creates webserver on the phone and you just connect to it via browser on your PC on the same LAN. Ingenious and simple.
Also, with some fiddling on the router you could actually publish stuff from your phone on the internet. I might try this at home.

This sounds cool, but cables are still faster and more reliable.

As nice as this and the WP For Desktop are, its ridiculous that these features aren't baked into W8/WP8/XBOne, especially given MS's current mantra. It's things like this and the removal of Flickr and Facebook integration from 8.1 photo hub really drive me crazy. One step forward one step back....

Does this save the music files to the media library on the phone, or to the 'app space' of this transfer app? This is key, because the media libraries can be offloaded to the SD card but the app's storage space cannot.

Woah, epic app. Mind blown.

I had a question though - Will it be able to sync a playlist? Individual files are good, but if it doesn't sync playlist - it kinda doesn't work for me, as I like to organize my music in playlists, rAther than just have tons of music lying around and play random songs.

I think wp is getting better and better, try doing that on ios and play the file with the built in player. Good luck

Looks like the weirdest combo ever (Fedora Linux on the desktop, with a Lumia) can work wonderfully with this.

Something that no one here seems questioning. Does this cloud app download songs to the internal storage or to the SDcard? Because if it doesn't have any SDcard support it's worthless.

I might give it a go considering how difficult it is for mw to figure out how to transfer some music from my wife's macbook to my wp! The official Microsoft app for macbook is absolutely rubbish!

I loved this capability...on my Zune!

No need for this app when u have the all in one Mouse Remote Pro.It wirelessly connects to your pc from anywhere and u can also exchange any files between ur phone and pc.For videos i use Moli Player Pro WIFI traansfer which is faster than the wired USB cable.

Good idea but the app doesn't even open! Sad! /s

This. Just this. When opening the app, it immediately closes.

So I kind of just want throw this out there in case anyone doesn't know (I didn't until I tried it today) but you can actually send music files to your phone through bluetooth. The phone will save it in your music library with album art and artist and album info and all that. Yes, it's much slower than through this or with a cable and you have to accept each file individually if you send multiple but hey it doesn't hurt to have another option right?

Best solution buy SD card plug in your PC ... put music, video then insert the card in the windows phone
Windows Central Newsletter
Get the best of Windows Central in in your inbox, every day!
Thank you for signing up to Windows Central. You will receive a verification email shortly.
There was a problem. Please refresh the page and try again.