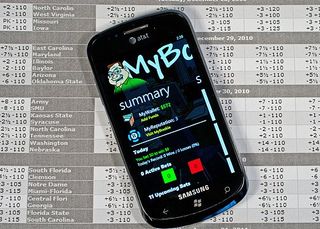 Ever wonder how you'd fair in betting on sporting events? MyBookie from Psydian Interactive will let you see how well of a prognosticator you can be without loosing your shirt.
MyBookie is a fantasy game that lets you bet imaginary cash on real sporting events. The sporting events, odds, and outcome are real while the cash isn't. Bets can be placed on the NFL, NBA, MLB, NHL as well as college football and basketball. You can bet the spread, over/under or the money line. As an added bonus, MyBookie is integrated with Facebook. You can brag about your bets on your Facebook wall as well as access your MyBookie account through Facebook.
MyBookie is an interesting game and to see if it's a winner, ease on past the break.
There's a lot to this game.
The game premise is simple. Wager on actual sporting events, using imaginary money and try to win as much as possible. It's simple enough and you would think a game based on sports betting would be somewhat compressed. But MyBookie has a lot to it.
Information is spread out nicely across a handful of hubs. The main hub consists of:
Summary Page: This shows what's in your wallet, how your reputation is standing, and your betting summary which includes your active bet count and the total upcoming bets.
Sports Book: This is where you find the games to bet on. You have the NFL, NBA, NHL, MLB, NCAA Football and NCAA Basketball.
Leaderboard: Here is where you'll find the betting leaders.
My Record: Your betting record is broken down by Week, Month and Year as well as your daily bets.
MyBookie: The MyBookie page is more or less the "About" page for the game.
The layers beneath the main hub is where all the action is at. Each page on the main hub will take you to secondary hubs or layers of the game.
Summary Page
From your Summary Page, tap your MyWallet to see what type resources you have. MyWallet will break down not only how much cash you have on hand but also where you can exchange reputation chips (earned as you win bets) for cash, and a strategy list (how to earn extra cash).
Your Reputation Hub is accessed from the Summary Page and will detail ways you can use earn and use your Reputation Chips.
In tapping your Bet Summary you'll pull up detailed information on Today's bets, bets you're winning, bets you're loosing, and any upcoming bets.
Leader Board
MyBookie is integrated with Facebook and the leaderboard breaks down the leading Facebook betters by day, week, month, and year.
MyRecord
While the MyRecord page on the main hub will give you a summary of your success or failure, in tapping the screen you are taken to more detailed information on your betting history. It breaks down your bets by day, your monthly winning success and earnings, and a yearly summary.
Sports Book
This is where your betting adventure begins. Just tap on the page of sports category you want to wager on. This will pull up upcoming sporting events (about two days worth) and the Vegas odds for each event. The odds are updated periodically to reflect current odds for each event.
Tap on a particular event and you'll pull up your betting screen. Tap on the $ button to place your wager. MyBookie supports three wager types which, as described by MyBookie are:
Spread: A bet made on either the favorite or underdog. A bet on the favored team (represented by the "-") means this team must not only win but also win by the specified point spread. A bet on the underdog (represented by the "+") means that this team may either win or lose as long as they do not lose by more than the specified point spread.
Money Line: A bet on which team will win the match outright with no other handicap. Odds vary depending on which team is favored to win thus affecting the payout.
Over/Under: This is a bet based on the total combined points scored by both teams. Instead of betting on whether a team is going to win or lose, you choose whether the combined points will total more or less than the line.
If you ever get confused on the type of bet, simply tap on the yellow betting style on the events list or match-up detail screen.
On the Place Bet screen, you choose your bet style and team. When you tap Done, you can call in a favor (as explained on the Reputation pages) and enter the dollar amount of your bet (minimum $20). Tap "OK" and your bet is placed with your Bookie.
The Facebook Connection
MyBookie is fully integrated with Facebook. You can have your bets posted to your wall, complete with color commentary by the Bookie. Go with the odds and you'll get a supportive comment from your Bookie. Go against the odds and the Bookie will question your sanity.
You also have complete access to your MyBookie Account through Facebook. Check on bets, make bets, check your standings, etc. Anything you can do on your Windows Phone, you can do through Facebook. The Facebook interface is laid out extremely well and it's nice to have the ability to access to your wagers when your Windows Phone isn't handy.
Game Play and Stability
Game play is real time. Real time in that you are betting on real sporting events. Real events that take time to develop. MyBookie isn't a game for someone looking for instant entertainment. That's not to mean that MyBookie isn't entertaining.
MyBookie allows you to dive into the sports betting world without the risk. It gives you a chance to see how well you can pick a winner. Toss in the Facebook integration and the wagering takes on a social flare.
MyBookie ran smoothly and I experienced no crashes or glitches. There were a few periods when the MyBookie server wasn't available. Not enough to be frustrating and with the real time pace, the down time doesn't cause you to miss any action.
Overall Impression
MyBookie caught my attention when announced because I have always been curious about sports wagering and whether or not I could pick a winner. MyBookie gives me that chance without the risk (my wife is greatful for that).
It's an endepth fantasy game with a lot of layers and detail. The only thing missing is the smoke filled back room that your Bookie sets up shop.
I like how MyBookie incorporates the social atmosphere of Facebook. From competing with other Facebook members to accessing your account, MyBookie's Facebook integration only adds to the game. Navigation is simple and straightforward. I wouldn't mind seeing the game consolidate screens to minimize the layer depth the application has.
MyBookie requires a bit of patience and may not appeal to some. It reminds me of a fantasy sports league game and some may find the slow play a little on the boring side. However, I think the connection to real events gives MyBookie a unique twist. Your success is based on real sporting events and your skills of predicting the winner. With MyBookie you don't beat the computer, you beat the odds.
There is a free trial available to let you try out your luck before you buy. The full copy of MyBookie is running $1.99 and you can find it here (opens in new tab) (opens your Zune desktop).
Windows Central Newsletter
Get the best of Windows Central in in your inbox, every day!
George is the Reviews Editor at Windows Central, concentrating on Windows 10 PC and Mobile apps. He's been a supporter of the platform since the days of Windows CE and uses his current Windows 10 Mobile phone daily to keep up with life and enjoy a game during down time.
Windows Central Newsletter
Thank you for signing up to Windows Central. You will receive a verification email shortly.
There was a problem. Please refresh the page and try again.