Pay for your latte with MyBucks, a new Starbucks app for Windows Phone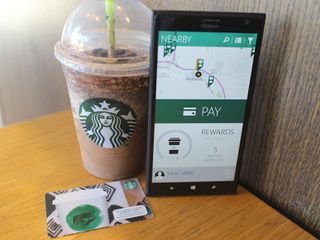 MyBucks is a new and full-featured Starbucks app for Windows Phone. The app comes to us from Windows Phone developer Elliot Forde, the guy behind popular Instagram and Twitter stat app UnfollowSpy. MyBucks launched a few days ago and is an easy recommendation if you frequent Starbucks.
Version 1.0.0.1 of MyBucks is available in the Windows Phone Store. Look forward to the following features inside the first release of MyBucks:
Well-organized dashboard showing stores nearby, Starbucks cards, and your Starbucks Rewards
Scan your phone to pay at participating Starbucks stores
Shake to pay
Download existing cards from your Starbucks Rewards account
Add cards to your Starbucks Rewards account or register a digital card
Earn Stars - and benefits - all while enjoying your favorite Starbucks beverages and treats!
Keep track of your Starbucks card through Windows Phone's Wallet
You can't add "reload cards" just yet from the app, but that's one feature coming in a future update. For now, you can easily add and manage cards with MyBucks. The app is also able to integrate with the Wallet in Windows Phone, which is a nice feature if you have a lot of card apps.
We bought a Starbucks card, loaded it up on our profile and headed down to one of the million local Starbucks to try out the app. The ability to scan your phone to pay worked well for us. The ability to track our nonexistent Star level is also appreciated.
Go to Starbucks a lot or have a ton of Starbucks gift cards laying around? Then you need to use MyBucks for Windows Phone. It's easy to pay for your drinks at Starbucks using MyBucks, and you can consolidate all your gift cards into one little location on Windows Phone.
MyBucks is available for free in the Windows Phone Store, but you can remove ads via an in-app purchase of $0.99 if you'd like. Like the app? Drop some good reviews in the Windows Phone Store after playing around with it.
Thanks for the heads up Tim G!
Is there an option for Dunks?

Yeah, avoid them. So-so coffee and bad doughnuts

Bad coffee and bad doughnuts. They used to be good but no longer.

Sorry, but I'm from Boston. What you've just written is akin to heresy, 'round here. If we ever meet in public, I will be required to behead you to receive 72 Coolatas (Coolatae?) in Heaven. I am pretty sure I'd be acquitted, too. In actual fact, I think Starbucks' coffee tastes like soap. Dunks is muuuuuch better. But to each their own. Can't speak to the donuts, though, as I don't eat them (the kids think they're just fine, though!). Besides, I'm lazy. Sometimes I have to walk like a mile to find a Starbucks around here. But I can just walk into any random storefront and there's probably a 25% chance it'll be a Dunks. So I'd still like to see a Dunks app. (Go Patriots!)

I've used SBUX for years as well. It's currently my favorite, although it looks like this one has a bit more eye candy.

Ditto. Sbux gas been great

I use it as well. But this one has more features

Yep I've used SBUX almost from the beginning and I doubt I'll switch to anything else. I use Starbucks auto-reload feature through their website to reload when I hit $10 so I don't need a reload option.

I like SBUX too. But this app does look more Metro-y. I'm wondering if the picture of the Starbucks card in MyBucks can go landscape like in SBUX. That's really helpful because sometimes their scanner is placed so it's hard to get my phone under it in portrait mode (my Icon is too long to get it under in portrait at some scanners). It's why I always scan in landscape mode with SBUX.

Does this work in all countries with Starbucks, such as Australia?

I know that the official Starbucks app on iOS has very limited international support. But, as far as I know, as long as the store you go to can take mobile payments, it should work! Try it out and let me know :)

This is working for me in Canada right now. SBUX was working before but it was showing the finds in $US not $CAD. But this new app works fine with local currency.

When I was in Toronto for a few months, my favourite coffee place was Timothy's. Their hot chocolate is top notch (and VERY, VERY hot, too), along with their sandwiches. I miss Canada now ☕ =(

Not likely. I'm in Melbourne too and must ask, with us having the best coffee in the world why would u go to Starbucks? McDonald's crap is far better imo.

I doubt it. I think Starbucks has different card programs in different countries. In Russia, Starbucks supposedly released an official WP app. Why they won't do it here in the U.S. I'll never understand. I would almost expect this from them if they were a S.F. company, but a fellow Seattle neighbor screwing over MSFT like that is pretty unbelievable. Maybe MSFT should acquire a 10% stake in their stock and then demand they let 'em build a Windows app or threaten to post a slate of directors for election at their next annual meeting. It's time to start thinking outside the box. :D

I'm pretty sure this won't work in Starbucks Denmark. Since they don't have apps for either IOS or Android.

+1520.3 +900 +635 for another official app.

Uhmm, I'm afraid I have to tell you that this is a client app. Not an official one. :(

Not official, which I normally dint care about, except reloading isn't possible. Oh well, Coffee Bean has been a supporter of the platform for a long time.

Reloading is coming soon :) Currently, the app will redirect you to the website

Looking forward to that. Also, the ability to transfer balances between cards.

There actually is an official one, though only available on many countries.

And the whole + model number... Getting old

+1020. That's been a thing since the dawn of WPC... You must be new.

Dude I've been on Windows Mobile / Phone for over a decade...hardly new. Thanks though.

Can I use it in the Starbucks in Chile or is it for U.S. only?

Maybe this'll be the kick in the pants that Dunkin Donuts needs to make a WP app of their own...

Something America runs on

I heard Dunkins' gives 'Murica the runs.

Lol, I like what you did there. I seriously have 5 different dunkins that could each be reached in just over 5 minutes from my house. And another 2 or 3 if I had 10 minutes.

I have several around here too but I hadn't been there in years. Like maybe a decade. Until the other week when I wanted a donut and drove by. They have food now! I had no idea. It looked pretty tasty too. I might have to go there just because they have a WP app!

Haha, you are most certainly correct.

Dunkin Donuts is missing from the Seattle Market

Male version of Starbucks

Something better than this so called ashtray coffee

Cheap burnt tasting coffee that's on the decline.

Not to start a debate about it here but dunkin donuts coffee is far better than Starbucks and I don't have to pay 5 bux a cup. Starbucks coffee tastes like recycled dishwashing water to me.

There coffee isn't 5$. Maybe some lattes and or frappes are but you're getting like 10lbs of syrup in those lol. But there large coffee is like 2.50 depending where you live. Not to bad. Dunkin to tastes watered out. And America doesn't run on dunkin. Its just mainly the north east.

Dunkin is opening in Santa Monica (Los Angeles) this week!!! :D

Sorry but these morons like ashtray crap and pay 4 to 5 bucks for...awesome and they think its cool..they in need to think that..needy

$2.25 for a Grande coffee. Get your facts straight, dumb ass.

Really jackass? Let me know where? Ok try again lameass bafoon. Posted via Windows Phone Central App

Most Starbucks I've been to have straight up coffee prices comparable to most other places. Now when you start getting into macchiatos and frappucinos, yes. You're shelling out 4-5 bucks.

I never paid $5 for a cup of coffee at Starbucks, Saturday away from those fuff-fuff drinks and stick with black coffee

No coffee chain makes "real" coffee, that's like saying McDonalds makes real hamburgers lol

Then what is it? I rarely go to their shops but it's all I use at home. Pike's Place is their best imo.

They take Arabica beans (possibly with some Robusto in the blend) that have been roasted, grind them, and run hot water through them. If that isn't real coffee, nothing is. Have your arguments about taste all dabut there's nothing about their coffee that's "fake."

So was this what Starbucks was talking about back in March. Posted via Windows Phone Central App

No, this isn't official one

Was Starbucks talking about a WP app back in March? News to me.

Israel's Allowance payer. Gah.!

Perfect app except it shows a dollar sign instead of a pound sign in the UK

Whoops! That'll be fixed in the next update. Thanks for the heads up :)

Be nice if the set up was country specific too. Had to add a fictional zip code to sign up and then change it in my details. Also country is set at US.

I'll play around with the signup page. I've just been using the US model. Is it okay if I contact you via email for more information?

By all means. I'll drop you an email through the app.

Does it work in turkey? Anyone checked?

This is way better than SBUX for the fact that it auto pulls down all your card information. SBUX requires manual enter. And it looks better and has more features.

The thing that I don't like with this is that SBUX lets me pin a card directly to my homescreen. Just one tap and I'm at the barcode. This app doesn't have any way to get to the barcode with just one tap. I can pin a card through the wallet, but it still requires a few more intermediate screens to finally get to the barcode.

It is terrible that you have to tap your screen twice in the app. I feel bad for your finger.

Were comparing features. That's an important one to some people

In the WP8.1 version, the wallet integration will be updated to the newer APIs, allowing for a more customized look. From here, you'll be able to pin your card from the wallet and the barcode will be available on the main wallet page with only one click. For now, you can open the WP8 version of the app, shake your phone, and your primary card's barcode will appear, only requiring one tap to open the app :)

I know this sounds petty, but unless this provides a way to press a tile on my start screen (and nothing else) to display a barcode, I won't switch from SBUX. It's the feature I use the most. "You may say I'm a dreamer, but I'm not the only one" ...who wants this.

The WP8.1 version will do exactly that :)

Is that a Java Chip Frappuccino, Sam? :D

You telling me Starbucks doesn't have a proper app in the store yet? F'n A, but I like a couple of this fella's apps

Its a shame right, considering they are from Seattle... Down the pike from MS.. ;)

Yeah such buzz kills they are, maybe when the WP market share improves unless they are conspiring with other companies to keep WP down ;)

Its crazy as the market share for windows phones in Seattle is much higher than the national average

Exactly, tons of people in Seattle have windows phones (including me and I don't even work st Microsoft) yet we can't even get a local company to create an official app. That's the state of Windows phone I guess... As someone who also carries an iPhone for work, I can say the apps there make me use IOS a lot more.

Props on the Mocha Cookie Crumble in the pic lol Posted via Windows Phone Central App

Wow nice. Replacing SBux with this.

Just found this one the other day.. Works better that SBucks Card app.

Now for an app for Community Coffee. It's a chain like Starbucks only in Louisiana. Same stuff but different taste of coffee.

I know..much better as well

Using Buckstar myself, you can reload the card and its wallet integrated.

Buckstar is great... incredibly responsive developer, too.

And out goes MyBux within hours of trying Buckstar. Love how I can see more details about my current rewards and past transactions. MyBux is like a prettier SBux with some extras, then Buckstar takes it up a notch.

In the future, I will add card history to each card in the Wallet. First, I need to update the app to WP8.1 to support the new Wallet APIs, which I'm currently in the process of doing. Sit tight :)

Nice... I have them both installed... comes down to execution. Loving both these apps.

Great app, i upgraded to pro.

Why would you pay Starbucks ahead of time instead of keeping your money for yourself? Are they paying interest?

On gold you get a free drink for every 12

I am going to pay for ths app becasue it supports CAD! SBUX still can't.

This one downloaded my information correctly including the proper gift card. The sbux card one didn't... On IOS and android the official apps work great and this is the closest thing to it

I no longer care about the lack of an official app. This app is amazing!

There's a problem with this app. I read about it on the WP Central app, and thought I'd download it. It will not allow me to log in. It generated an error code of: invalid_grant, 400. Error message: Resource owner credentials could not be validated. Problem is likely my email address, which has a single letter for the domain (hey, it's what my ISP gave me. Complain to them about it). I hope that Elliot Forde will see this and fix the app so that it will allow for a single letter domain name.

I don't think your email address should affect it. If you created your Starbucks account a while ago, you registered with a username rather than an email address. If you forgot your username, click the "forgot username" button and enter your email address and you'll receive an email with your registered username. If this still doesn't work, let me know and I'll see what I can do :)

I do know my username. I could give that a try in the app and see how it works. (I didn't because the watermark said "Email", not "Username".) Well, what do you know. That worked! OK, I'll give this app a shot. But getting back to my point, if one's username is what's needed to log in, then instructing the user to enter their email address isn't helpful.

Yes, maybe I should change it to "email/username." I didn't want it to be misleading for users who are brand new, making wondering if they have a username haha. The next update will change that :) sorry for the trouble!

I didn't realize that I might be speaking to the author of the app. Other than the confusion as to how to log into it, the app seems a good one! I'm going to my local Starbucks this afternoon, so wil run it through it's paces.

That would be me!
Sounds great :) Let me know if you have any problems.

Although the app says email address, I believe you have to log in with your user name.

That is correct. I encountered the same issue.

How to ...... keep track of your Starbucks card through Windows Phone's Wallet

Pfffft starbucks, we got Timmies :P Nah I kid I don't even drink coffee.

Timmie's? Don't you mean Burger King? :)

As long as they don't touch the coffee I don't give. A starcrap..best coffee period. Posted via Windows Phone Central App

What did Starbucks do to you? Give you milk instead of cream? You seem to really have a real dislike for them for whatever reason.

Caramel macchiato. That's all you need for any occasion.

Hmmm as long its not from starcraps

Does it work for India? Starbucks is new here but well just a question.

At least there's the official Tim Hortons app on WP compare to Starbuck :P

Signing up not possible outside the U.S. Just a waste of time. When will these developers learn there's a whole world out there

Is this app will work only in the US? Please let me know.

Its nice see beautiful apps coming to wp

Where is the official Starbucks app?

Just wondering though if it does end up allowing reloads, what will be the privacy and security safeguards for our credit card info? In fact what is the current safeguard for profile data? Downloaded the app and while I think it is a great app I still have those questions.

Looks like a decent app for the caffeine addicts :P.

Good since Starbucks does not have an official app yet. Thanks devs!

Good app, better than most but no Non US support

Buckstar is also a good Starbucks app

So, I'm from southern California, and really enjoy Starbucks coffee. I spent the summer in Connecticut for an internship. I went through the Dunkin Donuts drive thru everyday. The coffee is "fine," but is really really watered down. I would take Starbucks over Dunkin any day of the week.

And they pay no tax in the UK while I'm pursued to the ends of the earth by the department for work and pensions

The UK government should create an app to help Starbucks pay their taxes here....

Thanks for the heads up. I'll give it a try.

I know it will not work in Palestine for sure

Don't see how to register gift cards - can someone tell me?

Click the "pay" button and then tap the plus in the app bar to register a new or existing card

Tried this. Said that my card is already registered. Perhaps because it is registered with SBUX? Uninstalled app.

Do not use if it is not officially from Starbuck. Who know what it does to your cards. They are real cash after all.

I can personally promise you I won't steal your information ;) it uses official Starbucks APIs and simply downloads and saves the data.

hi Elliot, Great app but i might have found a quirck: it says i have 1 earned reward, but neither starbucks.ca or the competing SBUX app list a free drink earned. I think your app is counting a special offer code as an unredeemed reward. is that intentional? Is it possible to distinguish offer code rewards from free drink rewards?

That could very well be it. I'll dig into the code and see if there's an issue. It currently just looks for coupons, so there might be categories of coupons I can use to filter out just the free drink rewards. Thanks for the heads up!

Great app. Used the app last night to get a Grande black & white. The only thing I couldn't do was pay the .99 to go ad free. For some reason it wouldn't process the payment at ATT. Might be an ATT problem though. And it has posted my star point yet but it says it could take 24 hrs.

Just checked. Star posted and I switched payment to something besides att and it worked fine.

Perhaps you have a purchase block on att. I put one on years ago, when every other phone bill had some useless "subscription" fee that was initiated by a spam text which I never consented to.

Hey dev, I can't login to my app and I've checked with the mobile site and my password is right, but I can't login to the app. Please help, this is such a good app and I want to use itso bad. I'm from Indonesia by the way

If your account has a username, make sure you're using that. If not, Starbucks Indonesia might be made by another company; I know that Starbucks Mexico and Russia are separate entities. I'll dig around a bit and see if I can find anything

Okay, thank you. It seems that my country's starbucks is made by another company, but, who knows, maybe someday I can use this app. Looking forward for your great job, Sir Elliot :)

Hello! I tried putting this app on my Nokia 925 and it's not working. Is anyone else having this problem and are there any solutions? Thanks!

Could not register my card. Perhaps because it is already registered with SBUX?

looks great, almost like an official if not the ads. i'll use it tomorrow morning. but just one sugestion, if payment can be full screen like Sbux do, to make the barcode biger to make it easier to scan, also, if can automatically make screen fully brightness when try to scan like the official android app does, it would be great.

what the heck is the "shake to pay" feature?

Can't get it to work on my Lumia 1020 running WP 8.1 update 1. The settings and login button press in but do nothing. Looks like a couple people in the reviews are having the same problem. But it is not happening for everybody.

I downloaded this app back in August. At first I had problems with it, but after that it has become my go to Starbucks app. Today I wanted to share it with my wife, who also has a Windows Phone 8. However, I couldn't find it in the Windows Phone store. What's happened to this app?

I bought it and the ads came back. I removed it and when to reinstall and its gone. Any one have the devs contact info?

Elliot Forde is the guy's name. I just emailed him today

The app has been pulled from the Windows Store. Or perhaps just in the US? Does anyone have information on why it might not be there?

I just got the 1520 and it says the so it's no longer available. I had it on my 920! :/

What happened to this app? I cannot download it any more
Windows Central Newsletter
Get the best of Windows Central in in your inbox, every day!
Thank you for signing up to Windows Central. You will receive a verification email shortly.
There was a problem. Please refresh the page and try again.