MyTube and MetroTube Windows Phone apps both get small updates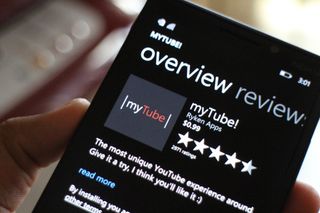 MyTube and MetroTube, both of which are very popular third-party YouTube apps for the Windows Phone platforms, received some minor updates today in the Windows Phone Store.
MyTube's new version number is 2.1.2.0. Here is what's new and what's changed:
Ability to reply to comments (the app may prompt you to re-sign back into your account just once)
Ability to view more than 5 replies in a comment thread
Fixes playlist auto-play issue with background audio
MetroTube's new version is 4.6.3.0, and it's changelog is all about bug fixes:
New fix for log in bug
General minor bug fixes
Both apps were recently updated so that they will work with the current YouTube v3 API.
Thanks to Abhishek for the tips!
Download MetroTube from the Windows Phone Store (99 cents with free trial)
Download myTube from the Windows Phone Store (99 cents with free trial)
Windows Central Newsletter
Get the best of Windows Central in your inbox, every day!
Mytube vs. Metrotube vs. Tubecast in 3..2..1..

Mytube beta got suggestion which feature people want and casting on big screen got more votes.

I'd actually like to see WC do a comparison of third party apps with official apps on other platforms, just to see the differences and if there are any major features we're missing out on.

Only thing I can think we're missing out on is ads. :P

I imagine you are also missing out on YouTube Music?

I genuinely and sincerely don't know what that is... I use Xbox Music for all my needs, and my YouTube apps access Vevo channels just fine (for music videos). I assume YouTube Music is a sort of music video + music combo deal? Probably with premade mixes and the added bonus of offline downloading for those willing to pay the tithe and subscribe?

One thing I don't know if our 3rd party apps can do is: sending video URLs to SmartTVs been paired with the www.youtube.com/pair process. through IE11 on phone (YT page) it's definitely possibile to switch the target and send all the videos to a linked SmartTV running the YouTube app in the same Wi-Fi zone. I think this is definitely different from "casting", as the latter would require the video stream going from phone to the TV, continously. The thing I'm just saying is the only video address being sent. Then the YouTube app on the SmartTV catches the bits from the Internet on its own.

MyTube used to be my best client until the UI was changed and the app started malfunctioning, Now am with TUBECAST and happy!

I can't say which of the three is the best, but I personally prefer the look of Tubecast. I'm right handed therefore o hold the phone in my right hand. The vertical navigation bar is on the right and easily accessible by thumb during one handed use.

I've been using tubecast ever since the great review I saw here a while back. Not realy on phone but for windows 8/10. I believe it's the most well layed out youtube app of them all. But even though hyper for youtube is not as nice looking, still bests tubecast because you can select multiple videos and queue to now playing or add to play list, plus see a history of plays on device vs web.

Will Metrotube ever update their Windows 8 app to work with the new youtube api?

May I suggest the new Hyper for YouTube preview? The official, Store published version still isn't compatible, but the preview version works great on my SP3!

Tubecast randomly closes at times, if I have anything else open. I love it but that's really annoying. Still waiting for mytube on windows.

Crap Posted via the Windows Central App for Android

Then f**k off.Why you are here ?

Prefer Mytube! since I don't have the need to cast video onto the big screen. But Still awaiting Desktop version

Even if there is no need to cast videos, just try the app. Tubecast is a worthy competitor!

I have and use both! They are both very good and have their own uniqueness and specialty. I switch from using one to the other from time to time. I love both but I lean a tiny bit more towards myTube! because the Developer will send us news and updates from time to time. Thanks for the suggestion though! :)

Guys! Please take part in the poll being held by Ryken in myTube! app. Thanks.

I love My tuber polls.....I have no idea why. They're just fun.

Its a nicer way to be in touch with the users... I appreciate Ryken for doing that.

Yeah that's freaking awsome. As we ppl care for windows applications

Prefer mytube because of background audio

Yep! Now I can go back to listening to concerts again

Scrolling inside a video in mytube is so mind blowing that it has spoiled me forever. Scrolling through every other app in the universe is inferior. I wish Microsoft would copy it for their video app. I can't switch to any other YouTube app just because of this scrolling.

True. But i hate the video rotation now. It was soooo smooth before :( another thing i miss is the in-app rotation lock.

Hi Dileep, disable landscape browsing in the settings and rotation should go back to normal :)

WOW mind=blown :D
Man, you're the best, and you have the best app in the store PERIOD no besides, no other than <3

Wish I could update them but for some reason my phone is acting very stupid. Uc browser disappeared from my app list Facebook Beta just shows a blank tile 6 tag won't install along with the 49 app installs in the damn store. This better be fucking fixed in the next build dammit

Have all three. So I'm good.

One doesn't have 1080p download support and one doesn't have option to save videos to phone videos.... Both apps incomplete

I have both but Chris is my favorite developer he keeps us updated and has polls and his app is beautifully designed.

After the store and myappfree issue, I can no longer use mytube, so I just went to tubecast

I regretted having bought the MyTube, never been able to reinstall it, and from what I saw in the comments app, many other users are having the same problem.

MyTube was the perfect YouTube client until the redesign, I don't know what happened, but it started lagging, crashing, and freezing since then.

They both need to update their Win8 counterparts to play nice with new api's.

Yay... I love MetroTube. It's soooo much better than YouTube.