myTube is a beautiful and innovative YouTube application for Windows Phone 8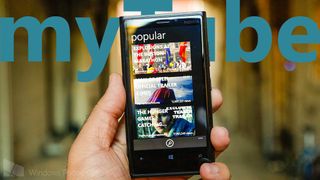 Look down at your Windows Phone, odds are if you want to watch some YouTube videos you have crowd favorite Metrotube installed. It's been by far one of the best YouTube experiences on any mobile platform even though it's a third party app. Newcomer myTube looks to challenge them and seems well equipped. It's just as beautiful and fluid, but has some killer features that I haven't seen on any YouTube app on any platform. Let's see if it can dethrone the king.
Load up myTube for the first time and you'll see the first three videos in the popular section. Swipe to the left and you have all the catergories in YouTube, another swipe left will show all recent uploads for anyone you're subscribed to (you need to be signed in), and one more swipe will take you to the welcome/user screen. Sign in and the welcome section displays your name prominently and puts you a tap away from your channel, uploads, favorites, playlists, and more.
As far as features go you'll find it having everything you could want in a YouTube client. But there is something that makes myTube insanely awesome – the ability to keep you video playing in the background as you navigate throughout the app. I can't count the number of times I'll start playing a video on other YouTube apps and accidently backed out while wanting to navigate around. The genius of myTube is that you're able to continue searching for videos, read comments, and more with the video playing in in the background. Check out the video in the post to get an idea of how it works. Or try it yourself.
This is by far one of the smoothest YouTube experiences I've had on any mobile device and really highlights the ingenuity of the developer community surrounding Windows Phone. A beautiful and functional app all with super smooth performance? That's the sign of a really great Windows Phone app and myTube has it. The craziest part is this is just the first version of myTube, it can only get better with time. The foundation laid down by the developer here makes it my new favorite YouTube app.
If you want to try out myTube you can, it's only $0.99 but includes a trial so you can see if you want to part with the dollar (do it). The trial version appears to be fully functional, but it will limit you to watching one hour of video in a three hour period. After that you'll need to wait 10 minutes before you can watch again. If you like the app, give the developer your support and purchase it.
Additionally, since this is version 1 you might find a bug or a feature you want in a future version. The developer seems to take feedback seriously and provides different avenues to contact him in the 'about' section of the app (or try him on Twitter). You'll also find a link to join the beta of myTube so you can stay ahead of the curve and help shape the development of an awesome application for Windows Phone. This is also the same guy behind Photo Shader, a cool app we highlighted back in February. Speaking of the beta, you should join it to play videos that are 'mobile restricted' by YouTube. Otherwise there is an update that will be here in a few days addressing the issue for non-beta users.
It's great to have two killer YouTube apps on Windows Phone. At this point there is no way an "official" app could beat either Metrotube or myTube. What do you guys think of the newcomer? Sound off below.
At the moment myTube is only available for Windows Phone 8. You can download it here in the Store, use the QR code below, or swipe to the right in our app.
Get the Windows Central Newsletter
All the latest news, reviews, and guides for Windows and Xbox diehards.