MyTube fixes loading issue, adds picture-in-picture and many more new features
If MyTube is your go-to YouTube app on Windows 10 and Xbox One, you're in for a heck of an update.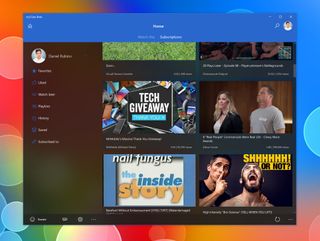 A new update is available for MyTube and MyTube Beta, ticking the app up to version 3.1 and adding a load of new features across its various platforms. Included is picture-in-picture (PiP) support on PC, infinite subscription scrolling, and much more.
Most importantly, this update also fixes an issue involving a Google API change that prevented things from loading. The app should load everything just fine now, but you will need to log back into your YouTube account after updating to get everything working correctly.
Aside from the bug fix, PiP support for PC is probably the biggest single addition. Using the feature works just as you'd expect, shrinking the video down to a smaller version of itself that sits on top of all of your other applications. This is especially handy if you're watching a video while getting some work done in another app. To get started, all you have to do is click the PiP button at the top right of the player.
Some other quality-of-life improvements packed in this update include infinite scrolling for your subscriptions, a bump up in the notification limit for channels, and an "Add to queue" button to set a video to play after your current one. Here's a look at the full release notes:
New "Add to queue" context menu item lets you add videos to play after the current video
Picture-in-picture support on the anniversary update Infinite subscriptions scrolling
Patreon rewards implemented into the app
Support for stop button on media remotes, keyboards, etc.
Channel notification limit increased to 20
Returned polls to developer messages
Added "Now Playing" button to video player, which allows you to see all videos in the current playlist and play which ever one you want
The player controls now take 0.5 seconds longer to appear
(PC/Mobile) Added setting to change thumbnail size
(PC/Mobile) Added "Use blur effects" setting, which controls most blur effects in the app
(PC/Mobile) Added "Copy at current time" context menu item when you click the video URL while the video is playing
(PC/Mobile) The data connection warning will no longer appear while playing saved videos on mobile data
(PC/Mobile) Fixed bug where Entertainment didn't come up as a category for video uploading
(PC/Mobile) Fixed bug where clicking "View Channel" on the search page could cause a crash
(PC/Mobile) Fixed bug where copying a link in the app would cause the app's clipboard notification to appear
(PC) Added visual separation between some sections of the app
(PC) Added background noise and reveal lighting
(PC) The app is now extended into the title bar (check out the channel page)
(PC) TV Mode lets you use myTube's Xbox UI on your PC
(Xbox) 'Trending' changed to 'Watch this', with different video categories
(Xbox) Added search options
(Xbox) Navigation using the d-pad is now a little bit smarter and faster
(Xbox) Hold the B button to exit the currently playing video in one click
(Xbox) New animation when opening home page menus (such as "Library")
That's a solid list of changes no matter how you slice it. You should be able to check out all of these changes now on MyTube and MyTube Beta by grabbing the updates now from the Windows Store.
Dan Thorp-Lancaster is the Editor in Chief for Windows Central. He began working with Windows Central as a news writer in 2014 and is obsessed with tech of all sorts. You can follow Dan on Twitter @DthorpL and Instagram @heyitsdtl. Got a hot tip? Send it to daniel.thorp-lancaster@futurenet.com.
This is the best app on W10M! Great to hear its back

and the best app on XboxOne. I even use it on my PC since the new YouTube design.

cannot agree more!!!
(donated $10 months ago)

After update worked well in 8.1 for a few hours.. But now has the same problem loading content

I think it do to google the api add the ( watch this) section it not on a 8.1 but ever thing else seem to work

Best app across all the platforms, even better than the YouTube app avaiable on Android or iOS.

yes. Expect the lack of notifications for comments.

I even tried searching "MyTube" in PlayStore... Looking forward to win10.arm~

same here after switching to android from win10m... I couldn't find mytube on playstore.. I hate the default app

I use this app on my Lumia and Surface. Great app!

Does anyones know how to move PIP window from default location??

When you cursor over it you can grab it by the task bar window and resize and reposition.

Chris is the man. My most used app.

Good app but huge banner/bar on the top affects the aesthetic appeal!

You can remove it. I use the app without the thick bar.

the app is so beautiful. I must donate to the developer. love from UK

The best youtube client Go on 👍

True power of uwp app. Now the app looks so beautiful on mobile i can say 100 times better than android one because its ad free and new theme is just awesome.

Does anyone know if there is a way to change the save directory?

I'm really enjoying the app, but it's a battery killer. If that was improved I would definitely say it's the best W10 YouTube app available. I used TubeCast for years, but the app randomly deleting or not recognizing downloaded videos got old after the fifth time.

Bought it today specifically for the Picture in Picture mode

I can't login to it, it pops up the Google login webpage which then gives me a code to paste into the app...but there is nowhere to paste it...

i rant into this issue as well on my lumia 950. i tapped the back button, then tried logging on again and it finally took.

I personally use Awesome Tube most often, but this application has a lot of cool features.

I freaked out when I read Chris' message about Google's change but, thanks God, everything is normal now!
I LOVE this app and I use it every single day. The design, the layout, the animations, the features are beyond perfection and a massive congrats to Chris! This app deserves so much more!

MS should learn from this dev how to make apps.

Microsfot doesn't make the youtube app.

I meant quality apps like this developer makes. Not half baked apps like MS make.

No one can deny the developer expertise. One in a million. I thinks that this one is the only app that I've already donated to.

MyTube and Grover Pro, the 2 most important 3rd party apps in my 'consuming media on windows' life!

Awesome! I love the PiP! :)

Good but good, but it happens that it doesn't load anything at all (one subscriber is a "test"; all xvideos with the name "the title" and 0 views; The Instead of account name is empty), as it is specially (?) the developer pull the layout instead of the full application.

This app its beautiful, but tubecast transmit a lot better through DNLA out Air Play
Windows Central Newsletter
Get the best of Windows Central in in your inbox, every day!
Thank you for signing up to Windows Central. You will receive a verification email shortly.
There was a problem. Please refresh the page and try again.