myTuner Radio brings thousands of radio stations to Windows and Windows Phone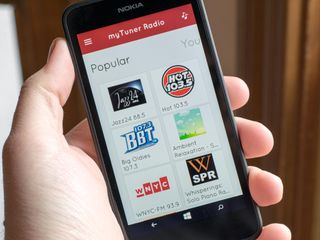 Radio app myTuner Radio is now available for Windows Phone 8.1 and Windows 8.1. myTuner lets you listen to radio stations from around the world, with 30,000 stations from 120 countries available.
myTuner Radio features a number of ways to find what you're looking for. You can scroll through popular stations, as well as myRadio's recommendations, and stations you may like. Access the left sidebar menu and select Radio Stations to search through a countries stations. The app will default to showing your stations for your current country, but that's easily changed. You can search by popularity, city, and genre. In addition to radio, myTuner also features over 1 million podcasts if you prefer on-demand entertainment.
Tapping the music notes in the upper right corner will show you what is currently playing. You'll see the station and its artwork, and the options to add the station to your Favorites and the sharing button.
myTuner Radio is available for free from the Windows Phone Store and Windows Store right now.
Windows Central Newsletter
Get the best of Windows Central in your inbox, every day!
Any comparisons to TuneIn?

Does TuneIn even work for anybody? It stopped working for me months ago.

Everytime I think it doesn't work, it ends up working for a station I don't want to listen to.

TuneIn works for me. I use it all the time.

TuneIn works perfectly I use it nightly to listen to my hockey games

Same for me for my sports talk radio on AM band! I'm referring phone version only though

I have 10+ favorited stations on TuneIn. myTuner finds none of them. Streaming wise, it's no more reliable than TuneIn. Sometimes, after closing the app while streaming, the 'now playing' section is blank upon reopening. Annoying in-app notification everytime you open the the app stating if I'm using wifi or cellular data. Android hamburger menu. For me, the app is already a dud based on my first issue. Will wait for more stations.

Hi,
We add new radios every hour. You're free to send us some suggestions to - help@myTuner.mobi and we'll contact the stations in order for them to provide us their streaming link.
Cheers,
myTuner Support Team

someone maybe editor in chief of windowscentral.com (daniel, yes you!) should write an article about the status of tunein. Since more than a year, TuneIn has not been updated for Windows Phone platform.

Yes, I gave up on tune in WP app because streaming quality is terrible. While driving same route, Xbox music streams fine, but tune in useless, so I know it's not related to wireless signal. Also, I use tune in on internet at work streaming same station and it is great, so not a problem with the station. App sucks.

at first sight i thought this article about mytube issue.... :P

Update issues right? Same here

I had that issue. The trick is to uninstall mytube and the next step is to install it from a search of mytube (do not install it from your 'my apps' list. If you install from your list it will just fail.

We have an update on that coming up. See previous article ;)

Yes. Great app, just needs some bugs worked out. I've grown tired of tubecast, making mytube! my premier choice agian.

I thought it said myTube radio at first after reading the other article , lol.

It's great if want to listen stations around the world , I fine with FM radio on my Lumia , I can pin my favorite stations to start screen.

What's the difference between this and iheart radio?

Iheart only works in the USA.

iHeartRadio only carries stations owned by its parent company, iHeartMedia, formerly, ClearChannel.

About half of our most popular local radio stations don't work on this app. A pity, I don't want two apps on my phone for the same thing. So I will uninstall.

Hi, Thank you for your feedback. Station change streaming link from time to time and this is why we are constantly adding new streaming links and stations. Please send us some feedback to - help@mytuner.mobi with the stations you'd like us to add.
Cheers, myTuner Support Team

Just installed it, found my radio station from my native country, couldn't stream songs........buuuu

Hi Duke,
Thank you for your feedback.
Stations change their streaming link from time to time and this is why we are constantly adding new streaming links and stations. Please send us some feedback to - help@mytuner.mobi with the stations you'd like us to add.
Cheers,
myTuner Support Team

Haven't download it yet. So guys who are using it: What's the difference between the Rdio? Or is it the same thing? What about performance and available radio stations?

Not a single BBC radio station except for World Service. Uninstalled.

The dev only always installing on phone....not SD card,tune in radio can install on SD card

The QR code doesn't work...for me.

sorry but this app is very very poor and ugly! it looks like a android crap. this is no metro/modernUI design. shame on you. we dont need need this android trash

This app works great for me on both my "iphone 5s" and my Lumia 1020 ;-)

Good work. Scare developers away from Windows Phone.

Doesn't work/run on my 1320. It closes off after the splash screen.

Hi Stivakos,
Please uninstall the app and install it again. Let us know how this goes to - help@mytuner.mobi
Cheers,
myTuner Support Team

If it doesn't have a tuner, its not for me, our local radio station are not on internet, and streaming is very expensive as well,

Hi,
Many local stations are broadcasted through the internet if these local stations feature it on their website let us know and we'll contact them to obtain their streaming link. Regular radio works using radio waves (short signal) and apps use internet data (longer reach) and this is why you're able to listen to stations from all over the world. But you need an internet connection for this.
Cheers,
Support Team


Not many BBC stations like you get in TuneIn, which works for me. Seems like another app based around USA.

Best radio on store. The app team will listen to your requests adding Radios you miss...
The Windows Store version is fantastic with a great snap mode! surely they gave some though to it!

Just downloaded it. Nice app! Clean, easy to use. Was able to find a few of my stations - and developer seems open to adding more upon request. Great job!