Navigon announces their Windows Phone apps and pricing info [Updated]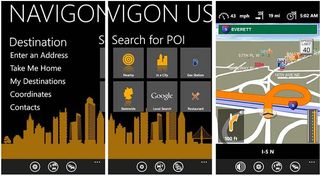 Even though Navigon's Windows Phone app, NAVIGON, and the NAVIGON Traffic4all app are already available over at the Marketplace, we've received official notice from Navigon on the release of these two apps. Even though the release is dated yesterday and there's not much new in the press release, there is one little blurb about pricing we thought was important enough to follow up on.
According to the press release, the $29.99 price tag on the U.S. version of NAVIGON is an introductory price. The introductory price will run until 11/15/2011 when the price will jump to $49.99. We are trying to get clarification from Navigon if the $69.99 price for the European version is discounted as well.
As we mentioned earlier, the Traffic4All is a free, ad-supported app or you can pay $1.49 to remove the ads.
We're still working on a full review of NAVIGON and should have that posted in the next day or so. We'll try to give you a better picture on how good or bad NAVIGON performs plus how it compares to a few other navigation apps that are available for your Windows Phone.
In the meantime, you can find the U.S. version of NAVIGON here in the Windows Phone Marketplace, the European version of NAVIGON here (opens in new tab) and NAVIGON Traffic4all here in the Marketplace (opens in new tab). You can read the full presser from Navigon after the break.
Update: Just got tipped by Antonino over at Plaffo.com that the European pricing is an introductory offer as well. Up until 11/15/2011 the price for the European version will be 59.49 Euros. After the 15th, the price jumps to 84.99 Euros.
NAVIGON Launches First On-Board Navigation App forWindows Phone 7 Smartphones
Premium GPS App for Windows Phone 7.5 (Mango)Provides Turn-by-Turn Directions without a CellPhone Signal, NAVIGON alsoReleases Free traffic4all App
Hamburg, Germany, October 11, 2011,--NAVIGON AG, a leading provider of mobile phone on-board navigation, today announced the launch of the first on-board navigation app for Windows Phone7 smartphones.NAVIGON's app is available for Windows Phone 7.5 users and takes advantage of new features made available to developers with this new release such as the ability to save an address to the start screen. In addition, NAVIGON also launches a free traffic app for Windows Phone 7, traffic4all.
Similar toa standalone navigation device, NAVIGON for Windows Phone 7 works in areas without a cell phone signal, so users can get directions and information anytime, anywhere. Other navigation apps for Windows Phone 7 are dependent on a cell phone connection to download map and routing data. Therefore, no cell signal can render navigation useless or interrupted until a connection is reestablished.
"We are pleased to bring our award-winning navigation app to Windows Phone 7," said Gerhard Mayr, NAVIGON vice-president of world wide mobile phones and new markets. "The app includes many of the same signature features that have made NAVIGON's apps successful on other platforms, such as Android and iPhone. The user interface is fully customized to the Windows Phone 7experience,so users of this platform will feel right at home."
NAVIGON for Windows Phone 7 includes spoken turn-by-turn directions, visual lane guidance, live traffic information and rerouting, among many other features. NAVIGON's new app runs on Windows Phone 7.5 and also takes advantage of new features made available to developers with this new release. These features include the augmented reality function Reality Scanner, which provides an instant and effortless way of identifying nearby destinations while on foot; an option to select address information directly from the phone's contact list; and the ability to save a favorite or home address as a shortcut on the start screen.
NAVIGON for Windows Phone 7 features include:
NAVIGON MyRoutes:The app includes routing technology built upon NAVIGON's 20 years of experience in the navigation industry, so users get themost reliable routes available. The MyRoutes feature provides customized route suggestions with up to three different choices based on the user's driving style.
Reality View Pro and Lane Assistant Pro:Reality View Pro feature clearly displays photo-realistic views of actual highway/interstate signs, exits, and lane guide markers so users can see lane changes and exits in advance. Lane Assistant Pro prepares drivers to make an upcoming exit or turn with a lane map complete with arrowsand actual road geometry.
NAVTEQ maps:NAVIGON for Windows Phone 7 uses one of the most robust and accurate geographic databases in the world, providing the most accurate map data and points-of-interest information. The superiority of NAVTEQ maps is defined by its verified accuracy, content richness, and its breadth of coverage data.
Traffic Live:NAVIGON for Windows Phone 7--using real-time traffic information available from industry leader INRIX--alerts drivers to traffic problems and automatically calculates alternative routes so they can avoid congestion and save time.
Reality Scanner:Reality Scanner is an augmented reality feature,providing an instant and effortless way of identifying nearby destinations.Users simply point their smartphone in any direction to see points-of-interest icons appear directly onto a live camera view, making it easy to find destinations on foot.
NAVIGON Shortcut: Save any address as a shortcut to the Windows Phone 7 start screen. This allows users to start navigating, for example to their home address, with only one click.
Speed Assistant:Drivers can potentially avoid costly tickets by receiving alerts when they're speeding and getting notified of speed and redlight cameras before they pass them.
Additional features include Google Local Search, which allows users to find local points-of-interest instantly; one-tap access to help users find critical services such as hospitals and police stations in case of an emergency; and the ability to select address information directly from the phone's contact list.
NAVIGON Traffic4all Windows 7 App
In addition to its turn-by-turn navigation app for Windows Phone 7,NAVIGON also announced a free traffic app: traffic4all helps drivers to avoid gridlock and save time by providing a clear overview of traffic conditions.NAVIGON developed an intuitive user interface that displays traffic incidents on a map with a single hit of a button. Colored road overlays indicate traffic flow, ranging from green for normal to red for traffic congestion or black/white for blocked roads. The app also allows users to plan ahead and lookup traffic forecasts by entering a specific time and location.
traffic4all uses traffic information from NAVIGON's partner INRIX. The leading traffic expert covers more roads than any other provider, delivering real-time traffic information that extends beyond major highways and interstates covering more than two million miles in North America and Europe.
Pricing and Availability
NAVIGON for Windows Phone 7 includes on-board NAVTEQ maps for the USA and is available for $49.99 in the Windows Marketplace. NAVIGON offers a special introductory price of $29.99 untilNovember 15, 2011.
NAVIGON traffic4all is available at no cost in the Windows Phone Marketplace. An upgrade option for $1.49 turns off the integrated ads. For more information, please visit:www.navigon.com.
Find NAVIGON on:
Twitter:www.twitter.com/NAVIGON_US
Facebook:www.navigon.com/facebook
Flickr:www.navigon.com/flickr
YouTube:www.navigon.com/youtube
About NAVIGON AG - a GARMIN company: Germany-based NAVIGON AG was founded in 1991 and is a leading supplier of satellite navigation products. In July 2011, the company was acquired by Garmin Ltd. and operates as a fully owned subsidiary. The NAVIGON brand offers mobile navigation devices (PNDs), smartphone navigation applications, and solutions for the automotive OEM industry.
George is the Reviews Editor at Windows Central, concentrating on Windows 10 PC and Mobile apps. He's been a supporter of the platform since the days of Windows CE and uses his current Windows 10 Mobile phone daily to keep up with life and enjoy a game during down time.
These nav apps are so expensive. For anyone that has bought any in the past, is it worth it? I guess it's cheaper than buying a Garmin or TomTom. My car has GPS so I have no use for this plus Bing Maps works just fine (the tapping the screen per turn is no biggie).

I still use Navigon on my HD2 as my GPS solution when needed, it works well even though the maps are from 2009. As for the price for Navigon on WP7 see here:http://www.pocketgear.com/us,en,usd/5722,HTC-HD2%20(T8585)/search.html?qry=navigonThe current price is quite a bargain in comparison.

i paid $99 for my standalone navigon unit years ago (back when they still made them in the US). it was worth it in my opinion, and 30 bucks is a deal compared to that. so i may jump on this deal, especially if they add canada maps soon.

Still waiting on a response from NAVIGON about Canada and Australia.

It's a great app - all Navigon maps are extremely accurate but...Why the **** would i want to buy maps for the whole Europe when what i need is just 1 country ?I don't want to pay for something i will probably never even use...Make single country packages and i'm in.

It's not even the price I mind so much. I had to do the same with CoPilot iirc. It's the space. I really want to just choose which maps I can download at any particular point in time. 2.3GB is a lot of space until we get some phones with more room in them.

Does this application have access to the address book? I'd really hate to have to manually type in addresses when I already have them elsewhere in my phone.

Is there a reason that I would want to buy this and use it rather than the Telenav that is included on my Arrive, and is a free service on Sprint?

Buy an old Nokia for £60 and you have free maps for life, £84.99? Get a **** grip. Or wait for the next Nokia Phone, it will have the same maps for free.

I'm extremely interested in this app, as I have been sorely disappointed with what is built in to WP7.However, I have several questions/concerns:(1) General WP7 question: If I buy this app for my current phone, and upgrade next year to a new one, can I download it on to that phone as well? Like Xbox Live games? Or would I need to re-purchase it?(2) How do they plan to handle updates? I like the idea of storing the maps on the phone (though I wish you could give it more granularity like "I only want IL"), but will it have to re-download the entire database whenever an update is released? Or will there be patches?(3) Will Nokia's app be available for all phones, free or via purchase? Will it be better/worse? I know there are no public answers for this one, but the timing of the promotional period almost seems specifically engineered to avoid us waiting to find out...

(1) Yep, I have the app on 2 phones on 1 live account(2) App updates and maps separately(3) Anybody's guess right now Mind you, this is a full Personal Navigation Device. Nothing before on WP7 comes even close.

Cool, thanks for the additional info... couple follow-up questions for you:(2) I'm really asking about map updates only... will it reload the whole map set or just update files (I know this is probably unknown at this point)(4) Will the app work in landscape mode? Would be easier to set it down length-wise in my car...

(4) It does work in landscape mode as well.

Never I will waste 2.5 Gb of precious storageWhy shall I download 44 countries? It's insane.Regarding the price, it's a joke.

Great app. Price is high, but if you consider buying a Navigon / TomTom / Garmin Sat Nav separately... the mobile solution with (hopefully) frequent app + maps updates also saves having yet another device and is definitely cheaper. HD7 has a really good screen size for it.I had Navigon on the iPhone (another £50+) a while ago and it's improved a bunch since then. Traffic updates included rather than an in-app purchase etc, reality search to find the direction of POIs. Speaking of POIs - they seem ridiculously up-to-date and extensive around my area with a month old ATM already showing up.Screen rotation from portrait to landscape and vice versa is notably smooth. Traffic cams are included. Road speed limits display (they don't on Turn by Turn Navigation). You can navigate to phone contacts containing address information.My only gripe at the moment is the fact it doesn't really run under the lock screen. It gives a 5 second Loading... page before refreshing.Again pricey, but definitely don't regret the purchase.

Thanks for the demonstration. I am very interested in this app. One thing I'd love if you'd be able to confirm is, how does this app work while music is playing? Does it temporarily suspend music playback, announce route information, then restore music playback? Also, does the sound from the app play over bluetooth? If it can do these two things, it's an instant buy for me. Thanks!

It works fine over bluetooth on my car handsfree unit. Announcements are spoken on top of any music playing on the phone, and can be hard to understand then.
Windows Central Newsletter
Thank you for signing up to Windows Central. You will receive a verification email shortly.
There was a problem. Please refresh the page and try again.