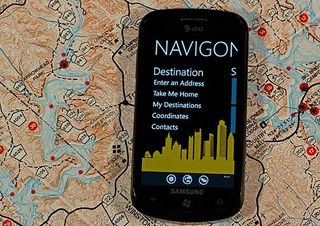 NAVIGON hit the Windows Phone Marketplace a few days ago with mixed reactions. Some felt the navigational app was a really nice addition to the Marketplace while others were hesitant on the price. Some felt that having an option to download specific maps might help take the bite out of the hefty price tag.
Speaking of which, let me break the news to you right out of the gate in case you've missed it. The $29.99 price tag for the U.S. version of NAVIGON is an introductory price. After November 15, 2011 the price jumps up to $49.99. European introductory pricing is set at 59.49 Euros until November 15th and then the price jumps to 84.99 Euros.
With the price being amongst the highest for a Windows Phone app, it's natural to ask "Is it worth it?". Especially when lower priced alternatives are out there that can navigate you around town pretty darn well in their own right.
Over the past few days, we took NAVIGON out for a test drive and ease on past the break to see how things measured up. See if that $29.99 (soon to be $49.99) is a deal or a steal.
Layout
NAVIGON is laid out nicely with one page of options to set your destination, a handful of tiles to find Points of Interest and More Page.
The Destination Page has options to search for travel destinations by address, from your My Destinations page (recent points and favorites), by GPS coordinates, from your People Hub (contacts), and a Take Me Home choice that routes you to whatever address you save as home.
One nice feature on entering the destination address is that the entry is broken down in sections. You first choose the State, then the City, then the Street, and then the number or intersection. I like this better than one long entry because it seems easier to navigate around plus you have predictive text to help you along as well. The only thing missing is voice entry (hint, hint).
The Points of Interest tiles offers you eight ways to search for a POI. You can search by what's nearby, what's in your city, what's available Statewide, search by Google, and then by three types of points of interest (gas station, parking, and restaurant). These three tiles are customizable (more on this in a second). You also have a neat little feature called the Reality Scanner.
The Reality Scanner uses your Windows Phone camera and GPS coordinates to give you a real world view of your surroundings and provide an instant identification of what points of interest are in your immediate area. Hard to comment on this feature because I could never get it to work. I kept getting "No POI's in the area". Which leads me to one missing feature, a Help Section.
Your More Page offers you options to view the map, get your GPS information and view the Points of Interest settings. The POI settings allows you to customize the three POI Search tiles.
From the "three-dot" menu on the main pages you can find information about NAVIGON (but no help section) and a DirectHelp feature. DirectHelp pulls up gas, law enforcement, hospital and pharmacy services in your immediate area. Tap on the type of service you need and a list of what's available is pulled up for mapping as well as contact numbers. DirectHelp also provides your current GPS Coordinates as reference.
Also down below you will find buttons to access settings, your route profile, and traffic information. You'll have other buttons appear here and there throughout NAVIGON but these three are the more consistently present control.
Settings
Settings cover a wide range of topics that are spread out on a multi-page hub. You have,
General options: These cover language, voice styles, distant units, etc..
Navigation options: These deal with how the map is displayed and speed limit settings.
Red Light Camera Warnings or Safety Camera: More and more municipalities are installing Red Light Cameras. These are the cameras that are triggered when someone runs a red light. Such a Polaroid moment results in a costly traffic citation being issued. The Red Light Camera Warning, when turned on, will alert you (the lovely female voice says "caution") of known intersections that have such cameras.
Traffic Options: Basically two options on how you want traffic data used and how you want traffic events announced based on travel time loss.
Optimize Traffic Option: NAVIGON uses Floating Car Data to help determine traffic flows. Basically, when turned on, your Windows Phone sends anonymous data to the NAVIGON servers about your travels. The computers then disect this information to determine areas of congestion, smooth travels, and other information that can be used to create alternative routes.
Your Route Profile button takes you to another group of settings used to determine your route calculations. These settings include how you are traveling (car, truck, foot, etc.), what type of route you prefer (fastest, shortest, scenic, etc.), and avoidance settings for highways, toll roads, and ferries.
The Traffic Information button will pull up any traffic flow issues (congestion, construction, accidents) that are in your area. The information also includes events that are well out of your area that will be used to calculate long distance routes.
The Map
I was a little underwhelmed with the map view for NAVIGON. You have the option to view things 3D or 2D but the colors are a little on the drab side. It may be a case that I've grown accustom to the brighter BING maps that NAVIGON looks a little on the gloomy side. The map is touch navigable and points of interest icon are scattered about, bringing a little color to things.
There isn't a satellite view but the map does support landscape viewing both in the navigation and open map view.
From the map view, you will see a compass arrow in the lower left hand corner, button controls to access settings and your route profile. The "three-dot" menu pulls up options to view your GPS information and access the Reality Scanner.
Up top you'll see your speed and direction of travel displayed and below you will see the name of the road you're on displayed. When you choose your destination, NAVIGON will generate three possible routes. A map will be displayed with three options beneath it. The first is the route NAVIGON recommends and the others are alternates. Once you tap on one of the three boxes, your route is generated and displayed.
Once you set your route, up top will show your speed, distance to your destination, and estimated time of arrival.
A box will appear in the lower left to indicate the distance to your next turn and a button control for volume will be added to the button control bar. Your three-dot menu will give you options to view the GPS info, Points of Interest on the route, a block display (not sure what this does) and skip next destination for multiple destination routes.
There is no "end route" command with NAVIGON. Simply hit the back button to return to the Main Pages and the routing is cancelled.
Live Tile Support
One really nice feature with NAVIGON is the ability to pin Live Tile shortcuts for your destinations on your Start Screen. When you find a POI that interests you, the screen will display the address information that includes a telephone number and website (when available) plus a thumbnail map of the location.
On this screen you will have four button controls. One to cancel the selection, one to save it as a favorite, one to access your Route Profile, and one to initiate navigation. From the "three-dot" menu you will find options to save and pin the POI to your Start Screen and send the destination via text or email.
When you pin the POI to your Start Screen, you get a Live Tile that displays a customized name of the destination on one side and a thumbnail map on the other. In tapping the Live Tile, you are sent directly to the POI Screen.
NAVIGON on the open road
One of the key features of NAVIGON is that all your maps are downloaded to your Windows Phones. Even those maps you'll never, ever use.
This eliminates the need for a data connection to load maps or create routes. In theory this is a tremendous advantage over other navigation apps when you hit weak data signal areas in your travels. The downside of all this is that it takes up a tremendous amount of space on your Windows Phone.
The U.S. version requires 1.6GB of storage while the European version requires 2.3GB of storage. I have to agree with some of the early comments about NAVIGON in that it would have been nice to have the option to purchase or install certain maps to minimize storage space needs and possibly reduce costs.
The odds of me traveling outside the Southeastern United States isn't good and it would have been nice have had the option to purchase only that region of maps. In Europe, if your travels are similarly restricted why do you need to download all 2.3GB of maps?
I think NAVIGON hit the nail on the head by having the maps downloaded to your Windows Phone but missed the boat by not having any flexibility in which maps are loaded.
With regards to performance, having the maps on board helps tremendously. Routes were calculated and re-calculated quickly and maps kept up with your travels nicely. In this respect, NAVIGON performed on par with my stand alone TomTom unit.
Voice directions were clear and understandable and the map transitioned from the map view to exit details nicely. The turn by turn directions includes directional references (when available) for exits. For example, when told to take the exit to US 280 East the direction included the town of Sylacauga as a reference. Sometimes it's easier to pick up on a city name on the exit sign than the road number plus this confirms you are headed in the right direction.
Mango features
Someone asked about how well NAVIGON ran in the background. It runs very nicely.
NAVIGON takes a few seconds to resume but picks up your travels nicely. I would turn the Windows Phone off, drive a few hundred yards, wake the phone up and my position adjusted to my travels when NAVIGON resumed. At first I was concerned that when you resume NAVIGON through the task manager or turn the phone back on there was about a two second delay. Not sure what this delay is but my guess it is the GPS confirming your current position.
So how does it compare?
There are plenty of navigation apps on the Marketplace but I am mostly familiar with two, Garmin Streetpilot and Turn by Turn Navigation. I could spend all day comparing NAVIGON to others but I'll stick to these two apps because of familiarity.
NAVIGON's on board maps is a major advantage. Garmin Streetpilot does download a large portion of the map to minimize your data use and Turn by Turn also has a similar feature. Turn by Turn also has the option to download portions of maps to further minimize data dependency. I liked Turn by Turn's download feature but it felt cumbersome.
Even with Garmin's ability to download larger portions of the map and Turn by Turn's user defined downloadable maps, route calculation and re-calculation was noticeably quicker on NAVIGON. I don't know if it's better software or having to tap into the off-site maps to create routes but NAVIGON calculated the three routing options faster and re-calculated routes almost the second you strayed from your original course.
One more advantage of having the maps installed on your Windows Phone is power consumption. NAVIGON was noticeably more friendly to my battery than the other navigation apps because it wasn't constantly downloading maps. You'll still need a travel charger for longer trips but for the shorter (within an hour) trips, you can survive without.
I have to admit I like the overall appearance of Streetpilot better and the map layout of Turn by Turn better. But that's really a subjective measure and your views may vary. I did find the layout and appearance of NAVIGON begin to grow on me the more I used the app.
Garmin StreetPilot seems to spread things out more on the main pages than NAVIGON which results in less drilling down. Garmin also has flight status information and seems to keep the traffic information more localized.
Turn by Turn is more of a "down and dirty" navigation app that lacks the multi-page hub StreetPilot and NAVIGON offers. Turn by Turn lays everything out from the map view and does so rather nicely. I am inclined to give Turn by Turn the nod for the better map view. NAVIGON's information is a little on the small side while Turn by Turn uses a larger display for Speed, ETA, and Distance.
So which is better? It's really hard to say one is better than the other (all are rather good navigation apps) but rather each fits a particular set of need. If you find yourself in need of a GPS app on occasion, look at one of the lower priced GPS apps such as Turn by Turn. If you have the need for a GPS app on a daily basis and rarely find yourself in a weak reception area, Garmin StreetPilot will do rather nicely. If you do frequent poor reception areas or don't have the patience for data to update maps or routes, NAVIGON will be hard to beat.
We'll keep an eye on Turn by Turn's update to see how that app's new download feature changes things. If the new version gives users more flexibility in which maps are downloaded and the app performs just as nice as NAVIGON, the choice will be harder to make.
It will be interesting to see how the new offline map feature will change things with Turn by Turn. The new version sound as if it could hold its own against NAVIGON but I think the key will be how the installed maps impacts route calculation. We'll keep an eye out for the new version of Turn by Turn and let you know how it shakes out.
Overall Impression
There's little doubt in my mind that NAVIGON is a quality navigation app for your Windows Phone. It is the first navigation app that has me seriously considering getting rid of my TomTom unit.
NAVIGON is laid out nicely, has a healthy amount of features, and you can't ignore the benefit of having all your maps loaded on to your phone. I think where NAVIGON falls short is the price and inability to allow users to choose their maps. How far of a fall is going to be up to you guys.
The introductory price of NAVIGON is competitive and for what you are getting, it may be a steal. However, once November 15th rolls around and the price explodes to $49.99 the choice becomes more difficult to make.
But consider this. A stand-alone GPS unit like my TomTom will run well over $100 (sure you can probably buy last years model for a little less). NAVIGON performs close enough to these devices that many will argue it's just as good. So for about $50 less, you can have the functionality of a stand alone GPS unit with one less device to plug into your cigarette lighter.
One more thought on the pricing point. The iOS and Android versions of NAVIGON are running $59.99 so the Windows Phone version is a bit less in cost. The iOS version does have a regional map version for the U.S. that runs $29.99 so it is entirely possible we may see that on down the line. Regardless, if you rely on GPS navigation, for what you get and how well NAVIGON performs, $49.99 isn't a bad price. Could it be better? Sure. But what out there doesn't have room for improvement?
NAVIGON really needs to re-evaluate how it markets this app. Especially with regards to how it offers the maps. Not everyone will need every map in the U.S. or European versions and not everyone will have the storage space for the full compliment of maps. Some may opt for Garmin to avoid deleting/reducing their gaming or music library simply to make room for maps they will never use. If the new version of Turn by Turn Navigation has options for which maps you download, that may turn some heads away from NAVIGON as well.
I think NAVIGON would have been better received if the shell was sold for $3.99 and maps were available for individual or regional downloads at a respective price. Heck, if they can offer regional versions over at iOS, why can't they do it here?
If pricing and map flexibility isn't an issue, you will be very pleased with NAVIGON. It joins a growing selection of GPS navigation apps that are available for your Windows Phone making the choice a little more difficult to make.
If you are going to go with NAVIGON, I'd strongly recommend doing so before the introductory price expires. For me, I see NAVIGON performing just as good as the TomTom unit sitting on my dash board. I'm not ready to give up my TomTom but I do see myself using it less.
Unfortunately, there isn't a trial version available for NAVIGON. Hopefully that might change (remember StreetPilot was initially released without a trial version) and for now the U.S. Version of NAVIGON is running $29.99 (goes up to $49.99 after 11/15) and the European Version is running 59.49 Euros (goes up to 84.99 Euros after 11/15).
You can find the U.S. version here (opens in new tab) at the Windows Phone Marketplace and the European version here (opens in new tab).
George is the Reviews Editor at Windows Central, concentrating on Windows 10 PC and Mobile apps. He's been a supporter of the platform since the days of Windows CE and uses his current Windows 10 Mobile phone daily to keep up with life and enjoy a game during down time.
"NAVIGON really needs to re-evaluate how it markets this app. Especially with regards to how it offers the maps. Not everyone will need every map in the U.S. or European versions and not everyone will have the storage space for the full compliment of maps. Some may opt for Garmin to avoid deleting/reducing their gaming or music library simply to make room for maps they will never use"Exactly.Why shall I download 44 countries and pay for it?!And I need my storage for my music, not for useless maps.

Can navigon be launched from the native search/apps section on the device? For example if I selected something from "eat+drink" and swiped over to the "apps" section?

no it cannot. That should be addressed on their next update. I noticed that yesterday when I was looking for somewhere to eat and noticed NAVIGON absent from the app list, Garmin however was there.

NO, it does not appear in the app list (App Connect), though Garmin does. I was disappointed it wasn't there. Another thing I miss as compared to Turn by Turn, you cannot copy/paste an address (say from a web page or an appointment field) and paste it into Navigon's address field. Navigon uses separate fields with auto complete for state, city, street, then number or intersecting street. This precludes copying a complete address into the app.

Can you change that local search from google to bing? Also does it have app connect to connect to bing searches? Tnx.

No to both questions. The two things that I did not like at all about this (and both can be easily fixed) were:1) No app connect. This means that you can't find something in Bing, hit address, and watch that address magically get pushed into Navigon. Would be very nice, since entering addresses is a bit cumbersome.2) Bad address entry. It's like an old-style GPS. Enter city. Press enter. Enter road name. Press enter. Enter address number. Press enter. That's fine for a GPS-only device (sorta), but because of that entry method, there's no way to copy an address from an email or text message or google or bing (you get the idea) and paste it into Navigon.Having said that, it's a good app. Nice maps, good, useful display. Live traffic notifications. All very cool.

Since Garmin isn't available in Europe/Netherlands (i'm sure about the last one, not sure about the rest of the EU), Garmin was the first big Navigation app that featured offline-maps. The download is kinda big and a filter-option would be nice, but at the moment i've got enough space on my phone so i'm not worried. Have been using it for a while now and its really nice. I like the speed, the interface and the usability of the app. It costs some serious money but you get a decent navigation app in return. Now i don't need another device for routing as i don't need it every single day, but its nice to know i can now go places without having to use unfriendly apps or broken apps for it.

Something I think they did well is the fact that when you actually download the app, its a 5mb app. Once you launch the app for the first time is when you actualy download the entire maps. So with this I think that future updates that dont have to do with the maps being updates will just take 1 or 2 minutes because all your doing is updating that 5mb app. Something that I found interesting was the exclusion of Puerto Rico or even Canada. Something else that bothers me is the inability to call out verbal notices when the app is in the background, for example if your writting a text messege or changing albums on the zune app, or reading an email. It should have the ability for background audio as well.

George,Thank you for the comparison video. It is appreciated.

I would like to know how it compares to AT&T Navigator. I know most people do not like the app from AT&T, however, I find it works well for me. I would use Bing but I don't like how I have to force the turn-by-turn. I would much rather pay a one-time fee of $29.99 vs. $9.99 a month for Navigator if I knew for sure the Navigon app was better.Has anyone made the switch???

So based on all the reviews/comments, do these seem like the main differences? - People generally like Garmin's interface the best for actual navigation/usage and integrates well with the device, but it mainly lacks downloadable maps. It is a bit costly as well.- NAVIGON has the fully downloaded maps which gives it a huge advantage in many areas, but is missing some of the native integration points (copy/paste and app connect) and has somewhat dull map tiles. - There is Turn-by-Turn which doesn't have 3D maps nor does it read street names, but lets you partially download maps (with the promise of full map downloads very soon), and has a very cheap price-tag. It also is missing app connect, but has a fairly decent UI overall.- aSpass is another one, and I happen to think it has a pretty nice interface, but it lacks major features like searching for points of interest.- GPS Voice Navigation is rather simple, but has a pretty limited feature set with not much info on screen and a really basic interface.Maybe a comparison chart would really help out some users on this one...

Nice comparison. but I'm the Turn by Turn side right now and I'm waiting for there update. plus I really like the map better in turn by turn. and the price made me smile as well.

I'd even pay more then $4 as you suggesting, **** I'd pay even full Europe version. But they should realize that a lot of WP7 phones have only 8Gb memory. I live in relatively small country and in Navigon 3 maps for Czech Rep. took only 80Mb plus lets say 20mb for Navigon itself. Even if I double it for Navigon 4 I'd be installing 2,1Gb of useless maps.

I only need maps for UK, Germany, and sometimes France. I'm fine with the current price (or even later non-promotional one) - what stops me from purchasing the app is inability to download only some maps and save precious free space on my phone. With all WP7 devices so far only having 8 or 16Gb of storage - I'm sure it is a major concern for all potential users.

We shouldnt have to download the whole world. Make it a selection at least by state. Metro UI please. graphics look like a cheap cartoon

I downloaded the US version as soon as it came out and I am super impressed by the fact that it actually works!!! I have an HD7 and I have been pretty much dissapointed with all the nav apps out there for wp including garmin and turn-by-turn. God knows how many times I had to listen to "lost sattelite connection" (argh!). This is the one I have been waiting for. Thank you Navigon! In my opinion, well worth the cost and space issues. One very satisfied customer here :)

I've been having the same problem, it seems to keep recalculating because it gets locations from less than accurate sources like A-GPS or Wifi, where other ones I've tried seem to focus on the actual GPS satellite fixes. Does this one do a better job of not randomly jumping you out off the freeway while you are driving and issues like that?

So...it's the iOS version again ? You force me to buy maps for 44 countries even though i only need 1 of them - and for a price for which i could buy an external Navigon device with all the maps included ? I don't think so.

"Turn by Turn nav"Absolute rubbish. I can nip onto Bing maps and be connected in seconds while Turn By Turn will re-plan the route over and over and over again. Who knows what's going on so I'll gladly leave that application behind. (UK)

p.s. NAVIGON not listed on Zune for me over in the UK?

http://www.windowsphone.com/en-GB/apps/da8734ed-666a-4227-81ea-8fc937752d98Here's the UK listing.

I live in the UK, but have a US live id for my phone in which I successfully use the Zune pass.when I clicked to buy the European version, I got re-directed to the US marketplace (I expected this) there, the price offered for the European Navigon, is $69, this doesn't equate to any of the prices above (59 Euros or 84.99 Euros) $69 is about 81 EurosI'm sure I've missed something, can anybody explain?cheers!
Windows Central Newsletter
Thank you for signing up to Windows Central. You will receive a verification email shortly.
There was a problem. Please refresh the page and try again.