NAVIGON USA available for Windows Phone 8, NAVIGON Europe on the way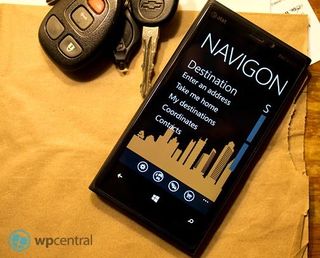 NAVIGON USA, one of the more popular navigation apps, has made it to Windows Phone 8. NAVIGON Europe is still in the certification process and should be available for Windows Phone 8 soon.
The NAVIGON apps are feature rich navigation apps that includes user selected downloadable maps. This allows you to travel without depending on a data connection for your maps.
Version 4.5 of NAVIGON USA has all the features of the Windows Phone 7 version save the Text-to-Speech feature which will be added in an upcoming update.
For those not familiar with NAVIGON, a Garmin brand, some of the features include:
Traffic Live
Active Lane Assistant
Speed Assistant
Safety Camera
Weather Live
Extended Pedestrian Navigation
Destination entry with coordinates
Can be used in portrait and landscape format
Automatic day and night mode
Direct access and navigation to contacts saved in the smartphone's address book
Take Me Home function with a single click
Route planning function
NAVIGON USA is running $49.99 and NAVIGON EUROPE should run $99.99. Now before you gasp at the price, you have up to date, downloadable maps for the entire U.S. and forty European Countries respectively. You also have the Latest Map Guarantee from NAVIGON that guarantees you have the latest maps (provided by NAVTEQ) available on your Windows Phone.
We'll keep you posted on NAVIGON Europe for Windows Phone 8 but if you're looking for a very good navigation app for the U.S., check out NAVIGON USA for Windows Phone 8 here at the (opens in new tab) Windows Phone Store.
Via: Smartphone France (opens in new tab)
George is the Reviews Editor at Windows Central, concentrating on Windows 10 PC and Mobile apps. He's been a supporter of the platform since the days of Windows CE and uses his current Windows 10 Mobile phone daily to keep up with life and enjoy a game during down time.
So if you bought NAVIGON on WP7 you have to buy it on WP8 too?

i don't think so. but then again, i don't know.

No. You don't have to buy again

Nope... you won't have to purchase it again.

Thanks guys, relieved to hear this!

You never need to buy a WP7 again on WP8. Simply select the app, click "Buy" however it will just reinstall the app, as you bought it before, just like reinstalling on a WP7 device.


I hope nokia releases the nokia drive for all 7.5 devices, i have a lumia 900 so cant complaint but it will be a very awesome feature to have with the upcoming 7.8 update

Why would they do that? Nokia Drive is one of the major features distinguishing Nokia from the other WP oems.

It is rumored to be out for all phones next year.

Navteq are owned by Nokia aren't they? Hurry up htc and just make it available so we don't have to pay 99 dollars for the same maps

don't all wp8 phones have nokia maps and nokia drive? if you own a wp7 phone, then idk.

No. Nokia Maps and drive are Nokia aps. On Bing maps all WP8 get downloadable maps from Nokia. There WP8 has basic navigation. Walk or drive.

Technically, it is Nokia maps.

But Drive is not included. You don't get the voice turn by turn navigation.

there are actually some nice features in this app that Drive+ doesn't have (not to mention Drive-, which is what HTC/Samsung can get). Not sure it's worth the 50/100$ On the other hand Nokia's maps include many more countries and will probably get some of these features eventually

I prefer Navigon to Drive and very happy they got this out so soon

I second that...i just replaced the pinned Drive icon with Navigon. It is so...complete.

Wait, it's using Nokia's (navteq) maps?

Nokia only owns them...but Navteq runs independently.

Did anyone know if you have to buy it again?

you do not have to buy again. I just installed this on the 920. Very happy this came out so quickly as well. Lost without it. Live traffic is a must...

But, you have Nokia drive...

Navigon is a little better overall than Drive IMHO plus they have Live Traffic with auto redirect that lets you pick an alternate route if traffic is delayed on your present route. Killer Feature let me tell you :-)

Navigon also includes speed cam locations ;)

Where? Is there a setting to enable/disable it? You need that option because detectors or use of databases for camera locations is illegal in some states. Navigon actually gives you a warning about that.

Anyone here with the US version can let me know if this time around it includes Canadian maps?
Thanks

Its the same Navigon...wp8 update. No Canada.

Navigon doesn't include Canada, but can be added with the FreshMaps XL package. I can't remember what it costs, though.

Does anyone know if the maps can be installed to the SD card? I want to get a Lumia 810, but 8 gigs is kind of small.

No..in wp8 the SD card is for pics, videos and documents only. On wp7, the SD card would become part of the internal memory.

Some of the voices are missing. I wish I knew where to complain.

I have Navigon from my Samsung Focus days, now I have a 920, So you recommend Navigon over Nokia Drive?

I do, till Nokia Drive gets out of beta with some real options. It is good enough if you don't own Navigon or something of the sort.

i love drive, but even on old win mobile the builting navagation bing used to call out the name of the streets, drive doesnt, not a complaint just miss that. A more full featured drive would kick a--, id even pay if it was an extra.

So Navigon users, does it read out street names AND update directions without tapping?

Thought Bing Maps was good enough on WP7 except for the constant tapping to update. I was absolutely shocked that Nokia Drive wasn't reading out street names! All I want is automatically updating (and prompt) voice guided nav without droping a fortune (in mobile app terms). If I never have to look at the screen I'll be happy.

I'm just not happy with Nokia Drive as it stands right now and kinda miss Bing Maps (was testing out Drive on a familar route and it suggested a convoluted series of turn toward the end when all you have to do is keep going straight for quarter mile).

I feel like what I'm asking for is not outrageous or complicated. I have turn by turn but its kinda the same problem with not reading the street names. Sigh, is my only option to shell out $50 for Navigon? Really?

You have the Nokia Drive+ Beta downloaded? If so, check your voice settings - they added announced street names. That feature specifically is also called out in their Nokia Conversations blog post, and a few people in the forums have reported hearing street names.

I downloaded the English voice. I'm only getting "turn left" or "turn right" No street names are being read. Is there some other setting I need to enable?

Went back to look at the voice packs again and there are 2 English (US) versions, exactly the same size except on says "announced street names" next to it. (I feel like that wasn't an option when I got my phone on Nov. 10).

Anyway, downloaded that new voice pack and tested it on the way to work. It's basically what I expected to get in the first place with its reading street names right before I have to turn. I even went the wrong way to test rerouting and it was quick. I'm happy now with the basic functinality of Drive beta and if they add more bells and whistles thats great too.

I hope this app can use the standard WP8 map data. It wouldn't make any sense to have navteq maps twice on the phone

Can't wait for the European version to come out for WP8!

There seems to be so much confusion around maps in windows phone 8, that I suggest you to go and read this:
http://conversations.nokia.com/2012/10/31/frequently-asked-questions-maps-on-windows-phone-8/ Someone at WPCentral could also either make an article based on the facts around internet, or make an intreview with someone from Nokia (preferably with Pino, he has been active in explaining things to people). I'm sure there are many people who still don't understand the difference between Windows Phone Maps, Nokia Location Platform, Nokia Maps, Nokia Drive, Nokia Drive+, and other navigation-related apps. Then there are these 3rd party apps, like Navigon, that will cost you money (even though they use Nokia's location platform as well). HTC and other WP8 manufacturers are able to license Nokia Drive very soon, if they are willing to pay for it. But the safest choice to get all the goods for free, is to pick up one of the Lumias.

Second the motion that WPCentral needs to make an article demystifying this... I feel like the situation could be much clearer.

Thanks for the link. With T-mobile the only Nokia WP8 option is 810 which is only $50 less off contract than 8X so I'd rather buy the HTC.
Question is will the HTC 8x get Nokia Drive? The faq only says this:
"Microsoft will decide in which countries and on which devices Nokia Drive will be offered to their customers"
Then this article says Nokia announced it would offer Nokia Drive for all WP8 devices:
http://www.bgr.in/manufacturers/nokia/nokia-drive-is-coming-to-all-windows-phone-8-devices/
Any ideas?


Design sucks. For the second time again.
Windows Central Newsletter
Thank you for signing up to Windows Central. You will receive a verification email shortly.
There was a problem. Please refresh the page and try again.