Get ready for the Sochi Winter Games with the official NBC Sports Live Extra app for Windows Phone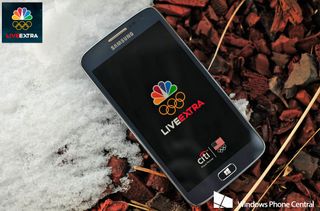 Just in time for the 2014 Winter Olympics, NBC has released their Sports Live Extra app for Windows Phone. The app is going to be very welcomed for fans of the Olympics as it gives access to free live content and more. Let's check it out.
Earlier last month is when we first heard that NBC was working on the app for Windows Phone. At the time they said they'd have it ready in time for the 2014 Sochi games, so we're very happy to see NBC meet their deadline with a few days to spare. Here's what you can do with NBC Sports Live Extra for Windows Phone:
Video on Demand: access video clips, preview upcoming events, and check out highlights from past events
Online coverage schedule: browse the online schedule and set event reminders
Live Events: watch marquee NBC Sports events LIVE!
Full Event Replays: relive all the great moments with full event replays
Push Notifications: receive reminder alerts for upcoming events
The app will give users over 1,000 hours of live sports for free during the Olympics. The app will definitely still be useful after the games since you'll be able to use it to also watch thousands of sportin events that air on NBC, NBCSN and the Golf Channel. That's in addition to regular season NHL games, the Stanley Cup Playoffs, PGA Tour, U.S. Open of Golf, Notre Dame Football, French Open, Premier League for "football" fans, Major League Soccer, Formula One, IndyCar, and much more! You can hit up the Live Extra Schedule to see when games are playing and available for streaming.
Like we said above, all the content for the Olympics will be available free using the app. Going forward though you'll need to be an authenticated cable, satellite, or telco customer to get the vast majority of content.
It's still nice that you'll be able to use the app to watch all 15 Winter Olympic sports and all 98 medal events streaming live. Not bad and very welcomed on Windows Phone 8.
Want to pick up NBC Sports Live Extra for Windows Phone 8? Of course you do, but you'll obviously need to be a US customer. Grab it from the Windows Phone Store.
Thanks, Jay S., for the tip!
Windows Central Newsletter
Get the best of Windows Central in in your inbox, every day!
Stoked! Can't wait to watch the snowboarding events.

Lets just hope the app has minimal bugs, and works well from the get go..

Sam, You need to rewrite your article and fire yourself as managing editor. This NBC Sports Live Extra app, like most other Windows Phone apps, is years late and doesn't work. Par for the course I guess. Like others have posted below and in the Windows Store reviews this app is only showing Sochi Olympics. I am logged in through my DirecTV account (where I subscribe to NBCSN channel 220) and you can only watch things related to the Winter Olympics. You ignoring posts about this and not knowing this shows how bad you are at your job. Sorry for the hate but I am just frustrated with Windows Phone. The Nokia 920 that I have is a great phone. However, the lack of common popular apps like Watch ESPN, SiriusXM, and until yesterday NBC Sports Live Extra is just frustrating. Adding more fuel to the fire is when they come out the apps don't work well. Like Skype and now this app. It is really maddening. No wonder Nokia called out Microsoft about this. Sam, why don't you get to the bottom of this major bug in this app? Or are you just a corporate shill espousing the joys of Microsoft while ignoring all the problems?

Well aren't you a genuinely nice human. Why dont you rant at the companies that make the apps you dont like, or at the companies that wont make apps for wp instead of attacking the editor of a news blog. Are you honestly so maladjusted that you think its sams job to bug test all apps that arive on wp? Whats he gonna do once he finds a bug, use his super powers to force bill gates to re-write the damn code?

Kellzea, Sam is that you? There are so many things wrong with your statement I do not even know where to begin. So let me just break it down for you. What I am saying, and what many others posted below and in the Windows Store, is that contrary to what Mr. Sabri espouses above the app does not work well. Mr. Sabri stated below, "It streams a ton of sports" in a dismissive way. This is 100% false as of 2/5/2014. I just thought an article from the editor of Windows Phone Central where he reviews this app would maybe mention that it is only streaming the Sochi Olympics as of 2/5/2014. But no, he further claims in the comments once this is pointed out to him that "it streams a ton of sports." People pointing out this obvious error in reporting and asking for him to maybe follow-up with his contacts at Microsoft or NBC Sports to see if the app will work properly is not out of line. Mr. Sabri should have known this before he wrote the review of the app or at the very least looked into it after numerous complaints surfaced pointing out how the app only streams the Olympics. You asked why I complained at Windows Phone Central about a Windows app? I did so because he wrote a review of the app omitting a major flaw with the app. Then when this was pointed out to him he continued to report the false information that "it streams tons of sports." That's why.

Oh my. This is one app which make or decide phone purchase decisions for many EPL fans. Glad it's in WP now.


+1520 Shit just got real,

Yesssss!! I can watch my Man Utd games now!

I've been watching all season.... You dont want to look. Trust me :(

Not available on l920 why?

Just try back in a while..

Are you in the United States? What region is your phone set to?

This is a US only app.. since NBC is a US company...

just change the country in the settings and try again. than you can turn back to your real country.

Man, WP has really come a long way when it comes to apps that other platforms get to enjoy for special events...

Spoke too soon, it only supports the Winter Games. No Soccer. It's. A start I suppose.

why would they release the app for summer olympics right now?

He means soccer as in the EPL fixtures, not the summer Olympics

Exactly. Can anyone (Sam?) confirm whether the other sports should be available right now? I'm logged in via xfinity (I have have the necessary channels) but can only see Olympic sports.

To answer my own question... I hit the "how to use" option in the side menu, the scrolled down that screen and hit "start". Then you can see non-Olympic sports, but that seems to be the only way you can, so its a workaround. Presumably after the olympics are over things will be more straightforward, but right now, this seems to be a bug.
Oh and just for confirmation, the android version also now carries the Olympic ring logo and defaults to Olympic coverage, though you can more easily access non-Olympic stuff in that version. Edit: scratch the above method. While I can look at other sports schedules, I can't play anything, either live or recorded (and I am signed in via xfinity). :'( Does anyone else see anyway if playing non-olympics sports in this app? The android app seems to work fine.

At wozburger, thanks for the tip kind Sir. T-Mobile unlimited data is gonna come in handy over the weekends.

Hey @highdefedition, did you get any of the other sports to actually play, or could you only look at the schedule like me? I can't "favorite" any of these other sports either...

@wozburger. No, Only the Olympic section works. No Premier League Football for me :(

The app logo has olympic rings on it, so I assumed this one is a special release for the winter games with a full app later

The NBC logo always has the Olympic rings I think

during the olympics they do, but not always, why would they always have the olympic logo, which i'm pretty sure is the property of the IOC so they would have to license it

I knew I wasn't nuts: "Some NBC Sports programs, such as golf and Olympic sports, use a bug that has the Olympic rings below the peacock" Its not just Olympic years for sports programming it seems

Well Microsoft built the entire online infrastructure that will host the Sochi website, media streaming, etc. on Windows Azure so it's not too much of a stretch to expect WP support for it. :)

Been waiting for this app a long time. Thanks.

Made my day, cannot wait for the Hockey games

WPC is really running with the samsung thing I see.

You mean this thing we posted over 12 hours ago? http://www.wpcentral.com/samsung-huron-leaked-upcoming-windows-phone-81-device-verizon

And what if they were? What would it matter?

Video quality sucks. Tried a few, waited for the stream to adjust and still looked like 1999 web video quality. Bummer. Especially now that I've got a 1520 to watch video on.

So... what you're saying is that it will look fine on my 822. lol

Ha, right. I do have a 520, is could try it on that.

How does this differ from the Sochi 2014 Results app for Olympic coverage?

If you're in the United States (or selected US territories) you'll be able to watch games live. Sochi 2014 results app can't do that.

Finally! Thanks NBC. Now bring on These Games! #GoTeamUSA!!!!

OMG the Samsung phone in the picture has no capacitive buttons!

Well it wil be shamelessly US biased, but at least it wont give your information to the Russian Government

Crap!!! Just streaming Olympics??? I want EPL? We want soccer

It streams a ton of sports. Just the Olympics are free.

Sam, you keep saying it shows other sports and it tells me that you haven't tried the app. I have logged in with Comcast and still nothing. Nobody cares about winter Olympics, we wanna watch the EPL!!

Same here. Logged in via xfinity, but still only olympics coverage available. See my comments above for more details!

Wrong. Just the Olympics unless there is some bug. I've logged into Xfinity and still only Olympic events show. Not even an option to see EPL or other sports. Very misleading article and app.

dude what's that phone in the cover?? no back and search capacitive buttons? is this the huron?

Like the Galaxy S4, the Buttons could be invisible until you tap on the Screen.

only for the olympics? i knew it was too good to be true.

Why no support for soccer and other sports. I was able to get to it by going through the tutorial, but it still doesn't play when you push on it. C'mon NBC.

Just one more criticism from me (for now) - the "help" page in the app just links to a web page that isn't mobile-friendly and features zero information on the WP app. Seems like a bit of a rush job all round, sadly. Hopefully they will get their act together eventually, but considering the fact that they have had iOS and Android apps out for a long time now, they should really have been able to release a much better experience. Sam, perhaps you could do us a favour and update the article to reflect the issues raised in these comments?
Windows Central Newsletter
Thank you for signing up to Windows Central. You will receive a verification email shortly.
There was a problem. Please refresh the page and try again.