NBC's Breaking News updated as a universal Windows 10 app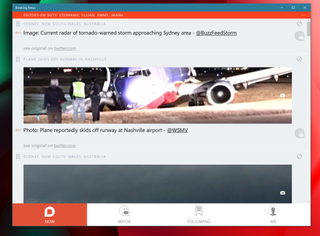 Following on Garmin Connect, 1-800 Flowers, and AccuWeather we can now add NBC's Breaking News app to the mix, which has not had an update in years (I last wrote about these apps in March 2014). Breaking News is one of my favorite services as it is just that: an app that brings you the latest news feeds in real-time as they happen.
Breaking News has had a long history on iOS and Android with many new features like Whoa, Following, and filters. Those never made their way to Windows 8 and Windows Phone 8, but they are here now on Windows 10.
Currently, we only see the PC version of Breaking News as being available, but the app apparently scales down to the phone orientation, so we see no reason to believe that in next few hours (or more) we'll see it propagate to that Store as well.
Breaking News features alerts for significant and emerging stories as well as creating an account and always being on top. The app is ideal for snapping in Windows 10 where you can just see a real-time live feed alongside your browser or Office. Officially, the version is now 2.0, but it is much more than that, and I know I'm very excited to see this app get an update after so long.
Download Breaking News for Windows 10 (opens in new tab)
Via: @Brandonleblanc
Daniel Rubino is the Editor-in-chief of Windows Central, head reviewer, podcast co-host, and analyst. He has been here covering Microsoft since 2007 when this site was called WMExperts (and later Windows Phone Central). His interests include Windows, Microsoft Surface, laptops, next-gen computing, and for some reason, watches. Before all this tech stuff, he worked on a Ph.D. in linguistics and ran the projectors at movie theaters, which has done absolutely nothing for his career.
Looks like Windows 10's universal app strategy is working early on. Let's hope the momentum sticks.

Agreed! This is good to see. I can actually edit my own posts in FB beta now..... Man oh man!

And you can finally reply to comment as well!

Its definitely not being ignored, thats for sure.

I also feel the same. Some of the Windows apps existed only on phones and others on PC. Thanks to universal apps, these apps are available on all the devices.

Ublock origin is blocking the link for some reason

That's because it's an affiliate link. They don't link direct to the store anymore. Sucks from mobile. They even modify links we post, Jesus H. Let me try this again: https://www.windowscentral.com/e?link=https2F%2Fclick.linksynergy.co...

Let's not get crazy over there!
But it is a good start ;)

When that Snap app wakes up to Windows 10 you can say that.

No thanks. That's the reason my little siblings have windows phones. I don't want them to have access to snapchat...

Thankfully IF it ever does get released, Windows devices have great Parental controls so you can block that app from the child's account. :)

The missing Snapchat app as a talking point to validate the app gao is getting old. It's more about banking, home automation, Electronic components etc... That's where the biggest gap is at. Posted via the Windows Central App for Android because I am unfortunately with Sprint

Mine are the smaller dating apps. Haha. Must have?

Way to set the bar for an impossible standard. If you're waiting for that, all indications are that you will be eternally disappointed.

While I understand that in the states they use it a lot using the most windows-hostile app developer as a metric is not a great choice.

the one still size of the Grand Canyon. :) but I'll take these and more! Posted via the Windows Central App for Android

Best cartoon channel but what?

Jajajajajajajajajajajajajajajajajajajajajajaja I'm gonna die!

So many news! Updates! New apps! GO GO W10!

Sure, but still nice! :) Posted via the Windows Central App for Android

Still need twitter, Viber, windows central, line and metrotube universal apps

Yeah Twitter on Windows 10 PC is gorgeous, functional, and always updated. The mobile client is barely sufficient. Viber I feel will be here sooner or later, Line def cares about WP because they always update their app, and metrotube its a matter of time. Mytube! is better IMO thou.

Line updated their app to w10 universal one but the mobile version is not available yet. I tried both youtube apps, I prefer metrotube UI.

Metro tube have a windows phone and PC app. The windows central app is on it's way. Twitter, well http://www.windowscentral.com/twitter-talks-about-design-its-universal-a...

@TechFreak1:
The promise of a new Windows Central app "Coming soon"™ has reached Microsoft's standards already...

Viber universal app is coming, wrote them message on FB :) Wasnt tipping it, thought its kinda obvious lol.

Of course, knowing the community news like this will get completely overlooked and ignored when any app gets pulled from the Store. Who needs positivity when you've got negativity, right? :P

Oh, they're still negative in this thread. It's always "yeah, but" or "what about".

Yup! But unfortuantely, that's just like the News as well.

By present day definition, good or positive news is no news. Only negative news qualifies as news. When last have you heard any good news in the media?? I think it's considered a waste of airtime or bandwidth to report good news these days! Sad times :-(

That's not a modern phenomenon.

True, true. I guess it only appears worse in the connected world.

@Gatanui:
It's okay to have a "The glass is half full" instead of a "The glass is half empty" approach.
Sadly with Microsoft the situation is neither, but "This glass is 'Coming soon'™" instead...

Woot! Love this app so much and am glad to see it's return. Don't forget the fox news universal app!

And the apps keep coming! Now some airline apps like Southwest or JetBlue would be nice. And a universal DirecTV app!

Agreed. Any news on the DirecTV

ATT rep said a Microsoft rep was in their store on launch day for the 950 and told them a fully function DirecTV windows universal app for pc an mobile is forthcoming, but no expected date yet.

This is one app we don't need. NBC news is a joke!

We need any and all official apps we can get from.any and all big name company's, networks and news networks we can get!

@Mark Morales. I'm sorry there is no "we" in "I". As "we" the general user base don't agree with that statement. "we" need all the official apps "we" can get. Otherwise "we" will not have a vibrant and thriving ecosystem.

All the major news outlets are jokes. They all traded integrity for ratings. Now facts are debatable in our world... SMFH

Is it just me or does this app not have a live tile? I pinned it to start on Windows 10 (Surface Pro 2) and it doesn't do anything. I know sometimes it takes a little while for a live tile to start but I was wondering if this app even has a live tile.

Breaking News or Breaking Sensationalized Overly Dramatized News

Welcome to the 21st century where the media doesn't care about integrity and the audience somehow care less.

How do I get windows 10 on my phone

Search windows insider program on bing

That's the thing, they can try to ignore windows phone but never the PC jejejeje.

Seems windows universal apps are inky being released for desktop. Moble still being ignored. Accueesther is a perfect example. Mobile is still WP 8.1 app, not. The wup app.

The new accuweather app has a mobile version too

But it's not available. I downloaded it after this story appears, it's version 2.7.0 same as the version on my 920, which hasn't updated since the 950 was released (the last time I used it).

This app is on mobile... most universal apps are.

This is another plus. As a bonus, I went to check it out in the store when I saw that Pandora finally released a PC app. I must have missed that post. Posted via the Windows Central App for Android because I am unfortunately with Sprint

Their PC app is amazing. So much better than being bogged down by the animated ads on the web page

I hope this momentum doesn't stop :).

Wooosaaaa. Glad to see it back and even nicer that its universal.

This is fantastic I can barely keep up with all the new apps especially the universal ones. Android/apple may have more.apps but the quality of the new windows on is definitely a plus rather than loads.of.different.ones mainly repeated in different forms

NBC's Breaking News App not available on the store for windows 10 mobile tried by clicking the link still not available....! Any suggestions?

Read the article. Not yet available on mobile.

I had this on my 920 a good while back... though I didn't like that it had ads. I even sent an email to the dev once asking if would ever release a premium one without ads, better got a reply. I might check out the desktop version later, to see any changes.

It's working! It's working!

I really like breaking news on mobile. Hoping the phone update comes soon!
Windows Central Newsletter
Thank you for signing up to Windows Central. You will receive a verification email shortly.
There was a problem. Please refresh the page and try again.