Need a last minute movie rental this weekend? Official Redbox app for Windows Phone 8 now available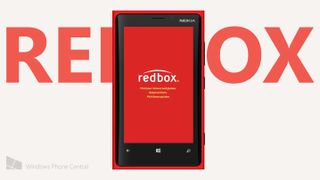 This has been an incredibly busy week for Windows Phone, despite //BUILD/ having nothing major in regards to Windows Phone news. We've seen the Discovery Network release three apps, ABC News join the fray, ING Group, Voxer, and more! Crazy right? Well it's not over because Redbox now has an official app in the Windows Phone Store. Details after the break.
If you're an international reader you might not be too interested in Redbox (www.redbox.com), it's a movie/video game rental service based in North American and primarily serves the US and Canada. But, you should still be excited that there is an official app like this joining the platform. It's a win-win and shows that Windows Phone is gaining "mainstream" momentum. Onto the app.
If you've ever been hanging with a group of friends who still enjoy last-minute DVD/Blu-Ray rentals you've probably used Redbox. You've probably also been the one friend in the group who couldn't really use their phone to reserve either a movie or video game. The app has currently only been available on iOS and Android. Here's what you can do with Redbox for Windows Phone.
Find a Redbox location near you
See what titles are available at a specific Redbox location
Reserve the rental and checkout from the app, all you need to do is pick-up later
Driving directions to nearest Redbox
View movies and games by release date, genre, and rating. You can also watch trailers from within the app.
Redbox is a nice service. While I'm personally more likely to use streaming services like Amazon Instant or Xbox Video to get last minute rentals, Redbox still has a place in my life. I tend to frequent the service when I'm going to a friend or family members house with relatively poor internet. It's also a really fun way to pick up a video game on a whim and see if it's something you'd like to buy after playing it.
No double wide tile, but you do get nice lockscreen support that displays movie box art in a nice looking way. Oddly, no fast-resume either, but the app is functional and not bad for version 1.0.
The app itself is free and available only for Windows Phone 8. You can grab it here in the Store, use the QR code below, or swipe to the right in our app. And don't forget to sound off below with feedback on the app.
What movie should I watch this weekend that's out to rent? Give me your suggestions!
Thanks for the tip AndroidtoWM!
And, even if you don't want, or need, this app you should install it anyways.. The same thing goes for all these official apps that keep pouring in.. Every one of us should install as many of these official apps as we can so we make the developers feel like they are supporting WP for a reason.. ✔

The more apps you download, the faster your "other" storage grows. Where do you think all those 2, 4, 6, 8 megabit updates are stored for each app update. Microsoft must support app developers first with more than 8 GB (4gb) internal storage.

When did IGN get released?? Can't even find it in the store..

This post we did has the story. http://www.wpcentral.com/ing-launches-banking-apps-windows-8-and-windows-phone

Aye, you mean ing banking? Not the ign video game site....

Yup! My bad. Fixed it up above, little dyslexia there :)

Well, im dyslexic, and I attest that comment❎

Haha I got happy thinking there was an IGN app then .. :(

Download link not available in the app

Cool news for Redbox fans. I did notice in the article that its said that an IGN app was announced or released. Was this covered on the site? Anyone have a link? I searched the store and found the same old unofficial apps.

ING not IGN lol. IGN is a gaming site

Bingo. My brain meant the banking service, but my hands went gaming. Fixed.

Redbox Comcast with their Xfinity remote app big names keep on coming! WP is here to the long run baby!

Awww. That's a bummer haha

Man, WP7 must be one ugly step-child.

Nice! I had written Redbox a half a dozen times requesting this app!
ING has an app--damn, I had ING Direct, but they recently got bought out by Capital One here and the account switched over. But Capital One doesn't have a Windows Phone app (although, their mobile website is pretty solid, so I guess that's better than what Citi or U.S.Bank offer). Bank of America's banking app is pretty good for WP8, but Chase's is the best. I am actually opening more Chase accounts just because I want to support them for their support of WinPhone. I'll write them to let them know too.

WP haters GONNA LEARN TODAY!!

Sam, I think Unity forming a strategic partnership with Microsoft is major //BUILD/ news for wp8.

Haha yeah, I was waiting for someone to call me out on that. The Unity news is totally awesome. I just meant nothing major because everyone kept hoping and dreaming for WP8.1 info. Even though it's not quite ready.

Haha :) 8.1 will come in its own time, but I do believe 8.1 will be a major push to solidifying Windows, XBox, and wp8, not sure what happens to RT, or if it is even needed when that happens.

Xfinity and now Redbox. Had to use my wife's GS3 to reserve The Call with Halle Berry today, not anymore. Thank the App Gods for these small but awesome gifts.

This app is great! I was waiting for an redbox app.. Windows Phone been winning lately.

Why isn't Xbox video on windows phone?

No, in Canada Redbox is still in the "testing and evaluation phase" Eventually it will be available assuming they have the success they do in the states, but right now they are putting their feet in the water and seeing how it goes.

Ahhh thanks for the heads up. I'm in southern Ontario and they seem to be pretty popular around here! Hopefully all goes well.

Have to see how this compares to Redbox Renter. I have been using that one since the 1.0 release and the author has worked hard to improve it and add new features.

I've been using Redbox renter for a while and with the latest update, its actually really good now..

I actually thought it was official u until this article. Redbox Renter is hard to top.

Fyi, sent developer email about not finding the app in the store. Said bc of copyright issues, had to rename it to red renter. Said he hopes it'll be in the store soon.

Ironically, Red Renter was his original name I believe. He changed it to Redbox Renter with one of the big updates awhile back. Looks like he's changing it back again.

Doesn't keep my login info
Kept signing me out
Can't find my location
Kept crashing
Back to the drawing board
Uninstalled

Yeah, same here. Keeps login me out when I exit. However, everything else works for me. Also would love it if the tile would flip and why no double wide love?

I guess I don't really need this app as I've never used redbox, and the only movies I've rented over the past two years were streamed through Xbox.

Is no one else having trouble with the app? Edit: I see I'm not alone with at least one problem.

I'm glad we have an official app. But it seems no one here knew that we had redbox renter forever. Which is actually damn solid. And will be back in app store soon.

I've been using Redbox renter for a while now. Its actually a really good app. Especially after the last update..

I might be dropping Netflix and strictly supporting redbox if they make an app for Windows 8.1

Are y'all gonna post an article with links to all the new apps from //BUILD/? I... I think y'all should.

With all these Apps coming out maybe we won't have to hear about how WP doesn't have any apps much longer...

Maybe, until the next trending app comes out for iPhone & Android... Then we have to hear people crying about it for the next 6 months until it's released on WP... if it ever does.

Don't forget we are still missing the 400 000 fart Apps and other low quality useless ones.

I've been waiting sooo long for this app!

Finally! One of the apps that I've wanted for a long time! Glad to see all these official apps being released.

YES!!! I love Redbox, reserving rentals is awesome!

Hello, i've got updates about facebook beta. Uh. Can anyone tell me this updates only bug fixes or what? #sorry english

This is just awesome. I use this on my wife's iphone, the only app I need now is Wells Fargo...then at least for me Windows Phone is complete. It would be nice to have a first party Instagram.

I use Redbox Renter and will continue to do so. Not only is it a nice app, but it is available for those of us still under contract on WP7.8. I'm not surprised to see issues noted with the new official app. The IOS app is terrible, especially having to use the iPhone app on an iPad.

Right now, Redbox renter is better than Redbox's initial offering.

Great news for some. I wish we had more international approved apps though

LOL. I was just talking to my wife tonight about how much I want a redbox app for my Lumia and then I turn on my phone to read this. This is one of those apps I've wanted for a while! Yay for windows phone!

I've been waiting for this apps. O hope I can reserve online anywhere

This is great news, not for me personally but for all those who had been wishing for an official app to arrive. Hope it gets better!

YEEEEESSS, YEEEEESSS, YEEEEESSS! I'ma contact PNC BANK later today and ask them about a WP8 app.

Yes! Been using RedBox Instant on XBL and love it. Nice to have the app for WP.

This app is great, except one thing. I have the 521 which has an exceptional speaker on it. YouTube videos are usually loud on volume 8-10. Viewing trailers in this app I had to turn the volume up some so that they were audible enough. Other than that, app is great.

Lumia 521 great speaker no flash and crappy camera.lol

Camera is actually pretty decent if you set it right instead of going auto settings. I have night scene and 200 ISO with 4:3 instead of 16:9.

I am fan on windows... But the way things are going. No new apps like redbox for 7.8 ... When WP9 comes out will WP8 be left in the dark.... I might be better off buying a iPhone 5s when it comes out and won't have this problem with apps. Would be nice to have all the latest app for my 7.8 but Microsoft is showing bad support.

Yes wp8 will get wp9 apps because it can update to wp9, Microsoft said this last year at the WP summit, and its not microsofts fault its the developers for being too lazy

Not gonna happen. WP8, 8.1, 9, etc. Use all the same underlying architecture. Apps developed for WP8 will work for years to come. Even if they would switch from ARM to x86 SoC's it still would be easy to port apps over.

Crashes a lot, mostly at login and account settings. But good to have it, hope they'll release an update soon to fix it.

Not this is sweet I always redbox

This and the mint app were my top requests. Two in one day!

So much love coming to WP8 this week. First Comcast's xfinity remote AP, then bestbuy and now an official redbox AP. I was using the redbox renter which was pretty good also.

If anyone here uses dish network and their Joey/hopper system like I do, please login to your accounts and request that a dish anywhere app be made for WP. Be sure to mention MS is offering developers up to 100k to develop apps for the platform. I also let them know I didn't want to hear the not enough interest excuse as Nokia alone has sold millions of windows phones.

I do. Good idea. I'll do that today.

Love all the new apps.. I want the WINDOWSPHONE 8.1 for sure

OMG THIS APP IS SO SLOW, I could make something way more responsive

I emailed them a few months ago and they said they had no plans to develop for wp and they directed me to there developer site to create the app myself.


FINALLY! This is the one app I've been waiting for since I got my first WP 2.5 years ago!

Is it just me, or have a lot of new official apps for WP8 been springing up lately? With more on the way. Pretty exciting time for WP8.

Redbox Renter is a lot better. Not going to use the new one.

I installed this but it's not wroking for me.
Windows Central Newsletter
Get the best of Windows Central in in your inbox, every day!
Thank you for signing up to Windows Central. You will receive a verification email shortly.
There was a problem. Please refresh the page and try again.