Nestle for Windows Phone allows you to use Cortana to control your Nest thermostat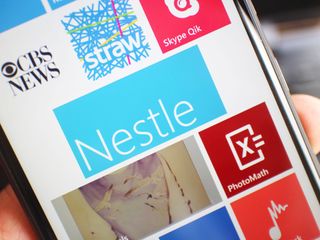 Looking for a Nest app on Windows Phone? Then you should check out Nestle for Windows Phone. It's a relatively new app in the Windows Phone Store and comes to us from the developer behind weather app Blue Skies. Nestle for Windows Phone allows you to control your Nest thermostat or Nest carbon monoxide/smoke detector.
Google bought Nest earlier this year, so we're not exactly expecting any official Nest apps on Windows Phone anytime soon. That said, there are official NEST APIs that developers can use to build apps. That's what we have here, an app for Windows Phone using official Nest APIs that helps to enable cool features like using Cortana to change the temperature in your house.
Here's the full list of features currently available in Nestle:
View your Nest Thermostat or Nest Protect
Change the temperature with a quick left or right swipe
Change HVAC mode on your thermostat
Set away mode on/off
Cortana integration for changing temperature (currently only for first thermostat) and setting away status
Individually pin transparent live tiles for each of your devices
Toast notifications for Nest Protect warnings and emergencies (Nest API doesn't support push notifications so it's not instant)
Some other limitations of the Nest API: the app doesn't have the ability to see energy usage, the schedule or add devices straight from the app. Hopefully the Nest API adds those features in the future and we'll see them added to apps like Nestle.
Those omissions aren't too bad though, because we gain some unique features for Windows Phone that you won't find on Android or iOS. Namely Cortana integration so you can change the temperature or set your away status and the ability to pin Live Tiles to your Start screen. Each Nest device in your house can be pinned to your Start screen with Nestle.
We don't have a Nest device around to test out the app, but we figured it would be worth highlighting for those of you with Nest devices in your house. There are a handful of third-party Nest apps in the Windows Phone Store, though do try out Nestle and see how it works for you.
Nestle will be ad-free for anyone who downloads the app within the week. So it wouldn't hurt to download in case you want to eventually buy a Nest product.
Get the app and let us know what you think!
Windows Central Newsletter
Get the best of Windows Central in in your inbox, every day!
No I won't , I don't want Google to spy on you. It's for your own good.

How in the hell is Nest spying on you?

So they've moved on from making chocolate now? ;)

That was going to be my joke lol

That's how I read it too. lol

I was wondering how a Nestlé app would work. Info on different chocolates and snacks?

Ditto. A way to have home delivered Crunch bars?

Yeah, me too. I thought "wait...there's an accent missing...it's Nestlé"...but then I though "'muricans...probably don't have the accent on the keyboard". Needless to say...I would be much more interested if it was actually a Nestlé app lol

The accent is on our phone keyboard and the Win8 touch keyboard if you tap/hold the e, but not on the PC hardware keyboard.

Cool. I thought you had to use alt-key codes. Good to know.

I have accents on my keyboard as my mother language requires them ;) But I know a lot of American and British keyboards don't come with the accents. And I'm ready to bet you that these articles are not writen on touch keyboards ;)

What is your mofo language and where are ye from? Been wondering about that. Out of fairness I'm from Orlando.

LOL I WAS about to say that

My first thought as well.. Mmmmmm... Chocolate! Might want to start thinking of other names before the real Nestlé gives them a call.

Exactly. Cease and desist in 3... 2... 1...

Lol anyone want a 4.4 kitkat

Have a break...! It wont surprise me if the App is forced off the "Windows (x) Mobile Store" by the Powers that (chocolate) bar.

Holy crap, that's a good one Android

Lol. I also thought about Nestlé.

I expect nestle to complain very soon and these guys will be scrumbling to change their name. To be honest i thought it was an application about Nestle products. I don't buy anything from the biggest advertisting company anyway but i think they should change the name sooner rather than later.

I misread as Nestlé as well. Haha

Isn't nestle a registered trademark for a chocolates and candy company?

No. You're thinking of Nestlé.

Completely different.... I imagine this will be no problem at all........ lol

actually, I think in this case it would be pronounced ness-ull

The T is silent in both cases... Nestlé = Ness-Lay, and Nestle = Ness-ul

Yup, another trademark dispute in the making.

Nope, nestle is a word, not a trademark.

Sure but it is being used as a name of a product and a trademarked name of a company can easily be confused with it. I would imagine it could be contested by Nestle, similar to how Rudy's app names were, no?

Except this app is offering nothing related to any product the chocolate company offers and could, in no way, cause any confusion with it

Tell that to the German supermarket company (or whatever it was) that successfully made MS drop Metro UI name.

Viipottaja is correct. Look how many of us thought chocolate. Tho is a problem for one company or another. They just need to learn of each other.

Nestle is actually different than Nestlé and not copyrighted. Nestle means to settle or lie comfortably within or against something.and is pronounced as "nes ull." I looked into it before hand :)

Yes I realize that but wouldn't count on that being sufficient.

Who else thought it said Nestlé?

Our who else HOPED it said Nestlé?

I think the name should be changed. Why even take a chance with copyright issues when you could take the time to be more creative with an app name?!?!

To get us all to pay any attention and to discuss it? :)

Thanks for the concern but nestle is different than Nestlé and not copyrighted. Nestle is pronounced like nes ull and means to settle or lie comfortably within or against something.

Got to wonder why they chose this name for the app - not like nestle are a small company!!!

See above - probably intentionally

Nestle is diffrent than the company, Nestlé. Nestle is pronounced like "nes ull" andmeans to settle or lie comfortably within or against something.

That will be their argument, but they will lose whether it is a free word or not. How about Apple? Apple is a regular word. If you named anything apple though you would get an apple core shoved so far up your ass you wouldn't forget it.

Tried setting up an account through the app (as I have a Nest) and it wouldn't let me... the keyboard wouldn't even pop up when I tapped the email or password fields. Had to set up the account online and that's giving me issues (Nest won't fetch a code to register to the account). Ugh. Technical crap. I just want to adjust my thermostat without getting up from bed :(

I use this app on my phone, and I have the site pinned on my Xbox One

That's really weird! I would suggest contacting Nest support. If you have any problems with the app after having the account set up, just shoot me an email!

Everything looks to work so far. However i am seeing ads on the top. I thought the article said it was ad-free for the first week? O_o

It was actually only going to be ad free until Nov 5th but I may make it ad free again for a short period in the future.

Good to see the developer around

What voice commands can you use? I haven't figured it out.

Lol, same question. You mention Cortana voice controls and dont say what they are :)

You can actually see all the voice commands by going to Cortana, pressing the see more button, and then pressing Nestle. The commands available for nestle include things like "Nestle set temperature to 72 degrees" or "Nestle set to away"

Hopefully Windows Central updates the article. I was also confused on how to utilize Cortana. I have tested it and it works fairly well. I hope in a future Cortana update it will allow these commands to take place behind the scenes and not require the app to load up and make the command and then leave the app open still. Ideally you would say the command, Cortana would complete the command and return to what you were doing before.

Good suggestion! I'll be sure to add that.

Check for an update, it now returns to what you were doing before :)

Somewhere in the article it said cortana only works with the first nest so far.

"nestle I am home/away" & "nestle set temperature to 70 degrees" or similar

You can actually see all the voice commands by going to Cortana, pressing the see more button, and then pressing Nestle. The commands available for nestle include things like "Nestle set temperature to 72 degrees" or "Nestle set to away"

Just downloaded this and it's not ad-free. What's the command to control it with Cortana?

Same, just downloaded and it is not ad free.

It was actually only ad free until Nov 5th but I may make it ad free for a short time again in the future.

It was actually only ad-free until Nov 5th but I may consider making it ad free again in the future. You can see the available commands by going to Cortana and pressing the "see more" button. The commands available for nestle include things like "Nestle set temperature to 72 degrees" or "Nestle set to away"


Thanks for responding.I would love to pay the app at full price whenever I can use Cortana for both thermostats from upstairs and downstairs. Would be great if I can ask Cortana for the current temperature, that way I can inquire from my MS band.

The ability to make it ad free actually isn't showing because of a bug but an update should be available by tomorrow fixing that. Great suggrestion! I'll look into adding it for a future update :)

I've been using the app but didn't realize its integrated with Cortana. I tweeted at Nest, wrote it in their forums not to miss out on the cool feature of integrating with Cortana... Thanks to the developer.

Glad you like the feature! If you have any suggestions for other voice commands just tweet at me or shoot me an email!

Am I missing something? This appears to be nothing but a web wrapper. What I am seeing is a mobile version of the Nest website. I even got an error message about not supporting my browser.

Yes, it seems so. Maybe it stops wrapping the web after you setup the nest device..

The login process is a web wrapper but the rest of the app is native. If you're still experiencing problems, just shoot me an email.

Damn, if I set the temp to 72 degrees I'd be dead. Celcius, of course.

You'd get a toast notification.

This nestle app maybe has no adds right now but it does have the option to pay for ads removal, and it's not free. Also it's a bit buggy and interacts with Nest web page a lot in the beginning, but I suppose there is no way around that.

By buggy I mean it drops some errors of nest device is not setup, while out should just say "please setup your nest first"

The app was actually only ad free until Nov 5th. Unfortunatly, I can't go around using the Nest web page for the inital login and approval part of the app. If you could shoot me an email with some more info on the bugs you noticed, that would be really helpful!

The name might get them a little trouble.

I'm going the Insteon route, as the are giving WP love

If you already have a NEST, well, ok But DONT buy into the google system. I have the Microsoft supported Insteon system, and while it doesnt look as cool as a NEST, if works great from my Windows Phone and from my Lumia tablet. It also came with a pan tilt zoom camera, and turns on and off the lights.

Hello! Up to now I was using the home.nest.com website as a tile, which worked great actually. The idea of a proper app was very appealing. So I downloaded, and paid the £0.79 for the ad-free app (to support WP development too!). It's nice enough, despite the slight bugs at registration, which I understand are inevitable. Loving the live tile, and it works well. BUT, I can't see any Cortana integration, I click on Cortana, and more and there's no Nestle app listed? Am I missing something? I'm in the UK if that makes any difference... Using L830 with Denim update.

Also, I get this a lot, when changing the temperature? http://www.itavenue.co.uk/NESTLESHOT.jpg

The mobile web page home.nest.com is better than this app

Downloaded this app and tried it with my Nest and it worked like a charm. Thanks Rohit for creating this. I used Nest's web page pinned to my Start screen prior to this and didn't like it because it was clunky, and I would have to sign in more often than not which was annoying. I really like how I can swipe left or right to change the temp on the screen, rather than the Nest's web page tap up or down for each incremental change that you wanted to make. That was a pain point of mine, and your app solved that problem. My favourite feature in this app is the speech integration to easily set the temp or home/away mode without having to go through the hoops and the live tile updates. That's all I need it for and it works perfectly. One note is that the wide live tile at times would update and look weird (the words and temp smushed together at the top left corner of the tile), but then it would correct itself after relaunching the app. I just use the Medium tile and it works perfectly. Good job Rohit!
Windows Central Newsletter
Thank you for signing up to Windows Central. You will receive a verification email shortly.
There was a problem. Please refresh the page and try again.