Netflix app updated with Windows 10 controls for mobile and PC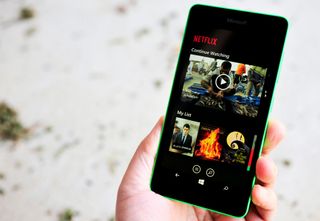 The Netflix app has been updated today to version 4.5.0.31. This refresh is the first update since early September when version 4.4.0.30 was released. The update applies to all Windows devices regardless of 8.1 or 10.
However, for those on Windows 10 there are some noticeable improvements to the UI to make the app Windows 10 focused. For instance, gone is the default Windows hamburger menu that happens when you run Windows 8.1 apps in Windows 10. Instead, there is now an ellipsis on-screen (instead of the upper left corner). Likewise, instead of making the window full-screen through the arrows on the Window taskbar users can now change modes with the player controls with a dedicated button.
Other than obeying Windows 10 UI design we are not seeing too many other changes. There is now the ability to see which version of the app you are on under Settings, which is welcomed too. If you find anything else, let us know in comments.
Download Netflix for Windows and Windows Phone
Thanks, Zapella T., for the tip!
Daniel Rubino is the Editor-in-chief of Windows Central, head reviewer, podcast co-host, and analyst. He has been here covering Microsoft since 2007 when this site was called WMExperts (and later Windows Phone Central). His interests include Windows, Microsoft Surface, laptops, next-gen computing, and for some reason, watches. Before all this tech stuff, he worked on a Ph.D. in linguistics and ran the projectors at movie theaters, which has done absolutely nothing for his career.
Did they fix the scaling? On my Win10 Machine all of the Cover art for movies are tiny and Barely fill the Window when maximized.

How about 1080p...damn it...

They need to rework it into a true universal Windows 10 app.

Baby steps. UWP is still a new development framework.

What do you mean? This Windows 10 app its an UWP app.

Not completely. It is still using some Windows 8.1 controls (buttons and textboxes). It doesn't use the back button in tablet mode. it has a Windows 8 style in app back button. It's not a full Win10 app yet.

You're obviously wrong, Windows 8 apps has a arrow button at the title bar (you can't remove it), this app doesn't. Also if you click on the three dot you clearly see a Windows 10 context menu, and if you click on the search button it doesnt bring the charm anymore, you'll see a search box (exactly the same as the Windows Store). Sure, Netflix didn't change much, they're still using some old UI elements, but this project obviously was changed to the Universal Windows Platform.

So no more search bar outside of the app window? That's what I was waiting for. The charmsbar search didn't fit anymore under Windows 10.

on the topic, Netflix sux bad on Xbox One, I hope they fix that... but not holding my breath

I assume this will be fixed if this is a universal app. As the Xbox One is getting Windows 10 :)

the problem is that Xbox one is unique, so even if the app goes universal the Kinect support is fated to be left out, which is the main problem.
the app was good, but then Netflix decided to make its app the same shit everywhere

I got a little bit too excited because I misread the title as there being a Window Mobile Remote control for Netflix. I had visions of kicking back on the sofa with my Windows Phone as a remote controlling Netflix on my PC.

Download PC Remote, it works beautifully; it has custom controls for several media programs, lets you use it as a remote mouse and keyboard, and can stream your desktop to your phone. I use it all the time for Netflix on my TV-connected PC.

Yeah I love the remote. It's great for having Netflix on PC and chilling on the bed

I see what you did there :D

This is exactly what I got from the headline, too. But a fullscreen button is good to I guess...

Miss the same feature, just for PS3

Netflix isnt working on my W10M

Netflix is by far my favorite windows app. These are the kind of use-cases that make desktop applications potentially a major hit. It's so much cleaner and easier to navigate than the browser version.

Netflix is my favorite as well. The only Windows Store App on my PC that I use everyday.

Now is integrated with Cortana on PCs :)

Just saw that, so cool... Eat your heart out Siri!

Nice! What can you make her do? Search, play? Does she get movie names accurately?

"netflix, find house of cards", things like that.

My Netflix app has been on this version number for about a week or so now and since the update it wont play any video just comes up with error, try a reboot and reinstall but still no luck.....so update to this version with caution!!

I had the same issue, but uninstalling then reinstalling the app fixed it for me on the M8 with 8.1.

Nice, I hope they bring to Xbox.

And this means finally Netflix fixed Windows 10 app crashing for the log in screen. so just that makes it a good update.

Hmmm. I wonder where the Add to My list button went? That's embarrassing!

It's still here for me... (On mobile at least)

I cannot get Netflix to work on my Lumia 1520 with Windows 10 Mobil 10536 at all. I've tried multiple times and all that happens is the black screen with Netflix in red appears for about 30 seconds and then closes back to the all app list. I removed it about a week ago and then reinstalled when I saw this article. Still behaves the same way. :(

Yeah, me niether. Exactly what happens on me Icon

Works for me now. I had to reset my 1520 because OneNote stopped working (my fault) and with no way to sign out of the Miscrosoft account I was forced to do the reset. Once everything was done and I reloaded all of my apps I decided to try Netflix again. It now works after doing the reset.

But guys, make up your mind, hamburger or ellipsis???

I saw that too. But according to Microsoft's Inclusive Design Language, the constant confusion gives us a temporary disability, so there's that.

From what I observed in Windows 10 mobile app design, the elepsis should be in the bottom to open up the app bar with items SPECEFIC to the current page. The hamburger resides on the top left and should open up top level options. Example: On the video playback page, the ... can be used to show options to download, delete, mark played, etc the current video. The Hambargur button should open up menu to navigate to other places in the app. People keep thinking they ... is the same as the =. they are NOT.

Another update to break the app?

Hopefully this update will make it actually work again.

DEAR GOD MAKE THAT WHITE BAR GO AWAY!!!!!!! Worse than before. I HATE that in Windows 10 universal apps don't start maximized and there's always that AWFUL white bar.

I like that it is not maximized now, previously it was shocking for almost everybody that all apps where fullscreen automatically. I prefer a lot how it is now. But I do not like the white bar at the top.

I guess everyone has their preference. I use a 3 monitor setup and I can manage not having to rely on top or bottom for multitasking. An I like how apps took the whole screen in 8.1. It really should be an option.

>DEAR GOD MAKE THAT WHITE BAR GO AWAY!!!!!!!

I made a Netflix helper utility that should do the trick: http://sticky-ux.com/apps/NetflixRemoteController/ It allows you to run the latest version of the Netflix app in fullscreen. Let me know if it helps.

They should allow small window size, it is restricting the height of the app to almost 66% of the height of the screen, I do not like that restriction. I would prefer to be really resizable to almost any size bigger than 100px x 100px.

Is it possible to cast with chromecast? Posted via the Windows Central App for Android

Any one knows? Posted via the Windows Central App for Android

Not yet my friend i'm still waiting :<

Hmm, DataSense still breaks this, when you're over your limit.

I was about to say about that it fits the current sad state of the Windows ecosystem if people get excited about new control buttons...
But I instead decided to go the sunny route with the drop of the ducking ugly hamburger button.

The volume control is gone know. This isn't a big deal but if you are full screen and don't have buttons on your keyboard for volume adjustment this is a pain for desktop users.

They also fixed the bug where pressing the spacebar no longer play/paused the video. That was driving me nuts.

Anyone up to Netflix and chill?

when will they give me a the ability to cast netflix on my phone or is it already there and i just dont know it?

This app really needs the cast feature so I can use it as a browser and play them to my xbox

Help the controls look nothing like mine the old and the new one look diffrent mine looks like a grey box and it doesn't have a button to go fullscreen it is so annoying
Windows Central Newsletter
Thank you for signing up to Windows Central. You will receive a verification email shortly.
There was a problem. Please refresh the page and try again.