Network Dashboard updated and now a free app for Windows Phone 8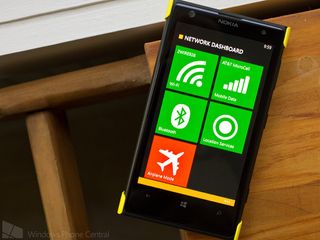 Network Dashboard is a rather nice Windows Phone app that allows you to pin common network tasks to your Start Screen. Network Dashboard was recently updated to version 3.0 to support Windows Phone 8. With the update the developer has dropped the price to free and brings along a few new features for good measure.
The version 3.0 adds a tile for location services as well as status detection for Bluetooth and Airplane mode. You also have a new default Metro Live Tile style and an in-app purchase for additional tile styles.
The additional styles normally run $.99 but for a limited time only developer is throwing them in for free. Should any new styles be added to the collection, you'll get those for free as well.
Along with Live Tiles, Network Dashboard will let you set reminders to adjust a network setting at a particular time of day. If you are constantly turning on/off location services, WiFi and other network settings Network Dashboard may make your life a little easier.
Network Dashboard is a free app for your Windows Phone 8 device and the additional tile styles are also currently a free in-app purchase (limited time). You can find it all here (opens in new tab) in the Windows Phone Store.
Oh.. if you're sporting a Windows Phone 7.x device and are currently enjoying Network Dashboard don't uninstall it. It would appear with the version 3.0 update the Windows Phone 7.x version is no longer available.
George is the Reviews Editor at Windows Central, concentrating on Windows 10 PC and Mobile apps. He's been a supporter of the platform since the days of Windows CE and uses his current Windows 10 Mobile phone daily to keep up with life and enjoy a game during down time.
Is there a reason that none of these apps have a shortcut to NFC control?

There isn't an API for that yet.

You need an API to make a shortcut? :(

Of course you do. If you remember, before WP8 you couldn't even pin location on/off, and before Mango you couldn't pin anything at all (they added 500 APIs with that update).

That's equally disappointing and relieving. I went hunting for an app like this that included a shortcut to turn on/off the NFC setting. I really wanted to have that and Bluetooth on/off on my main screen to quickly enable it for "phone high fives" and then turn it off for better battery life. Nice to know I wasn't totally incompetent in my search, it just doesn't exist yet.

Would be awesome to have shortcut to brightness as well.

I'm getting an error on startup (WP8 - L920 with GDR2): The system cannot find the file specified. (Exception from HRESULT: 0x80070002).
I've used the app in the past and liked it but the extra styles weren't doing it for me. Lately i've switched to Quick Settings which looks a bit nicer (to me). Will try this app again when it works.

Can you send me a screenshot of the error to support@purityconsulting.com? Thanks!

same issue for me. it says The system cannot find the path specified (Exception from HRESULT: 0x80070003)

Using Lumia 920, country variant CV GB with amber update

i use the old version prior to this update. tried to factory reset my phone still the same issue

Will there ever be an app that can make a shortcut for internet sharing?

If Microsoft ever adds an API call for it, absolutely. I've been asking them for it since Internet Sharing was added to Windows Phone but it hasn't happened yet.
There are a number of settings that I would love for them to add APIs for: Internet Sharing, NFC, Battery Saver. Without the APIs, we can't create tiles for them, unfortunately.

Aha, understand. Seems like such an obvious thing to want. Can't believe MS doesn't think of that themselves...

Oh, they have. The challenge is that not all phones/carriers support Internet Sharing and the way the shortcuts are implemented is by essentially opening up a Uri ("ms-settings-wifi" for example). If they implement one for Internet Sharing and that phone doesn't have Internet Sharing, they'd have to figure out what the user experience would be ... they'd probably have to have an API to tell the developer whether Internet Sharing was available too.

Love this app, worth paying for as well

FYI - there is a bug in the location tile that causes it to not work propertly. I already have it fixed and will be submitting an update to the store later today along with some additional updates. It should be out in a few days depending on how long it takes to make it through certification.
Also, with regards to the Windows Phone 7 version of the app, unfortunately, Microsoft doesn't allow you to have a paid w/trial Windows Phone 7 app and a Windows Phone 8 app that's free at the same time unless you submit them as separate apps. If I did that, then everyone on WP8 who had the WP7 version installed wouldn't get notified that there was an update to install the WP8 version.
I will be re-releasing a version that supports WP7 in the next few weeks. It's my intention to make it comparable to the WP8 version except that there won't be additional tile styles since there's no in-app purchases on WP7.

Really enjoy the app and seeing you provide information here. I love seeing developers who are active within the community, constantly trying to improve their apps and I love supporting them. Keep up the good work!

Hello, I was about to adress the Location tile issue, but you were very fast to give us a response. Thanks for the app, it's really good :)

Great app and even better to see the developer already jumping in the comment section with feedbacks. Don't see that on other OSs.

Nice, was using Toggle, but I'll give this a try. Already like the tile design better.

I prefer "Dashboard". Mobile data-Wifi in one tile (launches first setting, press back to launch 2nd)

Out of curiousity, do you really turn off mobile data and wifi at the same time on a frequent enough basis that this usage scenario makes sense? I mean, it would be simple enough to do, but I'm just not sure how many people need this.

Do you think in an update you could add the ability to change the color of tiles to the phones selected theme color and/or individually?

Just my .02
If you build it, they will come. If it's easy to do, then building it for 1 person, means your 1 client will tell 100 more how fantastic your app is.

I know I certainly would. Conversely, if it wasn't built by this app, and another developer did, well I'd have to switch apps.

Just a thought.

I can't speak for anyone else, but I use that feature several times a day. I have 150 MB data per month, so I only switch it on when I need it. Typically that is when I'm driving, out to lunch etc. Otherwise I'm using WiFi and don't want it chewing my data in the background when the phone is locked and WiFi powers down. I would say that throughout a day my data is on for 1-2 hours total (at various intervals). I also toggle 3G on/off - I have it on when I'm driving and want fast mapping, and off if I just want email or background stuff to run (i.e. Speed isn't important, but battery life is)

Well, the only way to keep the phone on while blocking incoming IMs, mails and notifications at night is to turn off wifi and mobile data. I usually don't do that because of the steps involved.
This could be a possible scenario, I guess.

@George Ponder - were you in school detention when you took the main photo?!

I´ve been using Network Dashboard since I´ve got my first Windows Phone and always loved it BUT...now, with the new version it is so, so SLOW! When I tap any icon from the app (cellular, wi-fi etc.) it brings me to the settings page instantly. But when I tap pinned option, there is a black screen for around two or three seconds. It was not there in the earlier version. Please, fix it, as it is really annoying.

Interesting. I haven't noticed it myself, but I'm wondering if it's related to location services. Let me do some testing here and see if I can find the issue before I submit the update today.

Hi, I've also noticed that launching the Wifi..etc settings from the pinned tile is considerably slower than launching the same settings from the application. Using Lumia 520.

I also confirm this behavior. Nokia Lumia 620. I am currently using Connectivity Tiles but that app lacks status. Your app has status but is slow when tapping pinned tiles. Also tapping Location presents me with an error "You need to install an app for this task. Would you like to search in Store?" Status of Location services is read corretly though.

Hello, same thing here, very nice app, especially 'cause it shows the on/off status, really love that, but considerably slower when opening the settings than the connectivity tiles app. If there was any chance that you could fix that i would love to use the app. Lumia 820 here.

Thanks

Check out "dashboard" app as that has on/off status too

I like the Green\Red for on\off status, but is it possible to have wifi turn from green to red when it isn't connected (but still "on")?

Not asking for you to make it so, just curious if it already does...

Unfortunately, that's not possible, as there's no way to update the tile when the wifi network changes. It only gets updated when you change the wifi setting and from the background task, but that only runs every ~30 minutes.

My network shortcuts haven't never been nicer. I'm in love with the circle style combined with small tiles.

Is this better than the Insider Pro?

There's one thing that annoys me on every single shortcut app I've tried (and I've tried a lot of them): when you press the shortcut, to go to the wifi screen for instance, then use the task manager to switch to another app, the shortcut app is still in the history.
My usual workflow is: turn the wifi on -> switch back to whatever applications I wanted to use -> switch back to the wifi screen setting when I'm done -> turn off the wifi -> press the back button to close it
Arguably, I could just press the back button the first time I go in the wifi settings page, rather than leaving it open. But I use the wifi only for short amounts of time, that's why I prefer to keep it open in the history (less annoying than having to go back to the home screen then press the wifi tile, and it works as a reminder so I don't forget to turn off the wifi). After a few weeks, I got bored and wrote my own wifi shortcut app (that I didn't publish) to get around this.
Has anyone else been bothered by that?


In order for Network Dashboard to update the state on the pinned tiles you need to back out of the settings page after you're done... this takes you back through Network Dashboard so it can read the setting and update the tile accordingly.
Also, out of curiousity, how did you "get around" it in your app? When you launch the settings shortcut the app stays running so that when you back out of the settings it's still there, as far as I know.

Just a call to App.Current.Terminate() ;)

You should release the app! It annoys me everyday.

I'll publish it this week-end. I'll tweet you when it's available :P

It's a little slow compared to Quick Settings. The design is a lot better.

Slow when tapping a pinned tile or when launching the main app itself?

Slow when tapping a pinned tile.

All, thanks for your comments! I've just submitted an update that fixes the Location tile bug and also speeds up the app startup when tapping a pinned tile. Keep an eye out for the update in the next few days when it gets through certification!

Added WI-FI to my start screen. Seems to work well. Also replace default Bluetooth tile with this app's, since it shows the status too.
Windows Central Newsletter
Get the best of Windows Central in in your inbox, every day!
Thank you for signing up to Windows Central. You will receive a verification email shortly.
There was a problem. Please refresh the page and try again.