Never Future, a post-apocalyptic RPG game for Windows Phone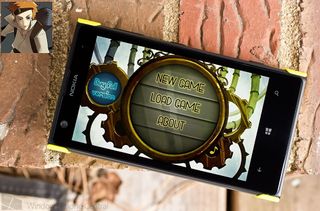 Never Future is a role-playing game for your Windows Phone that has you playing the role of a young archeologist who stumbles across a mysterious artifact that sends him to a futuristic, post-apocalyptic world full of dangers.
The game has you searching this unknown world for a way home, all the while collecting trash to re-cycle for equipment upgrades, battling monsters and completing quests. The game has a bit of a Legend of Zelda feel about it, but with a more futuristic tone. Once you get used to the movement controls, Never Future is an entertaining game for the Windows Phone gaming library.
The Layout
Never Future's opening menu is straight to the point with options to start a new game, load an existing game and view the About screen. When you start a new game with Never Future, the game will walk you through the basic gaming controls with a series of tutorials. These tutorial screens will appear throughout the game when a new element of game play is introduced.
In a nutshell, a directional pad sits at the left of the gaming screen and a quest button sits just above the d-pad. You use the d-pad to move your character around the screen and if you need to review your current quest, just tap the quest button. Blue footprints will also appear on the screen when you tap the quest button to give you a clue as to which direction you need to travel.
Your character's health meter is positioned in the upper left corner of the gaming screen. It won't be present until after you complete the first quest and find yourself teleported to the mysterious, unknown world.
As you progress through the game, action buttons will appear in the bottom right corner of the screen to control dialog, combat and special abilities. The game does lack a help section but the tutorial screens that pop-up from time to time and the dialog from the game's characters that help guide you through game play, Never Future can survive without one.
Game Play
Game play with Never Future is not unlike any other role playing game. You move your character down paths to complete quests, battle monsters and collect trash that can be turned in to upgrade existing gear or to buy new gear. Game characters with a "!" floating above their head will give you the opportunity to gather information on your quests. If you ever loose sight of your current quest, just tap the "quest" button on the left side of the screen.
Never Future has over fifty maps to explore that span deserts, dungeons, caves, laboratories, cities and oases. As you destroy the various monsters and smash up objects that are scattered about the game, trash will appear. You will need to pick up these trash items to use as currency in the shops that will appear at various stages of the game.
The shops carry a wide assortment of gear that includes armor, potions and three types of weapons. You have a driller that is a melee weapon, a sniper rifle and grenade launcher. Special abilities will eventually become available to help you defeat the various monsters such as lightning strikes, fire bursts, and ice attacks.
The wrench button on the gaming screen (up near your health meter) will pull up your inventory screen that will give you all the details on your armor, weapons and special ability. You can also see your trash count from this screen as well.
For the most part, game play was enjoyable and had its moments of intensity. The only real draw-back to game play was the movement controls. It took a little time to get used to the directional pad and movement wasn't very smooth. I found myself banging into various obstacles, missing turns and basically walking around like a drunken sailor at times.
Overall Impression
Never Future comes across as an entertaining, somewhat challenging, nicely drawn-up RPG game for your Window Phone. While the pace of the game picks up during the combat sequences, Never Future has more of a casual pace overall. Your game progress is automatically saved when you exit the game, making it a nice option for short gaming periods or for the times you have more time to spend with the game.
I wouldn't mind seeing shopping opportunities be more frequent but that adds to the challenge of the game a bit. Can you survive with the gear you have long enough to make it to the next store?
The movement controls are the game's biggest weakness but you do get more proficient with the d-pad the more you use it. I'm not sure if this is an issue that the d-pad needs to receive a little fine-tuning under the hood or if it's just the nature of the beast.
Some may find Never Future lacking of action and adventure but the game has its moments. Never Future does have a more casual pace but that's not necessarily a bad thing. Overall, Never Future isn't too shabby of a game for your Windows Phone well worth a try.
There is a trial version available for Never Future with the full version running $1.99 and the game is available for both Windows Phone 8 and 7.x devices. You can find Never Future here in the Windows Phone Store.
Windows Central Newsletter
Get the best of Windows Central in in your inbox, every day!
George is the Reviews Editor at Windows Central, concentrating on Windows 10 PC and Mobile apps. He's been a supporter of the platform since the days of Windows CE and uses his current Windows 10 Mobile phone daily to keep up with life and enjoy a game during down time.
Yeah, if you don't count crashes and bugs.

I personally hate all this fantasy, magic and so on. I'll praise one who brings Jagged Alliance or similar to WP.

Hopefully they will see that there are a need for it now when the platform grows for every day that comes.

This game is post apocalyptic.

and what does that have to do with this game?

Two back to back awesome game for wp.... Jai ho

Finally some paying full rpg game with full content and no in-app purchases.. I'm sick of all these freemiums. I'll have to check that

Looks good. $2 is a steal for this game.

WP8 *and* WP7 support? Buy this shit they deserve your money! :D

Dungeon Hunter is the best...

We need games from kabam,glu,warner bros and many other developers too. I don't know why they can make games for us on time. Its not like that they will suffer loss if they don't get more downloads in wp as population of wp is small. They have earned a lot from other OS so why this laziness for making apps for wp.

Yup i'm with you.But even GameLoft is enough.There are so many gameloft games on IOS and Droid stores.

Well, don't buy it then. WP platform needs all the games it can get, from silly children games, RPG fantasy and driving games to word games and puzzles.

Please don't make stupid and useless comments. And watch your language. Thanks.

So theres no in-app purchase? What's the catch? :P Sounds like a great RPG fantasy game to me.

I was thinking the title is "Near Future"

I hope there are more and more interesting games

Quite interesting game. I liked rpg.
i hope more like inotia and zenonia series comes to windows phone.
hope more rpg for windows phone

Im wondering what is the limitation of the trial version? Anybody know?

Game trail version lasts several missions. This is about 20-30 minutes of the game.

Two posts, two downloads. You're on a roll boys, keep it up!

We should just get fallout 1 & 2

I despise onscreen controls.... But oh well, not much that can be done. Will be getting this, looks great!

Hi, we are developers of Never Future. If you have more questions about the game just ask. Any feedback, comments are greatly appreciated :)

Grabbing this now, it looks good.
Windows Central Newsletter
Thank you for signing up to Windows Central. You will receive a verification email shortly.
There was a problem. Please refresh the page and try again.