Neverwinter MMO coming to the Windows Store for Windows 10 gamers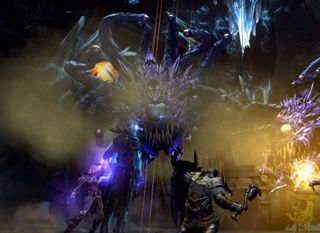 Developer Cryptic Studios and publisher Perfect World Entertainment have announced that their free-to-play Dungeons and Dragons MMORPG Neverwinter will be released in the Windows Store for Windows 10 PC gamers.
Neverwinter was originally released for regular Windows desktop gamers in 2013, and an Xbox One version was launched in 2015. Perfect World stated (opens in new tab):
Perfect World did not announce a specific release date for the Windows Store version of Neverwinter.
Check out our Neverwinter Leveling Guide
Hope the enthusiast surface phone gives the ability to play games like this. If this was on mobile I would chuck my money at it. I would get a loan if I had to.

It would require a controller or keyboard and mouse to play. The controls are really too complex for touch screen without dramatically retooling the game and UI.

Obviously I meant continuum or a controller accessory.

As if MMOs havent been watered down enough to make them console friendly. Now we need to make them mobile/touch friendly. Ouch. Every game should have the complexity of Flappy Bird.

Hah, this. Good one xD Still waiting for RTS to come back :(

We need cross-platform characters. I'd play on my W10 PC if I could use my XB1 characters. I'm not going to make a new character to play on PC.

Truth. This (and really, all AAA games on Xbox One and Windows 10) should all support cross-sync, cross-save, cross-play, and cross-buy with a shared Xbox achievements list.

I wonder if you can get this and log in and use your regular-PC characters.

Lack of cross-play is what has kept me out of the game thus far. I will eventually end up playing on the One, but I would love to play PC as well. I just don't have the time to replay the whole game again on PC. Maybe with the W10 version they will figure out a way to make it so.

Good though I don't like how the Windows Store handles large updates.

Is this joining the Xbox server or pc server? Won't this making it more difficult for the developer to patch or so? As we know windows store apps needs time to be patched.

I hope it will have cross-play

Yessss I've missed playing since I started getting fast ring builds more frequently causing the game to not install....

The question is, are they going to continue support the Windows 10 version with updates? Unlike Gameloft pulling the plug on updates for Order and Chaos 2.

As long as the Windows 10 version makes them enough money (i.e. people buy things), I'm sure they'll keep it going. The sad truth about free to play games is that once they stop making money, their days are numbered.
Windows Central Newsletter
Get the best of Windows Central in in your inbox, every day!
Thank you for signing up to Windows Central. You will receive a verification email shortly.
There was a problem. Please refresh the page and try again.