The new Corsair One is a compact, beastly gaming PC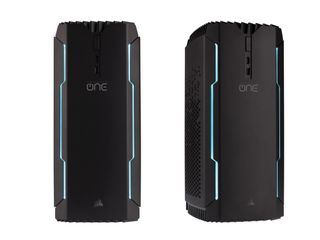 (Image credit: CORSAIR)
Corsair is a company that you usually associate with enthusiast PC components and accessories, but the company is taking that one step further today with the launch of its own gaming PC. Called the Corsair One (opens in new tab), the desktop rig offers plenty of pizazz from its compact design, but it backs that up with plenty of power as well.
Inside the One, you'll find Intel's latest Core i7-7700K 4.2GHz processors, 16GB of RAM, up to 960GB of SSD storage, and NVIDIA's GeForce GTX 1080 graphics. Liquid cooling is also packed in by default for the CPU, and can be added for the GPU if you step up to the One Pro. All of this is bundled inside of a pretty attractive black case that stands 380mm tall. Corsair has also done quite a bit of work to make sure the One operates quietly, promising a noise level of 20dBa at idle.
The company notes that the One is built with all standard-size parts, making it upgradeable in the future. That's great for anyone who likes to tinker around, but it's possible the engineering Corsair did on the case may make upgrades a slight bit more difficult than your average gaming tower.
The One can be had in any one of 4 configurations, ranging from the base One to the One Pro and One Pro Ti. The differences mainly lie in the amount of storage space — though the base One also lacks GPU liquid cooling. The One Pro Ti steps things up a bit further by throwing in an NVIDIA GTX 1080 Ti GPU. All of that power comes at a price, however, with the base One starting at $1,799 and the One Pro Ti topping out at $2,599. All things considered, however, that's not too terrible for a powerful gaming rig.
See at Corsair (opens in new tab)
Windows Central Newsletter
Get the best of Windows Central in your inbox, every day!
Dan Thorp-Lancaster is the former Editor-in-Chief of Windows Central. He began working with Windows Central, Android Central, and iMore as a news writer in 2014 and is obsessed with tech of all sorts. You can follow Dan on Twitter @DthorpL and Instagram @heyitsdtl.
Tis pretty noice. I love Corsair. They are like the "mercedes" of computer parts. Might not look the best but it'll preform the best.

I wouldn't say they perform the best. They get the job done reliably, though. G.SKILL's RAM seems to work better than anything else on Ryzen right now, for example, and they are probably the go-to for most builds. Corsair's got some very nice PSUs (mine included), but I think they're probably still behind Silverstone and EVGA for perceived quality (though far from slackers). I wouldn't say they deliver the best peripherals, but they certainly don't deliver the worst. Basically, they covera wider range of PC stuff, but aren't the best at anything. However, despite not being the best, they are more than capable of producing good stuff almost universally.

$1,800 is a rough price to accept. Liquid cooling will do that, though. I shall keep waiting for Ryzen and Vega for my next PC. I didn't even know Corsair did this stuff, but hopefully they add variety as AMD fleshes out its hardware lineup.

Only a couple hundred more than building it yourself with all of these components (including liquid cooling of course) though I am sure there are ways to undercut that further if you are an enthusiast and look for deals. As far as I know, this is the first rig on the market from Corsair. They seemed to have nailed the cooling and OC capabilities though I imagine upgrading it would require an extreme amount of knowledge due to the small form factor. I agree it would be nice to see some AMD variants which I wouldn't be surprised to see once AMD irons out the somewhat underwhelming performance in gaming with Ryzen due to it being a new line of processors.

The size doesn't mean much of anything when replacing parts comes into play. It just means larger hands might be bothersome (speaking from personal experience), and that cable management is more important (and more work). I opened up an insanely small PC a month or two back, and it's not like the rules of computers change. It's just less hand space to work. As for the pricing, you're maybe right on it. Then again, if you're not a big overclocker, you don't need the water, and if you are, then you could certainly stand to save a couple hundred bucks to do it yourself. I also see no mention of an included OC on the CPU or GPU. You're buying a custom loop for stock clocks? That's silly.

I guess I should say the shape of it more so than the size. It appears from what I have seen that the water cooling components had some unique choices made for the configuration that may prove challenging to those lacking experience. But at least they used standard parts. As for the overclocking, the results I saw were CPU running at 4.5ghz and GPU running at 2.1ghz with a stress test for an hour holding solid temps in 60s and 70s. Overall, not bad for a prebuilt.

What testing are you referring to? 4.5 GHz is the standard turbo clock of the 7700K, so if that's what iti hit in testing, that's still possibly just stock performance. Also, the $1,800 model has the GTX 1070. IDK if the 1080 is even an option, because the only alternative I saw in the customizasions on the site was to go up to the 1080 Ti. THe one review I popped up seeme to indicate everything on the CPU and GPU is stock, and the liquid cooling is ultimately about a neat system that keeps the machine quiet (no radiator fans). It can be OCed, but that's something the user has to do.

Ahh yeah, you're right. Maybe they weren't trying to really push the CPU as it was a review unit but just wanted to see how hot it got at max turbo for a length of time. But it definitely wasn't the base unit for $1799 that they had. They had the next one up for $2199 which both the CPU and GPU are liquid cooled. It had the 1080 that they OCed with Afterburner.

Just a day after my MSI Vortex arrived. Any benefits of gettings this over the Vortex?