New Emoticons for Windows Phone 8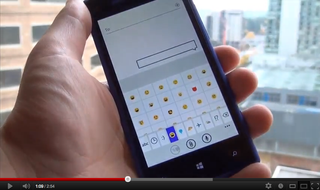 If you like sending text messages (SMS) on Windows Phone, you'll love the new emoticon system that Microsoft has put in place. Previously, Windows Phone allowed you to easily send some basic smileys and if you wanted some more advanced symbols, you had to dig out some codes or use a 3rd party app.
This time around, Microsoft put in a selector at the bottom with visible choices for each symbol. You even have categories like faces, food, symbols and more. If you use the same symbols repeatedly, they will show up in a frequently used area for quick access the next time you message.
We should also point out that they work in all apps. We used them in Kik messenger with no issues (they just don't have color). All in all, it's these small changes that make Windows Phone 8 quite an improvement.
Windows Central Newsletter
Get the best of Windows Central in in your inbox, every day!
Daniel Rubino is the Editor-in-chief of Windows Central, head reviewer, podcast co-host, and analyst. He has been covering Microsoft since 2007 when this site was called WMExperts (and later Windows Phone Central). His interests include Windows, laptops, next-gen computing, and for some reason, watches. Before all this tech stuff, he worked on a Ph.D. in linguistics, watched people sleep (for medical purposes!), and ran the projectors at movie theaters because it was fun.
So you can use these in Twitter as well?? It'd be great to send emojis in tweets like iOS users..

Yes, you can use them in any app that uses the KB. In Twitter, it showed up as a color-toon too.

Speaking of the KB, does it have the almighty interrobang?

Yea it works in the Me twitter app on wp7.5 been bashing all android and non ios6 users because we have nearly all of them since the jailbreak for ios6 was available

Daniel,
Did you try Nokia 810? If you did can you let us know what you think between 810 and 8x?

I would also like to see a review on the 810. Mostly regarding the screen display and if it's 'that' noticibly different from the 8X's. I know the 8X screen will be better, but substantially or kinda?
As much as I would like to get the 8X, the lack of a sd card slot and a non-removable battery kills it for me.

"As much as I would like to get the 8X, the lack of a sd card slot and a non-removable battery kills it for me."

You mean like the L920? :P I know, at least it has 32GB.

I could live with 32 GB. Unfortunately 920 is a no go with T-Mobile.

I just read this Rogers from Canada is sellling Nokia 920 and it's a Pentaband. It will support AWS Tmobile 3G.

http://mobilesyrup.com/2012/10/31/rogers-nokia-lumia-920-confirmed-to-be-pentaband-compatible-with-wind-and-mobilicity-out-of-the-box/

Interesting. Thanks for that.

My concern is the quality, updates and plenty of apps. It doesn't really matters to me about the screen resolution as long it works. My Radar's wifi when it sleep it doesn't connect until you turn it off and on again. No fix from HTC and this is my big concern since the Nokia Drive will be up to HTC for everyone to download, and if they sit on their asses same thing all over again like the titan disappearing keyboard.

And, can your poor friends holding an iOS 6 unit make sense of them?

I can confirm that they show up perfectly fine and in color.

But those emotions appear as THEIR version of emojis, isn't that right?

Good question. I'm not sure. Devil came up purple on my wifes iphone. I'll check some others.

Still not sure, but they look better than what I sent out.

I think wp8 has the same version of emojis.

This is unrelated, but would appreciate if you can find out.

ON the 900, if you take a video landscape, when you share on FB or open it as a file on your PC, it would play sideways. You would have to use a video converter to rotate.

Has this been fixed? I am hoping the video plays back and uploads the way you recorded the video whether portrait or landscape. I never had issues with this on other phones except the 900.

Thanks

You must have only used iPhone then...Android can't run videos vertically either (at least, natively)

I've used iphone yes, worked fine

i used a samsung focus S, worked fine

used a 900, did not work fine.

So no, i have not only used an iphone.

HTC HD2, rooted
Worked fine

Really strange - I have an LG Optimus 7 E900 and when I take videos in portrait mode, that is when videos are then sideways when uploaded to Facebook or my computer. I have to take videos in landscape for it to come out normal!

Same emoticons in Win 8 rt as well.

Cool, just small details, but really cool!

If I send a train going in to a tunnel with a question mark, will my girlfriends iPhone support it?

It will probably end with a traincrash.

Why would you wish my penis harm? ;-)

LOL funny gotta use try that!

That's pretty sweet! I even saw an Xbox game controller emoticon.

P.S. For a moment it looked like the 8X suffered from the disappearing keyboard syndrome, but then I realized you never typed on the text field so that's why the KB went down. Phew!

"all the small little improvements"

Yeah we get this but no global orientation lock, no custom email or sms signals.
Whats up with the priority Microsoft?

But I guess there has been huge demand to send watermelons in SMS. Seriously, does the focus-group for WP contain Belfiores three kids or what?

WP7 already has all these...except orientation lock

Custom tones for messaging and emails? No it does not. That was my first gripe after buying the phone.

No: Separate volume controls for apps/ringtones
Merge calls in call log under same contact
Orientation lock
Password support for the IE10
Forward button for the IE10
Text reflow for the IE10 so it automatically adjusts and reformats text for easy readability
Ability to have at least two browser control buttons
Settings are not alphabetized, making them sort of confusing
Finger seek in the music player
Automatic sleepd mode (especially since you added Skype, which is on 24/7), so we won't be bothered by notifications at night
Notification history / center or whatever you call it
Black background when reading email, not just email list http://windowsphone.uservoice.com/forums/101801-feature-suggestions/sugg...

Agreed with nizzon. Hope they address these issues in future updates.

Emoticons are something I've missed ever since I lost my old Nokia XpressMusic phone almost two years ago. It'll be good to have them back in my texts.

My first "smartphone" was an XpressMusic 5800 ;-)

This makes me want my 920 even MOAR!!!!!

FINALLY!! NOW MY MOM WILL BUY A WINDOWS PHONE!!

I'm serious. She LOVES EMOJIS. If it wasn't for this, she would get the iPhone 5. No joke.

Are those a new Unicode-based emoticons as supported by iOS 5 and 6? And most importantly, is there an emoticons of two guys holding hands together like in iOS 6? :)

Yes we actually had most of the ios6 emo before they did I been using them since 7.5 via emo app and you can view them in the Me tile for twitter and its also on the surface keyboard as well

Yea emo are old been had em.just can't seem in color but they show up on iPhones as normal

When we can put in the BX celeb smiley's (google them and you'll be hooked) then it'll truly be official! But this is going in the right direction.

HOW DID YOU MISS THIS?! lol, this is awesome

I remember people bitchin about emoticons on 7.5!! This shut them up...LIKE A BOSS!!!

Minor detail, but cool nonetheless!

cool now it hepl to express each emotion

nice way to express the best news on wp central guys, just like wp live tiles but not live


nokia lumia 920

Don't know if I can emote that much. 8P Then again, options are always nice. I can't see anyone saying "I wish there were more."

Works on Windows 8, too, and facebook also supports most of these emoticons :)

those emotion really look nice it give more joyful experience when you are typing a message :)

Love the "recent emoticons" area! So helpful! :D I wish I had a Windows Phone 8, but it'll be months before they come to NZ and then there will be new hardware -.- downsides of living downunder.

I wish they hadn't added any coloured icons. Looks so ugly now.

Me too. I like much more old emoticons on my Lumia 800. This improvement looks so ugly and uncomfortable to text.
Maybe where will be chance to turn off this new feature and use like old?

Wonderful. Share a website with you , (www.likesurprise.com/ ) Believe you will love it. We accept any form of payment.
Windows Central Newsletter
Thank you for signing up to Windows Central. You will receive a verification email shortly.
There was a problem. Please refresh the page and try again.