New firmware update for Dell Venue 8 Pro improves stylus performance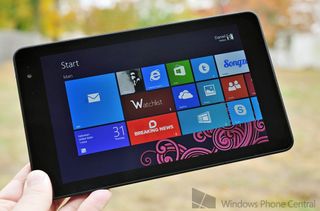 Dell has released a new panel touch firmware update for Dell Venue 8 Pro 5830 running Windows 8.1 operating system. The update promises improved stylus performance.
Dell Venue 8 Pro is Dell's first Windows tablet running full Windows 8.1 with an Atom processor. The latest update (Vendor version: 1.0.4.2, Dell Version: A02) is categorized as urgent and Dell recommends applying this update as soon as possible. Dell has previously released a firmware update in November 2013, followed by another one in December 2013. Three updates in less than three months is a great effort from Dell.
All you need to do is download the 7MB firmware installer – 5830_Firmware_8T9WD_WN_1.0.4.2_A02.EXE – from Dell's support site (opens in new tab) and follow the on-screen installation instructions.
Thanks qwe123878 for the tip!
Windows Central Newsletter
Get the best of Windows Central in your inbox, every day!
If only they release something that looks attractive...

I don't understand what is unattractive. Looks fine to me. And it feels great in the hands.

Exactly, Dell Venue Pro feels better in my hand than the iPad mini I used to travel with to deal with downtime at airports and layovers and it looks better than mini with that folio cover.

You can't argue with Stringer Bell

Subject to interpretation, I picked one up and think its very slick looking. The textured back is great, makes me not even want to put it in a case. I like having the clean bezel too, the windows button is only a thumb swipe away. An additional button on the front is superfluous, as bad as people complaining about not having the start button on the desktop. What modern keyboard doesn't have a windows key?

Uhmm... Apple's keyboards? Ok those have command keys

Meant in the windows ecosystem. But then your comment could have been sarcasm.

"Command" = "Windows" = "whatever the keyboard manufacture wants" It's the exact same key no matter what you call it.

I think the dell is very attractive, unless you've been listening to apple's "slimmest tablet" noise

The lack of front-face branding alone makes this gorgeous.

Not sure what you mean. Best tablet I've ever exp. Way better then iSucks. Fast and good looking. I'm loving it!

I really want this tablet... Got surface 2 frst day

You have the superior device.

I have a surface and a dell venue 8 pro.. And I have to say, the dell gets alot more use than my surface.

I agree and returned Surface 2 because Dell saw a lot more usage. BTW, I am not a fanboy of any platform or company and use Apple MBP retina as my daily work machine (of course running Win 8.1 as VM), Lumia 920 as phone and Dell Venue Pro as my goto entertainment and consumption device.

Nice to see Dell providing frequent updates.

Cool just got the tablet update is early already waiting for the next package with the stylus :D glad I got this tablet!

Does the update enable GPS chipset as well. As much as I would love to have one its a no go without full GPS support.

? It has a GPS, but disabled?

I don't think that the Venue 8 Pro has a GPS receiver built into it, however, it does run full Windows, therefore, you should be able to install a USB GPS unit to the Venue 8 Pro without much hassle.

Onysi, I'll trade you mine straight across I got the dell case,stylus an a extra charger, mine is the 64gb one

I need the keyboard attachment and bigger screen for school work. I'm not even sure if dv8 has office installed.. I just like the device for its pen input.

It does come with Office.

This sounds great, but it'd be great to see a demo.

I saw this tablet at Costco. Played with it a little. It is a gorgeous machine.

I grabbed the one at Costco but took it back, 32gb isn't enough. They have it for 329.00 pretax for the 32gb plus the Dell Folio case. I got the 64gb on Amazon for 313.00 and no tax. Added the 2yr drop and spill protection for $45 bucks and it comes out to the same price as Costco after taxes. Found a nicer case by IVSO (my family's opninion) on Amazon too for $20 bucks. The Dell case is just too slippery, the IVSO case has a nice grip to it plus a magnet that keeps it closed.

At costco in Oregon and California that I checked, I got mine for $329, 64GB with Folio Case.

Just did it. Much better performance.

Dell venue = bomb!!! Unbelievably great.

Just ordered my Venue 11 Pro yesterday! I know, off topic...but does the 11 have the same stylus issues?

Yes but an update is expected for it as well soon.

Ya its really annoying. Also their slim keyboard is having major issues as well. It randomly and frequently becomes responsive. Not a problem with the mobile keyboard.

Check the threads on the Dell support site for help resolving the slim keyboard issue. We disabled the power setting in device manager-Human Interface Devices, and our 11 Pro slim keyboard is working much better.

Thanks for the tip! Hopefully it is something that Dell is addressing. Last time I talked to tech support they still didn't know the problem existed :/

Dell keeps this up and they're gonna make a (new)name for themselves!

It takes more than just firmware updates: the pen has qc issues, needs a hardware revision. I returned the pens until then. But, I know Dell will get it together,they are moving fast on this issue.

If you get a bum pen keep returning it. I have 2 tablets, and wanted 2 pens. First shipment, one of the pens worked, the other was crap. Got a replacement, it also was crap. Have a third replacement on the way now. It is a hassle, but when you get a pen that works, it makes this tablet amazing, especially after this update. Hopefully they will completely rework the pen.

Just got mine this week - I'm surprised at how much I'm using it! I'm finding that unless I want to run a graphically-intensive game, I'm defaulting to using the tablet instead.

Mine would replace my laptop if the keyboard was already available.

Try the Asus keyboard for the Vivotab Smart, works well for me.

There's also this one on Amazon: "Motorola Wireless Keyboard with Device Stand", which has a built-in trackpoint, much like the Lenovo keyboards, which I'm very used to, but I like that the Dell one is integrated to the case and specially designed to fit the Venue 8 Pro. I would prefer not having to carry two separate devices.

So, the general consensus is that this is the best out of the current crop of 7-8 inch tablets for Windows 8?

It definitely is The Best 8" tablet, overall including ARM tablets as well

Yes, amazing tablet and it plays PC games better than I ever imagined! http://m.youtube.com/watch?v=efDdh1iOC_8&app=m

They are doing great at updating the DV8P, but the DV11P isn't getting nearly as much attention. Still don't have a fix for the bightness issue while DV8P got it awhile back..

Why don't they release it through windows update? And average user won't know to go to their website.

I think the average user would know to go to the Dell Support website, plus Windows Update isn't exactly a reliable source when it comes to updates for devices.

That's what I am trying to say. Updates should be all through windows update. Users shouldn't need to search. If apple can do this for IOS and mac os, why not windows?

Dell should have software the user can use to download updates for their tablet. Acer has similar software one the Acer Iconia W3. But updates via Windows Update would probably take ages to be pushed through as all updates need to be tested by Microsoft, an expense Dell probably doen't need or want.

Why not use the little dell utility called "my dell" that is preinstalled on the tablet and then use the "drivers and downloads" button within the app to search for available updates? ;p

I meant like all windows devices.

yeah and like i said all drivers need to be tested for every device before it's rolled out to Windows Update and that can cost a lot to OEM's. Think of how many OEM's there are and how many of them how devices in the Windows Eco System, each of those devices need drivers and each of the drivers need tested. Some of those drivers are from OEM's but not all are the latest and some are Microsoft drivers. Now if OEM's host these drivers themselves and have users perform their own driver search or use OEM update utilities it can save a lot of money.

I agree that Microsoft needs to work towards implementing this, but it is a much different undertaking. Apple makes all of their own hardware too.

Which device should i buy? Dell Venue 8 Pro, Toshiba Encore or the Lenovo Miix2. help me out guys

If you can wait, ASUS is gonna introduce a new 8 incher with Wacom stylus

it'll prob be the same in terms of specs, lets see what the launch price is.

Priced competitively, I assume. Wacom support is a big benefit.

Dell Venue 8 Pro is dope. My wife ended up selling her iPad Mini to get a Dell VP8 as well.

I asked Dell on Facebook about the Dell Tablet Wireless Keyboard availability and i basically got the run around. Someone from Dell got back to me and said the keyboard was available but he gave me the link for the Dell Venue 11 Pro keyboard which is completely different. Suffice to say i still don't know when the Dell Tablet Wireless Keyboard will become available.

Some are getting them, but the consensus is that it's not so great. The keyboard sits outside the case and risks flying off the cover if you're not careful. Haven't checked yet, but I'll wait to see if anyone makes a video review. I'm leaning towards getting something else though.

Yeah i think they will need to make a new version of the Folio care, one that holds the keyboard in place. No one wants to break it as soon as they get it, especially if it's upwards of £100. One thing i can't find on the website is colour options i want to buy the red one but can't find it

Dell needs to bring back dvp for wp8. The keyboard was superb.

Is it as good as wacom? Hard to want this with rumors of Asus 8" with wacom.

Maybe the Acer Iconia W4 will be a huge improvement over the W3 and shame the competition

It's the thin, light form factor with full windows 8.1 that makes this tablet so attractive. I use my surface pro continually, but it is a bit bulky & heavy (with limited battery life) for general consumption apps like movies, reading, etc. The venue 8 pro would fill that gap and still give me the ability to use it for ms office if I needed to. However I'm trying to convince myself to wait for the next generation of hardware.

Hey, while I've enjoyed all the comments on this post so far, it has wandered a bit......I'm wondering have any of you with the Dell pen actually installed the firmware update? Notice any improvements? I'd like to try the pen but haven't ordered yet.

I have installed the firmware update. In fact, I am writing this comment using it and writing in cursive. I think it works really well for writing , making small diagrams, etc. It no longer suffers from the annoying letter dragging that it used t. It took me awhile to get used to Windows' handwriting recognition software, particularly the nuances of speedily correcting my mistakes or misreads. Now that I've figured it out, I really love it. I don't have particularly good handwriting, so I find writing in cursive to be much better. My old Lenovo notebook had a Waccom stylus. I really can't tell the difference between the two (post firmware update)

Now, wpc should give us a good review of the 3 tablets 8'' with Intel bay trail Z37xx & wacom technology
- Dell venue pro 8
- Lenovo miix-2
- Asus m80
By the way, if you want to spend your money right now, forget the 32gb and take the 64gb... Because it's a full w8.1 with Office!
You can also buy a USB docking station and forget your desktop ;)
http://www.youtube.com/watch?v=jPPY4m8iY0k

Hate to be the one that point this out but there are more than 3 8" tablets running Intel bay trail Z37xx. Dell Venue 8 Pro, Lenovo Miix2, Toshiba Encore, Acer iconia W4 and the unannounced Asus M80 and only the latter uses Wacom Technology. Oh and the 64GB version is only available to business users here in the UK and it does not come with Office Home and Student 2013. It cost £289 when bought from Dell Business as apposed to £249 from Dell Home

Thanks Robbie_Jardine for this details. Now, I'm waiting a full review with 5 devices ;-)
And, for the pen, I mean not a capacitive one, but an active stylus...

Anyone have issues with the USB port? Mine broke and there is a thread on the community with a bunch of people with same issue. Mine is being replaced, warranty.

Anybody using their's for productivity, ie. Word and Excel? Is the screen large enough to see the data plainly? I have a Surface RT and I'm debating selling it to buy this.

If you want a productivity machine, keep the Surface RT.

Can you elaborate? Have you tried and it just didn't work for you? I would like a more detailed answer, thanks.

I use mine for productivity and yes, the screen is large enough. I am creating a PowerPoint for work while I am traveling and I have made the entire PowerPoint on the VP8, nearing 20 slides and it has been easier than I thought possible. I even use the dual snap function to copy text from the internet into the slides with ease. Alternatively, you can always zoom in and out if text is too small to see.

Thank you. I appreciate your detailed answer.

I think mostly it depends on your application; I got one for a Christmas present (I have a lovely fiance) and right now I'm using it as my mini-programming device for SQL Server and MS Access. (I signed up for the Office subscription service, the Office Home & Student is simply rubbish) For SQL Server, it's totally fine, however because of all the additional menus, navigating Access can be a bit of a chore w/ such a limited screen size- would a 10" tablet be better? Yes, I would believe so, and if the Surface 2 would allow a FULL Office install, I would probably trade up to it; however the Dell Venue 11 does look promising. Another small thing I don't like is that there's no HDMI out, which would remedy the problem in a pinch as I could use my desktop monitor instead of the 8" tablet's. I am currently on the hunt for a miracast adaptor, so that take care of my issues. Oh yeah, one more niggle- if you need multiple USB items attached, the DV8P will not allow you to charge the device and have a OTG cable attached at the same time... So I probably in the near future will buy a Surface 2 Pro and give the DV8P to the fiance as she loves it for Netflix and HULU. The kids love it as well for the occasional small game. In short, yes, you can use it for productivity, but yes, the screen size is a bit inhibiting.

I do, needed to use excel for QA forms in field, (was after a budget solution) I tried 4.2 on original kindle fire, some apps worked ok but could not get to work consistently to hard to get typing in a cell. The 8" screen is very function the size is just right for field use. Easy to hold with one hand when having to flip through documentation and office works like it should, can see just fine. Word with a bluetooth keyboard is very practical.

How much is a pen? Seems like a lot of you have one.

I think I paid $35, but Dell discounted it to $30 soon after. Last I checked the site said it was sold out, but can't help but wonder if it was because of the problems they've had with it. Overall, I'm still glad I have one. Works so long as I don't store it with the battery in it.

Anyone see an update with the double tap issue?

I got my venue about 10 days ago, and ran the MyDell software to check for updates, and received firmware ver. A03. just mentioning it. I still can't find a stylus to purchase anywhere..

I can't find the Stylus anywhere either. Tried calling my local MS store and Dell has no answers on when there will be an update in supply.

This tablet is amazing. My father was looking for an affordable tablet. This was $229 so I recommened it over the 10" surface for the price point alone. I told him if he didn't like it I would buy it from him for what he paid and he could order the surface. Once it arrived I was suprised how amazing this tablet was. Holding it in your hand is very comfortable and the IPS screen is simply amazing. The Windows home button is a little awakward until you get used to it then it's second nature. I couldn't get him to buy another tablet now if my life depended on it. He loves it and I have to admit, even though I have a surface this little guy is amazing.

I received my Venue 8 Pro yesterday, and the first thing that started bugging me was the screen sensitivity - multi-taps. I immediately tried to find some way to turn down the sensitivity, but couldn't find anything that worked. I stumbled on this website recommending the firmware update. I went to Dell's support page and scanned my tablet for all available updates. I installed all of the recommended, and this "Urgent" update. There was absolutely no change in the screen sensitivity. It still records a single tap as multiple, which makes typing passwords a real hassle. I'm currently using my mouse to input text, because it allows me to bypass the multi-tap issue. Hopefully they come up with a real fix soon.

I wanna trade my mini for this, but I'm afraid of missing the apps... dammit!