Dell pushes out new firmware for Touch Panel on Venue 8 Pro, reportedly fixes stylus issues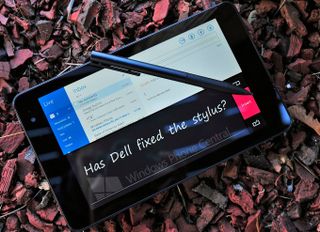 We recently took a look at the Dell Venue 8 Pro, an admirable 8-inch tablet running the full version of Windows 8.1 (32-bit). Well-built with a Quad-Core Atom processor and priced at just $299, the Venue 8 Pro has a lot going for it besides just speed.
One optional accessory with the Venue 8 Pro is a stylus, allowing users to take notes or write out emails using a battery-operated pen. While not as fast as physical keyboard, it's often quicker than using the on-screen, virtual one, which is more common.
That's where picking up the Dell Active Stylus (opens in new tab) ($29.99) can help. The Dell Active Stylus takes a AAAA battery, which lasts up to one year, and it has buttons on board to simulate mouse clicks or erasing of content. Combined with the hover-sensing ability and palm rejection technology, many consumers are considering the Venue 8 Pro and Active Stylus as their go-to note taking device.
There's just one problem: it's not very good.
Complaints in the Dell support forums have run amok since day one, with people reporting difficulties in making the most of the accessory. Dell was reportedly working on a firmware update and that update is now live. Version 1.0.4.1,A00 of the Panel Touch Firmware on Dell Venue 8 Pro 5830 is now available to download and it is listed as 'urgent', meaning it is probably a good idea to grab it. It's a small download too, so it shouldn't take too long.
We haven't used our Active Stylus too much before the update, but after the installation it seems "okay" to us (we still prefer the one on the Surface Pro). If any of you have the Venue 8 Pro, sound off in comments on your experience with the new update.
Source: Dell Support (opens in new tab); Thanks, SocalTouch, for the tip!
Windows Central Newsletter
Get the best of Windows Central in your inbox, every day!
Daniel Rubino is the Editor-in-chief of Windows Central, head reviewer, podcast co-host, and analyst. He has been covering Microsoft since 2007 when this site was called WMExperts (and later Windows Phone Central). His interests include Windows, laptops, next-gen computing, and for some reason, watches. Before all this tech stuff, he worked on a Ph.D. in linguistics, watched people sleep (for medical purposes!), and ran the projectors at movie theaters because it was fun.
Are you guys still gonna do a comparison between this and the miix?

Probably. Eventually. Not sure if you noticed that huge 1520 review that took some time...plus there's more coming this week ;)

Come on, Daniel, we're never satisfied :p . Lol jk

Daniel, Thanks for the acknowledgement! Love the crazy fast turnaround as well. Another reason I love WPCentral!

I am waiting for detail comparison of Miix2 and Dell pro as well. It's safe to say that almost everyone willing to buy 8" Windows tablet is eager for that review.

I hate to keep asking, but when is the surface 2 and surface pro 2 review coming?

There are so many reviews already on those 2 devices (notebookcheck.com, AnandTech, MobileTechReview, Engadget, Verge, ...). Lots of devices with no full reviews yet including Yoga 2.

Yeah I know, but I love the WPCentral reviews!

The Yoga 2 Pro? I have one. Ask me your questions.

When are you going to review the asus t100? Havn't even seen an unboxing video. I have seen some reviews on it and some had issues with software and keyboard while some said it was fine. Read all 108 reviews on amazon, it is either someone had a bad unit which dies on them in a week or the keyboard is warped. Then there are positive reviews. For $379, I think it is the best for your money but don't want to order one and get a bad unit

Same here. Wish you can compare all 3

I bought an ASUS T100 for my wife about a month ago. It is a very nice machine. Just get the 64Gbyte version (only slightly more expensive) so that you have some storage space left after installing MS Office. I uninstalled the version of MS Office (Home/Student) and installed MS Office Pro+ to give her Outlook (and Access) and then the was only 30 Gbyte left. I also put in a 32Gbyte microSD card and organized her programs to staore all data filed there. All in all a very usable tablet/notebook that boots quickly, starts office apps almost instantaneously, runs almost 10 hour on battery and cost me under $450 (My copy of Office was free here at school). You do need to spend some time getting used to Windows 8.1. I set up shortcuts to every program my wife uses on the "Win7" screen to make the transition easier for my her. JeffD

I was actually hoping for this review too. But I couldn't wait and just got the Dell Venue 8 Pro since I couldn't pass up the $315 Newegg deal for the 64GB version!

Quick review: you made the right choice

Daniel please make the review we need to see the issues closer

Nooooo :'(. But the Miix2 looks so slim/sleek. (Not that the DV8P is a fatty).

It's a fatty in comparison. :) But still the better choice at this point.

After owning the Kindle HD 8.9in I just can't bring myself to get a 8in Tablet. That's the main reason I was looking at the Asus T100 10.1in.

Then why comment? This is about 8 inch.

I was leaning between the Miix2 and the SurfaceRT (original), but have decided to go with the RT. I would've loved an 8inch tab, but the build quality of the Surface' is just too awesome. Yeah, I won't get a FULL OS, and it isn't as portable as the 8inchers, but man, that build quality :). Plus, at 200 bucks on BlackFriday, you can't beat it! Still, dem 8 inchers though... Perhaps when the Surface Mini comes out :).

Found this video which shows the Pen usage after the new firmware. http://www.youtube.com/watch?v=ANUYRzAwJQI Looks like its improved a lot after the update.

Thanks for this. Seems like it is working much better compared to before. This is my backup 8-incher of choice (I'm waiting for Samsung to announce their 8.1 tablets before I commit to a new tablet).

Unless its got Wacom, im not interested...........if they slapped a Bay Trail processor, and Windows 8.1, in the guts of a Note 8...........please take my money........until then, ill live with the little engine that could....the Dell Venue Pro 8.

That' mostly why I'm waiting for Samsung. They tend to use Wacom digitisers. Personally I'm hoping for a smaller version of the Ativ Tab 3 with Bay Trail.

Thank you so much for the video - can you try using FreshPaint or any other app that gives you a full-screen drawing surface and drawing close to the edges of the screen (draw the largest rectange you can on the screen) Thanks, Michael

Hopefuly we get to see a 8.1 tablet comparison soon Im shopping for a tablet and can't decide between this and the Lenovo miix 2. I would get the 2520 but it is out of my price range.....

Cant wait to see comparisons with the Encore as well, Dell V Lenovo, V Tosh. I'll buy 2 for Christmas presents but want to see this comparo first.

Wish they'd get this out in the UK.

I tweeted Dell on friday saying when is it out in the UK, they said keep your eyes open next week you might be in for a suprise!

Out tomorrow for business customers, probably a couple of days after that for consumers.

we returned out dell venue pro 8 because of the stylus. I made the assumption that they used the same wacom stylus as the dell lattitude 10, which is pretty good. I was told that they were making a firmware update, and i would be very interested to see how well it works now. does it have pressure sensitivity? is it as disjointed as before, meaning when i am freehanding a line, does it make a smooth curve, or is it a series of lines? Basically, i want the functionanility of my old dell lattitude 10 tablet i had in an 8" form, which this appears not to be...

I'm about to give Dell a call. I've had nothing but issues with mine:
1. When charging, the screen stays on all the time. I hit the power button and it turns off and comes back on a few minutes later.
2. Sometimes when I turn it on and log in, the device goes into camera mode. Attempting to hit the windows button to go to the start screen, or activating the charms menu, or even hitting the power button does nothing.
3. The device locked up on installing updates from Windows Update. When it recovered, it went into system repair process. This was good but unfortunately my problems still persist. So far I am not all that happy with it.

Always a few DOA devices when newly launched (just check the ps4 forums :) ). Try an exchange, I had the 32 & 64GB versions and didn't experience anything like you describe.

The Camera Mode thing is by design in Windows 8.1. In the lower-left there is an option to sign in. This is to allow a locked device to quickly be used as a camera by swiping down instead of up. The update lockup sounds like a problem though. As for the charging, try another USB charger. If the power to the outlet is dirty (high and low spikes...you'd notice dimming of lights occasionally at your place if it were the lines probably) or if the charger is bad that can cause the internal power logic to trigger a 'just got plugged/unplugged' event which turns on the screen.

And in the settings there is a toggle I think that'll turn it off.

Check the event logs for number one. Whatever is waking your device from sleep should be listed there. It may be a bad driver, you can reinstall them from Dell's site.

Awesome, thanks for the input folks! I figured my device might be an anomaly as I've read posts from several others who have had no issue whatsoever with their device. Thanks again!

You can disable the lock screen camera integration in PC Settings. Not sure why Microsoft turned this on be default as it is quite confusing for new users.

Hey Daniel, do you have any information about the Toshiba Encore release date? Have you played with the device when it was presented? Im putting my money on hold until i read something about thw device. Thank you;

Sorry, no knowledge of date nor I have I tried it

Supposedly this month. Staples shows now as being in stock but not sure if true. It's available for pre-order at Amazon but no date is shown there.

Version 1.0.4.1,A00 of the Panel Touch Firmware on Dell Venue 8 Pro 5830 is now available to download and it is listed as 'urgent', meaning it is probably a good idea to grab it. What does this even mean. Where do I "grab it" I just did a software update yesterday, was this included in it? How can I tell?

Click on the Dell Support link at the end of the article. You do firmware updates on it like you do on a regular computer.

Daniel, The Dell Active Stylus uses AAAA batteries. Kevin

Walgreens should have them.

I Just ordered a pack from Amazon. :-)

Oh. lol I thought that was a typo. Never seen a AAAA battery before...

Oh man, palm rejection is way better in Onenote now! Still can't use the pen button to trigger the eraser function in OneNote. But all seems to work like a charm in fresh paint. I hope they continue to update this little tablet and recognize that some of us pick it up because of the inking.

have you tried Photoshop?

No I have not and since I got the 32GB version, finding the space to install Photoshop would be a challenge. I just wasn't patient enough to wait for the 64GB :(

Can you please try using Fresh Paint and drawing a rectangle close to the edges of the screen. The device I tried yesterday with the firmware update had difficulty tracking points on the edges of the screen. Thanks, Michael.

Is this pressure sensitive?

It is, but before the firmware update, the pressure sensitivity didn't work well. Now it does.

How come companies like Dell can give you quick updates to fix your devices, and Microsoft has crippling issue they have been hush hush about, and after one month the Surface 2 is DOA. I wish the guys would do a story about it to really push the issue with Microsoft.

What's the problem on your Surface 2? I have 2 in my home and purchased 3 for some friends. So far we've had almost perfect experience on all all these devices except that I had an an issue with one of them frequently not powering up even with a continuous push on the power button. After contacting the Surface support for a possible replacement, I was asked to perform a simple trick of holding down the power button and the volume rocker for 30sec and releasing the button for about 5sec then power it on again. This ended my frustration with that device and the power button is now more responsive than I've ever experienced on any device.

http://answers.microsoft.com/en-us/surface/forum/surf2-surfhardware/surf...

what crippling issue are you referring to on the surface 2???? MS push updates out very fast also, had a lot of updates last week for rt and hardware.

http://answers.microsoft.com/en-us/surface/forum/surf2-surfhardware/surf...

Good grief man, just exchange your Surface 2. Process is completely painless.

I have!!! I am on my 5th!!!! (fourth if you want to get technical about it).

Miix 2 or venue 8 pro!!!!!! Anybody?

I'd love to adopt both but only one will have a home.

Personally, I'd choose the Miix2 based on looks and that sleek folio cover. Yes, the V8Ps stylus is nice, but I don't see myself using it too much... That being said, if I could hold each in my hands I'd probably make up my mind within a few minutes. For now, a $200 Surface RT on Black Friday will have to do :).

If you want to use desktop mode on the 8" without scaling up the display and losing resolution real estate, the pen is an absolute must have in my opinion. Didn't think so until I got it, but man it makes navigating desktop a lot less frustrating. That being said, I use RDP a lot on older Windows versions where the touch features cannot be used, and this is where the pen really shines. I hear the pen sucks for inking, but I don't really get into that myself. Curious to see how the firmware update improves others' experiences with this though.

Daniel said to an above poster that they made the better choice when they got the Venue 8 Pro. That was for Newegg's $315 price for the 64GB. Perhaps his opinion is different in a direct comparison. I'd be willing to say they probably compare pretty straight up.

If you need an active stylus (pen) then get the Dell, If you need GPS then get the Lenovo. They both seem pretty similar otherwise.

Honestly I'm torn between the two. I have a history with Dell and their product quality. But stylus is so tempting.

I cant wait to get my Venue 11 Pro!

I don't care about Windows 8 tiny tablets, isn't this Windows Phone Central. Blah, blah, blah...

My biggest problem with the venue 8 pro. I love the tablet, but the touch responsiveness, mainly the accidental touch, has been a big sore spot. Enough to make me consider returning. It is a great value especially considering I got mine for $259 at micro center and I'm thinking of getting my kids a couple for Xmas if this issue is fixed.

With just a couple minutes with the update and i can already tell the accidental touch is greatly improved. Im much happier now.

Yes and its still on sale http://www.microcenter.com/product/422081/Venue_8_Pro_Tablet

In store pickup only, ugh

I just got the same deal from micro center. Haven't opened it yet. How much drive space is available on the 32gb version?

I'm another waiting on more info on the Encore because it has HDMI out.

$259 at Microcenter? Was it on sale?

The update makes the stylus so much better with pressure sensitivity, palm rejection, stray lines, etc. But it made hover-clicking worse, to the point that it is unusable for hover menus. It clicks automatically while hovering. In inking it's not so bad. The effect just makes it look like splattered paint from the brush. But in website and menu navigation, IT'S BROKEN!

I agree. General writing and inking is now usable (yay!), but general click-and-pointing with the stylus is far less sensitive making it almost impossible to rely on. Nevertheless, I was about to email Dell to return the stylus, but now I will at least keep it.

I think this site is broken. This is not a windows phone device :P lol

I don't understand why wpc posts articles about stuff I don't care. And I'm always right and other people are idiots, in a nutshell, I'm full of sh!t.

the new firmware increases accuracy by quite a bit. pressure sensitivity has been cranked way up. i use the stylus with one note so not sure i like the increase. tailing on letters is better but not quite completely gone. hover/clicks seems to work better. before it was at time hit or moss if it would pick up the pen tap. never had problems with palm rejection so cant report plus or minis there. just that is had always been great for me. it still will occassionally confuse hover with the pen touching the screen causing stray lines but it seems to have greatly improved. right click from the button on the pen is more responsive. If you are looking for a professional level art device look else where. if you want a digital notepad and consumption device, think ipad mini, then this is a good but. get the 64gb version and pick up a 64gb samsung sd card (very fast speeds in both directions)

Looks like I'm getting a Dell.

Pulled the trigger and bought dell instead of the miix2...bough the 64gigs version.what attracted me to the dell is the fit and finish

Is Nokia going to put out an 8 incher in the future you think?

Hi Daniel. Something that would be really interesting is a real world comparison of how the Bay Trail devices compare performance wise with the ARM devices. Particularly with respect to running Office on the desktop.

after installing the firm update i cannot use touch or the sylus at all.... any ideas?

It is definately better after the update, palm rejection was awful for me as a lefty before. the pressure sensitivity did work at all before, so i have to get used to it now. its nice that they got this fixed so fast. I do have a question about the Miix 2 though, is it really as slim as everyone has been saying or is it this just hype. how does it compare to something like the og ipad mini or nexus 7?

Yes it feels so thin and sleek , its an amazing device .

Just a heads up for anyone looking to grab this... I tried to get it by keying my service tag in on the Dell support site, but it was no where to be found. I had to use the source link above to grab it. If you're having trouble finding it on your own, don't overlook that link at the bottom of the article! EDIT: Just finished downloading, the installer initially shows that it is an Intel Graphics update... if you tell it to go anyway, the Synaptics Touch firmware update launches.

Hello, Do you know any Dell reseller that ships internationally? I'm trying to buy this pen from Dell US but they don't ship to my country. Thanks

my dell stylus is totally dead...even with a battery change.. anyone find a better alternative to the Dell stylus?

I love the Fresh Paint app and am considering purchasing a brush stylus. I keep reading that the Sensu works well but personally I'm not crazy about the size of the brush or the fact that the brush keeps losing fibers. Would anyone know if I can use a brush stylus marketed for IPAD for the Venue? I've searched all over the net and haven't been able to find out if I can or not. Any info appreciated. Thanks.