The new gameplay trailer for The Witcher 3 is nearly 5 minutes of RPG goodness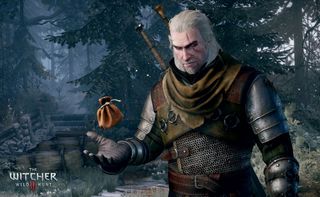 (Image credit: CD Projekt Red)
A new gameplay trailer has been released for the long-awaited Xbox One fantasy RPG The Witcher 3: Wild Hunt. It offers nearly five minutes of footage from the game developed by CD Projekt RED, that will be released on May 19.
The trailer also has a narration that provides and overall look at the storyline and gameplay for The Witcher 3. It shows how players can explore the open world of the Northern Realms, controlling the Witcher known as Geralt, who must learn physical combat, along with alchemy and spells, to defeat the many monsters and human enemies that inhabit the world.
The trailer also goes over the game's main storyline, which has Geralt searching to find Child of Prophecy, who is described as a "living weapon". The trailer shows how Geralt can influence the storyline in both small and big ways, and it also displays the incredible graphics engine that will be used for The Witcher 3. There's even some hints about the sexual themes in the game, which will deserve its M-rating.
CD Projekt RED has already announced plans to release two expansion packs for The Witcher 3: Wild Hunt after the game comes out in May for the Xbox One, PC and PlayStation 4 platforms.
Source: The Witcher (YouTube)
Assassin's creed or this is better?

They all good in their own ways bro, wouldn't compare them. If you can, just get both. Never played Witcher, so I'm really excited to be getting this.

Thankyou btw I love witcher 3

Witcher is far better as far as I am concerned

Different types of games.

We want windows 10 news.. For today.. Please no offence but just for today tell us when it come to south asian countries...

Convert 10am PDT in your local time....and just relax bro, it'll come and you'll get it.

1) no, we all don't want just Windows 10 news today.
2) 2 hours from now.

This looks so cool. Too bad I would totally suck at it.

Dam, need to complete Witcher 2 before I can even look at this..

Haven't even started Witcher 2...:-(

Tbh, I haven't either. Ive had the AoK special ed for a while now :'(

meeeeeeeeh *falls asleep*

Noooo. It's people like you... Posted via the Windows Central App for Android

Nope, for me it plays quite well (tubecast)

So this guy beats the Dragonborn?

Anyone know if I should play through witcher 1 and 2 before this? I only just started 1 and noy a big fan of the controls in it.

You should be high to play

I played 2 and decided to watch a string of cut scenes on YouTube to get a better idea of the overall story. I don't think the cut scenes in 2 are as prevalent as the first but it's your call if you find it compelling enough to invest viewing or playtime for a better story overview. Also played 2 on the console so can't comment negatively on the controls.

Wow, that looks really good!

Which platform is this video from?

Will this have sexual equality where you can date a female or a male like in Bioware games?

Doubtful, the other Witcher games didn't.

Dem, The Witcher 3 gonna be awesome! Replaying Witcher 2 right now!
Windows Central Newsletter
Thank you for signing up to Windows Central. You will receive a verification email shortly.
There was a problem. Please refresh the page and try again.