New KB3105208 update is causing BSOD with some on Windows 10 Insider preview build 10565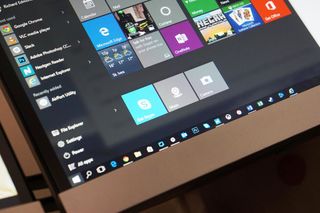 If you are running the recently released Windows 10 Insider preview build 10565 and also have the Secure Boot/UEFI feature enabled, you might want to keep an eye out for a recent KB3105208 software update. That file apparently is causing "Blue Screens of Death" (BSOD) when it is installed with Windows 10 build 10565 with Secure Boot/UEFI.
The problems have been popping up enough that Windows Insider head Gabriel Aul made a post on Microsoft's support forums wrote a post to apologize for the problem and also to offer a simple workaround for the issue:
Microsoft will be pulling the update as it works to get a fix in place as quickly as possible.
Thanks to our forum members for the tips!
Source: Microsoft Support (opens in new tab)
My machine update last night which was frustrating because I had work in a browser I couldn't save. I guess Secure Boot was actually turned off for me already. That was lucky.

Happened to my HP stream 7. I had to connect a USB keyboard and clear the TPM after the BSOD, did a clean install after that, and all is good. Gladly, it didn't happen to my HP laptop.

Got mine as well. Hoping I dont have to reinstall since turning off secure boot does not work.

Happened on my stream7 too, don't even have secure boot on. Maybe should just get an iPad, Microsoft u suck

Using insider build and judge company because of that? This is why I dont use insider builds on my working PC.

Can't tell if you're joking or not, but if you aren't, that's one of the Stupidest statements ever

This hit me on my XPS 13. Windows went into recovery mode, tried to sort it out, said it couldn't and gave me the troubleshooting screen. For some reason all I did was say "continue to Windows" and the machine booted succesfully. I am surprised it recovered as nicely as it did without having to turn off secure boot.

Was just about to post the same comment about my XPS 13.

Yeah that sucked. I rolled back to 10240 to get working. I'll update again when this is resolved. The newer builds are great when working.

Disable Secure Boot on your PC and the problem goes away. I don't think microsoft will fix the problem before next build, being a Insider Preview Build, I think that's pretty much the point of those preview builds

Nice to see the Insider Program working. A big audience for testing updates it's always better than just MS internal rings. A lot of different configurations out there. For example, I have Secure Boot turned on, and wasn't affected by this problem.

Happened to my surface and I didn't get it to reset either. It failed. So hopefully secure boot fixes it.n

This hit my Dell AIO 27". Ouch. Haven't booted my SP3 yet this morning.

It got my SP3. After I get it sorted out, I'm going back to the slow ring.

Slow ring has the same build (10565)

It happened to my S3 this morning. I went through a number of the available troubleshooting options and ended up doing a reset. I'm back up and running but now I don't appear to have any Wi-Fi. Now I have to figure out why that's happening...

Oh never mind, a restart fixed it. :-p

Not using the preview on my Primary machine....Nice, i don thave to deal with this

Very wise, testing is always meant to be done on a spare or companion device... ;)

Cost me an hour work to get the machine working again. SF2PRO. On restart the blue screen, repair failed. I then did a system restore. After that all "built in apps" failed to start, including Store. I took an older restore, disabled Safe Boot and reboot worked. I also Did a DSIM repair before doing a second restore. After that everything was back up and running. Pretty messy and I wonder what someone would do who does not have a lot of tech know-how.

That's the reason we're all insiders, to spare the less savvy... =p

"Non-hard-users" shouldn't use Preview Builds, anyway. At any rate, disabling Secure boot on the BIOS should fix this problem

Yep, happened to me this morning. I couldn't do anything in repair settings as it said "You have to be an admin to perform. There is no admin on this computer". So, I had to do a full refresh. As a fast ringer, I guess it is what it is...

Happened on my SP3 and Lenovo X1 Carbon. Even after full reset to standard Windows 10, issue persisted. Disabling Secureboot was the only fix that worked.

Experienced this morning on my Surface pro first generation. Automatic repair failed. Rolled back to previous build, working now. But problems appears with apps in store.

@dick-webo someone who's not technical would not be using insider builds It has a pain jargon free warning of this when you try to enable it. I would know how to fix it but I don't have any machines that could lose access to for a few hours hence why I don't do it.

Hit my SP3 yesterday. Glad to see a fix is in the works. I'll try the work around this evening.

This update is a disaster. My HP laptop running the official W10 build keeps freezing for no reason after the update. When the Task Manager is open, all shows fine.... No processes are hogging the system but the damn thing becomes so unresponsive that I have to force reboot the system. I have no idea what is causing it.

Restart you machine and try ... It helps you...

Fuck !!!! I am victim of this BSOD on my surface pro 3 !!
I am restoring my device now. .
Microsoft you suck!

While I agree that this does suck. That is the point of the program. You can't really be mad... Don't do insider builds if you can't roll with the punches.

Exactly. Whatchaa don't be mad at MS while you know perfectly well that these things might happen. If you can't handle that, you're just dumb to even in in the insider program... As in reaaaally dumb

Installing(clean) Windows 8.1 pro update 3 on my desktop PC. My graphics drivers are not balancing with Windows 10. And the OD is not fast as 8.1 ..

Ummm... You can do what they said... Go boot into advanced options and troubleshooting. Enter your UEFI/BIOS and disable secure boot. You probably need to get your Bitlocker key on OneDrive.live.com/recoverykey

I couldn't. :( just kept telling me there was no Admin account on my machine. (which was not true)

Depending on your computer/build, it's probably possible to get into the UEFI/BIOS with F2; DEL; F8; F12; holding the volume up while booting; holding Windows Key on tablet + volume up or down; or some other method (check product manual) without going through the boot manager.

This fixed it for me. After I got the Process1_Initialization_Failed BSOD, I went into troubleshooting > advanced options > advanced options (twice) > UEFI settings, then it prompted me to restart, then it booted into UEFI/BIOS menu. From there I went to Secure Boot > Disable > Restart and I was able to boot back into desktop on my 10565 Surface Pro 3.

Can they atleast make the BSOD screen green or something? It's just got such a bad reputation and reminds people of the old (I hope) Microsoft.

Well... No. It's called BLUE Screen Of Death eh:)

So....no more auto updates for me lol.

My PC won't accept login, says my password is incorrect. I had to reibstall OS, rollback and reset didn't helped. Will keep stable release for now and keep some Lubuntu just in case.

I do not have secure boot enabled, and I get a BSOD when playing full screen games from the store, like hill climb racing. It's not drivers because they're updated and it doesn't happen with any of my steam games.

Here's how I fixed it on my Surface Pro 3 running build 10565. After I got the Process1_Initialization_Failed BSOD, I went into Troubleshooting > Advanced Options > Advanced Options (again) > UEFI settings, then it prompted me to restart, then it booted into UEFI/BIOS menu. From there I went to Secure Boot > Disable > Restart and I was able to boot back into desktop.

I chose to shout down, and then press and hold vol up then press and release power button. Release the vol button when surface logo is seen.
There I got uefi menu. Disable secure boot and reboot.
Upon reboot, it asked me to insert usb drive with bitlocker key. I pressed esc on onscreen keyboard (there'sis an icon on top right corner to bring up the touchscreen keyboard) then entered the bitlocker key manually. And it booted successfully. :D

I haven't been able to get that update. It has been giving me errors since the beginning. Now I am on to
second error
th2_release Professional 10565 - Error 0x8024001e third error
th2_release Professional 10565 - Error 0x80010108 Some day... some day I will get this release.

Try disabling the "torrent" method of distributing windows under advanced options.
Also make sure to disable your antivirus... In fact I had to uninstall them.

I had this issue today, so contacted MS Support who wanted me to refresh the Surface Pro 3 first of all, then when that didn't work perform a full factory refresh. Thankfully I saw the MS Forum post on time before I did the reset.

I'm still stuck on 10547 because of BSOD during update to 10565 :(.

Doh, had this happen last night and didn't know about the fix. Fresh install for me on my surface pro 3. But MS, you ROCK. I for one am glad they are testing with us before pushing to the masses. It will save everyone a while lot of trouble in the future. Plus, it pre-release software so its expected. Kind of can't believe that some are pissed... They should be perma banned from the insider program.

I just uninstalled it.. Solves the issue.. Lol

How did you uninstall the update? From the Recovery Boot option?

I think I am getting old, but I am getting tired of this shiiiii.

Its too late for me i guess. Got the bsod and had to reset my sp3 and now i removed all apps and settings. Luckily all my files are still there. Its gonna take me a while to reinstall all these apps and settings. Such a bad day for me. Posted via the Windows Central App for Android

Isn't BSOD part of the Windows which Insiders need to give feedback on?

If this update is pending restart, is there still a way to clear pending updates via command prompt or in a folder.

I had to download the Windows 10 ISO on another computer, burn a DVD and install from scratch. After updating to this insider preview version my computer just wouldn't boot no matter what I did. I disabled secure boot but it kept getting the BSOD. I had diligently prepared a system image only two days previously but that didn't work either. I decided I'm not going to live on the bleeding edge any more and am keeping the release version of Windows 10. Posted via the Windows Central App for Android

Is there any update for this now that 10576 was released and two cumulative KB hotfixes were released along?
Windows Central Newsletter
Thank you for signing up to Windows Central. You will receive a verification email shortly.
There was a problem. Please refresh the page and try again.