New Live Search App in the Pipes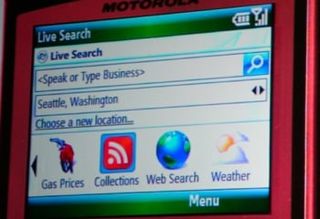 One bit that was lost in all the CTIA Hoopla, but did appear during our Keynote LiveBlog, is that we can expect an update to the Live Search application on Windows Mobile in the relatively near future -- hopefully well before Windows Mobile 6.1 updates are rolled out.
We got to see a firsthand demo of the new features. There's a weather info pane (finally!) as well as a "Web Search" panel (as though the difference between Live Search and Windows Live on Mobile wasn't muddy enough). There's also this new feature called "Collections" that a sort of mashup between your standard local searches and a mini-RSS reader. Mainly it is a place to save your most common searches. Sadly, a feature like Google Maps' "location" based on towers isn't going to be included.
We've always been sweet on Live Search what with the free, the ability to speak direction requests [edit: fixed], the GPS integration, the Movie times, the Gas prices, and the Traffic. The new version looks to be a nice upgrade.
In any case, it's en route and just another data point for folks trying to figure out just what Microsoft's mobile services strategy is going to be.
Windows Central Newsletter
Get the best of Windows Central in your inbox, every day!
" the ability to speak directions"
Is that true? I know there is voice input to the live search bar, but will it output voice directions? That would be amazing, but I didn't think it did.

doh. just meant voice input. sorry!